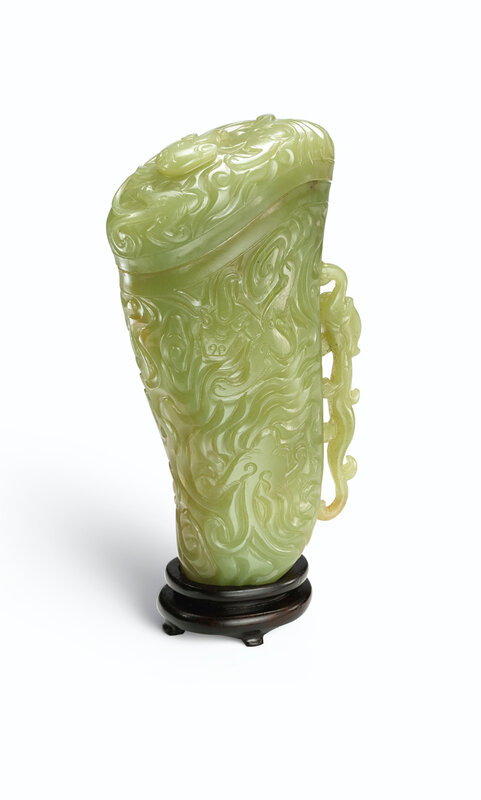 Lot 3753. A rare yellow jade rhyton, Late Ming dynasty (1368-1644); 13.5 cm., 5 1/4 in. Estimate 200,000 — 250,000 HKD. Lot sold 525,000 HKD. © Sotheby's
the translucent greenish-yellow stone worked in the form of a flattered tapered vessel with an undulating rim, the exterior carved in low relief with a chilong clambering sinuously through a dense network of stylised cloud swirls, one side carved with a handle in the form of a further sinuous chilong, the well-fitted cover similarly carved in relief with a chilong clambering through stylised cloud scrolls, the protruding mythical beast's head prominently pronounced against the ground of clouds, the stone of a greenish-yellow colour with faint russet inclusions, wood stand.
Note: Jade vessels of rhyton form have been recorded since antiquity. For a jade rhyton excavated from the tomb of the King of Nanyue, dating to circa 122 BC, see Peter Lam, Jades from the Tomb of the King of Nanyue, Hong Kong, 1991, cat. no. D44.

From the Song to the Qing dynasties, the rhyton continued to develop and evolve in form, with the monster head base introduced as a decorative element to provide a visual explanation for the twisted handle. Other rare examples in the Asian Art Museum of San Francisco, are illustrated by Lefebvre d'Argencé, pl. XXXVII. See also a Song Dynasty rhyton exhibited in the Victoria and Albert Museum, London in 1975, illustrated in Chinese Jade Throughout the Ages, London, 1975, cat. no. 277.

Compare also an example in the National Palace Museum, Taipei, illustrated in The Refined Taste of the Emperor. Special Exhibition of Archaic and Pictorial Jades of the Ch'ing Court, Taipei, 1997, cat. no. 34.