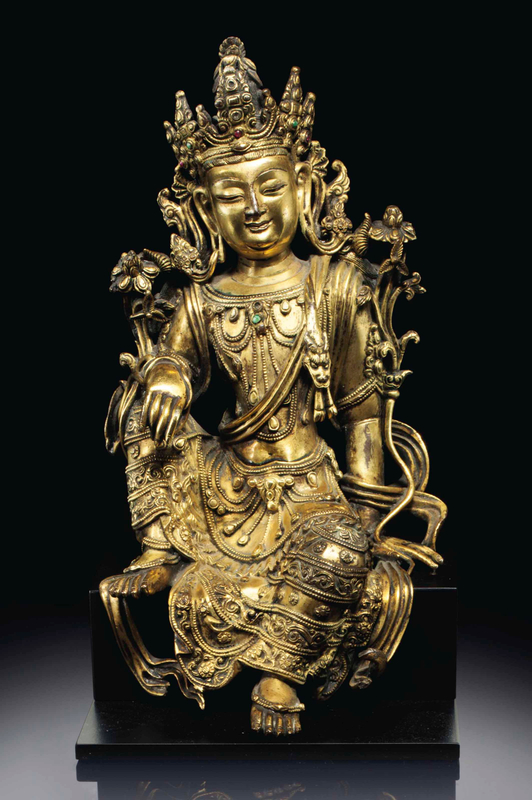 Lot 1025. A finely cast gilt-bronze figure of Avalokiteshvara, Ming dynasty, 15th century, probably Zhengtong period (1436-1449); 10¼ in. (26 cm.) high. Estimate USD 60,000 - USD 80,000. Price realised USD 365,000. © Christie's Images Ltd 2014
The bodhisattva Guanyin is shown seated in rajalilasana holding in each hand a slender stem of lotus that rises to the shoulders, and is richly dressed in an elaborately decorateddhoti, a goat pelt wrapped around the torso and the arms, beaded jewelry and a five-point crown inset with 'jewels' behind which is a seated figure of Amitabha Buddha, stand.
Provenance: Colonel Robert Coleman Hall Brock (1861-1909) and Alice Gibson (1861-1925), Philadelphia, Pennsylvania.
Henry Gibson Brock (1886-1940) and Margaret Cust Burgwin (1926-1961) Collection, Muncy, Pennsylvania, and thence by descent within the family.
Note: Perhaps the most popular figure of the Buddhist pantheon during the Yuan-Ming period was the bodhisattva Guanyin (Avalokiteshvara). One of the common depictions of this bodhisattva is the so-called 'Water-Moon Guanyin,' or 'Avalokiteshvara of the Southern Seas,' which shows the figure seated in rajalilasana, or 'Royal Ease', on a base mimicking a rocky shore.
Similar depictions of elaborate festoons of jeweled chains can be found on other gilt-bronze images of Guanyin dated to the late Yuan-early Ming period, such as the figure from the Oppenheim Collection, now in the British Museum, illustrated by W. Zwalf (ed.) in Buddhism: Art and Faith, London, 1985, no. 298; a figure in The Asian Art Museum of San Francisco, illustrated in Hai-wa yi-zhen: Chinese Art in Overseas Collections - Buddhist Sculpture, National Palace Museum, Taipei, 1990, p. 178, no. 164; and a third figure in the Museum of Eastern Art, Oxford, illustrated in T.O.C.S., 1959-1960, vol. 32, pl. 102, no. 236. All three of these figures are shown seated in rajalilasana and share many common characteristics with the present figure, such as the radiating beaded chains, narrow waist and flowing style of drapery.
Christie's. Fine Chinese Ceramics and Works of Art, New York, 18 - 19 September 2014