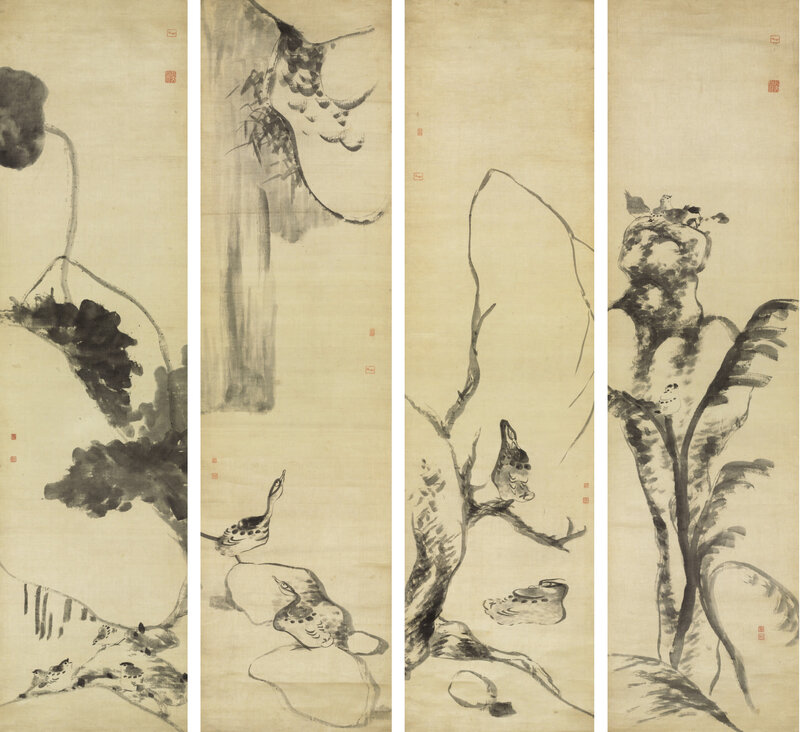 Lot 334. Bada Shanren (Zhu Da, 1626-1705), Birds and Ducks. Set of four hanging scrolls; ink on satin. Each scroll: 81 7/8 x 21 5/8 in. (208 x 55 cm.). Each painting with two seals of the artist. Each painting with two seals of Song Lao (1634-1713). Estimate USD 300,000 - USD 500,000. Price realised USD 1,202,500. © Christie's Image Ltd 2009.
Provenance: The Estate of C.T. Loo; Parke-Bernet Galleries, New York, 10-11 October 1962, lot 429.
Literature: Victoria Contag, Chinese Masters of the 17th Century, translated by Michael Bullock, London: Lund Humphries, 1970, pl. 22 illustrated the two paintings with ducks
Wang Fangyu and Richard M. Barnhart and Judith G. Smith, editor, Master of the Lotus Garden, The Life and Art of Bada Shanren (1626-1705), New Haven: Yale University Press, 1990, no. 18, pp. 120-3 and 222.
Exhibited: Master of the Lotus Garden: The Life and Art of Bada Shanren (1626-1705), The Asian Art Museum of San Francisco, August 22-October 28, 1990 and the Yale University Art Gallery, January 25-March 24, 1991.
After the Madness: The Secular Life, Art, and Imitation of Bada Shanren, Arthur M. Sackler Gallery, Washington D.C., February 15-July 27, 2003. The exhibition included the scroll depicting lotus and birds.
Note: This set of four large hanging scrolls exemplifies the boldly expressive brushwork and enigmatic compositions for which Bada Shanren is most prized. A member of the Ming dynasty's ruling family, Bada Shanren was threatened by and strongly opposed to the rise of the Qing. Turbulent circumstances led to a tumultuous life, much of which was spent as a Chan (Zen) monk. The decades Bada Shanren spent as a Chan monastic reveal themselves in his art in his attraction to simple themes from nature and his exploration of the expressive and spontaneous potential of brushwork as an outlet for self-expression and intuitive understanding. While these artistic traditions flourished among Song-dynasty Chan monks, Bada Shanren employed them in a unique manner. No artist before him painted such dramatic brushstrokes, had the same clever wit, and created such challenging compositions. Illustrating the Buddhist concept that individuals filter their understanding of reality through their own skewed perceptions, Bada Shanren painted scenes that either seem to defy logic--such as the chick perched atop a plantain stalk--or can be viewed in alternative ways--such as the sleeping duck that seems to float in space.
As meticulously researched and considered by Wang Fangyu and Richard Barnhart in Master of the Lotus Garden, this set was owned by Song Lao, an erudite and cultured man who served as governor of Jiangxi province from 1688 to 1692, when these paintings are thought to have been produced, based on their style of painting and the seals the artist used. Although Song Lao admired Bada Shanren's work and sought to meet the artist, Bada Shanren, as a descendant of the fallen Ming, shunned Song Lao. Yet Song Lao's seals indicated that he owned these pictures. Moreover, their large size (these are the largest works by Bada Shanren known) and use of expensive sheets of satin suggest that these works must have been commissioned by a wealthy and influential man, such as Song Lao.
These four paintings were originally part of a larger set that also included two paintings by Bada Shanren, now in the Nelson-Atkins Museum of Art in Kansas City (figs. 1 and 2). All six share the same theme, size, style, material, and seals of both artist and collector. The pair in the Nelson-Atkins Museum were acquired from the scholar Victoria Contag in 1967 and have been published by Li Chu-tsing in Bada Shanren yanjiu (1988), Wai-kam Ho in Eight Dynasties of Chinese Paintings (1980), Wang Fangyu and Richard Barnhart (1990), and Mae Anna Pang in Zhu Da, the Mad Monk Painter (1985). Because all six paintings lack a signature, it is presumed that the original group consisted of eight scrolls, two of which are now lost and one of them bearing the artist's signature.