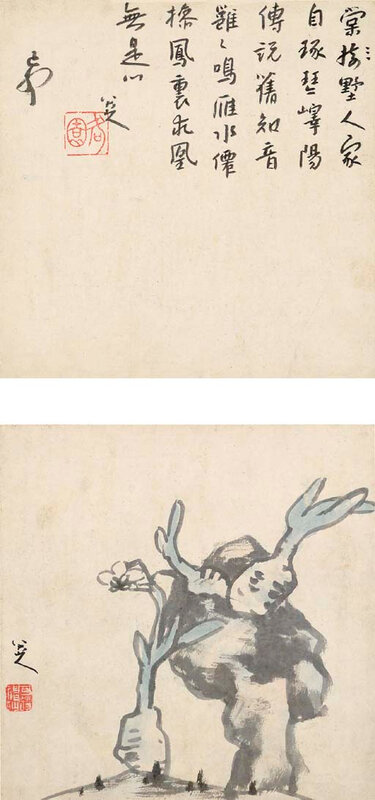 Lot 458. Bada Shanren (Zhu Da, 1626-1705), Narcissus and Rock, Poem in running script calligraphy. A pair of album leaves mounted as a hanging scroll, ink or ink and light colours on paper. Each measures 30 x 30 cm (11 7/8 x 11 7/8 in.). Top leaf with a poem written in running script calligraphy, signed: Bada Shanren. One seal of the artist: He Yuan. Dated jimao year (1699). Painting of Narcissus and Rock, signed: Bada Shanren. One seal of the artist: He De Shen Xian. Estimate HKD 250,000 - HKD 300,000. Price realised HKD 406,300. © Christie's Image Ltd 2003.
Literature: 1. Wang Fangyu, Bada Shanren Lunji (Essays on Bada Shanren), Taiwan, 1985, pp.303, 403
2. Hu Guanghua, Ming Qing Zhongguo hua Dashi Congshu - Bada Shanren (Chinese Master Painters: Bada Shanren), Jilin Meishu Chubanshe, 1996, p.24
3. Xu Bangda, Gaiding Lidai Liuchuan Huihua Biannian biao (Revised Chronology of Paintings Throughout the Ages), Beijing Renmin Meishu Chubanshe, 1995, p.173
4. Shaolin Rongju ( ), Bada Shanren Zhenji (Authentic Paintings by Bada Shanren), Japan, vol.1. Described as "Flower and Fruit Album with Corresponding Calligraphy. Previously in the collection of Tang Jisheng."
5. Wang Zidou ed., Bada Shanren Shuhua ji (The Paintings and Calligraphy of Bada Shanren), Shanghai Renmin Meishu Chubanshe, 1983, vol. 1, pp.163-164.