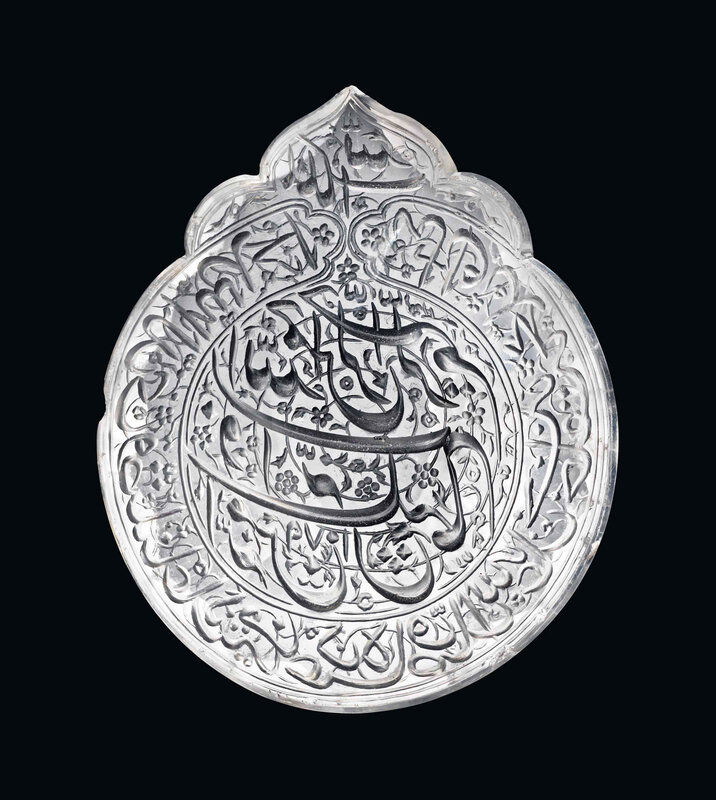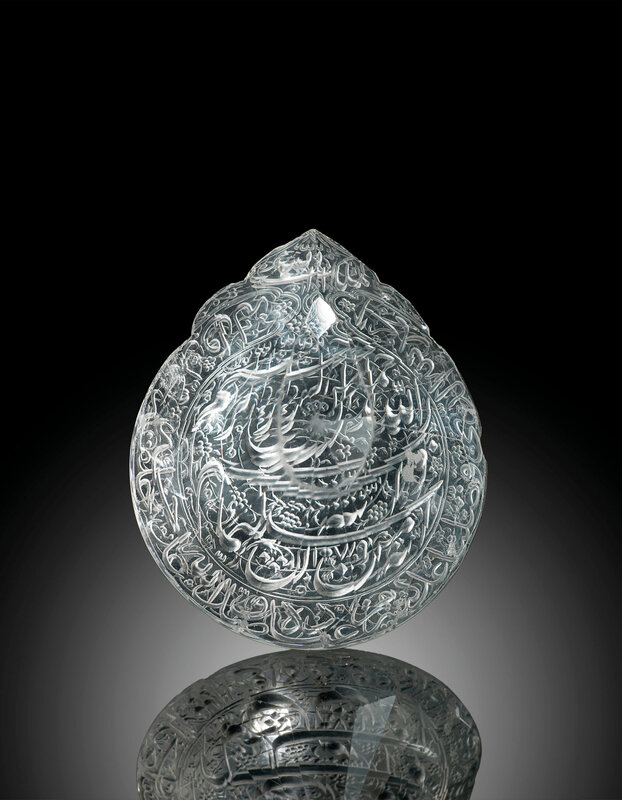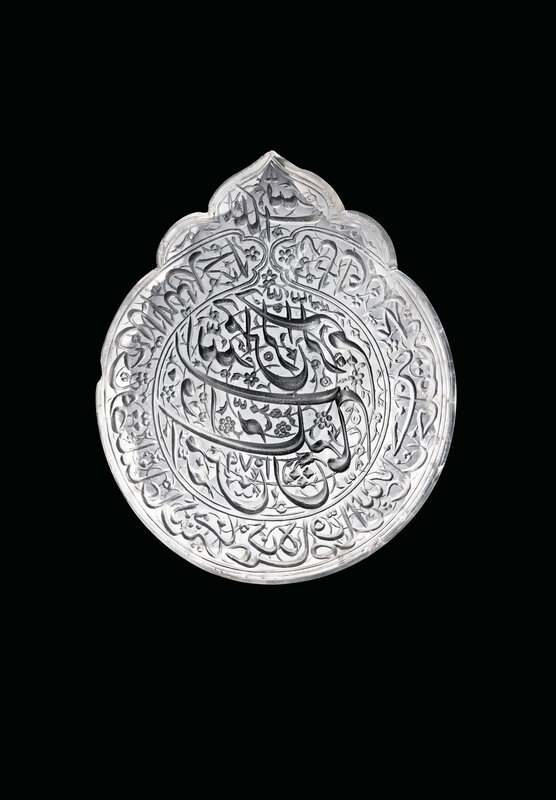 Lot 126. An imperial carved rock crystal seal of Shah Sulayman Safavi, Safavid Iran, dated AH 1079/1668-69 AD; 2¼in. (5.5cm.) high; 1 7/8in. (4.6cm.) diam. Estimate GBP 200,000 - GBP 300,000. Price realised GBP 217,875. © Christie's Image Ltd 2013
Round with cusped headpiece, the face engraved with elegant nasta'liq inscription on ground of scrolling floral vine, with title of Shah Sulayman I in the central cartouche, a band of further inscription includes prayers around, edge engraved with two concentric grooves, reverse with elegant geometric facets.
Note: Inscription: In the centre, Qur'an XXVII, sura al-naml, v.30, 'Lo! It is from Solomon, and Lo it is in the name of Allah, the Beneficent, the Merciful' and the date AH 1079 Around the border, Qur'an XXVII, sura al-naml, v.15 and a call on God to bless Muhammad and his family

This important seal, which dates to the first year of the reign of Shah Sulayman Safavi, is rare survival. Although they were essential tools of Safavid administration, because they were so often used, seals were re-carved, invalidated, or ultimately destroyed with some regularity. Their security was essential so that they did not fall into the wrong hands, and thus become illicitly used. The survival therefore of this elegant rock crystal example is therefore remarkable and provides us with an important historical document

Shah Sulayman Safavi was crowned on 1 November 1666 and given the title Shah Safi II. The first year of his reign was markedly unsuccessful. Natural disasters (including an earthquake in Shirvan), the Shah's ill health and predatory raids by Stenka Razin's Cossaks on the Caspian sea convinced court astrologers and physicians that there had been a miscalculation of the horoscope determining the date of his accession to the throne, and that the coronation has taken place at the wrong time. The ceremony was therefore repeated on 20 March 1668, and the Shah given a new title, Shah Sulayman I (Peter Jackson (ed.), The Cambridge History of Iran, Vol.6, Cambridge, 1986, pp.304-10). Our seal, dated AH 1079/1668-69 AD, was thus created the year that he became Shah Sulayman. If ineffectual as a ruler, Sulayman's redeeming feature was as a patron of the arts. He is responsible for directly influencing some of the most impressive works of painters of the late 17th century. His love for art and beauty no doubt bore influence on the elegant work on our seal, which is both a masterpiece of Safavid calligraphy and of the lapidary art.

In his Voyages en Perse, J. Chardin wrote of the seals used by the Shah of Iran. He mentioned that there tended to be three seal-keepers (muhrdar bashi), but that they only affixed seals that were kept in a box in the palace sealed with the king's own seal. He mentions that Friday was the usual day for sealing documents; the muhrdar would prepare the seal and the paper and make the impression on a sign from the Shah - the Shah would not normally do it himself. Chardin went on to describe that there would be three great seals, used for military, civil and foreign affairs, and then two smaller seals used for more routine matters, such as the palace accounts (J. Chardin, Voyages en Perse, Paris, 1811, v, pp.451-63, quoted in J.Allan, "Khatam", Encyclopaedia of Islam, new edition, Leiden, 1991, vol.IV, pp.69-70).

Very few royal Safavid seals are known. One, which bears the name of Shah Tahmasp, is in the Khalili Collection (J.M. Rogers, The Arts of Islam. Treasures from the Nasser D. Khalili Collection, Abu Dhabi, 2008, no.425, p.355). Like ours that is formed of rock crystal.

The impression of this seal is recorded in two places. One is on the royal Qur'an of Shah Sulayman Safavi, sold in these Rooms, 17 April 2007, lot 100. The other was on a letter sent by Shah Sulayman to the King of England said to be in the Royal Collection (J. Qa'im Maqami, 'Mohrha toghraha wa tawqi'ha-ye padshahan-e iran az ilkhanian ta payan-e qajariyya', Majalla barresiha-ye tarikhi, year 4, nos. 2 & 3, serial no, 20-21, June-September, 1969, p. 144). A ruler would have had his official seal, as well as the personal seal, which would be used to authenticate letters and other personal documents (Encyclopaedia of Islam, op.cit., p.70). This important seal is just that, the personal seal of Shah Sulayman Safavi, used on his own Qur'an and letters to other heads of state.
Christie's. Art of the Islamic and Indian Worlds, London, 25 April 2013