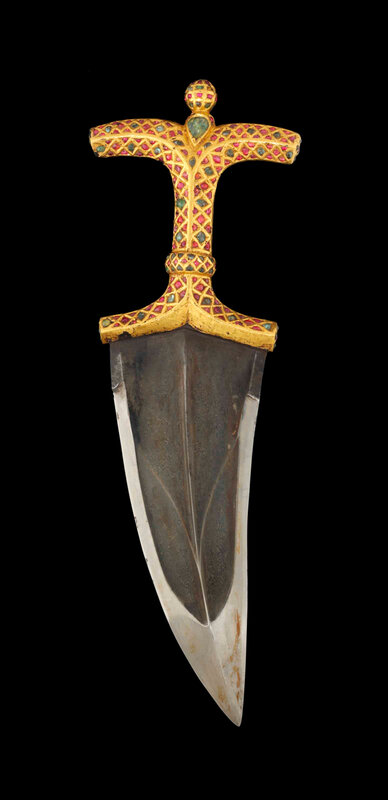 Lot 156. A gem-set mughal dagger (chilanum), Central India, late 16th or early 17th century; 11¾in. (29.8cm.) long. Estimate GBP 30,000 - GBP 40,000. Price realised GBP 35,000. © Christie's Image Ltd 2013
With curved watered-steel double-edged blade with raised medial ridge and armour piercing point, the 'T'-shaped rectangular hilt with rounded knop finial, overlaid in gold and inset with a lattice of hardstones, later fitted velvet-lined wooden sheath.
Note: The bifurcated hilt of this dagger and its ribbed blade with distinctive armour-piercing tip are typical of Mughal and Deccani daggers of the late 16th and 17th century. Examples are found in miniatures of the period, where they are often worn tucked into the waistband or pathka. One such miniature, which depicts the illustrious musician Tansen of Gwalior, is in the National Museum, New Delhi and is dated to circa 1585-90 (50, Stuart Cary Welch, India. Art and Culture 1300-1900, exhibition catalogue, New York, no.106, p.172).

A closely related dagger dated to circa 1585, is in a private collection (Stuart Cary Welch, India. Art and Culture 1300-1900, exhibition catalogue, New York, no.98, p.162). Another, in the Furusiyya Art Foundation Collection, is catalogued as 16th century (inv.R-59, Bashir Mohamed, The Arts of the Muslim Knight, Milan, 2007, no.172, p.184). Those daggers, and ours, are characterized by the use of heavier settings for the stones, and the absence of the subsidiary design which are used to decorate a group objects produced during the reign of the Emperor Jahangir (r. 1605-27). By about 1600, daggers of this form often had a knuckle guard, as the Furusiyya dagger, or one that is in the Al-Sabah Collection dated to the first quarter of the 17th century (Marylin Jenkins, Islamic Art in the Kuwait National Museum. The Al-Sabah Collection, London, 1983, p.126).
Christie's. Art of the Islamic and Indian Worlds, London, 25 April 2013