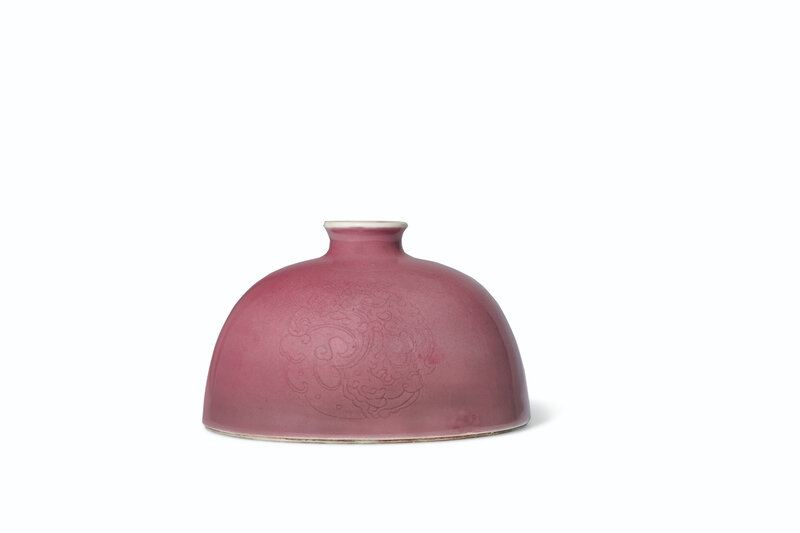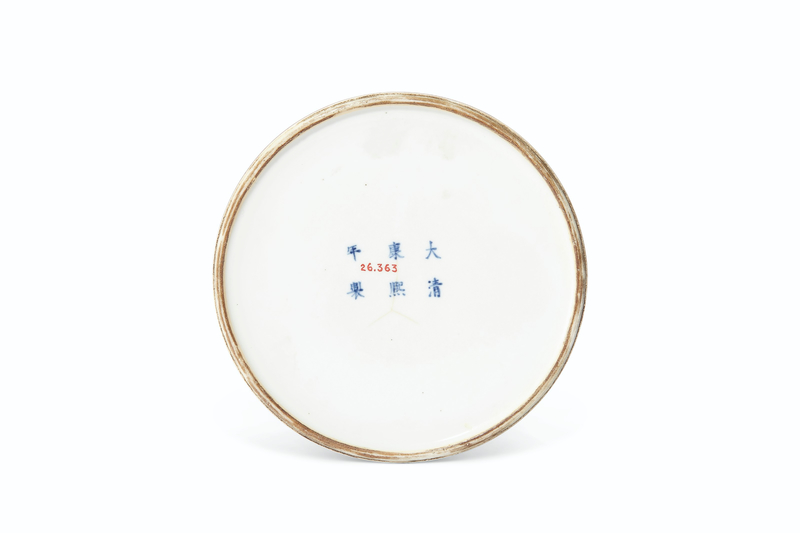 Lot 727. A peachbloom-glazed domed waterpot, taibai zun, Kangxi six-character mark in underglaze blue and of the period (1662-1722); 4 7/8 in. (12.3 cm.) diam. Estimate USD 80,000 - USD 120,000. Price realised USD 125,000. © Christie's Image Ltd 2019
The domed body is incised with three archaistic dragon roundels and is covered with a glaze of mottled greyish-pink color shading to a darker grey above the foot.
Provenance: Kate Sturges Buckingham (1858–1937) Collection, Chicago, before 1926.
The Art Institute of Chicago, accessioned as the Collection of Lucy Maud Buckingham (1870-1920) in 1926.
Kate Sturges Buckingham (1858-1937)
Once known as 'Chicago's Grandest Spinster,' Kate Sturges Buckingham, who inherited her family's great fortune made from grain elevators, banking, and real estate, was one of the wealthiest women in America during her time, and also perhaps one of the most generous.
Kate Buckingham's association with The Art Institute of Chicago developed side by side with her brother Clarence Buckingham (1854-1913), who was a successful banker, as well as a governing member and a trustee of the museum. Clarence became an avid collector of Japanese prints, inspired and advised by the Japanese art curator Frederick W. Gookin, and architect Frank Lloyd Wright. Kate, on the other hand, turned her attention to Chinese art. Records show that her earliest purchases (later gifted to The Art Institute) were snuff bottles, acquired originally to please her sister, Lucy Maud (1870-1920) who suffered from poor health. White was Lucy's favorite color, and many white wares in her collection were acquired for this reason. Kate's own collecting taste developed in many directions, encompassing Chinese archaic ritual bronzes and ceramics as well as gothic and medieval art.
After Clarence's death in 1913, and Lucy's in 1920, Kate's philanthropy acquired new impetus. Between 1921 and 1938, she donated over 400 Chinese archaic ritual bronzes to The Art Institute of Chicago in memory of her sister Lucy. In 1925 she gave her brother's collection of thousands of Japanese prints to The Art Institute. It is a mark of her deep affection and loyalty that all the donations Kate made to The Art Institute were given in the name of her departed siblings, and never her own. Some of these works are on view in the gallery which hosts The Lucy Maud Buckingham Collection of Ancient Chinese Bronzes, and The Clarence Buckingham Gallery of Japanese Prints in The Art Institute of Chicago.
Note: Water pots of this form are known as taibai zun, after the Tang dynasty poet Li Bai, who is often depicted leaning against a large wine jar of similar form. They are also known as jizhao zun because their shape resembles basketware chicken coops that are woven with small openings at the top through which the chicks are fed.
A Kangxi peachbloom water pot, formerly in the collections of Emily Trevor and John B. Trevor, Jr., was sold at Christie's Hong Kong, 28 May 2014, lot 3301. Another example from The Metropolitan Museum of Art was sold at Christie's New York, Collected in America: Chinese Ceramics from The Metropolitan Museum of Art, 15 September 2016, lot 915.
For a discussion of the peachbloom glaze see the footnote to lot 726.
Christie's. Chinese Art from The Art Institute of Chicago, New York, 12 September 2019