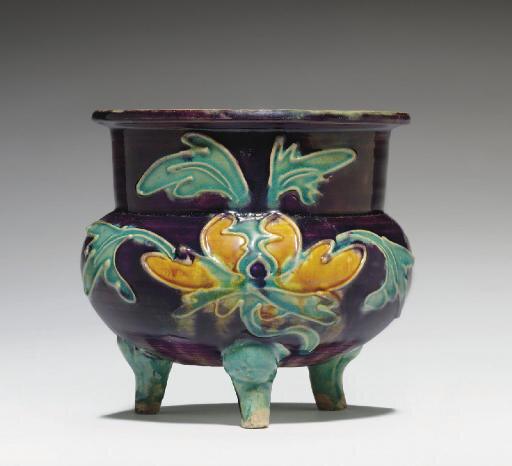 Lot 581. A fahua tripod censer, Ming dynasty, 15th century; 5¼ in. (13.3 cm.) across. Estimate USD 2,000 - USD 4,000. Price realised USD 9,375. © Christie's Image Ltd 2008.
Raised on three cabriole supports, the compressed body decorated in slip with two large peony sprigs that continue up onto the cylindrical neck, all in turquoise and amber on an aubergine ground, wood stand.
Property from the Collection of Neil and Sharon Phillips.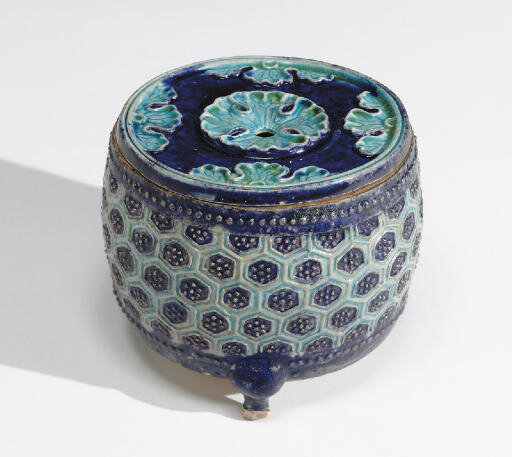 Lot 582. An unusual fahua tripod censer and cover, Ming dynasty, circa 1500; 3½ in. (8.9 cm.) high. Estimate USD 5,000 - USD 7,000. Price realised USD 11,875. © Christie's Image Ltd 2008.
The barrel-form body raised on three cabriole supports and molded around the sides with a broad band of cell diaper between bead borders, all in turquoise and dark blue, as is the flat cover molded in high relief with lotus leaves, the central leaf with a small aperture for the release of vapor, the four surrounding demi-leaves issuing from the raised outer edge, interiors unglazed, box.
Note: A fahua tripod flower pot with a band of similar cell diaper incorporated into the decoration and dated c. 1488-1566 is illustrated by J. Harrison-Hall, Ming Ceramics in the British Museum, London, 2001, pp. 422-3, no. 13:27.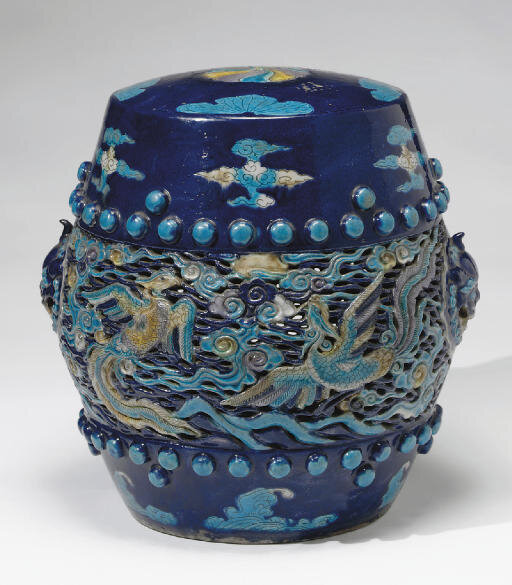 Lot 583. A fahua barrel-form garden seat, Ming dynasty (1368-1644); 14 in. (35.5 cm.) high. Estimate USD 15,000 - USD 18,000. Price realised USD 15,000. © Christie's Image Ltd 2008.
The sides decorated with a wide band of phoenixes in flight amidst a ground of dense pierced clouds interrupted by a pair of mask handles, between rows of bosses and detached waves below and clouds above, the domed top with a pierced central flower head surrounded by demi-lotus leaves at the rim, all in turquoise, pale yellow, pale aubergine and white on a dark blue ground.
Provenance: Estate of Marc Haas; Christie's, New York, 30 May 1991, lot 300.
Christie's, New York, 19 September 1996, lot 258.
Note: It is unusual to find a fahua garden seat with pierced decoration, although a pair carved and pierced with Buddhistic lions was sold in London, 10 June 1974, lot 115. A similar garden seat in the Percival David Foundation, London, which is more simply decorated around the unpierced sides with Buddhistic lions and cash, dated to the Hongzhi period, is illustrated by R. Scott and R. Kerr, Ceramic Evolution in the Middle Ming Period, Hongzhi to Wanli (1488-1620), Percival David Foundation, London, 1994, p. 25, no. 32, where the authors discuss the characteristics of both northern and southern production of fahua ware during the Yuan and Ming periods, pp. 11 and 12.
Christie's. Fine Chinese Ceramics And Works Of Art, New York, 19 March 2008.