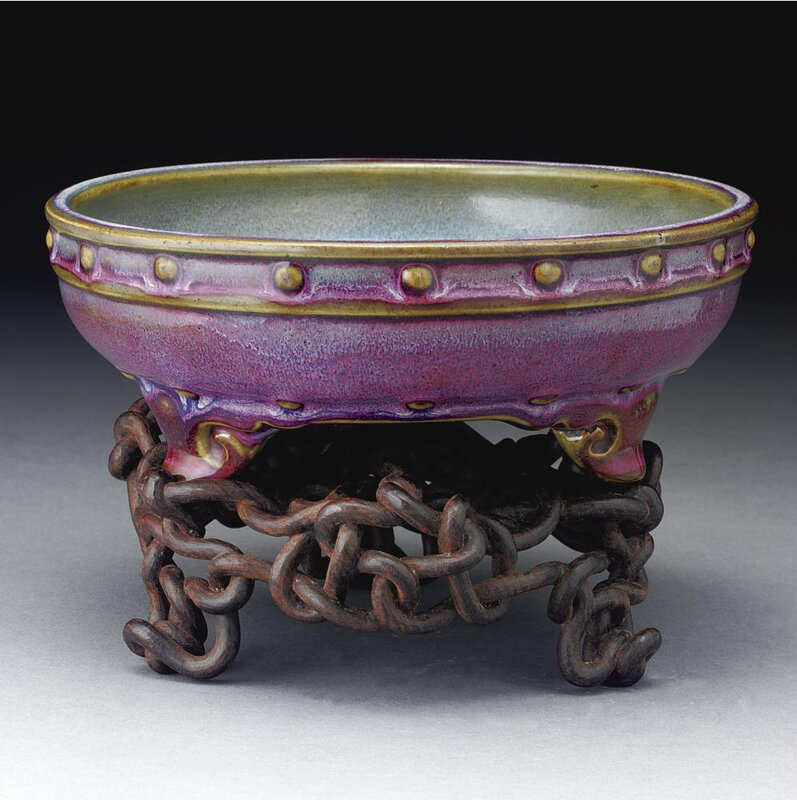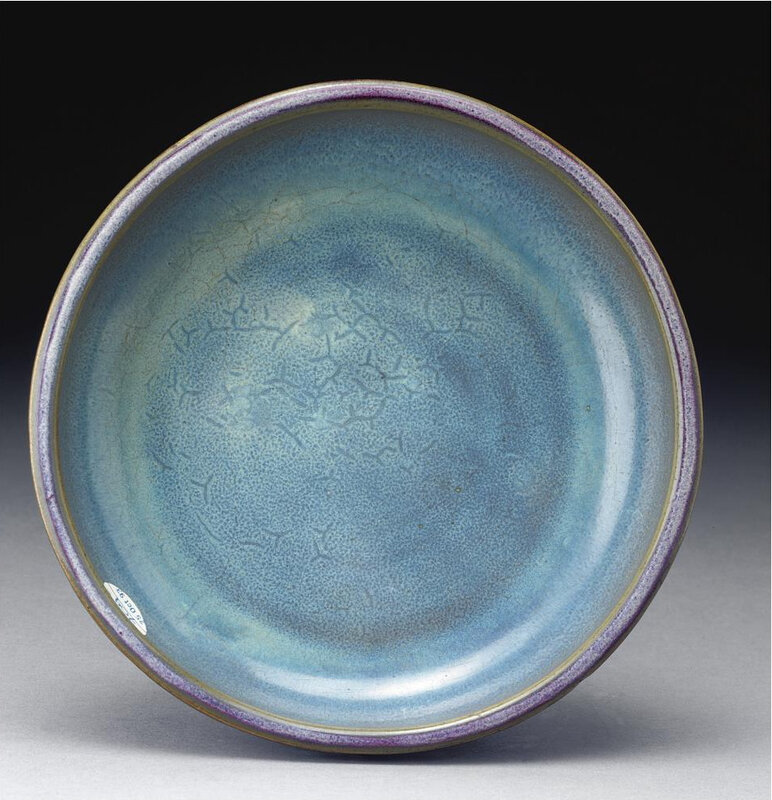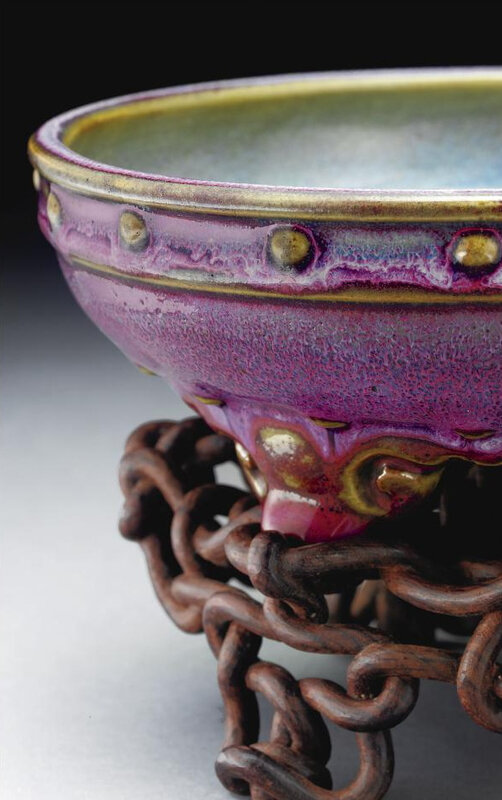 Lot 97. A superb 'jun' purple-splashed narcissus bowl, Early Ming dynasty; diameter 7 3/4 in., 19.7 cm. Estimate USD 400,000 — 500,000. Lot sold USD 869,800. © Sotheby's
the wide gently curved sides articulated on the exterior with a raised band of regularly spaced molded drum-nail bosses below the lipped mouth rim, with another row of bosses above the three boldly-scrolled ruyi-head bracket feet, the interior covered in a lustrous sky-blue glaze, featuring a fine network of 'worm trails' to the interior, the exterior highlighted with evenly splashed copper of vibrant raspberry-purple tone, the bosses and the base differentiated by a mushroom-brown, with 18 tiny spur marks and an incised si ('four') to the base, fitted carved wood stand (2).
Provenance: Christie's Hong Kong, 25th October 1993, lot 704.
Note: The present 'Jun' tripod narcissus bowl (guding shuixian pen) with its intense coloration of bright purple, belongs to a special group of 'Jun' wares which are mold-made and generally inscribed on the base with numerals from one (yi) to ten (shi). In its form and size it is almost the pair to the magnificent 'Jun' bowl, lot 100, in this sale, with the only difference being the color of the glaze that covers the two vessels. The purple color was intentionally applied to this piece to give it a flamboyant effect.
Narcissus bowls of this intense purple coloration inscribed with the numeral si ('four') are rare although a closely related example was sold twice in our Hong Kong rooms, 12th-13th May 1976, lot 21, and again, 15th November 1988, lot 107. See also a vessel in the National Palace Museum, Taipei, inscribed with the same numeral si ('four') and covered with a light lavender-colored glaze, illustrated in A Panorama of Ceramics in the Collection of the National Palace Museum: Chun Ware, Taipei, 1999, pl. 32, together with four other examples of different sizes, also of more bluish tone on the exterior, less strongly suffused with purple, pls. 29, 31, 33, and 36.
A purple-glazed 'Jun' narcissus bowl inscribed with the numeral yi ('one'), in the Shanghai Museum, is illustrated in Chugoku toji zenshu, vol.12, Kyoto, 1983, pl. 28; and two further examples, also with the numerals yi ('one') in the Palace Museum, Beijing, are published in The Complete Collection of Treasures from the Palace Museum Collection. Porcelain of the Song Dynasty (I), Hong Kong, 1996, pls. 24 and 25, the latter from the Qing Court collection incised with an inscription recording its use in the palace studio Jingqixuan.
A slightly larger bowl with an intense deep-purple glaze was sold in our Hong Kong rooms, 5th November 1996, lot 724, and again in these rooms, 9th November 2005, lot 277; and another much larger example with the numeral yi ('one') was sold at Christie's Hong Kong, 1st May 1995, and again in our Hong Kong rooms, 7th May 2002, lot 521.
Sotheby's. Fine Chinese Ceramics And Works Of Art, New York, 18 March 2008