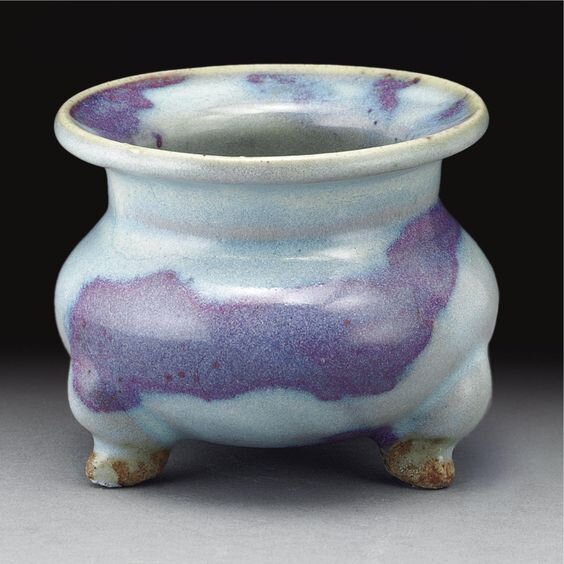 Lot 90. A small 'jun' purple-splashed tripod censer, Jin-Yuan dynasty (1115-1368); height 3 1/8 in., 7.9 cm; diameter 3 3/4 in., 9.5 cm. Estimate USD 80,000 — 100,000. Lot sold USD 97,000. © Sotheby's.
the petite globular body with flat base supported on three short cabriole legs projecting from the sides, the short broad neck culminating in a wide angled galleried rim, liberally splashed with bright purple accents upon the thick milky-blue glaze, the glaze also applied to just the interior of the neck, revealing the buff-colored body.
Note: Wares from the typesite Juntai in Yu county, Henan province, an area formerly known as Junzhou, are remarkable for their luscious thick glaze of intense coloration which can vary from light blue to deep turquoise blue. It was in the early twelfth century that potters started applying splashes of copper to the glaze before firing, resulting in patches of purple, lavender and tones of deep blue upon the milky-blue primary glaze. Such splashes added a flamboyant effect to the piece, often with a strong calligraphic quality which had an immense appeal to the literati and nobility of the time. The aesthetic beauty of splashed 'Jun' wares was thus derived from these distinct splashes, the elegant shapes and magnificent rich glaze.
The present 'Jun' tripod censer is a fine and rare example of its type. In its form and delicate small size it is closely related to Song period censers, which suggests that it may possibly be an early example of splashed 'Jun' wares. Yuan period 'Jun' censers of this type were typically of larger size and were applied with molded decoration.
Compare a larger splashed censer of related form but with less prominent splashes illustrated in John Ayers, The Baur Collection, vol.1, Geneva, 1968, pl. A37; a slightly smaller censer covered with a lavender-blue glaze profusely splashed with brilliant tones of purple, from the Muwen Tang collection included in the exhibition Song Ceramics from the Kwan Collection, Hong Kong Museum of Art, Hong Kong, 1994, cat. no. 42, sold in our London rooms, 12th November 2003, lot 49; and a third example with more regular red coloring from the Schoenlicht collection, published in color in H.F.E. Visser, Asiatic Art in Private Collections of Holland and Belgium, Amsterdam, 1947, pl. 232.
Sotheby's. Fine Chinese Ceramics And Works Of Art, New York, 18 March 2008