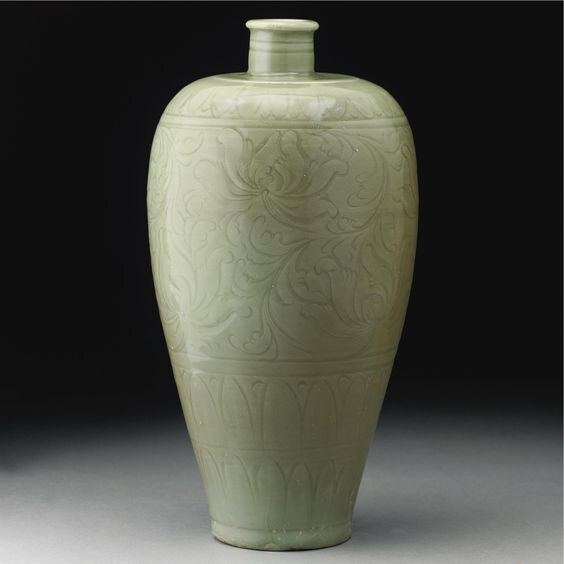 Lot 86. A 'Longquan' celadon carved vase, meiping, Northern Song Dynasty (960-1127); height 13 3/4 in., 34.9 cm. Estimate USD 35,000 — 40,000. Lot sold USD 43,000 . © Sotheby's.
the ovoid body finely carved with a wide central band containing two registers of scrolling lotus blossoms, above a high skirt with two registers of overlapping lappets, a single band of lappets at the shoulder, all with finely combed detailing, the short upright neck culminating in an everted mouth rim, applied overall with an olive-green glaze pooling to a deeper tone in the recesses, the unglazed foot rim and recessed base revealing the pale orange-spotted body.
Provenance: Acquired by the present owner on the Hong Kong art market in 1994.
Note: Meiping of this type belong to early 'Longquan' wares that are particularly rare. A vase of similar proportions and incised decoration was sold in our Hong Kong rooms, 5th November 1996, lot 725. Compare also a smaller related vase, from the collection of Sir Herbert and Lady Ingram and now in the Ashmolean Museum, Oxford, illustrated in Sekai toji zenshu, vol. 12, Tokyo, 1977, p. 198, no. 179, which is decorated with a peony scroll with smaller blooms arranged in three ranks; and another smaller vase with a similar lotus scroll design in the Royal Ontario Museum, Toronto, published in Jan Wirgin, Sung Ceramic Designs, Stockholm, 1970, pl. 37h.
An early 'Longquan' vase of this type but with a less distinctive rim and carved with a denser scroll of smaller flowers, in the collection of the Chang Foundation, is included in James Spencer, Selected Chinese Ceramics from Han to Qing Dynasties, Taipei, 1990, pl. 59.
For a piece of the type which may have inspired the making of this type of meiping, see the vase of slightly different shape with a more angled shoulder and carved with a peony scroll design, attributed to the Five Dynasties period (907-960) illustrated in Longquan qingci, Beijing, 1966, pl. 2.
Lot 79. A rare large 'Longquan' celadon mallet vase, Southern Song dynasty (1127-1279); height 10 1/4 in., 26 cm. Estimate USD 45,000 — 55,000. Lot sold USD 55,000. © Sotheby's.
of cylindrical form tapering gently towards the foot, the sloped shoulder rising to a columnar neck and wide galleried mouth rim, the neck flanked by a pair of ao or makara dragon-fish handles, applied overall with a thick bluish-green glaze, the foot rim pared down revealing the gray body and traces of burnt orange from the firing.
Note: vase of similar form and size, also with fish-dragon handles, from the collection of Enid and Brodie Lodge, included in the Exhibition of Chinese Art, Palazzo Ducale, Venice, 1954, cat.no. 422, and in five other exhibitions, was sold in our London rooms, 8th July 1975, lot 91. See another vase with a noticeable crackled glaze, from the collections of Nai Chi-chang, Warren E. Cox and Frederick M. Mayer, included in the exhibition The Art of Southern Sung China, Asia House Gallery, New York, 1962, cat.no. 54; another, illustrated in The Freer Gallery of Art: I. China, Washington D.C., n.d. pl. 89; and a third example included in Bo Gyllensvard, Chinese Ceramics in the Carl Kempe Collection, Stockholm, 1964, pl. 99.
Two vases of slightly smaller dimensions were recovered from a ship wrecked off the Sinan Coast in Korea in 1323, and included in the Special Exhibition of Cultural Relics Found Off Sinan Coast, National Museum of Korea, Seoul, 1977, cat.col. pl. 3, and pls. 4 and 5, forming part of a small group of vessels on board which are believed to predate the ship's voyage by some decades.
Vases of this type can also be found with phoenix handles; for example see one included in the exhibition Ice and Green Clouds. Traditions of Chinese Celadon, Indianapolis Museum of Art, Indianapolis, 1987, cat.no. 78 and figs. 78a-e. It is mentioned ibid., p. 192, that vases of this type (known in Japan as Kinuta) have been valued in Japan since the Kamakura period.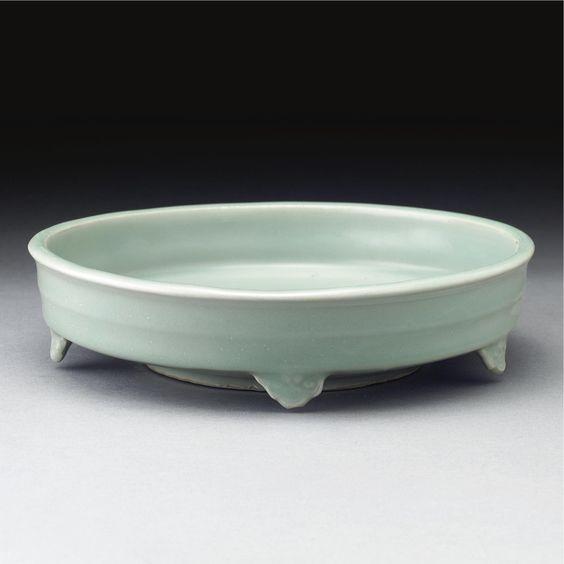 Lot 95. An unusual 'Longquan' celadon shallow brushwasher, Southern Song dynasty (1127-1279); diameter 7 3/4 in., 19.7 cm. Estimate USD 20,000 — 30,000. Lot sold USD 25,000. © Sotheby's.
covered overall with an unctuous pea-green glaze, the flattened interior left plain, rising up to vertical sides and a lipped rim, the exterior encircled by a raised groove, all atop five irregularly spaced molded bracket feet, the foot rim left unglazed.
Note: 'Longquan' celadon washers of this form are extremely rare although a larger tripod-vessel of this round and shallow form, in the Wenzhou Museum, is illustrated in Celadons from the Longquan Kilns, Taipei, 1998, pl. 185. See also a basin with two horizontal ribs around the outside, in the Nakamura Kinenkan Museum, Kanazawa, published in Sekai toji zenshu, vol. 12, Tokyo, 1977, pl. 78; and another 'Longquan' washer included in the Illustrated Catalogue of Sung Dynasty Porcelain in the National Palace Museum. Lung-ch'uan Ware, Ko Ware and Other Wares, Tokyo, 1974, pl. 19.
Sotheby's. Fine Chinese Ceramics And Works Of Art, New York, 18 March 2008