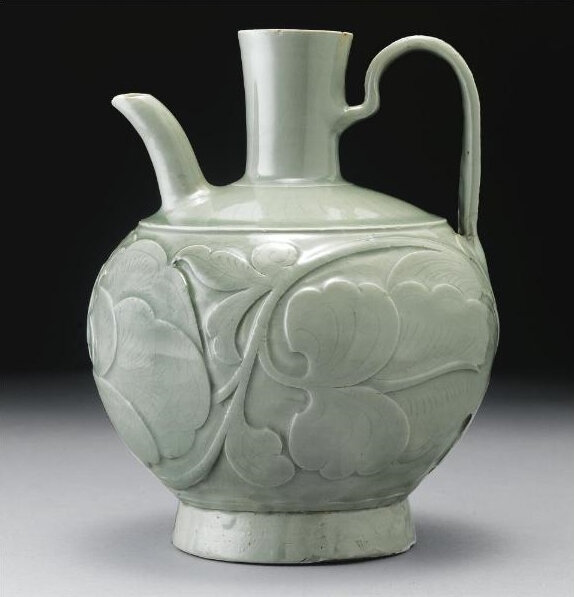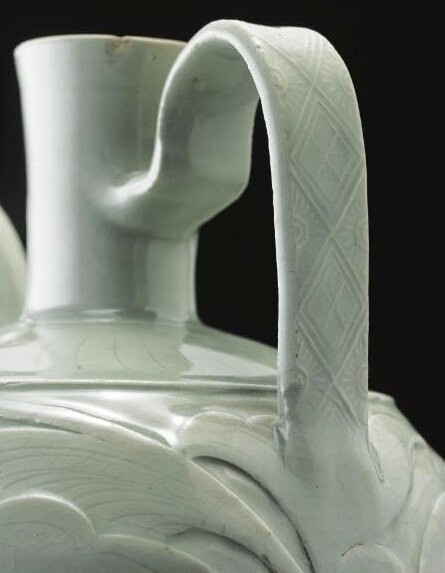 Lot 78. A rare early 'Yaozhou' relief-carved globular ewer, Five Dynasties-Northern Song Dynasty (907-1127); height 7 3/4 in., 19.7 cm. Estimate USD 150,000 — 200,000. Lot sold USD 181,000. © Sotheby's.
the globular body finely carved with a single grand peony flanked by scrolling stems issuing sumptuous leaves, all below a collar accentuated with incised radiating lines and a raised border, the flat strap diaper-molded ear handle projecting upward from one of the carved leaves on the body, the opposite end of the handle affixed to the cylindrical neck, with a curved spout rising from the shoulder, all supported on a high flaring foot, the light gray stoneware covered overall with a pale-green glaze with even craquelure save for the foot rim.
The dating of this lot is consistent with the results of a thermoluminescence test, Oxford Authentication Ltd., no. P207g48.
Note: Ewers of this elegant form and deeply carved flower decoration seem to be among the earliest green-glazed wares made at the 'Yaozhou' type site at Huangpu in Tongchuan county, Shaanxi province. Fragmentary ewers of this type recovered from the Five Dynasties stratum of the 'Yaozhou' kiln sites are illustrated in Wudai Huangpu yaozhi, Beijing, 1997, pp. 64 and 67, col. pl. 5, pl. 29, and pl. 30, figs. 1 and 2. The present ewer is a particularly well preserved example and is most attractive for its beautiful even glaze and exceptionally bold and large-scale carving with the motif expertly placed to fill out the main design band.
According to Regina Krahl in Chinese Ceramics from the Meiyintang Collection, vol. 3 (II), London, 2006, p. 470, 'until recently, only ten examples of this type of 'Yaozhou' ware with deeply carved large-scale flower design were known to survive.' See one included ibid., pl. 1472; another ewer and cover, from the Muwen Tang collection and included in the Min Chiu Society Thirtieth Anniversary exhibition Selected Treasures of Chinese Art, Hong Kong Museum of Art, Hong Kong, 1990, cat.no. 92, sold in our London rooms, 12th November 2003, lot 44; one in the Yaozhou Ware Museum, exhibited at the Masterpieces of Yaozhou Ware, Museum of Oriental Ceramics, Osaka, 1997, cat.no. 142; and a fourth example also sold in our London rooms, 9th June 2004, lot 177.
Compare also a ewer and cover, with the spout in the form of a seated lion, in the Cultural Museum of Cheng County, Gansu province, illustrated in Zhongguo taoci quanji, vol. 7, Shanghai, 2000, pl. 101; and two other ewers with lion spouts, one published in Regina Krahl, 'The T.T. Tsui Collection of Chinese Ceramics', Orientations, December, 1989, p. 36, fig. 10; the other included in the exhibition Ice and Green Clouds. Traditions of Chinese Celadon, Indianapolis Museum of Art, Indianapolis, 1987, cat.no. 52.
Sotheby's. Fine Chinese Ceramics And Works Of Art, New York, 18 March 2008