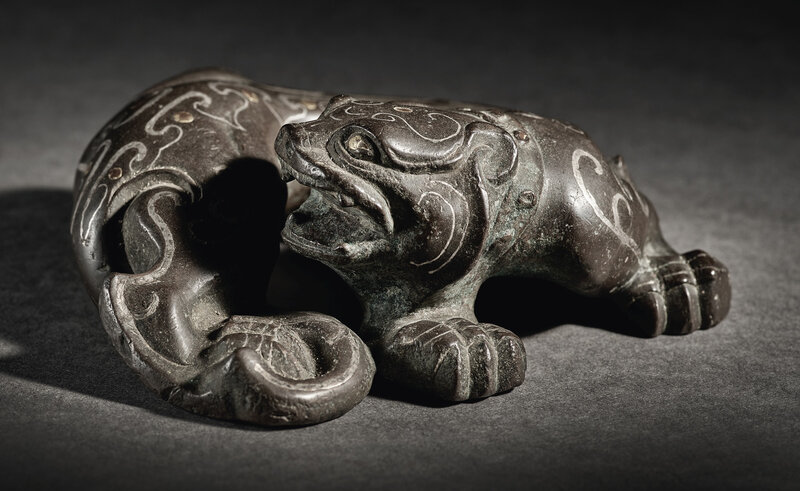 Lot 234. A rare gold and silver-inlaid bronze mythical beast, Western Han dynasty (206 BC – AD 8). Width 5 in., 12.8 cm. Estimate 20,000 — 30,000 USD. Courtesy Sotheby's.
the powerful feline cast coiled with its head turned sharply round, detailed with the ears folded flat at the sides above a short mane, its large eyes set under curving brows above a short nose, its neck encircled by a studded collar, its sinuous body extending to a long tail curled under its stretched rear leg, with fine gold and silver inlay defining the details.
Provenance: C.T. Loo, Paris, 15th January 1936.
Collection of Martine Marie Pol, Comtesse de Béhague (1870-1939).
Collection of Hubert Octave, Marquis de Ganay (1888-1974).
Hôtel Drouot, Paris, 7th May 1952, lot 59.
Collection of Stephen Junkunc, III (d. 1978).
Note: Solidly cast in the form of a coiled feline beast, depicted with its legs spreading and its body pressed tightly close to the ground, the present lot belongs to a small group of free standing bronze beasts from the Han dynasty, of which the function is yet to be discovered. The present beast is notable for its heavy weight and the low gravity design, which may suggest it was possibly functioned as a weight or a support.

Related examples are identified as weights, including a gilt-bronze lion of a smaller size, modeled in a very similar posture with the tail curling under its rear leg, attributed to the Western Han dynasty, from the Anthony Hardy Collection, sold at Christie's New York, 16th September 2010, lot 905; and a bronze tiger, from the collection of H. Ginsberg, exhibited in Ausstellung Chinesischer Kunst [Exhibition of Chinese Art], Berlin, 1929, cat. no. 69, where it was also described as a weight.
A gilt-bronze lion-form weight, Western Han dynasty (206 BC – AD 8); 3 3/8 in. (8.5 cm.) long. Estimate 80,000 - USD 120,000 USD. Price realised 92,500 USD at Christie's New York, 16th September 2010, lot 905. © Christie's Image Ltd 2010.
Cf. my post: A gilt-bronze lion-form weight, Western Han dynasty (206 BC – AD 8)
Upon closer examination, a small aperture is visible near the right rear leg of the present animal, which suggests its possible function as a support. Bronze mythical beasts of a similar form are known as supports of Han dynasty censers. See for example a gilt-bronze mythical creature, modeled in the form of a panlong, similarly crouching with legs spreading and tail curled, supporting a stemmed and a censer, in the Shanghai Museum, Shanghai, published in Zhongguo wenwu jinghua daquan qingtongjuan [Compendium of Chinese art. Bronzes], Taipei, 1993, no. 1156; and two in the Idemitsu Collection, Tokyo, illustrated in Ancient Chinese Arts in the Idemitsu Collection, Tokyo, 1989, pls 203 and 205.