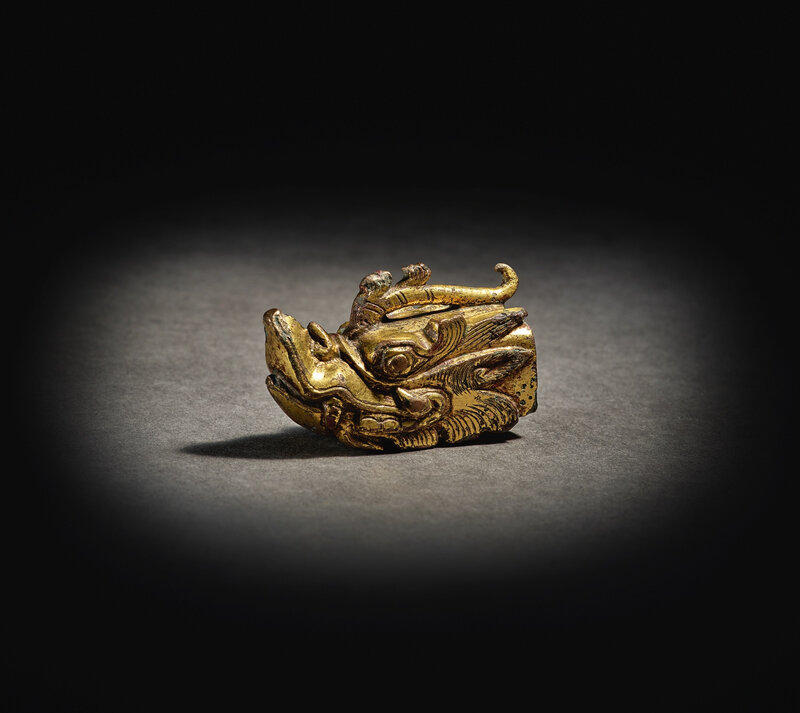 Lot 236. An exceedingly rare gilt-bronze dragon head-form fitting, Tang dynasty (618-907). Length 2 1/2 in., 6.3 cm. Estimate USD 80,000 — 120,000. Courtesy Sotheby's.
superbly cast in a tapered rectangular form with a hollow interior, the striking mythical beast head powerfully rendered with a gently curled single horn above large rounded eyes and a long upturned pointed snout exposing its sharp fangs, the mane finely detailed with neatly incised lines.
Provenance
:
C.T. Loo, New York, 19th April 1951.
Collection of Stephen Junkunc, III (d. 1978).
Note: Modeled with bulging eyes, menacing teeth and a ferocious expression, in which the dynamism and vigor of the dragon are conveyed to the full extent, the present lot belongs to a very small group of dragon head-form fittings, among which gilt-bronze examples of this fine quality are extremely rare. See a related gilt-bronze dragon head fitting of a slightly larger size, modeled with an extended rectangular socket, sold in our London rooms, 12th December 1989, lot 116; and another without the extended socket, offered in our London rooms, 10th December 1985, lot 35.
Compare a larger celadon jade dragon head fitting, carved in a very similar style, from the Tang dynasty, excavated from Qujiang village in Xi'an, Shaanxi province, now in the Xi'an Antiquities Protection and Archaeological Institute, exhibited in Gilded Dragons. Buried Treasures from China's Golden Ages, British Museum, London, 1999, cat. no. 54. Another jade example of a less angular form, similarly carved but with a long flowing mane, attributed to the 9th to 10th century, from the collection of Mr. and Mrs. Desmond Gure, is published in Daisy Lion-Goldschmidt and Jean-Claude Moreau-Gobard, Chinese Art. Bronze. Jade. Sculpture. Ceramics, New York, 1960, pl. 82.

Related dragon head fittings of this type are also known in sancai-glazed pottery, such as one from the Tang dynasty, modeled with an open mouth containing a small pearl, excavated at Huangbu town, Shaanxi province, now in the Yaozhou Kiln Museum, Tongchuan, published in Yōshū-yō : Chūgoku chūgen ni hana hiraita meiyō (The Masterpieces of Yaozhou Ware), Museum of Oriental Ceramics, Osaka, 1997, cat. no. 1.

The design of these dragon heads clearly indicate they were functioned as fittings. It is noted that the jade example was excavated from the bottom of Qujiang Pond, which may suggest it was possibly a decorative fitting from a royal boat, op. cit., British Museum, London, 1999, p. 93. The small size of the present dragon head would suggest a different placement, but it may have served a similar purpose, such as an ornament for an imperial carriage. See a line drawing of a Song dynasty imperial carriage, of which the curved ends of the parasol spokes are shown to be crowned with dragon head-form fittings, illustrated in Yang Haipeng, 'Jindai tongzuolongde faxian yu yanjiu' [Discovery and study of bronze seat dragons from the Jin dynasty], Beifang wenwu [Cultural relics of the north], vol. 1, Harbin, 2009, p. 49, fig. 2.
Sotheby's. Junkunc: Arts of Ancient China II, New York, 10 September 2019