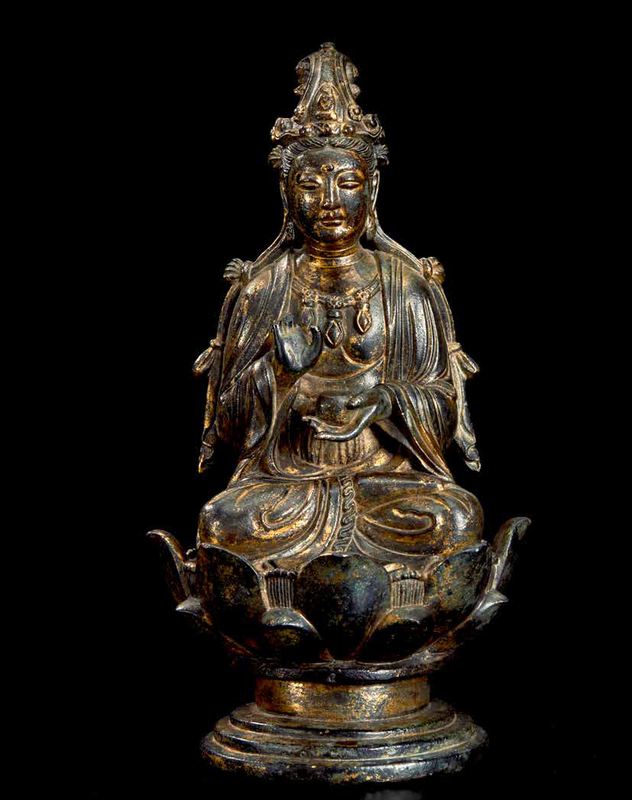 Lot 851. A gilt-bronze figure of Maitreya Bodhisattva, Liao dynasty (907-1125); 7 5/8in (19.5cm) high. Estimate US$ 50,000 - 70,000 (€ 45,000 - 63,000). © Bonhams.
Finely cast with a tall tiara decorated with jeweled florets and scrolling clouds flanking a central stupa and curling backwards over the tall topknot, the sides of the tiara tied with knotted streamers hanging from the sides, framing a full round face set with heavily-lidded downcast eyes and pouty lips, dressed in loose flowing robes with clearly defined folds, ending in a pleated hem above the right leg, the robe open at the chest to revel a necklace of three florets suspending pendants, the right hand held at chest level, the right cradling a water pot, seated in dhayanasana on a lotus throne with two rows of petals with the stamens filling the gaps in the upper row, all supported on a circular stepped pedestal..
Provenance: Acquired in Japan, 2011.
Note: The stupa in the headdress identifies the figure as Maitreya, a bodhisattve who will appear on Earth in the future to achieve complete enlightenment. The stupa on Maitreya's headdress represents the stupa enshrined with relics of Gautama Buddha, as such, Maitreya is regarded as the successor of Gautama Buddha.

The present figure bears many characteristics typical of Liao dynasty gilt-bronze Buddhist figures, such as the tall headdress with cloud motifs, the knotted streamers hanging from the headdress, the full, round face, the elongated body and narrow leg width, the pronounced folds in the clothing, and the distinctive lotus throne with stamens showing between the gaps in the upper row of lotus petals.

These features can all be seen in a Liao dynasty gilt-bronze figure of Vairocana in the Metropolitan Museum of Art illustrated by Christian Boehm, 'Buddhist Bronzes of the Liao Dynasty', Arts of Asia, January-February 2019, p. 87, figs. 1 and 2; and in a Liao dynasty gilt-bronze figure of Maitreya in the British Museum, illustrated, ibid, p. 90, fig. 6.

The pleated hem above the right leg of the present example is also visible on a Liao dynasty gilt-bronze figure of Amitabha Buddha in the Nelson-Atkins Museum of Art illustrated ibid, p. 88, fig. 3.

For examples of other Liao dynasty gilt-bronze figures without lotus thrones and a discussion of the characteristic features of Liao dynasty bronzes, see ibid, pp. 87-96. A similar but smaller figure was sold at Christie's New York, 18-19 September 2014, lot 1021.
Bonhams. Fine Chinese Paintings and Works of Art. New York, 9 September 2019