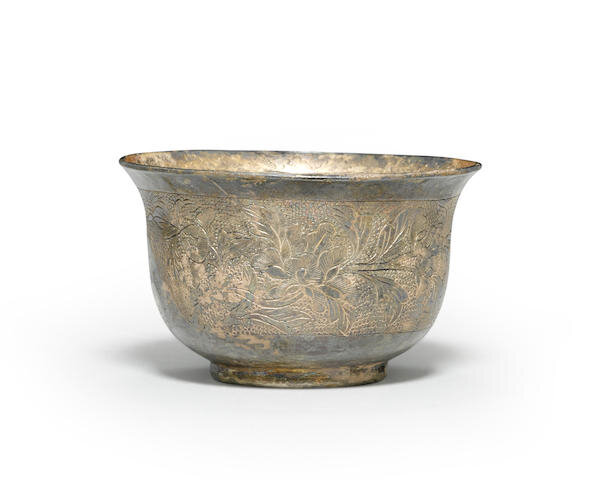 Lot 837. A chased and cast silver cup with gilt highlights, 10th-12th century; 2 3/8in (6cm) diameter, 1 7/16in (3.6cm) high, 48 grams. Estimate US$ 5,000 - 7,000 (€ 4,500 - 6,300). © Bonhams.
Of inverted bell form raised on a low foot and flat base, the interior rim chased with a narrow band of overlapping petals or waves and the exterior walls engraved with a wider band of two garden rocks that separate peony branches in bloom against a minutely ring-punched ground, the surfaces showing traces of gilt.
Provenance: Jim Freeman, 3 November 1981.
On loan and exhibited: The Denver Art Museum, 1982-2016 (Loan 119.1982).
Published: Sui-To no bijutsu, Osaka, 1996, no. 2-32, as Five Dynasties.
Note: The tiny ring-punched background on the decorative band surrounding this cup is often encountered in Tang metalwork. However cups of similar inverted bell form are normally raised on a tall pedestal foot: see the China Institute of America exhibition, Early Chinese Gold & Silver, New York, 1971, cat. no 47, p. 41 and cat. no. 64, p. 50 (both from the collection of the Hon. Hugh Scott). Typical of their decoration is a dense filigree across the exterior surface. A similar dense background of tiny circular punches behind geese in flight amid flowering branches covers the concave sides of a cup raised on an everted foot rim, excavated in 1988 from the tomb of Wei Xun, as discussed by Carol Michaelson in Gilded Dragons: Buried Treasures from China's Golden Ages, The British Museum, 1999, cat. no 61, p. 100-101. For bell-form bowls of larger size, ascribed to the late Tang period, excavated in the Xi'an area but undecorated and with a spreading ring foot, see Sun Fuxi (ed.), Xi'an wen wu jing hua: jin yin qi, Guangdong, 2012, cat. no. 42 (13.35 cm diameter, 465 grams) and cat. no. 43 (13.7cm diameter, 538 grams).
This lot was attributed to the tenth century when the cup was exhibited in Japan, possibly owing to its unusual shape with a stepped foot and a sparser band of decoration. Metalwork with similar ring-punched backgrounds continued to be made after the Tang period, as indicated by examples excavated from tenth and eleventh century tombs included in the Asia Society exhibition Gilded Splendor: Treasures of China's Liao Empire (907-1125),, New York, 2006. See, for example, the gilt silver jug with scenes of filial piety excavated in 1992 from the tomb of Yelu Yuzhi and his wife Chonggun (before 942), cat. no. 95. pp. 320-321; or the saddle ornaments from the tomb of the Princess of Chen and Xiao Shaoju (1018 or earlier) excavated in 1986, cat. no. 12a-d, pp. 122-123. Given the Japanese provenance of the tiny silver cup, and the excavation of Liao sites undertaken by the Japanese during their occupation of northern China, it is possible that the cup was made during the Liao dynasty.
Bonhams. Fine Chinese Paintings and Works of Art. New York, 9 September 2019