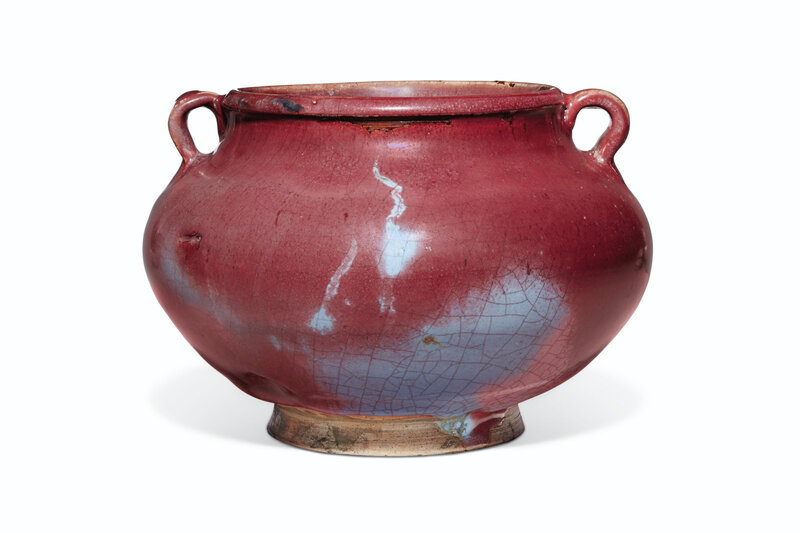 Lot 1015. A rare Jun twin-handled jar, Yuan-Ming dynasty, 14th-15th century; 6 5/8 in. (17 cm.) diam. Estimate USD 60,000 - USD 80,000. © Christie's Images Limited 2019.
The jar is potted with a globular body raised on a slightly splayed foot, and has two strap handles flanking the slightly flared cylindrical neck. The exterior is covered with a thick purplish-red glaze with an area of crackled sky blue color on one side and continues over the lipped rim to cover the inside of the neck, the remainder of the interior unglazed.
Provenance: Mr. and Mrs. Alfred Clark Collection, United Kingdom, no. AIC 716.
Sotheby's London, 25 March 1975, lot 95.
Sotheby's London, 11 December 1979, lot 227.
Bonhams London, 7 November 2013, lot 11.
Literature: The Oriental Ceramic Society Exhibition of Sung Dynasty Wares, Chun and Brown Glazes, London, 1952, cat. no. 151.
Exhibited: London, Exhibition of Chinese Art for Chinese Medical Relief, 1938.
London, The Oriental Ceramic Society Exhibition of Sung Dynasty Wares: Chun and Brown Glazes, 1st-3rd May 1952.
Note: In the Song period, Jun wares from Yuxian, Henan province with areas of contrasting copper-red were widely admired. Much emphasis was unsurprisingly placed on the quality of the thick, opalescent glaze. The most important characteristic of Jun glaze is the phenomenon known as 'liquid phase separation' which is the formulation of tiny globules of lime-rich glass within the silica-rich glaze matrix, effecting the passage of light in such a way as to produce an attractive blue effect. Jun ware production understandably required great skill and control of the glaze and the firing conditions. Such delicate balances perhaps encouraged a degree of experimentation as the effects of minute changes were observed and understood, leading to the development of new styles of Jun decoration.

This jar is very unusual for its almost entirely red surface. See a jar of similar shape dated to the Yuan dynasty illustrated in A Panorama of Ceramics in the Collection of the National Palace Museum: Chün Ware, Taipei, 1999, no. 104. Under the Qianlong reign, the famous Imperial ceramics supervisor, Tang Ying (1682-1756), sent a craftman to Yuxian to research into the glaze recipe of the Jun ware, and Jun ceramics with the same shape and glaze were created. See a Jun-type jar of related shape from the Qianlong period in the Zande Lou collection illustrated in Qing Imperial Monochromes: The Zande Lou Collection, Shanghai Museum, Beijing Museum, and Art Museum, The Chinese University of Hong Kong, 2005, pp. 118, no. 48.