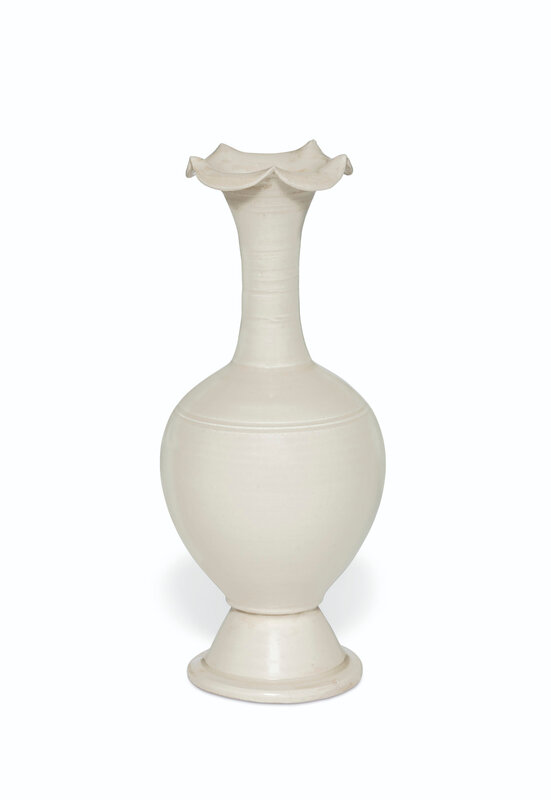 Lot 1008. A rare Ding white-glazed foliate-rimmed vase, Northern Song-Jin dynasty (960-1234); 7 1/8 in. (18.2 cm.) high. Estimate 15,000 - USD 20,000 USD. © Christie's Image Ltd 2019.
The ovoid body is decorated with a bow-string band on the shoulder, the tall trumpet neck flaring to an undulating rim further incised with bow strings, and all raised on a tall spreading foot. The vase is covered with a glaze of creamy-white color that continues inside the mouth and onto the base..
Note: Created at the Ding kilns, this extremely rare vase dates to the Northern Song period, as indicated by the exceptionally meticulous finish, the white body and the ivory-hued glaze. Unembellished, the vase relies upon tautness of form, harmonious proportions, and sublime glaze color for its aesthetic appeal. Gaining imperial favor in the tenth or early eleventh century, Ding ware was the preferred ware at the Imperial palace during much of the Northern Song period.
Vases of this shape are rarely found in Ding ware. This distinctive shape, termed hua kou ping (vase with foliate mouth rim), was first introduced during the Tang dynasty and became a popular shape employed at a variety of kilns during the Song dynasty. Compare the present vase to another Ding bottle vase of similar shape and size, sold at Sotheby's Hong Kong, 30 November 2017, lot 412.

Although this form is very rare in Ding ware, it was a popular form in other wares such as Cizhou ware. For an example of a Cizhou vase of this shape, see Tsugio Mikami, Sekai toji Zenshu 13 Liao Jin Yuan, Shogakukan, Tokyo, p. 243, no. 278. Vases of this type are also found in Jun ware, such as an example of similar size, but of broader proportions, sold at Christie's New York, 17-18 September 2015, lot 2320.
Christie's. Important Chinese Ceramics and Works of Art, New York, 13 September 2019