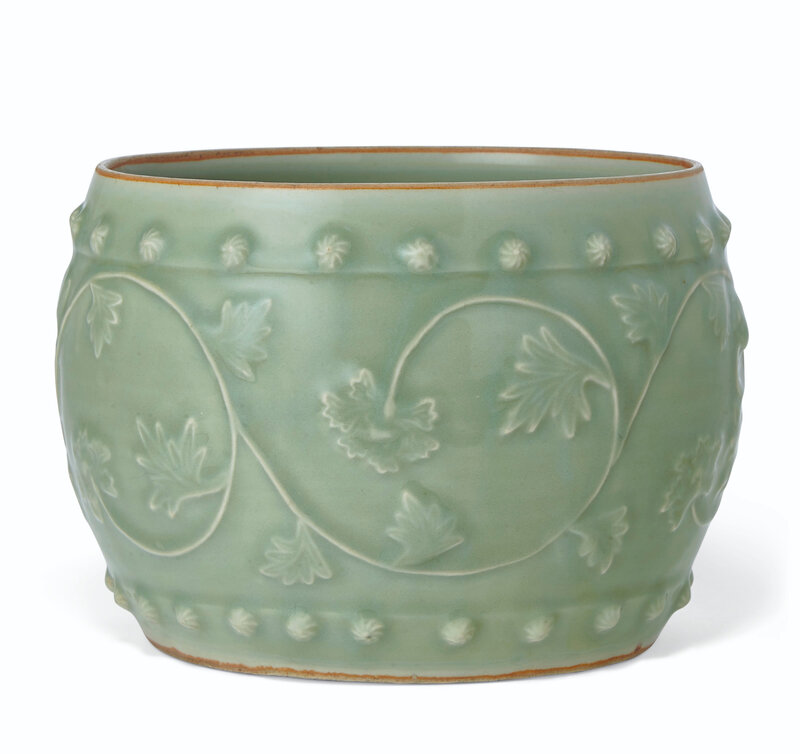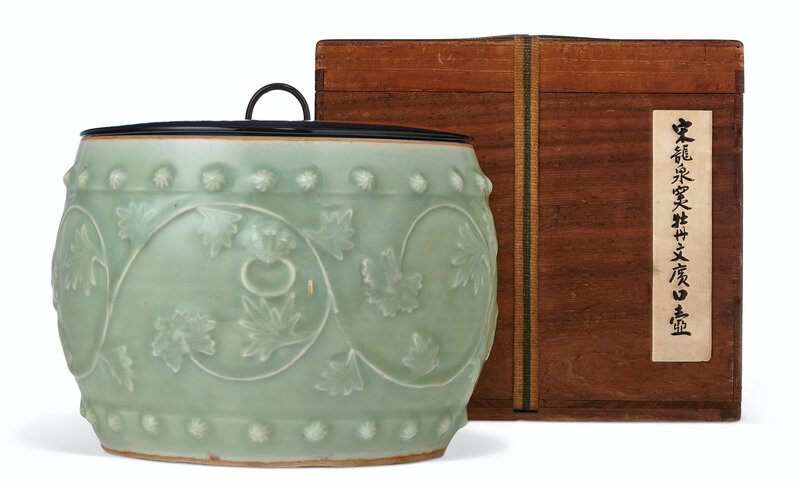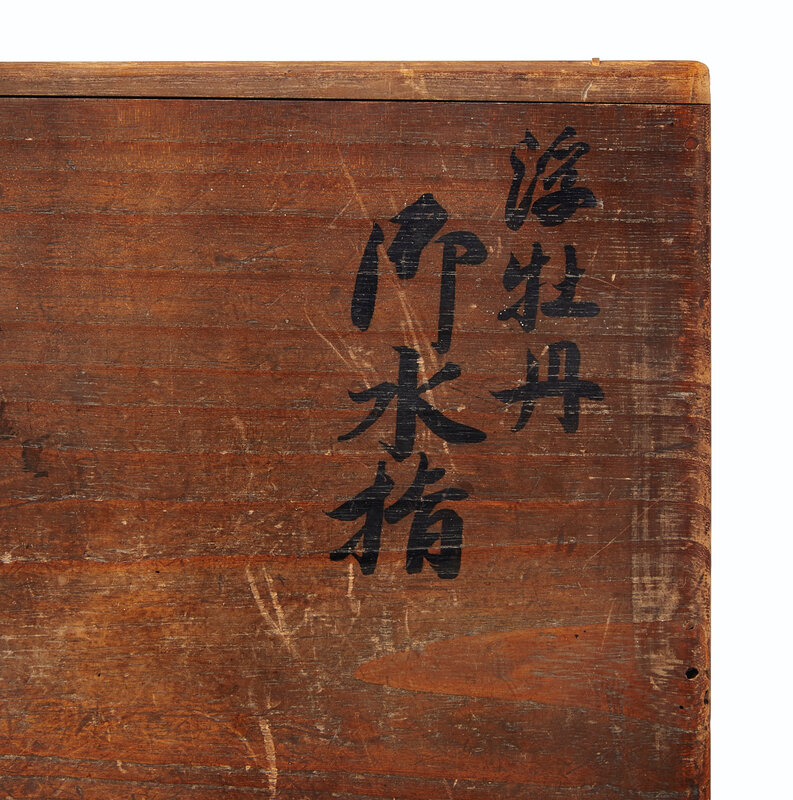 Lot 1047. A very rare large Longquan celadon barrel-form jar, Southern Song-Yuan dynasty (1127-1368); 9 ½ in. (23.9 cm.) diam. Estimate USD 150,000 - USD 250,000. Price realised USD 300,000. © Christie's Image Ltd 2019.
The jar is decorated in relief on the exterior with a continuous peony scroll interrupted by a pair of animal-masks suspending rings, between rows of small bosses applied to the raised bands above and below. It is covered overall with a glaze of soft sea-green color that thins on the raised areas and falls to the unglazed bottom of the foot which is burnt orange-brown in the firing, lacquer cover, Japanese wood box.
Provenance: Yasuda Yukihiko (d. 1978) Collection, Japan, after 1950.
Literature: Japan Ceramic Society, 'Catalogue of Exhibition of Chinese Celadon', Nihon bijutsu ko¯gei (Japan Art and Crafts), December 1950, no. 56.
Exhibited: Tokyo, Japan Ceramic Society, Exhibition of Chinese Celadon, 13-14 October 1950.
Note: The barrel-form jar, known as a drum-form water vessel in Japan, is one of the rarest Longquan celadon forms. There appears to be only two other known examples. The most famous is the Longquan barrel-form jar (22.3 cm. diam.) with its original cover in Seikado Bunko, dated to the 13th century, illustrated by H. Gakuji, Sekai Toji Zenshu (Ceramic Art of the World), vol. 12: Song, Tokyo, 1977, pp. 94-5, nos. 85-6. The Seikado Bunko jar and cover is highly prized in Japan and is arguably one of the most iconic masterpieces of Longquan celadon in the world. It is designated as an Important Cultural Property in Japan and was formerly in the collection of the most prominent Edo Period (1603-1868) merchant family, the Kounoike family. The other barrel-form jar (20.9 cm. diam.) with more densely packed drum studs on the rims in the Percival David Foundation, dated to the Yuan dynasty (1279-1368), is illustrated by S. Pierson, Illustrated Catalogue of Celadon Wares in the Percival David Foundation of Chinese Art, London, 1997, p. 26, no. 225. Longquan ware is known for its large-scale production, especially during the Yuan dynasty when production increased, with some 300 kilns active in the Longquan area from the Dayao, Jincun and Xikou kiln complexes in the west to those on the Ou and Songxi rivers. This massive production not only supplied domestic market for middle- and upper-class patrons, but also supplied the international market, particularly the Middle East and Japanese clientele. More than three thousand Longquan celadon wares were also found in the cargo of the Sinan wreck, which was on its way from Ningbo to Japan in 1323, when the ship foundered off the coast of Korea. See R. Scott, Imperial Taste: Chinese Ceramics from the Percival David Foundation, Los Angeles, 1989, pp. 50-51. The rarity of barrel-form jars might be ascribed to the special function they had, and they were probably made under special commissions. Like other Longquan vessel types, the barrel-form jar continued to be made in the Ming dynasty. A Ming Longquan barrel-form jar of much smaller size (9.6 cm. diam.) and with carved decoration in Eisei Bunko Museum, Tokyo, is illustrated in Kuboso Memorial Museum of Art, Sensei, Bansei and Celadon of Longquan Yao, Izumi, 1996, p. 32, no. 128.
The decoration on this barrel-form jar, as well as the two other aforementioned examples is executed in a popular method used at the time, that of "sprig" molding, where the decoration was molded separately and then applied to the surface before glazing. A Longquan phoenix-tail vase with similar sprig-molded peony-scroll decoration around the body from the Fujita Museum collection, was sold at Christie's New York, 15 March 2017, lot 501. Another Longquan phoenix-tail vase with similar decoration from Taisan-Ji temple, Kobei, is illustrated in Kuboso Memorial Museum of Art, Sensei, Bansei and Celadon of Longquan Yao, Izumi, 1996, p. 59, no. 75.
Christie's. Important Chinese Ceramics and Works of Art, New York, 13 September 2019