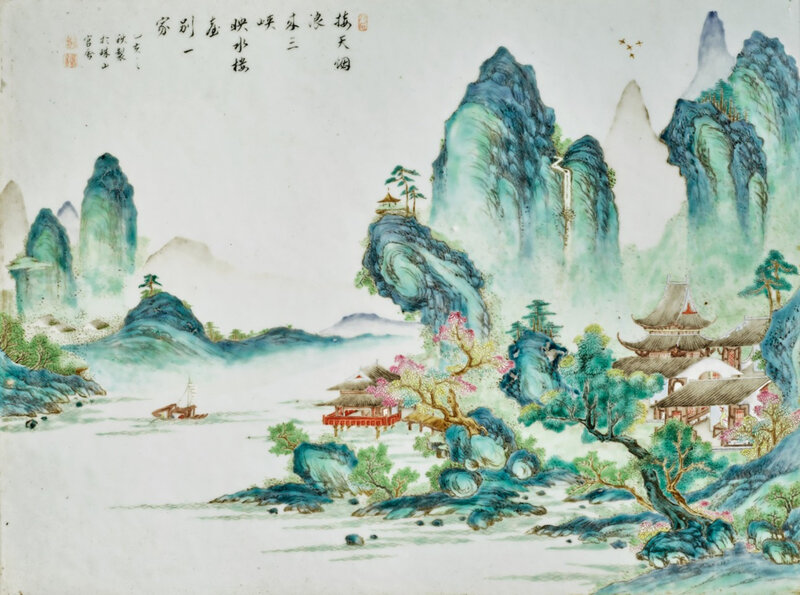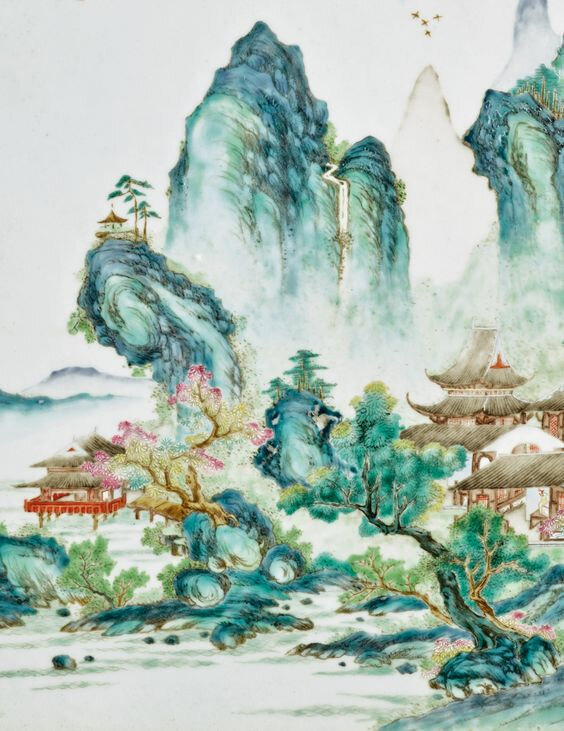 Lot 663. An exceptional and rare famille-rose 'landscape' panel, by Tang Ying, Qing dynasty, Qianlong period, dated Yihai year, corresponding to 1755. 12 by 16 1/8 in., 31 by 41 cm. Estimate 120,000 — 150,000 USD. Lot Sold 275,000 USD. © Sotheby's.
delicately painted with an idyllic lakeside scene of elegant studios and pavilions overlooking the water, surrounded by jagged rockwork and twisting trees all enameled in shades of green and blue, the tips of the leaves turning yellow and pink, the lake with a sampan amidst the calm waters left unenameled save for the seafoam-green ripples, tall jagged mountains rising vertically above and around, the depth conveyed through the skillful use of paler enamels, negative space, and washes of grisaille, a waterfall cascading down one cliff face and a small thatched pavilion above a jagged slope in the distance, the sky left plain and inscribed with a poetic verse reading Jietian yanlang lai sanxia yingshui loutai bie yijia (enshrouded by waves of mist, the gorges unveil; reflected by the water, a pavilion stands), followed by an inscription yihaizhiqiu zhiyu Zhushan guanshe (made at the Zhushan official residence in the autumn of the yihai year), accompanied by three seals reading pianshi, tao and zhu, all within a wood frame, the reverse with a Japanese gilt-lacquered temple scene.
Provenance: Collection of A.W. Bahr (1877-1959), acquired between 1917 and 1922.
American Art Galleries, New York, 11th January 1922, lot 435.
Florida Private Collection.
From the Zhushan Official Residence
No single person probably had a greater impact on the development of Chinese porcelain and has been more celebrated in this context than Tang Ying (1682-1756) (fig. 1). Having entered the services of the Qing Court at a very young age and belonging to one of the Banners under direct imperial control, he personally served all three of the major emperors of the Qing dynasty, Kangxi, Yongzheng and Qianlong. He befriended the Yongzheng Emperor, his senior by only a few years, while the latter was still Prince, and upon his ascension to the throne, Tang became Vice-Director of the Imperial Household Department. Not long after, he was sent to Jingdezhen and soon oversaw the production of the Imperial kilns there; and although he later became Supervisor of Customs in nearby Jiujiang, he appears to have retained control over the production of Imperial porcelains until he retired, in the year he died.
Tang Ying, soapstone carving by Wang Ben, dated 1750, Peter Lam, 'Tang Ying [1682-1756]. The Imperial Factory Superintendent at Jingdezhen', Transactions of the Oriental Ceramic Society, vol. 63, 1998-9.
fig. 2. A rare famille-rose 'landscape' vase, signed with the seal of Que Tao, of Tang Ying, Qing dynasty, Qianlong period. Sotheby's Hong Kong, 15th November 1988, lot 52.
fig. 3. Famille-rose porcelain brushpot painted with the Pipa Pavillion, inscribed by Tang Ying, Qing Dynasty, Yongzheng period. Ashfield Collection.
These landscapes tie in directly with Tang's landscape paintings, for example, a hanging scroll depicting an autumn scene in the collection of the Palace Museum, Beijing, illustrated by Peter Lam in 'Tang Ying [1682-1756]. The Imperial Factory Superintendent at Jingdezhen', Transactions of the Oriental Ceramic Society, vol. 63, 1998-9, p. 75, fig. 9 (fig.4). Not only the painting style but also the handwriting can be traced directly to Tang Ying. Inscriptions on Tang Ying porcelains are executed either in the formal clerical script (lishu) or in running script (xingshu) like on the present piece, both styles displaying a very distinctive hand. The landscape painting published by Peter Lam is inscribed in a very similar running script, and he also illustrates (ibid., fig. 10) a calligraphy in clerical script, which is accompanied by a colophon in running script that closely echoes the writing style on the current panel.
Autumn landscape painting by Tang Ying, Collection of the Palace Museum, Beijing. © Palace museum, Beijing.
Inscribed in a similar xingshu hand are also two grisaille-painted vessels, a dragon-decorated brushpot in the collection of the Art Museum, The Chinese University of Hong Kong, illustrated in Lam, op. cit., p. 69, figs 5 and 6; and a hexagonal bamboo-decorated vase with an underglaze-blue Qianlong reign mark, in the Sir Percival David Collection (Rosemary E. Scott, For the Imperial Court. Qing Porcelain from the Percival David Foundation of Chinese Art, New York and Singapore, 1997, no. 18).
Geng Baochang lists eight brushpots and water vessels for the scholar's desk in the Palace Museum, Beijing, decorated and inscribed in grisaille either on a white ground or over guan or celadon glazes, which bear Tang Ying's name or seals (Geng Baochang, 'Tan Tang Ying kuan de ciqi ji qita [On porcelains inscribed by Tang Ying and similar questions ]', Jingdezhen taoci [Jingdezhen porcelain], 1982, no. 2: Jinian Tang Ying dansheng sanbai zhounian zhuanji [Special issue commemorating the 300th Anniversary of Tang Ying]). Three of these bear the same seals tao and zhu as our plaque, and one of them, a small brushpot constructed as two interlocking lozenge-shaped receptacles of different size, painted with landscape scenes in grisaille on two sides and inscribed with poems on the other two, is also dated to the yihai year, 1755 (Geng, op. cit., illustrated on the back cover of the Journal, but the cyclical date mistakenly interpreted as the eighth year of Qianlong). The seals tao and zhu appear also on several other vessels, but the pianshi seal seems otherwise rare.
Equally executed in this year and provided with the seals tao and zhu was a cup inscribed with poems in shaped panels on an iron-red flower-decorated ground, sold three times in our Hong Kong rooms, 1979, 1994 and 2002, and illustrated in Sotheby's: Thirty Years in Hong Kong, Hong Kong, 2003, pl. 355. The Palace Museum, Beijing, owns an even later brushpot in form of a bamboo section, inscribed by Tang Ying and dated to the last year of his life, 1756 (Geng Baochang, Ming Qing ciqi jianding [Appraisal of Ming and Qing porcelain], Hong Kong, 1993, p. 291, fig. 497).
This porcelain plaque comes from the collection Abel William Bahr (1877-1959) (fig. 5), a merchant who was half Chinese, was born and brought up in China and, while living in Shanghai, acted as Secretary of the North China Branch of the Royal Asiatic Society (of Great Britain and Ireland). He was instrumental in organizing an exhibition of Chinese porcelain and works of art in Shanghai in 1908, of which he published a catalogue in 1911. In 1916, the American Art Galleries in New York organized a large sale of antiques he had collected, which included lot 667 in this sale. The present piece was sold in a later sale of his collection organized by the same galleries in 1922. Further sales followed in later years. He also lent pieces to the Royal Academy of Arts exhibition in London 1935-6. The present panel has not been published or on public display for nearly a century.
Portrait of Abel William Bahr (1877-1959) from A.W. Bahr Papers. Freer Gallery of Art and Arthur M. Sackler Gallery Archives. Smithsonian Institution, Washington, D.C. Gift of Penelope Jane Bahr, November 12th, 2001, A2001.14.