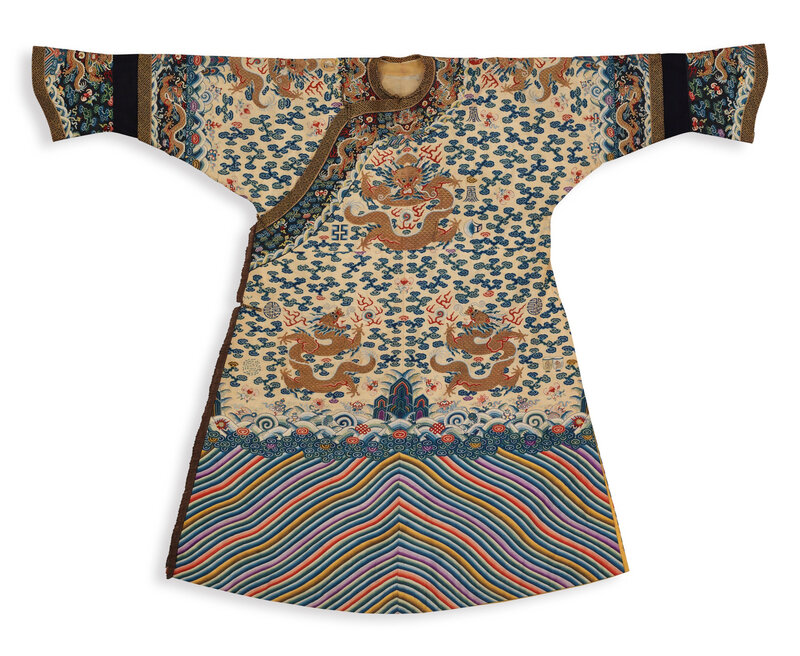 Lot 671. An Imperial yellow-ground fur-trimmed kesi Twelve-symbol 'dragon' robe (jifu), Qing dynasty, Guangxu period (1875-1908). Length 68 in., 172.7 cm; Height 52 in., 132.1 cm. Estimate 50,000 — 60,000 USD. © Sotheby's.
finely woven, with nine golden dragons each pursuing a 'flaming pearl' amidst a network of blue lingzhi-shaped cloud scrolls, bats, wan and shou characters, interspersed with the Twelve Symbols of Imperial Authority in orthodox arrangement, the collar and horsehoof cuffs edged with gold and black brocade, the sleeves with further dragons in profile, all above a terrestrial diagram with pairs of 'Eight Buddhist Emblems" amidst the waves, a border of ruyi-shaped clouds and lishui stripe below, the side flap edged with fur.

Provenance: Sotheby's New York, 18th June 1980, lot 277.
Linda Wrigglesworth, London.
Property from the Collection of George and Rosemary Lois.
Note: The present robe was very likely made for the Empress Dowager Cixi (1835-1908). The lack of vents at the front and back identify it as a robe worn by a lady, and the Twelve Symbols of Imperial Authority clearly communicate the status of its wearer.
The Twelve Symbols are associated with the principal annual sacrifices offered by the emperor, and also represent his righteous rule over the universe. They are arranged here according to standard groupings: the sun, moon, constellation and rock placed around the neck, the fu, dragon, axe-head and golden pheasant at the body, and the sacrificial vessels, water plant, flame and grain above the waves at the hem. Although the Huangchao liqi tushi technically restricted the use of the Twelve Symbols to only the emperor, there are a number of men's and women's robes, mostly dating from the second half of the 19th century, that contain these symbols. A photographic portrait of Cixi wearing a Twelve Symbol 'dragon' robe is illustrated in Gary Dickinson & Linda Wrigglesworth, Imperial Wardrobe, Hong Kong, 2000, pl. 75.
A similar kesi robe likely made for Cixi, sold at Christie's New York, 14th September 2017, lot 941. A version in silk floss, circa 1875, was included in the exhibition Secret Splendors of the Chinese Court: Qing Dynasty Costume from the Charlotte Hill Grant Collection, Denver Art Museum, 1982, pp 60-61. Another kesi robe possibly made for the Empress Dowager, woven with a wan fret ground, sold in the same rooms 1st December 1994, lot 306. Compare also a man's Twelve Symbol 'dragon' robe made of summer gauze and attributed to the late Qing dynasty, sold at Christie's London, 18th May 2012, lot 1255, and an empress' robe attributed to the early 19th century and embroidered in satin stitch, sold at Christie's Hong Kong, 30th November 2011, lot 3143.
Sotheby's. Important Chinese Art, New York, 10 september 2019