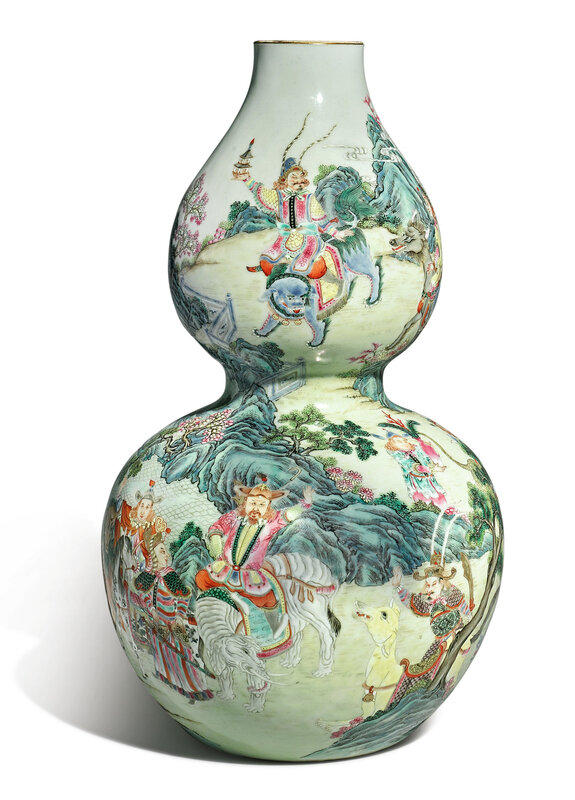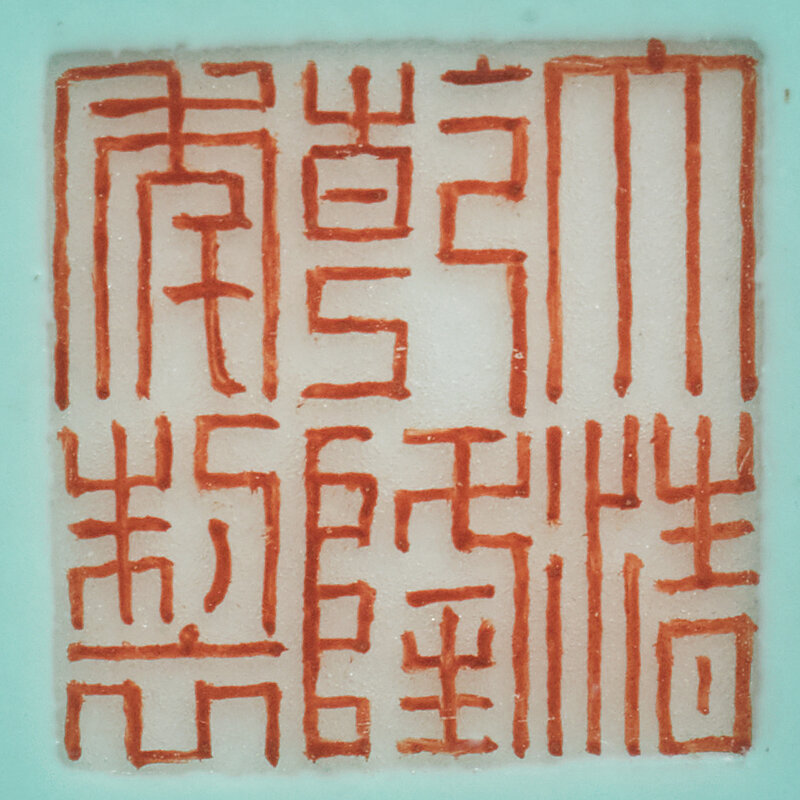 Lot 666. A rare famille-rose 'Tribute bearers' double gourd vase, Qianlong seal mark and period (1736-1795). Height 12 7/8 in., 32.5 cm. Estimate 60,000 — 80,000 USD. Lot Sold 75,000 USD. © Sotheby's.
the globular lower bulb surmounted by a smaller ovoid-form upper bulb rising to a slender neck, finely enameled allover with foreign tribute bearers scattered in a mountainous landscape scene with fabulous beasts, including one seated on a white elephant, another holding a sleeve vase containing peacock feathers and a branch of coral, one riding a Buddhist lion whilst holding a model of a pagoda, and another atop a qilin with a basin of 'flaming pearls' beside a figure presenting another pearl to him, surrounded by craggy, delicately outlined rockwork and twisting trees, the reverse with the foreigners' boat docked near the shore by a rippling lake, the inner rim and recessed base glazed turquoise, the latter with a six-character seal mark in iron red.
Note: Exuberantly and finely enameled, the present vase is very rare for its combination of form and subject matter. The theme of foreign tribute bearers was especially favored at court in the 18th and early 19th century. Recognizable by their curly red hair, tall noses, and clothing, the foreigners carry precious objects and are accompanied by extraordinary beasts such as a Buddhist lion, wolf, bixie, piebald horse, white elephant, dog, qilin, and tiger. Such a vase would have conveyed numerous auspicious blessings and affirmed the Qing empire's cosmopolitan power and influence.
The design on the present vase can also be associated with 'European subject' porcelain wares of the period, which stemmed from the Qianlong Emperor's penchant for curious and exotic objects. As Michel Beurdeley and Guy Raindre note in Qing Porcelain: Famille Verte, Famille Rose, London, 1987, p. 124, to entertain the Emperor and his princes, 'Chinese ceramic artists found it amusing to incorporate figures depicted in the 'European manner' in their designs'. It is rare to find foreigners painted on porcelain, as they were more frequently enameled on metal. See a pair of famille-rose incense holders depicting a continuous scene of foreign tribute bearers, with Qianlong four-character seal marks, sold in our Hong Kong rooms, 5th April 2017, lot 3108. For an ovoid famille-rose vase painted with a similar scene, with a blue-enameled mark, see one exhibited in Special Exhibition of Ch'ing Dynasty Enamelled Porcelains of the Imperial Ateliers, National Palace Museum, Taipei, 1992, cat. no. 141. See also a brushpot with a continuous scene of Europeans on a horse-drawn carriage, the base with a blue-enameled mark, formerly in the collection of A.W. Bahr and Paul and Helen Bernat, sold twice in our Hong Kong rooms, 15th November 1988, lot 36, and 9th October 2007, lot 1213.
Compare a plaque enameled in a similar manner and with a related scene, attributed to the Jiaqing period, and formerly in the YC Chen Collection, sold at Christie's Hong Kong, 29th May 2013, lot 1957. A pair of large Jiaqing mark and period vases, each enameled with a procession of foreign tribute bearers, sold at Christie's London, 15th May 2012, lot 318. A further Jiaqing mark and period turquoise-ground jardinière enclosing vignettes of foreign tribute bearers sold in our Hong Kong rooms, 7th October 2010, lot 2161. See also a plaque molded in low-relief with processions of foreign tribute bearers, also attributed to the Jiaqing period, sold at Christie's New York, 30th May 1991, lot 371.
The subject of foreign tribute bearers is also depicted in a number of Qing court paintings, such as Envoys from Vassal States and Foreign Countries Presenting Tribute to the Emperor in the collection of the Palace Museum, Beijing, illustrated in The Complete Collection of Treasures of the Palace Museum: Qing Court Paintings, #14, Hong Kong, 1996, pl. 64. For a Ming dynasty vase with the same theme, see a 16th century underglaze-blue double gourd vase, sold at Christie's London, 14th May 2013, lot 199.
Sotheby's. Important Chinese Art, New York, 10 september 2019