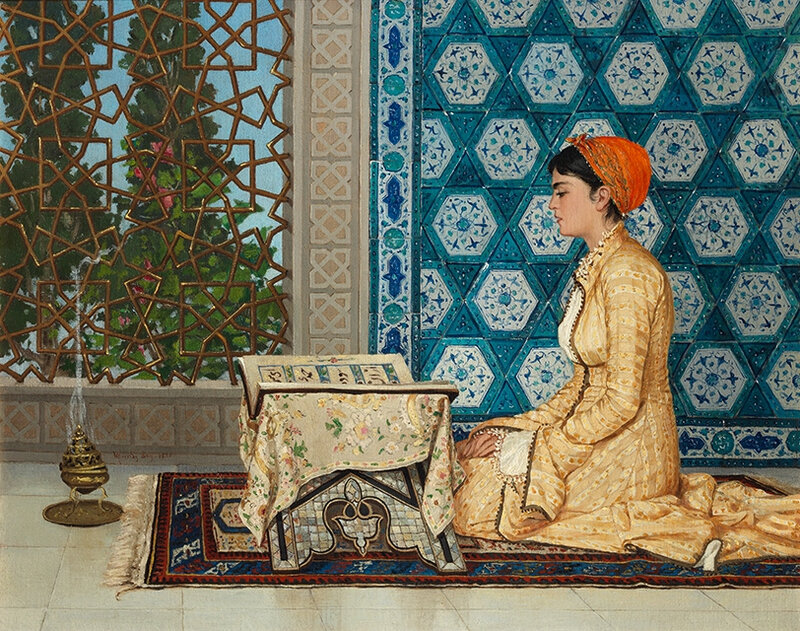 Lot 62. Osman Hamdi Bey (1982-1910), Young Woman Reading,

signed and dated 'OHamdy Bey. 1880.' (centre left),

oil on canvas,

41.1 x 51cm (16 3/16 x 20 1/16in). Estimate: £600,000-800,000 (

€ 670,000 - 900,000)

. Photo: Bonhams.
LONDON.- A rare work by the 19th century Turkish painter, Osman Hamdi Bey (1982-1910) leads Bonhams 19th Century European, Victorian and British Impressionist Art in London on Thursday 26 September. Young Woman Reading, painted in 1880, has an estimate of £600,000-800,000.

Osman Hamdi Bey was a remarkable figure who combined his life as an artist with a career as a public administrator in the Ottoman bureaucracy, an archaeologist and – as Director of the Imperial Museum, and founder of the Istanbul Archaeological Museum – a pioneer of the profession of museum curator in Turkey. He also founded the Istanbul Museum of Fine Arts.

Trained initially as a lawyer, Osman Hamdi embraced painting while completing his law studies in Paris in 1860. He studied painting under the great French orientalists Jean-Léon Gérôme and Gustave Boulanger. He exhibited at the 1867 Paris Exposition Universelle and continued to paint throughout his life despite his many public duties.

Osman Hamdi's paintings reflect his years of study with Gérôme and Boulanger, but as the leading travel writer and authority on the Muslim world Barnaby Rogerson writes in the current edition of Bonhams Magazine: "In his works, he was not throwing together random picturesque objects, but composing a loving tribute to his homeland which for centuries had created dazzling ceramics, textiles, buildings, carpets, gardens and texts that his paintings assembled."

Bonhams Head of 19th Century Art, "Charles O'Brien added, "Young Woman Reading is a wonderfully serene and enigmatic work that has been in the same family for the past 45 years. Paintings by Osman Hamdi are rare at auction, and this picture's appearance in our September sale is already generating a great deal of interest among collectors."

The sale also features three works by the leading Austrian orientalist painter Ludwig Deutsch:

• The Qanun Player: Estimate: £300,000-500,000.
• The Connoisseur. Estimate: £150,000-250,000.
• The Goza Smoker. Estimate: £120,000-180,000.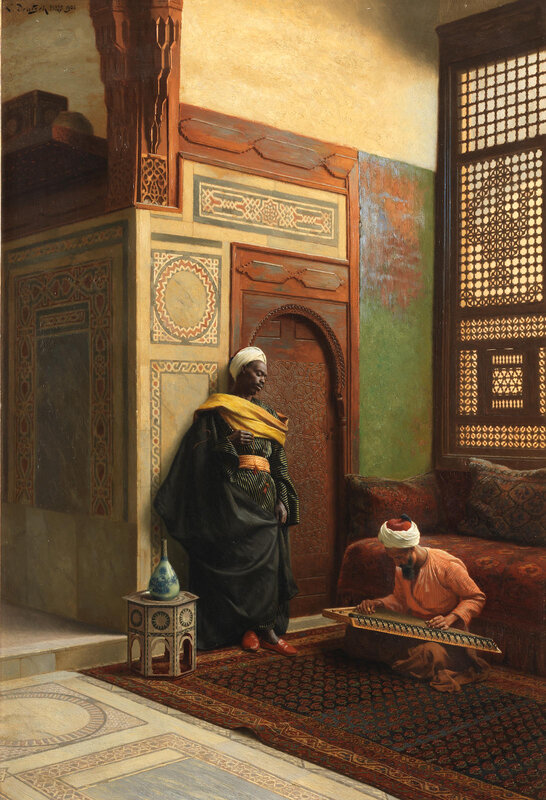 Lot 63. Ludwig Deutsch (Austrian, 1855-1935), The Qanun Player, signed, inscribed and dated 'L. Deutsch PARIS 1903' (upper left), oil on panel, 77.5 x 53cm (30 1/2 x 20 7/8in). Estimate: £300,000-500,000 (€ 340,000 - 560,000). Photo: Bonhams.
Provenance: M. Newman Ltd., London.
Private collection, UK.
Thence by descent.
Note: In The Qanun Player, Ludwig Deutsch creates a work that is both instantly familiar and entirely new. A bearded man, seated cross-legged upon a carpet on the floor, plays the qanun, a traditional stringed instrument indigenous to the Middle East. He is observed by a second Arab figure, leaning against an intricately patterned wall. The room itself is rich in ornamental detail, with colourful inlaid stonework, elaborate wooden carvings, and an enormous mashrabiyyah window, through which the soft glow of sunlight streams. The mood of Deutsch's picture is soothing and subdued; this is a different kind of Orientalism than what was offered by his peers, one in which drama and eroticism have no place.

The setting of Deutsch's picture is significant, if not architecturally exact. Though European travellers had provided descriptions of domestic architecture in the Middle East by the early 18th century, serious study of the region's private buildings did not begin until the work of Napoleon's Scientific and Artistic Commission in Egypt in 1798, headed by Vivant Denon and Pascal Coste. The official findings of the Commission, called the Description de l'Égypte, were published in Paris between 1809 and 1828 in multiple, lavishly illustrated volumes (Paris: Imprimerie impériale). Egypt's modern culture was illustrated in two of the volumes (published circa 1809 and circa 1817), ten plates from which showed plans, elevations, and perspective views of houses in Cairo then occupied by the French. In Britain, Edward William Lane's An Account of the Manners and Customs of the Modern Egyptians (London, 1836) provided the first substantive discourse on Egypt's domestic architecture. Lane's text, illustrated by the author in black and white, was followed visually by the colourful renditions of James William Wild and, later, by the work of Frank Dillon, an artist and advocate for architectural preservation. Deutsch's rendition of the interior of this Cairene house draws from these traditions, while forging a new path as well.

In addition to studying Cairo's architecture through the prints and texts cited above, Deutsch may have based his composition on various houses he knew first-hand. Traditional Mamluk or Ottoman houses were a particular favourite of European artists, who found the crumbling piles delightfully picturesque. Writing to a friend in 1870, Frederick Goodall related that he had 'decided to look for a house removed as far as possible from what is called the civilized quarters and was fortunate in finding, with the assistance of an old acquaintance the [?] Effendi, an old Arab house which, perfect in every detail with its rich latticed works, stained glass, inlaid doors and cupboards, affording capital backgrounds for figures, and from the roof a glorious panorama of the city . . . .' (Frederick Goodall to David Roberts, 4 November 1870, Bicknell Album of Artist Letters, Department of Rare Books and Archives, Yale Center for British Art, New Haven, CT). Rather than a transcript of reality, however, based on a single locale, the house in Deutsch's work appears to be a conflation of several that he visited during his time in Cairo, many of which have sadly since been destroyed.

The qanun player in Deutsch's picture was a favourite model of the artist's in Paris and appears in other musically-oriented works from this time (see, for example The Mandolin ('Ood) Player of 1904, Shafik Gabr Collection). His regular occurrence is yet another reminder of the studio craftsmanship of Deutsch's "ethnographic" compositions, and the artistic liberties that he often took once his travels were over.

We are grateful to Emily M. Weeks, Ph.D for compiling this catalogue entry. The work will be included in a critical catalogue of the Orientalist work of Ludwig Deutsch currently in preparation by Emily M. Weeks, Ph.D.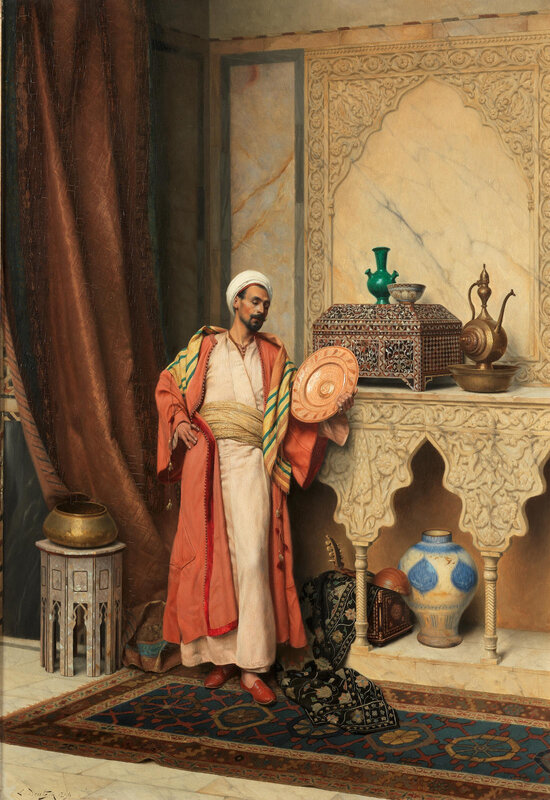 Lot 64. Ludwig Deutsch (Austrian, 1855-1935), The Connoisseur, signed and dated 'L. Deutsch 1894' (lower left), oil on panel, 61.2 x 42.4cm (24 1/8 x 16 11/16in). Estimate: £150,000 - 250,000 (€ 170,000 - 280,000). Photo: Bonhams.
Provenance: M. Newman Ltd., London.
Private collection, UK.
Thence by descent.
Note: Despite the startling clarity of his pictures and a roster of confirmed honors, positions, and awards, much of Ludwig Deutsch's life remains elusive and obscure. Brought up in Vienna, he studied at the Akademie der Bildenden Künste before moving to Paris in 1878. There he befriended several Orientalist artists, including Arthur von Ferraris, Jean Discart, and his lifelong friend Rudolf Ernst. It is likely that he studied with the French history painter Jean-Paul Laurens prior to his participation in the Société des Artistes Français beginning in 1879; his other instructors and mentors, however, are unknown. Deutsch's first Orientalist works appeared in Paris in 1881, well before his travels to Egypt and the Middle East. (These took place in 1885, 1890, and 1898; it is possible he travelled to North Africa after 1900 as well.) His choice of subject matter - enormously popular at the time - may have been influenced by Jean-Léon Gérôme, whose celebrated Orientalist pictures and academic style closely mirror Deutsch's own. In 1898, Deutsch earned an honorable mention at the Société's annual Salon and, in 1900, he was awarded a gold medal at the Exposition Universelle. Later, having long been recognized as the undisputed leader of an entire school of Austrian Orientalist painting, he received the Chevalier de la Légion d'Honneur. In 1919, Deutsch gained French citizenship and, after a brief absence from the public eye, began exhibiting again, this time under the name "Louis Deutsch" and in a far looser, post-Impressionist style.

With no personal diaries, letters, or contemporary biography, and no surviving children, partner, or spouse, the gaps between these facts and figures cannot be confidently filled. By turning to his paintings, however, aspects of Deutsch's life begin slowly to be revealed. In the present work, for example, two definitive sources of Deutsch's artistic inspiration can be found, and a possible window into his private world may be glimpsed as well. The setting of the picture is based on a print by Achille Constant Théodore Émile Prisse d'Avennes (1807–1879), a French historian, archaeologist, and ethnologist, as well as a renowned draftsman and author. This would not be the last time that Deutsch referenced Prisse d'Avennes in his art, though the extent and literalness of this particular translation is rare.

The physical properties of Deutsch's painting offer a second revelatory clue. Its glossy finish is due not only to Deutsch's precise touch, but to his increasing use of wooden panels, which (deliberately) gave to his pictures the jewel-like glow and polish of early Netherlandish and Northern Renaissance art. Deutsch's Austro-German heritage is here and subsequently acknowledged in his art, complicating his ex-patriotism in later years.

Finally, there is in Deutsch's painting the promise of an autobiographical gloss as well. It is known that the artist frequented the photography studio of G. Lékégian in Cairo, and that he acquired hundreds of decorative objets while abroad. These souvenirs of travel furnished both his Paris studio at 11 rue Navarin and the Orientalist pictures he produced there and until his death in 1935. (The Talish carpet, stringed instrument, inlaid table and chest, and imported blue-and-white porcelain vase in this work, for example, were regularly featured in his art). One of his personal favourites was a brass tombak, or ewer, seen on the mantel here. Given this element of personalisation, it is hard not to imagine that the connoisseur of the picture's title is a surrogate for the artist who painted him, contemplating the next treasure to add to his carefully curated collection.

We are grateful to Emily M. Weeks, Ph.D for compiling this catalogue entry. The work will be included in a critical catalogue of the Orientalist work of Ludwig Deutsch currently in preparation by Emily M. Weeks, Ph.D.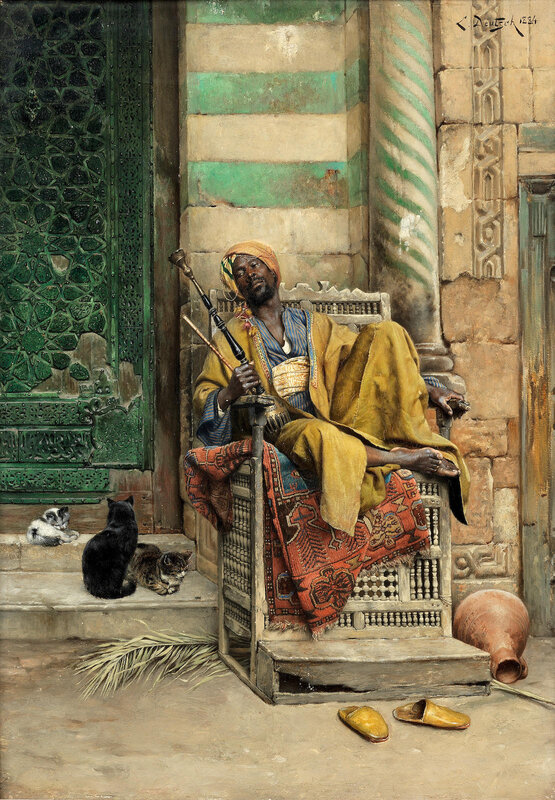 Lot 65. Ludwig Deutsch (Austrian, 1855-1935), The Goza Smoker, signed and dated 'L. Deutsch 1884' (upper right), oil on panel, 41 x 29.8cm (16 1/8 x 11 3/4in). Estimate: £120,000 - 180,000 (130,000 - 200,000). Photo: Bonhams.
Provenance: M. Newman Ltd., London.
Private collection, UK.
Thence by descent.
Note: By the middle of the 1880s, Ludwig Deutsch had already established himself as one of Europe's pre-eminent Orientalist painters. The astonishing detail and crystal clarity of his Middle Eastern scenes, the result of first-hand observation and a studio in Paris filled with design books, photographs, and souvenirs of travel, became the hallmarks of his style, and a source of widespread admiration among his peers. In the present work, Deutsch turns his ethnographic eye to a familiar and enduring motif in Orientalist art, the Arab smoker in idle repose. Far from a transcript of reality, however, or merely another example of a popular theme, Deutsch's picture includes details that complicate its meaning and allude to the sophisticated artistry behind its composition.

The man in Deutsch's painting wears a traditional striped qumbaz beneath a heavier outer robe. To those familiar with Deutsch's art, the appearance of these specific blue, red, and yellow-gold garments would not have been surprising, as they were repeated often in his oeuvre and may have been drawn from the artist's own collection of textiles and exotic goods. In his right hand, the man grasps a goza, or pipe, featuring a large brass bowl carved with Islamic designs. Built for portability and meant to be held rather than set upon the ground, this somewhat archaic form of Egyptian hookah is distinguished by a stiff bamboo stem rather than a flexible hose. The direct flow of smoke from bowl to mouth that this construction allows made it a particular favourite among smokers of tombiek, ajamy, and other traditional and fragrant tobaccos such as jurak and zaghloul, as well as among 19th century enthusiasts of hashish and stronger drugs. The man's posture here is relaxed and informal and his sideways stare is unfocused and blank. Lost in thought - or perhaps in the effects of the unspecified substance that he smokes – Deutsch has created an unlikely protagonist in this otherwise characteristic work, sprawled languidly upon his mashrabiyyah, or turned wood, throne.

To the left of this lazing figure is a trio of cats, an unusual but significant addition to this Orientalist scene. Decades earlier, the British painter John Frederick Lewis had attracted considerable attention for the skilfully rendered felines he had added to his own Middle Eastern compositions, often to provocative effect. The influential art critic John Ruskin had alleged a commonality of spirit between Lewis's figures and their pets, and a mirroring of action and intent.1 Similarly, in Deutsch's work, the somnolent mood of the cats both reflects the lethargy of the smoker in his chair and provides a canny commentary on the incongruity of his post: Though ostensibly the guard of some kind of sacrosanct space, this glassy-eyed figure is no more effective a watchdog than the sleepy animals at his feet.

The formidable doorway behind the Arab figure – likely the entrance to a private palace rather than a mosque or madrasa, given the man's apparently inebriated state - offers evidence of Deutsch's extensive use of well-known pattern books and popular prints. Here the reference may be to the architectural designs of Owen Jones or the numerous portals recorded by the great French artist and scholar Achille Prisse d'Avennes, a favorite resource of Deutsch's for his art (see The Qanun Player, lot no 63). Deutsch's eclectic personal library, in fact, is visible throughout his painted scenes. It is testament to his skill as an artist that the results are invariably so seamless and so real.

We are grateful to Emily M. Weeks, Ph.D for compiling this catalogue entry. The work will be included in a critical catalogue of the Orientalist work of Ludwig Deutsch currently in preparation by Emily M. Weeks, Ph.D.

1 In general by the 19th century, cats had attained a number of meanings in French and British iconography and were common additions to narrative paintings. For more on cats in Lewis's art specifically, see Emily M. Weeks, Cultures Crossed: John Frederick Lewis and the Art of Orientalism, New Haven and London, 2014, pp. 63, 64, 91-2, 94, 98, 102, 104, 196-7 no. 13, 197 no. 14, 197 no. 15.
At Bonhams 19th Century European, Victorian and British Impressionist Art in February, two paintings by Deutsch, At The Mosque and Respect sold for £560,750 and £512,750 respectively.