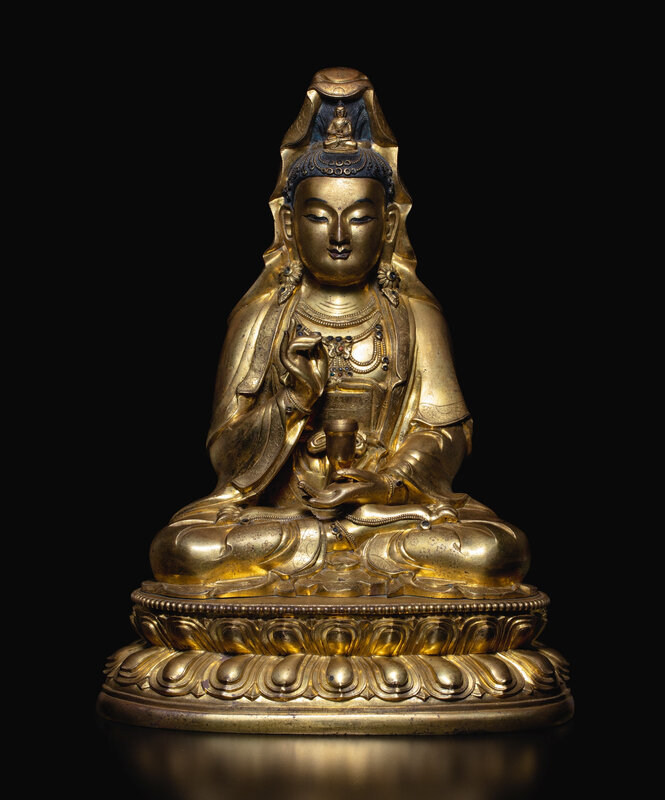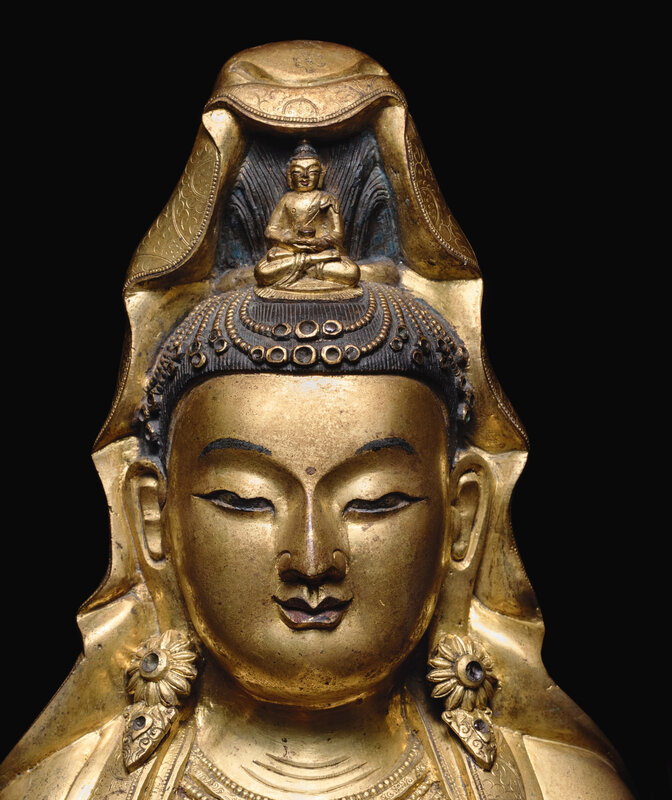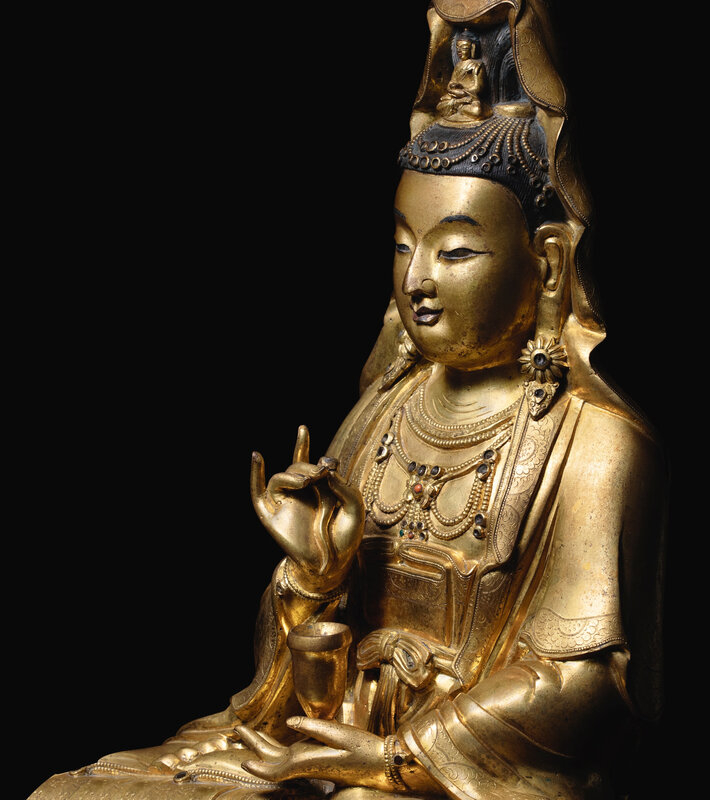 Lot 314. A large gilt-bronze figure of Avalokiteshvara, 17th century. Height 16 1/8 in., 41 cm. Estimate USD 200,000 — 300,000. Lot sold 475,000 USD. Courtesy Sotheby's.
finely cast, seated in dhayasana on a double-lotus base with the right hand raised holding a willow branch or lotus stem (now missing), the left hand in the lap turned upwards supporting a beaker, attired in flowing robes falling in symmetrical folds around the body, the edges and hem with floral brocade and a pattern of flowerheads at the legs, tied at the waist with a ribbon-cord and open at the chest revealing ornate layered beaded necklaces with inlaid decoration, the wrists and ankles with similar jewels, the serene rounded face with hooded eyes cast downwards, aquiline nose and defined lips, flanked by pendulous earlobes suspending large floriform earrings, surmounted by a small figure of Amitabha against a tall chignon and an elaborate beaded headdress, a floral-patterned pleated cowl cascading to frame the face and shoulders, all richly gilded with accents of pigment.
Provenance: Collection of Madame de Saint Victor.
Christie's New York, 31st March 1992, lot 976.
The Chang Foundation Collection.
Literature: Jintongfo zaoxiang tulu/Buddhist Images in Gilt Metal, Taipei, 1993, pl. 43.
Note: The present figure of Avalokiteshvara is superbly cast, notable for the softly rendered facial features and elegant drapery that hints at the body underneath. The bodhisattva holds a cup containing water or ambrosia in one hand and a willow branch or lotus stem in the other, representing healing and purity respectively.
The deity is cast here in a sinicized style, evident through the rounded fleshy face, feminine features, fuller figure, and cowl draped over the tall chignon. This form of representation developed in the mid to late Ming dynasty and continued into the early Qing, before gilt-bronzes generally adopted a more Tibeto-Chinese manner. This figure is part of a set possibly depicting different variations of Avalokiteshvara; its mate was also formerly in the Chang Foundation Collection, illustrated in Jintongfo zaoxiang tulu/Buddhist Images in Gilt Metal, Taipei, 1993, pl. 44.
Compare a slightly smaller related figure of Avalokiteshvara attributed to the 16th/17th century, also with similar attributes and ornamentation but missing its base, sold at Christie's New York, 1st December 1994, lot 340. Another, attributed to the Ming dynasty and with the figure of Amitabha set in a more ornate niche under the cowl and the hands in dhyana mudra, sold at Christie's Hong Kong, 29th September 1997, lot 900. See another Ming dynasty figure of Avalokiteshvara on a lotus pedestal raised on plinth, sold in these rooms, 18th September 1996, lot 143. For a 16th/17th century example cast as Songzi Guanyin, see one included in the exhibition Recently Acquired Gilt Bronze Buddhist Images, National Palace Museum, Taipei, 1996, cat. no. 23. Compare also a large Shunzhi-dated gilt-bronze figure of the deity seated on a raised lotus base, sold at Christie's Hong Kong, 29th May 2007, lot 1576, and again in our Hong Kong rooms, 8th April 2014, lot 88.
For related gilt-lacquered examples of Avalokiteshvara, see a wood figure dated 1624 in the collection of The Metropolitan Museum of Art, New York and published in Denise Patry Leidy and Donna Strahan, Wisdom Embodied: Chinese Buddhist and Daoist Sculpture in The Metropolitan Museum of Art, New York, 2010, pl. A64, and another bronze figure attributed to the 17th century, sold in these rooms, 17th October 2001, lot 28.
Sotheby's. Bodies of Infinite Light Featuring an Important Collection of Buddhist Figures Formerly in the Collection of the Chang Foundation, New York, 10 Sep 2019.