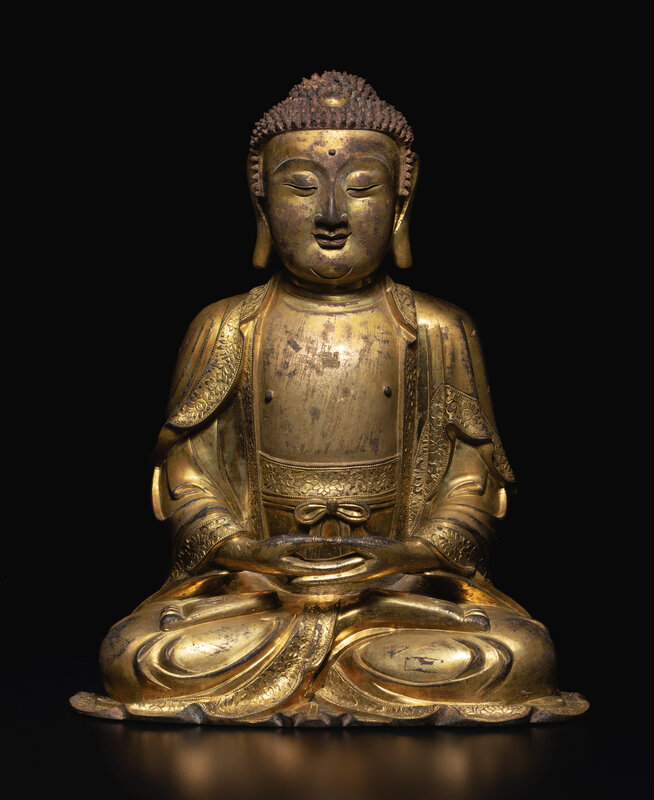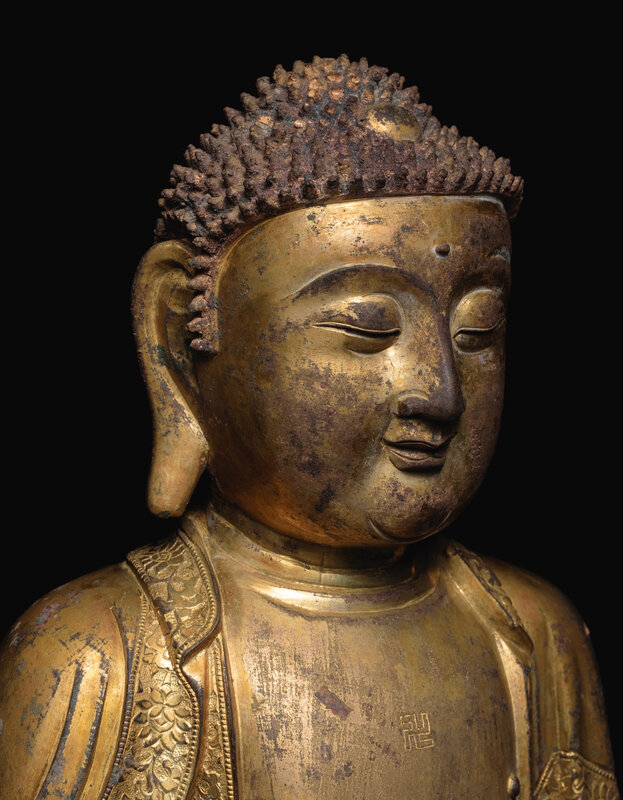 Lot 313. A gilt-bronze figure of Amitabha, Ming dynasty, 16th-17th century. Height 13 1/2 in., 34.3 cm. Estimate USD 60,000 — 80,000. Lot sold 87,500 USD. Courtesy Sotheby's.
cast seated in vajraparyankasana, the upturned soles of the feet each inscribed with a four-spoked dharmacakra, the hands in dhyana mudra, the dhoti sashed at the waist and the hems of the garments delicately chased with a brocade pattern of scrolling lotus, the exposed chest centered with a wan, the bowed head with a serene expression, downcast eyes, elongated ears, and tightly coiled hair, the ushnisha surmounted by a round jewel.
Provenance: The Chang Foundation Collection.
Literature: Jintongfo zaoxiang tulu/Buddhist Images in Gilt Metal, Taipei, 1993, pl. 9.
Note: The present figure depicts Amitabha, also known as the Buddha of Infinite Light, and the Western Buddha of the Five Tathagatas. In most depictions, the deity is seated cross-legged with his hands on the lap in the meditation pose, as seen in the present figure, with thumbs and fingers touching. This classic representation of the most worshiped Buddha is undoubtedly the most iconic of Chinese Buddhist images.
Popular among followers in China as one of the most compassionate figures in Buddhism, Amitabha is believed to reside in Sukhavati, the Pure and Happy Land, a Buddhist paradise in the West. Meher McArthur, in Reading Buddhist Art, London, 2002, p. 39, notes that 'according to the Sutra of the Pure and Happy Land, all mortals can be reborn in the Pure Land if they worship Amitabha'. This salvation aspect of Amitabha originates from a vow made while still a bodhisattva to save all beings if he himself could attain enlightenment.
A related figure of slightly larger size, attributed to the Ming dynasty, was sold at Christie's London, 13th December 1982, lot 686. See two similar figures sold in these rooms, 19th November 1986, lot 105; and the other, 6th November 1981, lot 48.
Sotheby's. Bodies of Infinite Light Featuring an Important Collection of Buddhist Figures Formerly in the Collection of the Chang Foundation, New York, 10 Sep 2019