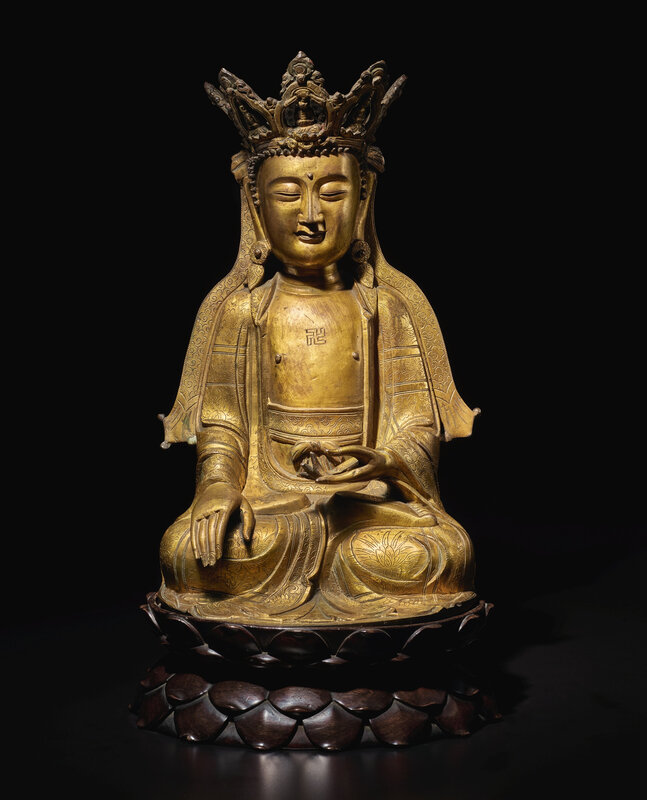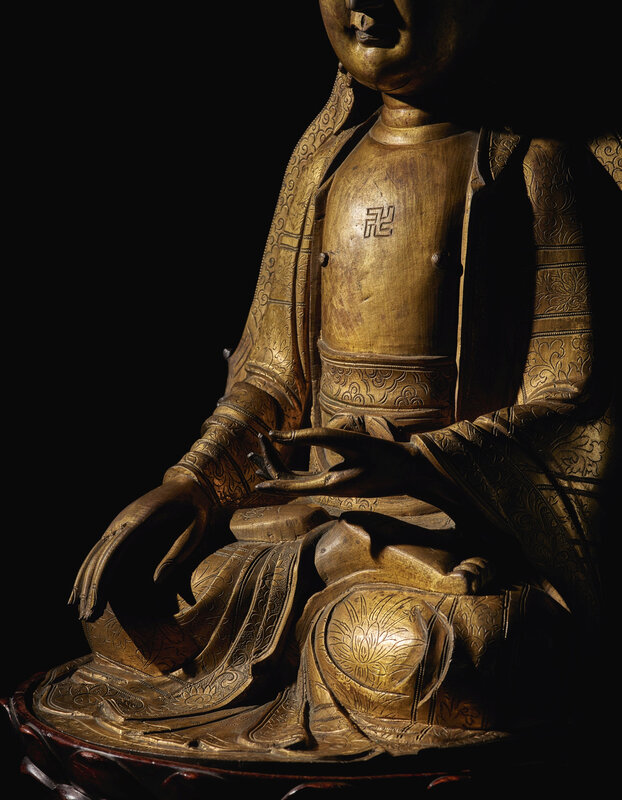 Lot 310. A large gilt-bronze figure of Ksitigarbha, Ming dynasty, 16th-17th century. Height 17 3/4 in., 45 cm. Estimate USD 60,000 — 80,000. Lot sold 75,000 USD. Courtesy Sotheby's.
seated regally in vajraparyankasana, the bodhisattva of the underworld crowned with a diadem of five lobed and pierced cartouches housing the five Tathagata Buddhas, with luxuriant, wide sashes flanking the body, the chest inscribed with an outlined wan framed by the open robe, incised with lotuses in bloom and draping over the shoulders and arms, the dhoti incised with a repeating 'three jewels' motif, raised on a carved wood 'lotus' base (2).
Provenance: The Chang Foundation Collection.
Literature: Jintongfo zaoxiang tulu/Buddhist Images in Gilt Metal, Taipei, 1993, pl. 11.
Note: Although there are few clues to the present figure's identity, the five-point crown, paired with the present mudra, unmistakably belongs to Ksitigarbha. Aside from Vairocana, Chinese Buddhist iconography does not typically grant a crown holding five Tathagata Buddha figures to any other deity. Unlike other bodhisattvas, Ksitigarbha has fewer forms and emanations—the depictions of a wrathful, multi-armed Tantric deity are not associated with this god of the underworld; rather, the variations unwaveringly keep Ksitigarbha human, peaceful, and male. This homogeneity in depiction is owed to the strength of Chinese Mahayana worship of this deity, as opposed to Tibetan and Tantric practice. While it is thought that the Ksitigarbha Sutra was translated into Chinese from the original Sanskrit by the Tang dynasty monk Siksananda, to date no Sanskrit versions of the sutra have been discovered, suggesting a possible domestic Chinese composition.
The uniform depictions of Ksitigarbha are particularly interesting when contrasted with the evolution of the iconography of Avalokiteshvara, another bodhisattva fully embraced by Chinese Buddhist practitioners. Both deities have origin stories within Chinese mythology that include a young maiden, however, out of the two deities, only Avalokiteshvara has ever been depicted in relation to such an image. The sinicization, gender transformation, and multiple emanations of Avalokiteshvara even within the Mahayana practice are numerous, and are perhaps manifestations of the universal appeal of an endlessly compassionate deity, in contrast to the perhaps intimidating and daunting vow of Ksitigarbha (for discussion of the sutra of Ksitibarbha, see lot 304 in this sale).
Compare a closely related gilt-bronze figure of Vairocana, with a similar crown, jewelry, flanking ribbons, and wan symbol inscribed on the chest, attributed to the Ming period, from an English private collection and sold in our London rooms 8th November 2017, lot 69, and another of similar casting and design, sold at Christie's New York, 15th September 2011, lot 1383. Compare as well a gilt-bronze figure of Ksitigarbha, also with a similar crown and embellishments, attributed to the Ming dynasty, sold at Christie's New York, 15th May 2018, lot 166.
Sotheby's. Bodies of Infinite Light Featuring an Important Collection of Buddhist Figures Formerly in the Collection of the Chang Foundation, New York, 10 Sep 2019