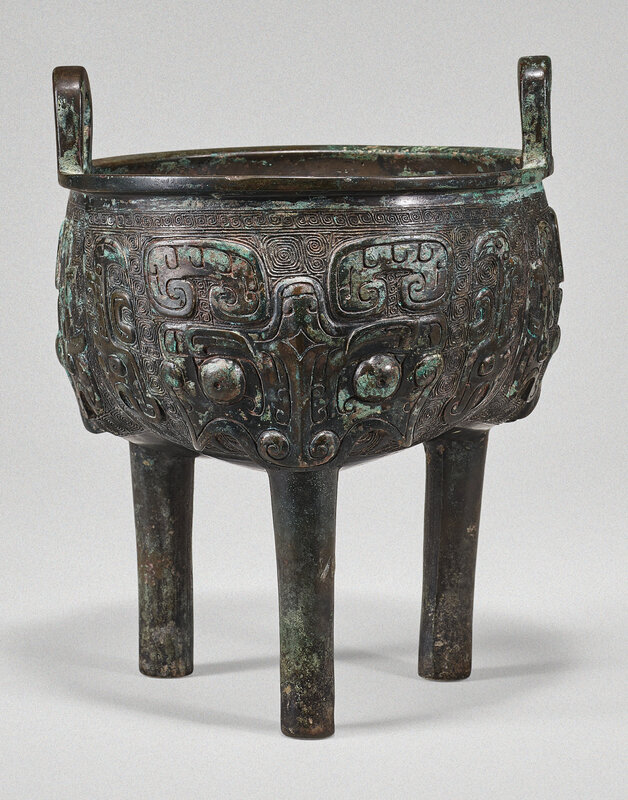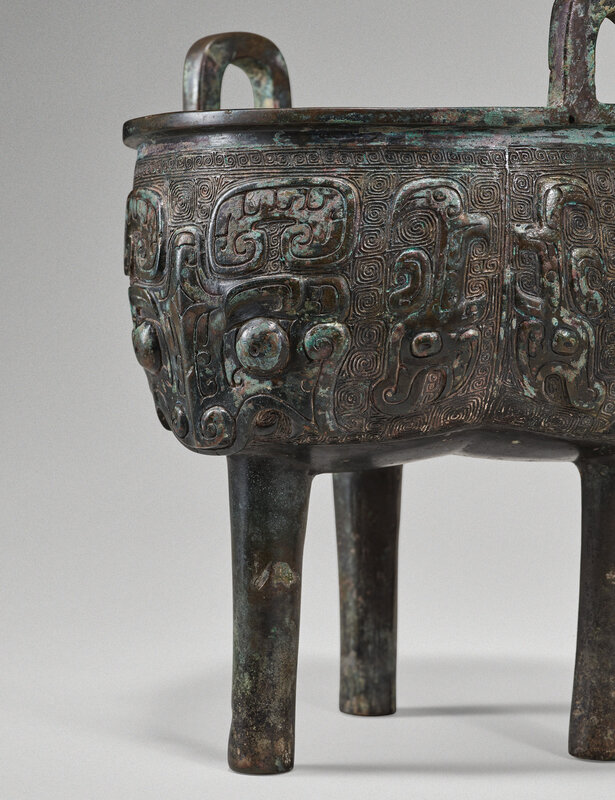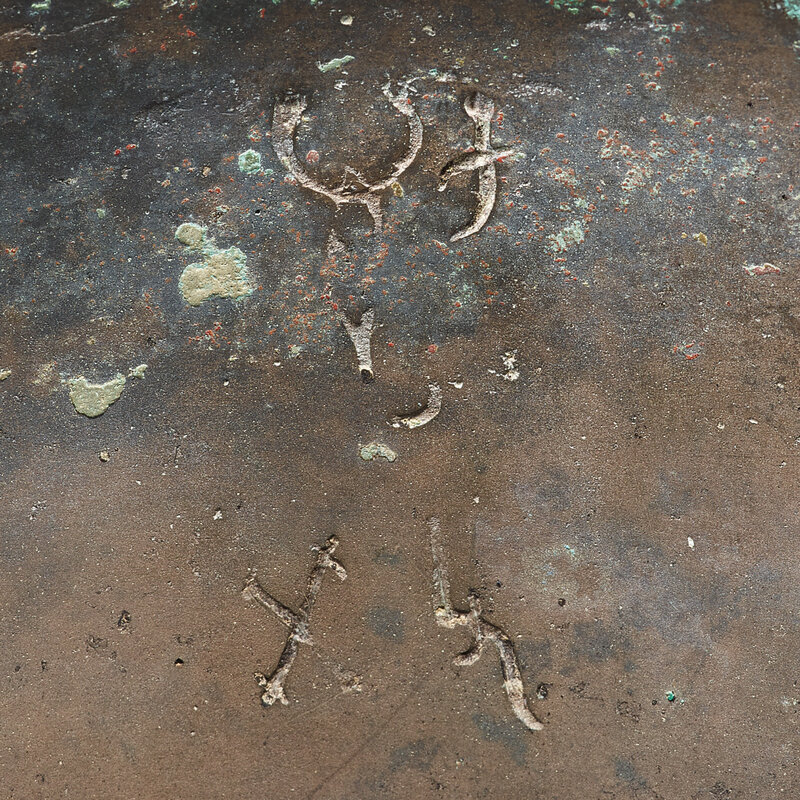 Lot 504. An archaic bronze ritual food vessel (liding), Late Shang-Western Zhou dynasty. Height 8 3/8 in., 21.2 cm Estimate 120,000 — 150,000 USD. Lot sold 150,000 USD. Courtesy Sotheby's.
the deep bowl divided into three lobes resting on three tapering columnar supports, the everted rim set with a pair of plain loop handles, each lobe finely cast with a taotie mask with protruding eyes and horns, flanked by descending serpentine animals to the sides, all against a dense leiwen ground, the bronze patinated to a pale green tone with patches of malachite encrustation, a three-character pictogram on the side of the interior, wood stand, wood box (4).
Provenance: Hirano Koto-ken, Tokyo, May 1981.
Note: Imposing for the bold and expressively executed taotie masks fully displayed on each of the three lobes, with the representation heightened by a lustrous patina delicately spotted with malachite, this liding is a superb example of the bronze founder's inventive craftsmanship.
The bronze caster has masterfully exploited the broad surfaces of the tripod's lobes to accommodate full-faced taotie and has made the design stand out even more through high-relief execution, so that the masks dominate the vessel in an almost sculptural manner. Full taotie decoration seems to have reflected the importance of the owner and ding decorated in this way are believed to have fulfilled a major role in the sacrificial ceremonies of Shang society, see Jessica Rawson, 'Late Shang Bronze Design: Meaning and Purpose' in The Problem of Meaning in Early Chinese Ritual Bronzes. Colloquies on Art & Archaeology in Asia No. 15, London, 1990, p. 80.
Liding combine the characteristics of the li and those of the ding. While ding usually refer to round vessels, li display a distinctive three-lobed body. The typical shape may be traced to Neolithic pottery tripods standing on hollow pointed lobes of the Qijia culture (first half of the 2nd millennium BC). Both bronze li and ding were used for cooking and serving sacrificial meats or fish during ritual ceremonies.
Liding of this type have been recovered from burials of the late Shang (16th century-c.1050 BC) and the early Western Zhou (c. 1050-771 BC) periods. A list of excavated examples including two vessels that belong to a set of Western Zhou bronzes linked by inscriptions is published in Robert W. Bagley, Shang Ritual Bronzes in the Arthur M. Sackler Collections, Washington D.C. and Cambridge, Massachusetts, 1987, pp. 487-8; Bagley further illustrates and discusses three similar ding, nos 93-5, the latter displaying a small human figure above one of the taotie.
Two similar vessels discovered at late Shang dynasty burial sites at Anyang in Henan province are illustrated in Zhongguo qingtongqi quanji [Complete series of Chinese bronzes], vol. 2, Beijing, 1997, nos 58-9.
Other examples are illustrated in Sen-oku Hakkokan, Kyoto, 1976, pl. 18, from the Sumitomo Collection, and in Wang Tao, Chinese Bronzes from the Meiyintang Collection, London, 2004, no. 71; others are included in exhibitions, in Ancient Ritual Bronzes of China, Los Angeles County Museum of Art, Los Angeles, 1976, cat. no. 16, from the collection of Anna Bing Arnold; and in Ancient Chinese Bronzes and Gilt Bronzes from the Wessén and Other Collections, Eskenazi, London, 1980, cat. no. 2, from the collections of Lochow, Beijing and Dr. Natanael Wessén, Stockholm.
Compare also two examples sold in these rooms, 15th September 2010, lot 270 from an old Japanese collection and 17th September 2013, lot 18, from the collection of Professor Alfred Salmony.
Sotheby's. A Noble Pursuit: Important Chinese and Korean Art from a Japanese Private Collection, New York, 11 September 2019.