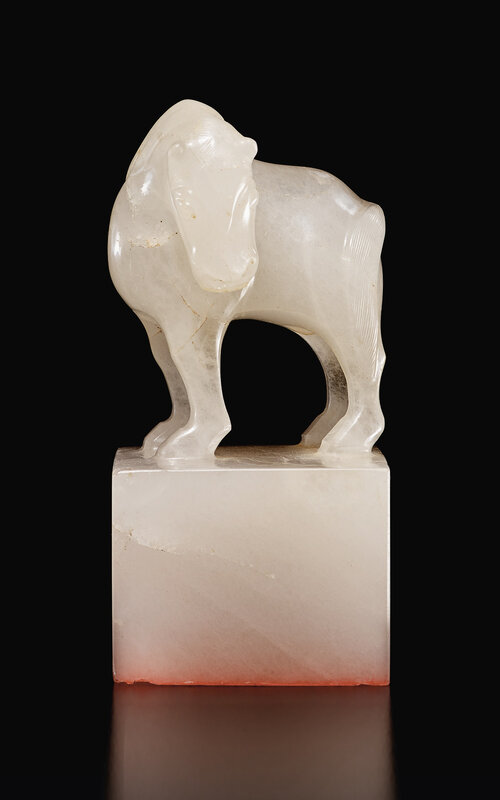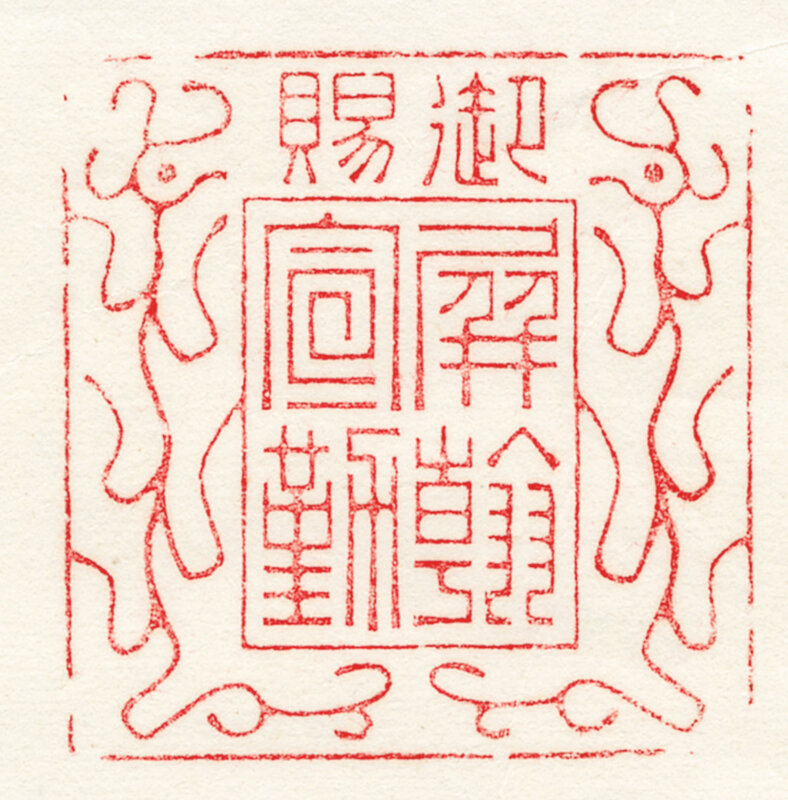 Lot 673. An important imperial quartz 'horse' seal, Qing dynasty, seal of Prince Gong. Height 5 1/4 in., 13.5 cm. Estimate 30,000 — 50,000 USD. Lot sold 200,000 USD. Courtesy Sotheby's.
of square form, surmounted by a horse modeled standing foursquare with its head turned to the left, the details finely incised, the seal face carved in zhuwen style, with a rectangular cartouche enclosing four characters reading Pinghan xuanqin (wise and diligent official of great importance), below two further characters yuci (imperial bestowment), all flanked by a pair of archaistic dragons, the semi-translucent stone of a even tone with natural icy-white inclusions .
Provenance: Collection of Aisin Gioro Yixin (1833-1898), Prince Gong.
Collection of Aisin Gioro Puwei (1880-1936), Prince Gong.
Yamanaka & Co., New York.
American Art Galleries, New York, 27th February 1913, lot 15.
American Private Collection.
Note: This seal belonged to Yixin (1833-1898), Prince Gong, the sixth son of the Daoguang Emperor (r. 1821-1850) (fig. 1). The inscription on the seal face consists of an honorary dictum of four characters Pinghan xuanqin, which can be translated to 'the wise and diligent official of great importance', and two characters yuci, which indicates it was an imperial bestowment. According to Shuyuan jilue [Imperial records of the Grand Council], this four-character dictum was granted to Yixin in 1854 by his elder half-brother, Emperor Xianfeng (r. 1850-1861), who personally wrote it on a biane (imperial door banner). The present seal was presumably then created to commemorate this honor.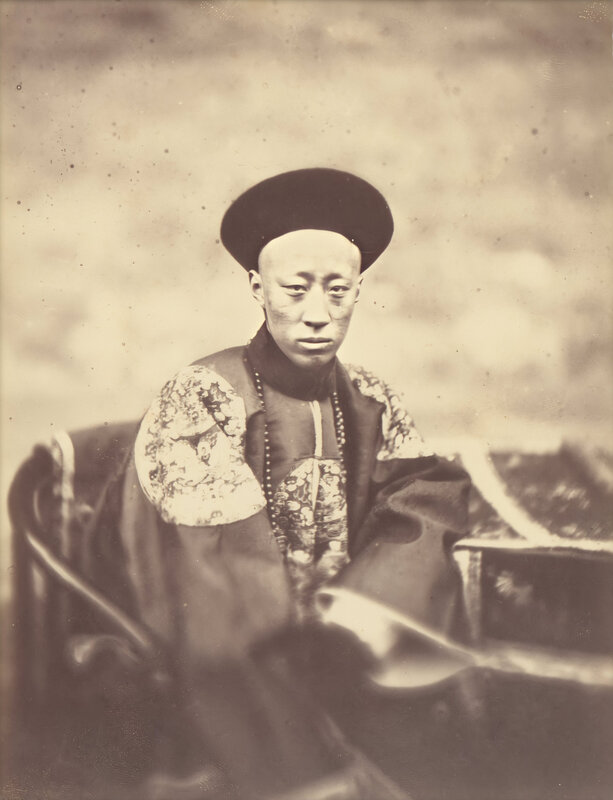 Portrait of Yixin, Prince Gong
The impression of this seal is found on a number of important paintings, including a handscroll of Landscape and Bamboo, painted by Zhao Yuan (active ca. 1350-75) and Shen Xun (active ca. 1370–1400) respectively, from the Edward Elliot Family Collection, now in the Metropolitan Museum of Art, New York, acc. no. 1981.285.15 (fig. 2), where it is illustrated together with several other impressions of the seals belonged to Yixin, including the 'Huangliuzi (the sixth son of the emperor)' and 'Gongqinwang (Prince Gong)' seals.

Zhao Yuan, Landscape in the Style of Yan Wengui and Fan Kuan, late 14th century. Edward Elliott Family Collection, Purchase, The Dillon Fund Gift, 1981 (1981.285.15). Courtesy of the Metropolitan Museum of Art, New York.
The son of Empress Xiaojing (1812-1855), Prince Gong was one of the most influential political figures of the 19th century. He was appointed as the Imperial Commissioner to negotiate the treaty with the Anglo-French delegation in Beijing, which subsequently ended the Second Opium War. Yinxin also actively supported Zuo Zongtang (1812-1885) and Li Hongzhang (1823-1901) in defeating the Taiping Rebellion (1851-1864), and is credited with the creation of the Zongli Yamen, an administrative office that dealt with foreign relations only. After the death of the Xianfeng Emperor and the enthronement of his son, the Tongzhi Emperor, Yixin's political career reached its peak, as the result of his prodigious contribution in the Xinyou Coup, which helped Empress Dowager Cixi consolidate power. However, Yixin's influence was soon considered a threat to Empress Dowager Cixi, and his relations with the imperial court deteriorated.
Yixin's oldest son Zaicheng (1858-1885) died at a very young age leaving no heirs. Empress Dowager Cixi then declared Zaicheng's nephew Puwei (1880-1936) (fig. 3) to be his adopted son. In 1898, Puwei rightfully inherited the princedom and the belongings of his grandfather, and became the second generation Prince Gong. As the Qing empire came to its end, the new Prince Gong sold a large quantity of his collection, including the present seal, in order to fulfill his financial needs, to the renowned Asian art dealer Yamanaka Sadajiro (1865-1935), who then dispersed these items during a legendary three-day auction at the American Art Galleries in New York in 1913.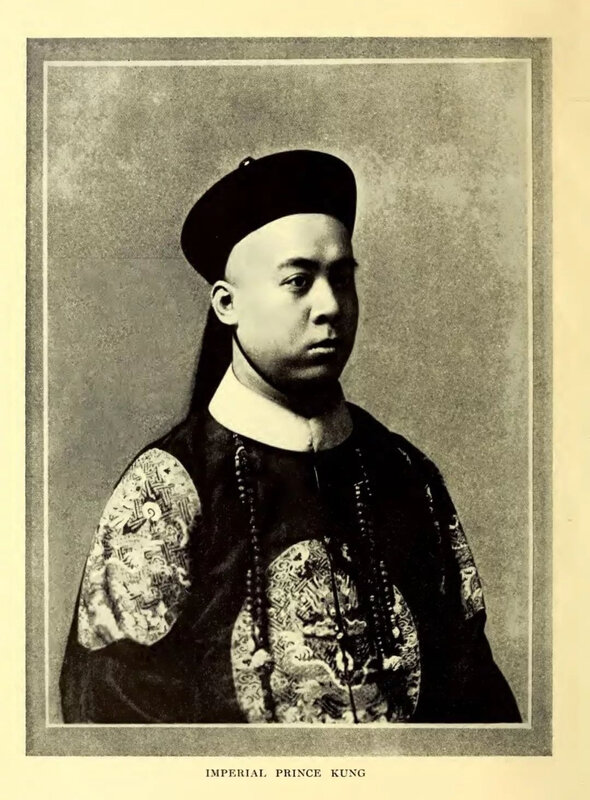 Portrait of Puwei, Prince Gong.
Prince Gong's seals rarely appear at auction, although two tianhuang seals of Yixin, one carved in the same yuci format with a four-character dictum weiguo fanfu (guardian vassal of the state), and the other carved with an eight-character seal face huangliuzi Heshuo Gongqinwang (the sixth imperial son, The Peaceful and Eminent Prince Gong), were sold at Christie's Hong Kong, 1st June 2016, lot 3205. For other related examples, see two soapstone seals of Prince Zaizhi (1839-1880), cousin of the Tongzhi and Guangxu emperors, sold at Christie's Hong Kong, 29th November 2017, lot 2935; and another soapstone seal of Prince Xian, the twenty-fourth son of the Kangxi Emperor, sold at Christie's Hong Kong, 27th October 2003, lot 772.