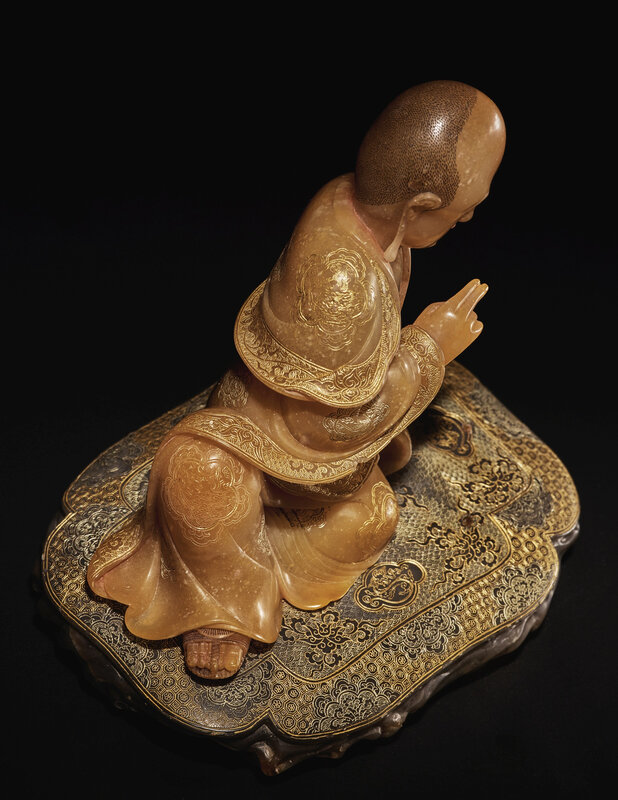 Lot 678. An exceptional soapstone figure of a luohan by Zhou Bin, Qing dynasty, 17th - 18th century. Height 4 3/8 in., 11.1 cm. Estimate 120,000 — 150,000 USD. Lot sold 150,000 USD. Courtesy Sotheby's.
seated on a quatrefoil cushion, leaning onto the left hand with the right knee raised at the opposite side of the body, the right hand gesturing in front of the chest, the body draped in loose robes fluttering upward at the hem lines, the fabrics finely incised with the brocade patterns gilt, the head bowed and rising to a high dome, the lips, eyes, and hair pigmented for naturalistic effect, the cushion incised with intricate patterns and the recessed lines filled-in with gilt and silver, the carpet spread over a conforming rock base and pierced with two holes for an attachment, the underside of the rock incised and gilt Gumin Zhong Bin Shangjunshi zhi, the stone of the figure a pale creamy orange, the stone of the base a translucent graphite-gray.
Provenance: Collection of Stephen Junkunc, III (d. 1978), acquired by 1964.
Exhibited: Ming Ch'ing Dynasties, A.D. 1368-1644, A.D. 1644-1912, The Art Institute of Chicago, Chicago, 1964.
Note: Sensitively fashioned in the round from a stone of attractive yellowish-orange tones, this figure bears the mark Shangjun, the sobriquet name of Zhou Bin. One of the best known and talented carvers of the 17th century, Zhou was a native of Zhangzhou in Fujian province, where the large soapstone quarries are situated. Although textual information about him is scarce, and his exact dates are not known, he is believed to have been active in the Kangxi period and to have been trained by Yang Yuxuan, another well-known soapstone carver.
Zhou's proficiency with the carving knife and his ability to capture minute details are evident in this piece. The figure's expressive posture, leaning on one hand while intently looking at the other hand, the carefully gilded medallions and edges of the robes, and highly sophisticated motif of the cushion, are all characteristic of Zhou's works. Gerard Tsang and Hugh Moss in the catalogue to the exhibition Arts of the Scholar's Studio, Fung Ping Shan Museum, Hong Kong, 1986, p 86, note that 'Zhou's incising of robe edges, decorative medallions and cushion details is second to none'.
While Zhou's figural carvings were well known for their sculptural qualities, he was better known among contemporary scholar-officials for his soapstone seals. He is said to have used the Chinese painting concept of xieyi ('idea painting') in carving landscapes, flowers, pines and bamboo on seals. His works were widely sought after throughout the Qing dynasty. The late Qing painter and seal carver Wu Changshuo (1844-1927) added an inscription to a seal made by Zhou, with the words 'This stone was carved by Zhou Shangjun, we should especially treasure it' (ibid., p. 84).
A soapstone carving of a luohan in a similar pose and signed Shangjun, included ibid., cat. no. 44 (fig. 1), was sold in our London rooms, 12th November 1974, lot 89; another, in the National Museum of Chinese History, Beijing, is illustrated in Zhongguo wenwu jinghua daquan. Jin yin yu shi juan, Hong Kong, 1994, pl. 242; one modeled with an elbow resting on a rock, was included in the exhibition Documentary Chinese Works of Art In Scholar's Taste, Sydney L. Moss Ltd., London, 1983, cat. no. 123; another from the collection of R. Foster Reynolds, was sold in these rooms, 24th February 1983, lot 194, and again in our Hong Kong rooms, 4th April 2012, lot 136, from the Water, Pine and Stone Retreat collection; and a further figure was sold in these rooms, 22nd September 2005, lot 60. See also a carving of a reclining Budai signed Shangjun, in the Palace Museum, Beijing, illustrated in Compendium of Collections in the Palace Museum. Sculpture, vol. 6, Brass and Stone Sculptures, Beijing, 2011, pl. 200.