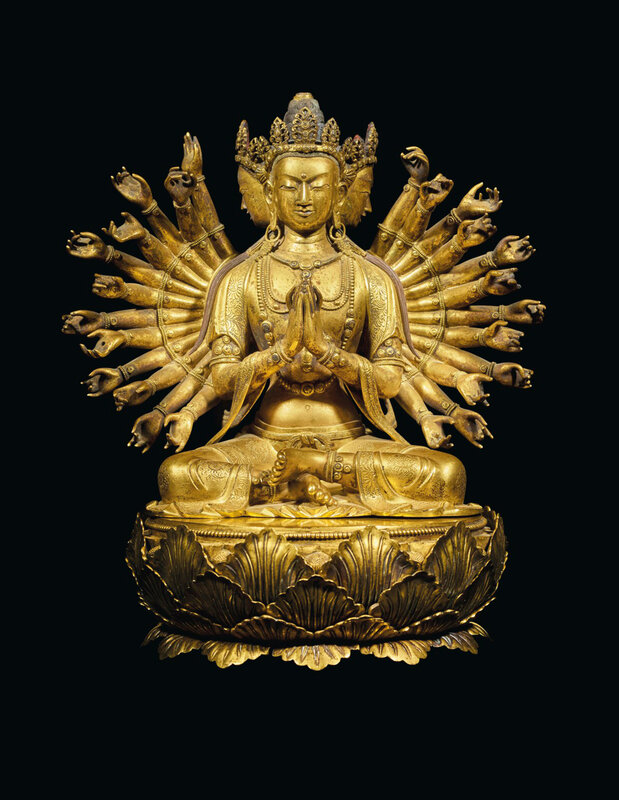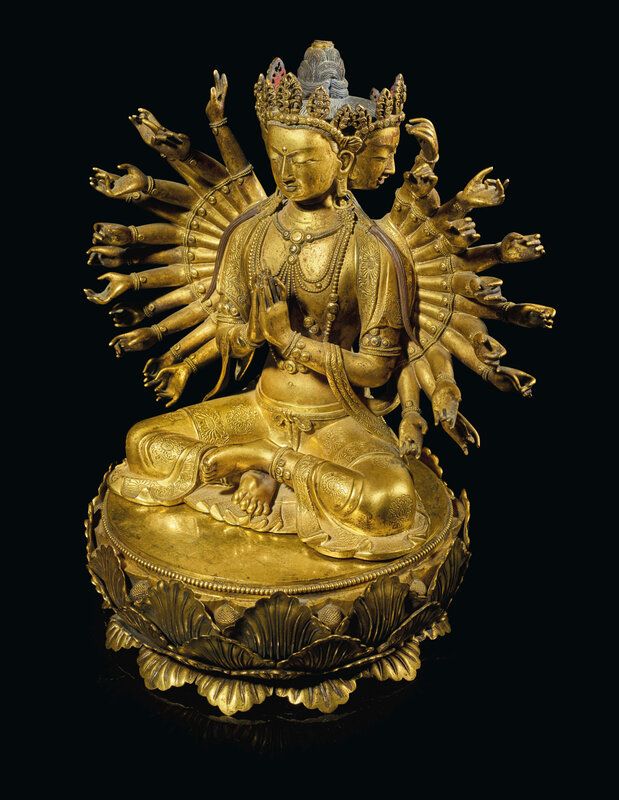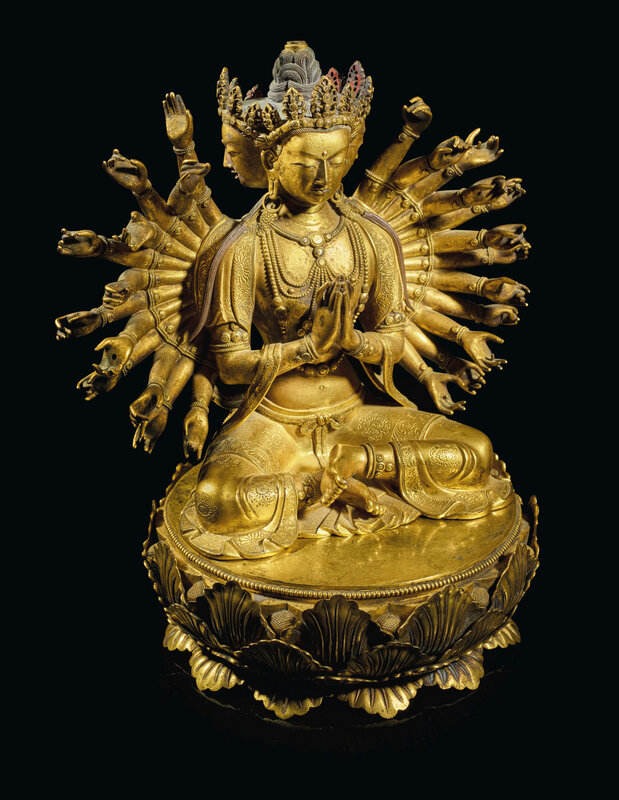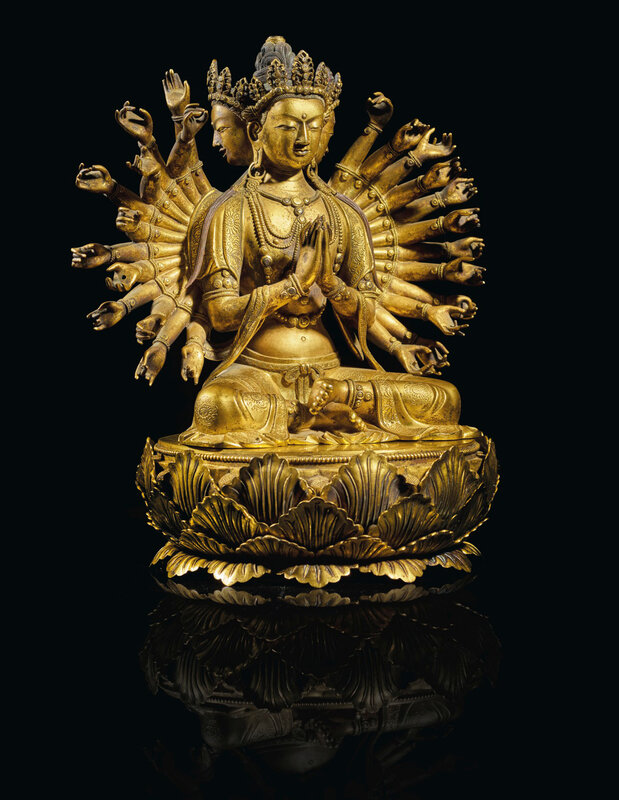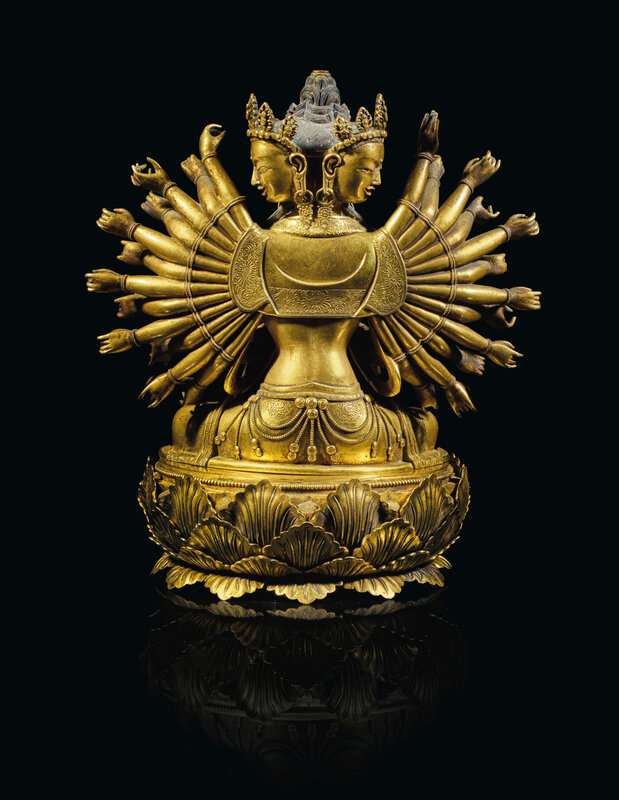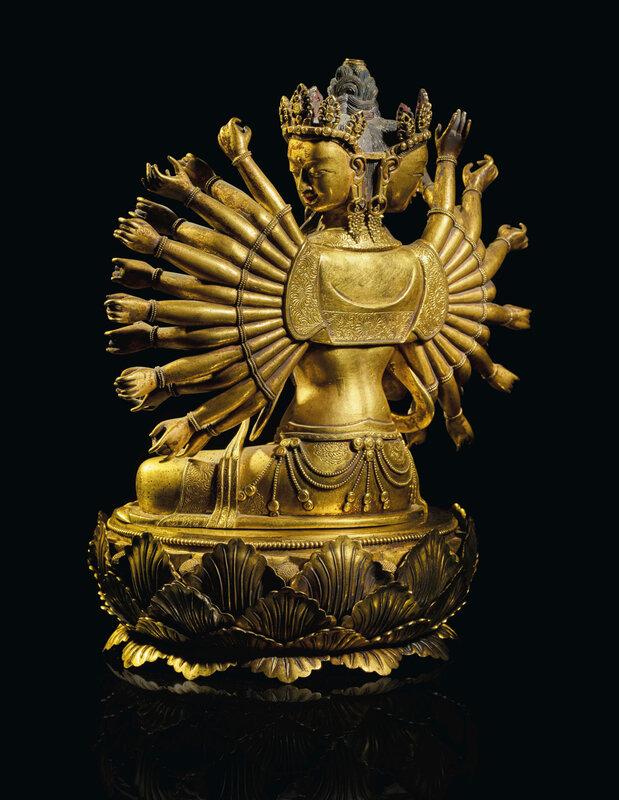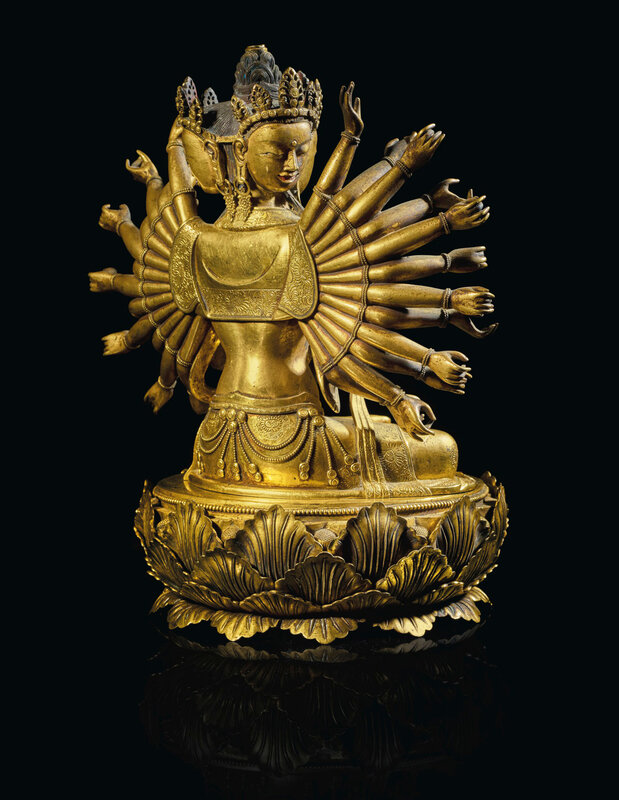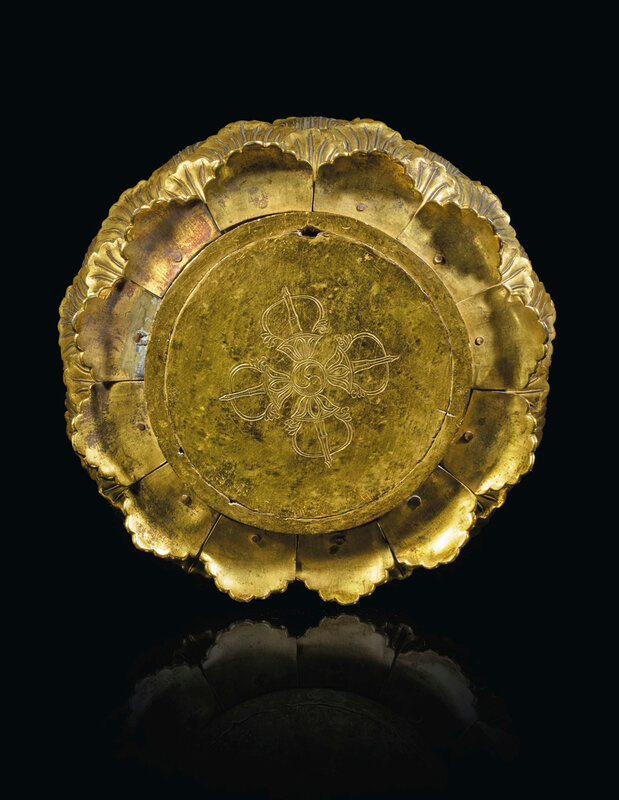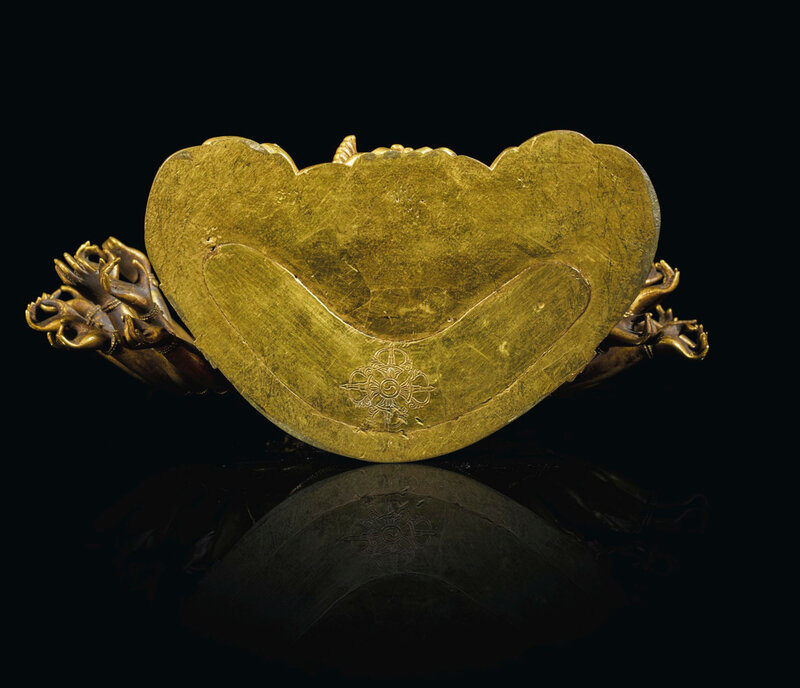 Lot 857. A rare and finely cast gilt-bronze figure of Avalokiteshvara, 17th-18th century. Figure 7 ½ in. (19 cm.) high; base 2 3/8 in. (6 cm.) high. Estimate USD 100,000 - USD 150,000. Price realised USD 387,000. © Christie's Image Ltd 2019.
The bodhisattva is shown seated with the principal pair of hands are clasped at the chest in anjali mudra, and twelve further pairs of hands, which once held various attributes, arrayed around the body. The principal head is flanked by two smaller, sideways-facing heads, each with an urna in the forehead, all below a five-petaled crown enclosing the hair upswept into a double topknot. Together with a circular gilt-bronze lotus base, 17th-18th century, decorated with layered, overlapping lotus petals.
Provenance: Private collection, France, acquired in the first half of the 20th century, and thence by descent.
Note: The form of mystical interpretation of Avalokiteshvara with multiple arms and heads is found on mural paintings at Dunhuang dating to the late 8th-9th century. The sculptural form appeared as early as the 10th century, and can be seen on a carving of a standing multi-armed bodhisattva dated to the Northern Song Dynasty (AD 960-1127) in the Dinglongxing Temple, Hebei province, illustrated in Guanyin Baoxiang (Precious Images of Guanyin), Shanghai, 1998, p. 99. One of the earliest published gilt-bronze Tantric Avalokiteshvara appears to be an example seated in bhadrasana, both legs pendent, in the Nitta collection, illustrated in The Crucible of Compassion and Wisdom, National Palace Museum, Taipei, 1985, pl. 189, pl. 93, dated to the Five Dynasties (AD 907-960). For Ming-dynasty examples of gilt-bronze Tantric Avalokiteshvara figures, see one figure sold at Christie's Hong Kong, 29 May 2009, lot 1951, and another figure sold at Christie's Hong Kong, 29 October 2001, lot 514.

The current figure can be compared to a group of finely cast, imperial gilt-bronze figures from the Kangxi period, which are likely created by a single workshop, or exclusively for the palace. Three other figures from this group are in the Palace Museum, Beijing, and are illustrated in The Complete Collection of Treasures of the Palace Museum – 60 - Buddhist Statues of Tibet, Hong Kong, 2002, pp. 239-41, no. 228 (Amitayus), no. 229 (Vajradhara) and no. 230 (Green Tara). Although the iconography is varied, these three figures in the Palace Museum each have a separately-cast stand with layered lotus petals surrounding the base, and are adorned with similar ornaments such as pendent earrings, a five-point tiara and a jeweled necklace. Another gilt-bronze bodhisattva from this group is published on Himalayan Art Resources (himalayanart.org) as item no. 8084. Compare, also, two gilt-bronze figures from this group with layered lotus petal bases sold at auction: a figure of Amitayus sold at Christie's Hong Kong, 30 May 2018, lot 2867, and a figure of Avalokiteshvara sold at Christie's Hong Kong, 28 November 2012, lot 2265.
Christie's. Important Chinese Ceramics and Works of Art, New York, 13 September 2019