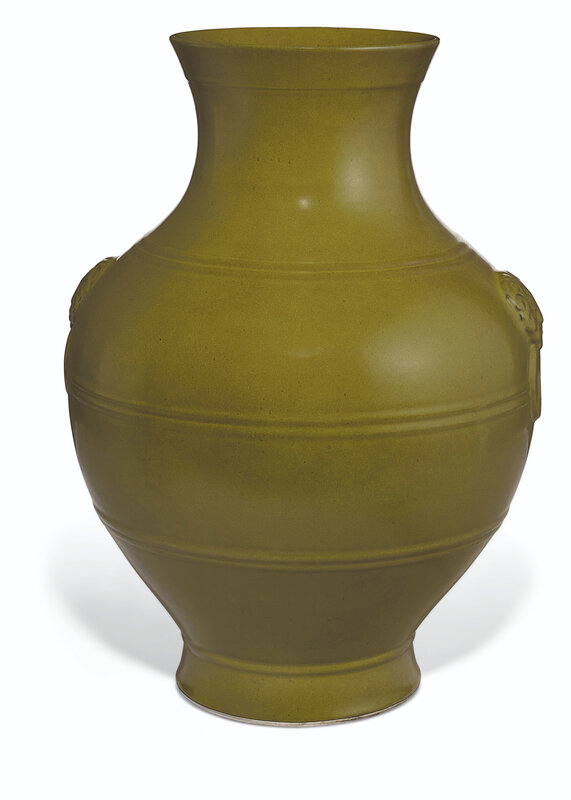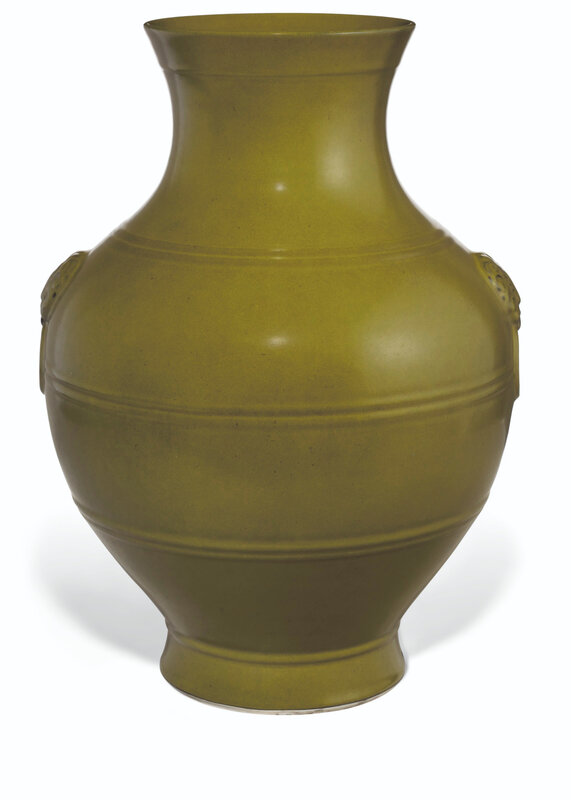 Lot 1103. A large teadust-glazed hu-shaped vase, Qianlong impressed six-character seal mark and of the period (1736-1795; 21 ½ in. (52 cm.) high. Estimate USD 60,000 - USD 80,000. Price realised USD 275,000. © Christie's Image Ltd 2019.
The ovoid body is encircled by three double bow-string bands below a pair of molded mask and ring handles applied to the shoulder at the base of the slightly waisted neck that rises to a flared mouth encircled by a molded band. The vase is covered overall with a matte glaze of very finely mottled olive-green color that thins slightly on the mask handles.
Exhibited: On loan: Minneapolis, Minnesota, The Minneapolis Institute of Arts, May 1981-January 1995..
Note: The shape is in imitation of a Han Dynasty bronze hu vase, and archaic bronze vases of this type were undoubtedly available in the Imperial collections in the 18th century. The rich colour and texture of the teadust glaze also works exceptionally well in accentuating the theme of archaism when used on a large vase inspired by an archaic bronze, but only very few examples appear to be known. See the vase from the E. T. Chow collection offered at Sotheby's Hong Kong, 8 October 2009, lot 1627 and published in the catalogue of the exhibition One Man's Taste, Treasures from the Lakeside Pavilion, at the Galleries of the Baur Collection, Geneva, 1988-9, no. C17 and another similar one sold at Sotheby's Hong Kong, 23 October 2005, lot 306. Although a much smaller (24.8 cm.) teadust vase of similar form with a Yongzheng mark is included in the Illustrated catalogue of Ch'ing Dynasty Porcelain in the National Palace Museum, pl. 152, it is very unusual to find a hu of this large size with any monochrome glaze, or with these moulded horizontal bands, although a number of large Qianlong period blue and white decorated hu are known without the concentric bands, as well as smaller ringed blue and white examples. Apart from the teadust glaze, hu-shaped vases are very rarely found covered in other glazes but there are some Song-inspired glazes such as ge and ru-type examples. Compare the present lot to a Qianlong period ru-type glazed hu vase of same size and shape in the Brooklyn Museum, no. 32.1244 and to an another ru-type glazed Yongzheng period vase of same shape and size but without mask handles sold at Christie's Paris, 13 December 2017, lot 70.
Christie's. Important Chinese Ceramics and Works of Art, New York, 13 September 2019