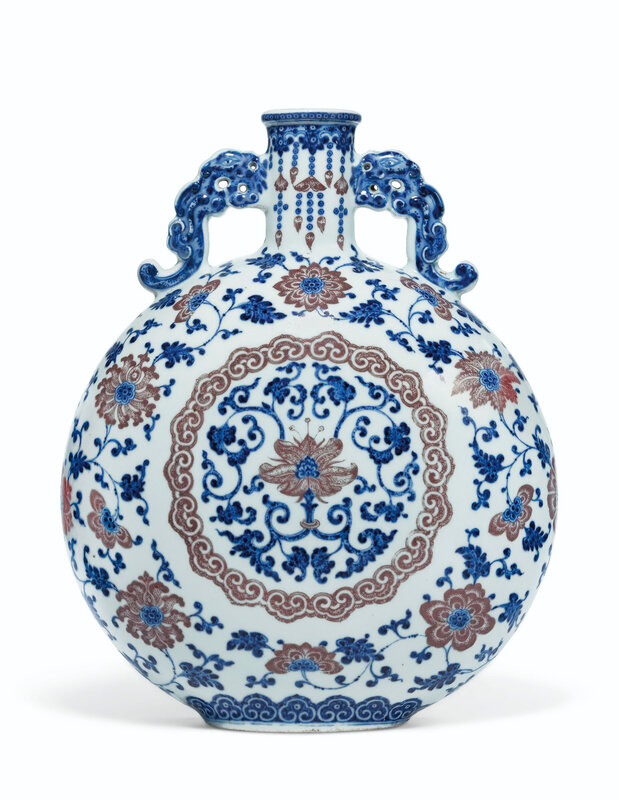 Lot 1122. An underglaze-blue and copper-reddecorated moonflask, 18th century; 12 ¼ in. (31.1 cm.) high. Estimate USD 15,000 - USD 25,000. Price realised USD 75,000. © Christie's Images Limited 2019.
The moonflask is decorated on each side with a stylized flower spray within a ruyi-head border, surrounded by composite foliate scroll below pendent beaded chains on the neck which is flanked by a pair of dragon-head handles. The underglaze blue imitates 'heaping and piling' and the copper red shades from crushed strawberry to brownish-red.
Provenance: Benjamin F. Edwards III (1931-2009) Collection, no. 3692.
Christie's New York, 18 September 2003, lot 322 (part).
Note: Longquan vases with the type of handles seen on the current vessel are rare. The handles are in the shape of yulong (dragon-fish) with fish-like bodies and dragon-like heads. Dragon-fish are mentioned in Chinese literature as early as the Bronze Age, and appear in legends related in the Shanhaijing (Classic of Mountains and Seas). They were included in painted and incised decoration on ceramics of the Tang dynasty, from kilns such as Changsha and Yue, but do not seem to occur in three-dimensional ceramic form until the Song and Liao dynasties. By the Song dynasty, handles such as these depicted a carp in the process of turning into a dragon. This evokes a legend, which dates from at least as early as the Eastern Han dynasty (AD 8 - 220), that tells of the carp swimming up river to the Dragon Gate. If it is successful in leaping over the gate it turns into a dragon. This legend soon came to represent the success of the Chinese scholars, who studied hard to pass the civil service examinations, and if they achieved the highest grade would attain an official post.