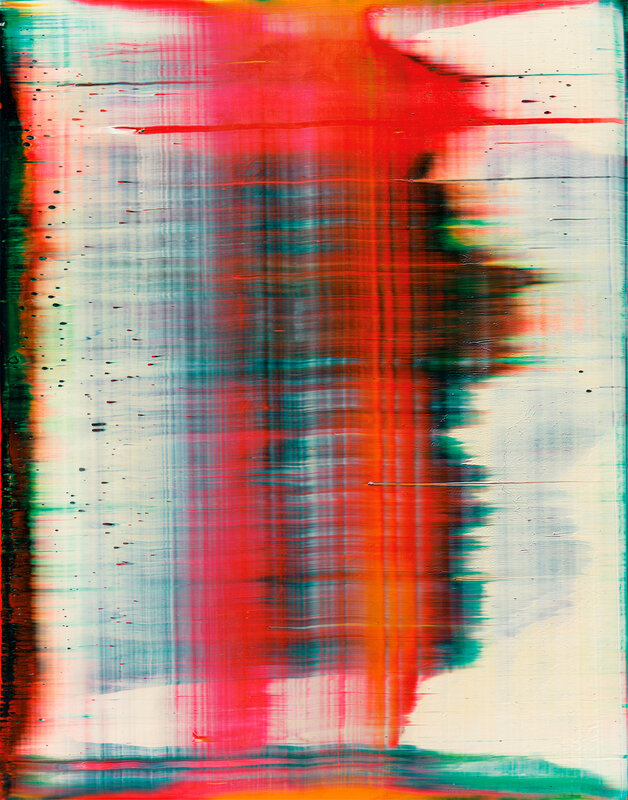 Lot 324. Gerhard Richter (Germany, B.1932), Fuji, signed 'Richter' (on the reverse) ; numbered '839-79' (on a paper label affixed to the reverse) oil on aluminium (Alucobond Plate) 37.4 x 29.2cm. (14 5/8 x 11 3/8in.) Painted in 1996. Estimate CNY 2,400,000 - CNY 3,000,000(USD 342,230 - USD 427,787). © Christie's Image Ltd 2019.
Provenance: Galerie Fred Jahn, Munich.
Acquired from the above by the present owner in 1997.
Literature: Gerhard Richter 1998, exh. cat., London, Anthony d'Offay Gallery, 1998, p. 107, no. 839/1-110 (another from the series illustrated in colour, unpaged).
H. Butin (ed.), Gerhard Richter Editions 1965-2004 Catalogue Raisonné, Ostfildern-Ruit 2004, no. 89 (another from the series illustrated in colour, p. 238).
E. Dietmar, Gerhard Richter: A Life in Painting, Chicago 2009, pp. 193 and 267.
Gerhard Richter Werkverzeichnis 1993-2004, exh. cat, Dusseldorf, K20 Kunstsammlung Nordrhein-Westfalen, 2005, p. 312, no. 839/1-110 (another from the series illustrated in colour, p. 279).
H. Butin, S. Gronert and T. Olbricht (eds.), Gerhard Richter Editions 1965-2013, Ostfildern 2014, no. 89 (another from the series illustrated in colour, p. 260).
H. Butin, Gerhard Richter, Unique Pieces in Series, Cologne 2017 (another from the series illustrated in colour, pp. 134 and 135).
Exhibited: Munich, Städtische Galerie im Lenbachhaus, Gerhard Richter: Fuji, 1997.
Note: "I want to end up with a picture that I haven't planned […] This method of arbitrary choice, chance, inspiration and destruction may produce a specific type of picture, but it never produces a predetermined picture. Each picture has to evolve out of a painterly or visual logic: it has to emerge as if inevitably" – Gerhard Richter

Painted on a shimmering support, an exuberant fusion of red, green and dark oil paint overlays and penetrates, generating a visual texture that conveys power and grandeur, as well as disruption. Even though Gerhard Richter applies different layers of paint onto the surface based on preconceived ideas, unexpected pictorial effects occur, highlighting the tension between chance and control. A remarkable example from the artist's Fuji series, this work evokes the shifting majesty and power of landscape through the language of abstraction.

Noted for its iconic shape, Mount Fuji in Japan is instantly identifiable, and has been interpreted many times, symbolizing national spectacle and power. As variations on a theme, the Fuji paintings appropriately echo the hues of Katsushika Hokusai's iconic woodblock series 36 Views of Mount Fuji (1826-33). Where Hokusai depicted the mountain from multiple viewpoints and varying weather conditions, Richter exults in the infinite spectra of chromatic combination and textural nuance occasioned by his process.

A key member of the generation of postwar European artists, Gerhard Richter developed his famous "photopaintings" amidst a vibrant environment of artistic innovation and new information. At the Kunstakademie in Dusseldorf, he studied under Karl-Otto Gotz, an exponent of Art Informel, and met other students including Sigmar Polke and Joseph Beuys. With the growing interest in American art in Germany, Richter was also exposed to the work of Marcel Duchamp, Jasper Johns, Cy Twombly, and the Fluxus movement. His desire to bring a painting to the sensibility of a photograph, moreover, is heavily influenced by the work of Walter Benjamin, who presented possibly the most important modern study of the photography medium.

As a striking example of Richter's abstract style, Fuji offers a mesmerizing viewing experience that beautifully merges chance, control, continuity and disruption. With dark hues of green penetrating the vivid splashing red paint, dynamically thrusting to the edges, the vibrant colors and the tangible surface, speak of the most cogent language of modern and contemporary abstraction.