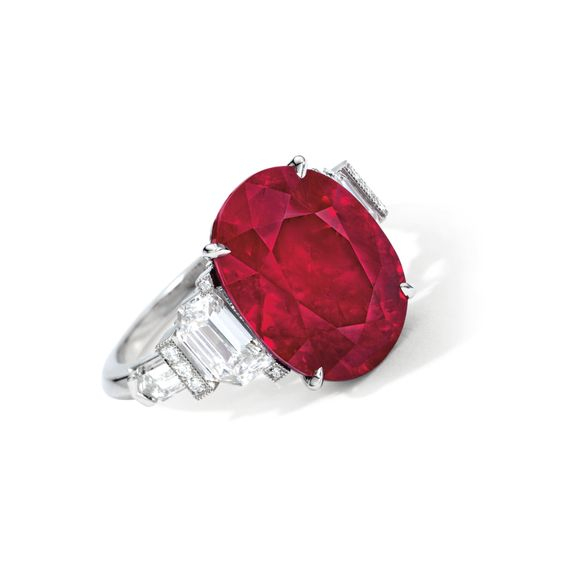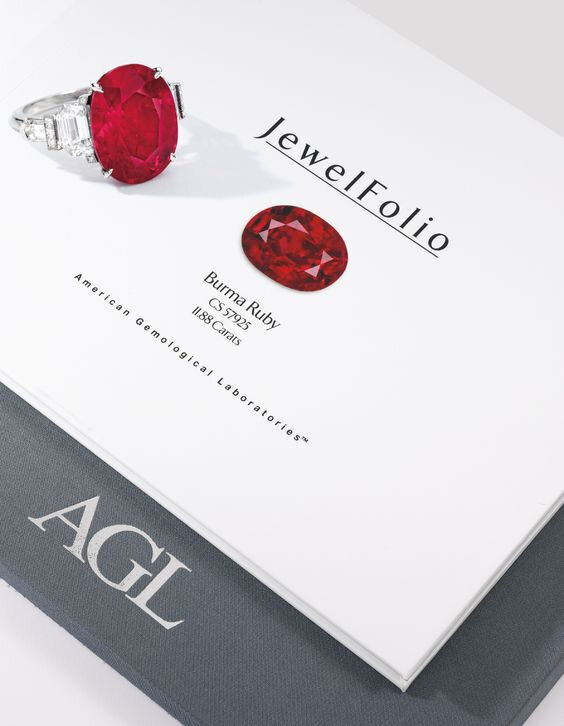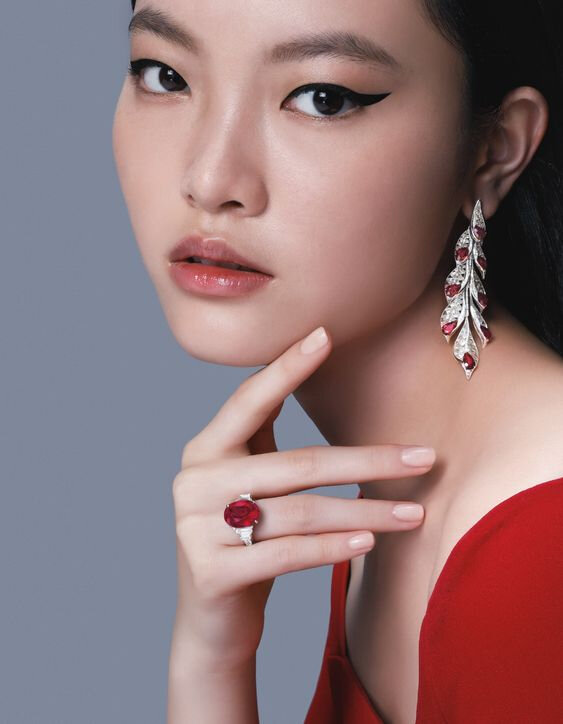 Lot 1814. A Superb 11.88 carats Burmese 'Pigeon Blood Red' Ruby and Diamond Ring, Mounted By Raymond Yard. Estimate 44,000,000 — 64,000,000 HKD (5,613,960 - 8,165,760 USD). Courtesy Sotheby's.
Set with an oval ruby weighing 11.88 carats, to the shoulders of geometric design, set with variously shaped diamonds, mounted in platinum, signed Yard, numbered, size 5¾, case stamped Raymond Yard.
Accompanied by Gübelin report no. 14037106, dated 4 March 2014, AGL report no. CS 57925, dated 7 November 2013, and SSEF Premium Appendix with report no. 71435, dated 21 October 2013, stating that the 11.88 carat ruby is natural, of Burmese origin, with no indications of heating; Gübelin further stating that the colour of this ruby may also be called 'pigeon blood red' in the trade; AGL also stating that the origin of this material would be classified as Classic™ Burma. SSEF Appendix Letter further stating that 'The natural ruby...possesses extraordinary characteristics and merits special mention and appreciation. The described gemstone exhibits a remarkable size and weight...combined with an attractive vivid red colour and a fine purity... characteristic for the finest rubies from Mogok. A natural Burmese ruby of this size and quality is very rare and exceptional.'
Also accompanied by AGL JewelFolio™ stating 'A beautiful 11.88ct Burmese ruby of this color and quality is rare and worth of distinction. In addition to its vivid "pigeon-blood" red color and unheated condition, this gem possesses a special weight. The number 8 carries a special meaning in a number of cultures. With each hundredth of a carat equaling 0.002 grams, precision cutting and care was required to finish the polishing of this gem at just the right moment to achieve two 8's.'
Further accompanied by an original sketch from Raymond Yard.
Sotheby's. Magnificent Jewels and Jadeite, Hong Kong, 07 Oct 2019