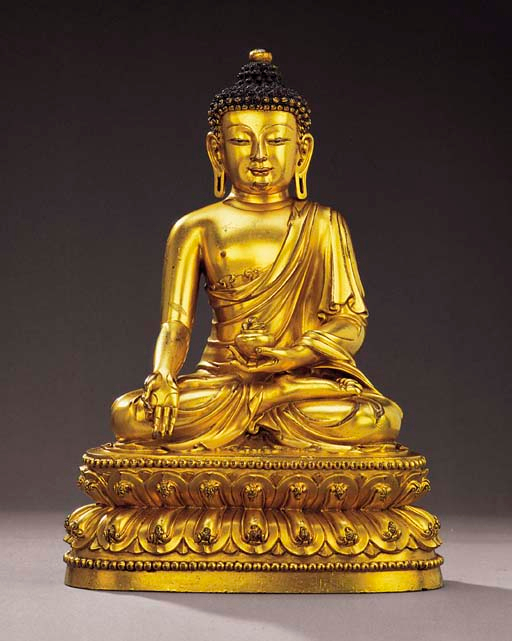 Lot 541. A fine and very rare early Ming gilt-bronze seated figure of Bhaishajiyaguru, Yongle six-character presentation mark and of the period (1403-1424); 10 3/4 in. (27.3 cm.) high. Estimate HKD 2,500,000 - HKD 3,500,000. Price realised HKD 2,274,100. © Christie's Image Ltd 2002
The figure is seated in dhyanasana on a double-lotus base, one hand holding a fruit between the thumb and the index figure in varadamudra, the other in dhyanamudra holding an alms bowl containing medicine, the hair arranged in small whorls surrounding the urna, the face modelled with eyes downcast and the lips slightly indented to give a smiling expression, framed on either side with pendulous ears, dressed in a robe draped loosely across one side of the shoulder revealing the bare torso, the base incised with six-character mark, Daming Yongle nianshi, 'Bestowed in the Great Ming Yongle period', box.
Provenance: Purchased in Beijing in the late 1930's or early 1940's, and brought to Europe in 1948 where it has remained in the original purchaser's family collection.
Note: Bhaishajyaguru, commonly referred to as the Medicine Buddha (and in Chinese as Yaoxi), appeared as early as the 4th century. He is the deified Sakyamuni as the medicine man healing upon the sick; sometimes in other iconographic portrayals he holds the myrobalam plant in one hand rather than the fruit, haritaki. In Indian pharmacoepia, the fruit is thought to be medicinal.

It is clear that Emperor Yongle was a fervent supporter of Buddhism, as indicated by literary sources, and by the numerous ceramics of the period with Buddhist references, or decorated with Buddhist motifs. A very similar figure of a seated Buddha, probably from the same workshop, was sold in Hong Kong, 8 November 1982, lot 325, and sold again in our London Rooms, 13 November 2000, lot 116. A related figure of Maitreya, also incised with a Yongle mark, from the Chang Foundation is illustrated in Buddhist Images in Gilt Metal, Taibei, 1993, no. 22. The Chang Foundation Meitreya shows signs of Nepalese influence in the sharply defined facial features, whereas the present Buddha is modelled with sinocised facial features with a fuller face and rounded chin, in keeping with the style that prevailed during the Ming period.
Christie's. The Imperial Sale, Fine Chinese Ceramics and Works of Art, Hong Kong, 29 April 2002