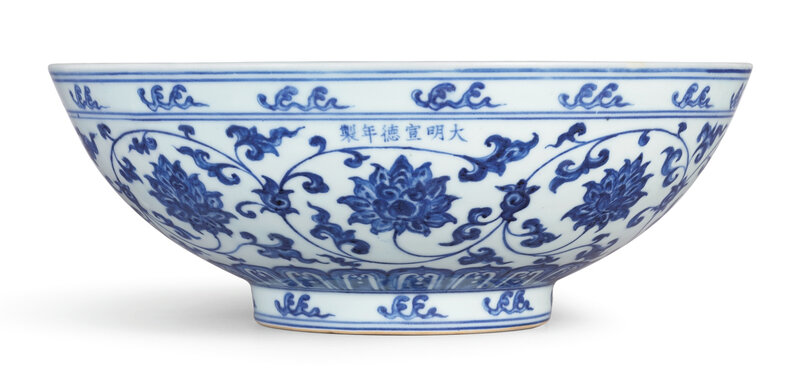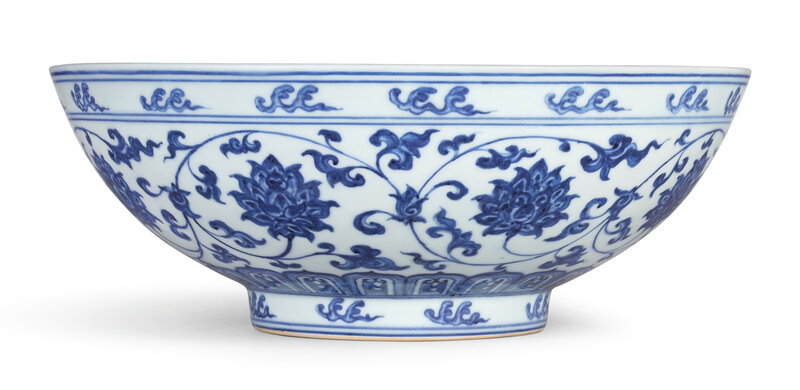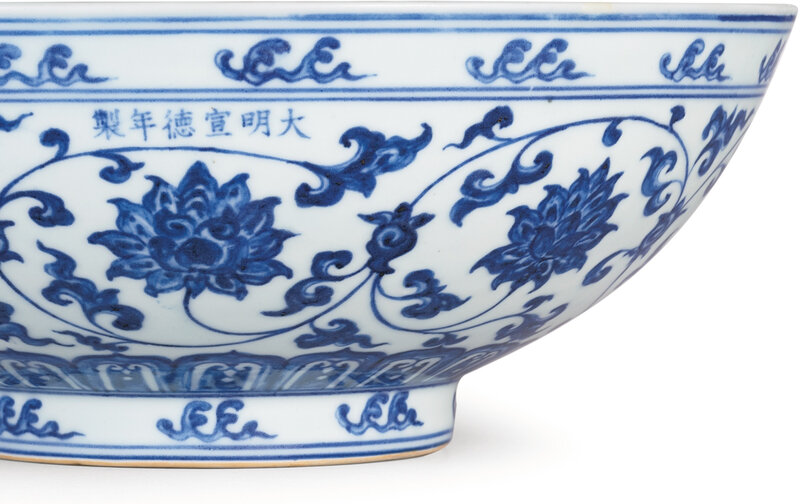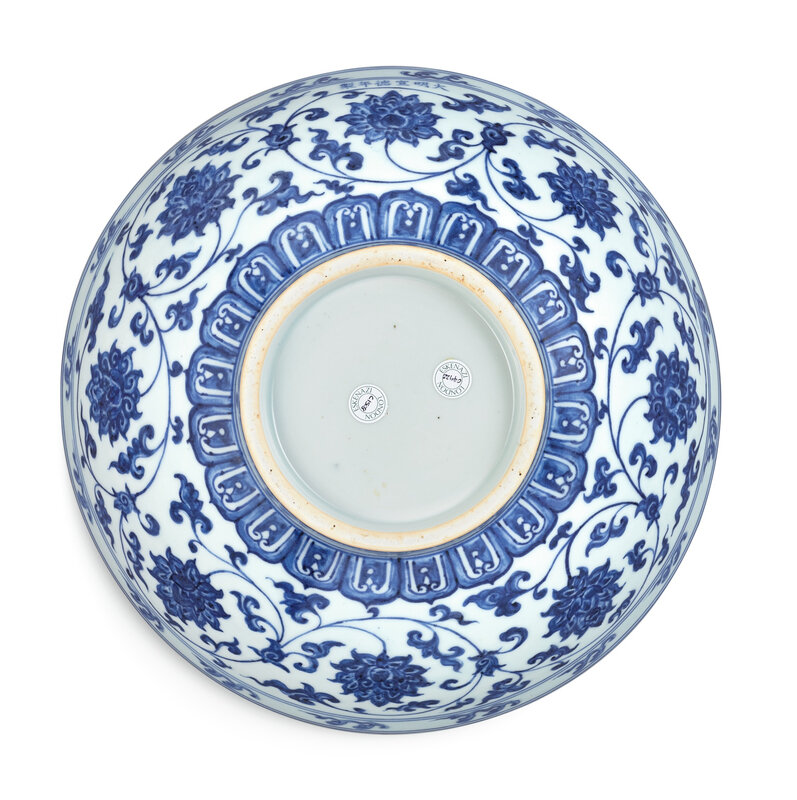 Lot 3611. An outstanding and large blue and white 'Indian lotus' fruit bowl, mark and period of Xuande (1426-1435); 29.9 cm, 11 3/4 in. Estimate 8,000,000 — 12,000,000 (1,019,280 - 1,528,920 USD). Unsold. Courtesy Sotheby's.
sturdily potted with deep rounded sides resting on a short foot, the exterior superbly painted in rich cobalt-blue tones with eight lotus blooms borne on an undulating scroll bearing furled leaves above a border of upright lappets, all between two bands enclosing detached scrollwork encircling the rim and foot, the interior and base left white, the footring unglazed, inscribed with a six-character horizontal reign mark below the rim.
Provenance
:
S.H. Chan & Co., 27th April 1992.
Eskenazi Ltd, London, 1994, no. C1508.
Rui Fang Collection, USA.
A New York private collection.
Ezkenazi Ltd, London, 2015, no. C4922.
Exhibited: Yuan and Early Ming Blue and White Porcelain, Eskenazi Ltd, London, 1994, cat. no. 21.
Middlebury College Museum of Art, Vermont, USA, 2006-2015, on loan.
Azure Skies and Pure Snows: Chinese Blue-and-White Porcelains of the Ming (1368-1644) and Qing (1644-1911) Dynasties from the Rui Fang and Barbara P. and Robert P.'64 Youngman Collections, Middlebury College Museum of Art, Vermont, USA, 2007.
Literature: Giuseppe Eskenazi in collaboration with Hajni Elias, A Dealer's Hand. The Chinese Art World through the Eyes of Giuseppe Eskenazi, London, 2012; Chinese version, Shanghai, 2015, reprint, 2017, pl. 366.
An Early Ming Imperial Fruit Bowl
Vigorous yet elegant, solid yet refined, this bowl exemplifies the taste in blue-and-white porcelain of the Xuande period (1426-1435).
Short, barely ten years, the reign of the Xuande Emperor (1426-1435) was stable and prosperous. He was an able, wise ruler and successfully maintained peace within his realm. It was, however, for his scholarly pursuits that he is particularly known. An accomplished poet and skilful painter, he has left a collection of poems, Ming Xuanzong Huangdi yuzhiji [Collection of poems by Ming Emperor Xuanzong], and paintings, some of which are preserved in the National Palace Museum in Taipei.
Due to the Emperor's enthusiastic interest in the arts, imperial patronage of the porcelain kilns at Jingdezhen, in Jiangxi province, was particularly strong. Many technical and artistic developments took place, raising the level of blue-and-white porcelain to new heights. The quality of the porcelain attained near perfection on account of the famous Gaoling clay. While earlier designs were newly interpreted into blue-and-white, many new shapes and patterns were created. Blue-and-white porcelain became an imperial ware with for the first time, the reign mark of the emperor standardised in kaishu ('regular script'), as written in six-characters Daming Xuande nianzhi ('made in the Xuande period of the Great Ming dynasty') on the present bowl.
The vibrant, yet refined painting on the present bowl was conceived thanks to the imported sumali cobalt. It produced a rich blue, sometimes even inky paint, allowing for the famous 'heaped and piled' effect, celebrated and extensively imitated on later blue-and-white porcelain. The cobalt may have been first brought to China during the Yongle period (1403-1424), from the Middle East. The name was possibly derived from the Arabic word sumawi meaning 'sky-coloured' or 'azure'. Rich in iron oxide, it was previously blended with local manganese cobalts, but in the Xuande period probably used in a purer form or in a higher percentage in the mixture. It gave extraordinary depth to the painting, with the different blooms and leaves emerging into a range of blue tones.
The artist who painted the present bowl had probably used a fine brush to apply the colour directly onto the porcelain body, in overlapping, yet continuous strokes, thereby preserving a dynamic and vibrant flow. This sophisticated freestyle painting, xieyi ('sketching thoughts') as opposed to gongbi ('brush craftmanship'), is skilfully executed. He created an admirably balanced composition, by painting the vessel's area without leaving any space vacant nor crowded. The overall impression is one of elegance and lightness, despite the sturdy potting of the vessel itself.
Xuande porcelains typically assume a wide range of shapes and decorative motifs. From plant and flower patterns to classic dragon and various figure and landscape scenes. Among these many pictorial elements, the flower motifs were particularly popular and they came in a variety of renderings, some naturalistic, others more stylised.
The lotus on this bowl is probably intended to represent the pink lotus, nelumbo nucifera, also known as Indian lotus. Connected with Buddhism and Buddha himself, it is considered a sacred flower with mystical qualities. As a plant growing in muddy ponds, but with its flower remaining clean and with a recurrent cycle of opening in the morning and closing in the evening, the lotus is associated with purity and rebirth. The different stages of bloom are synonymous with the various levels of spirituality attained. Fully opened lotus blooms, as seen on this piece would be a symbol of pure enlightenment.
While the lotus bloom is rendered in a nearly naturalistic manner, the undulating tendrils and pointed leaves do not bear any resemblance to those of the natural plant at all. Scrolling flowers and leaves as an ornamental pattern, appear to have come from the West. The idea had travelled from the Mediterranean countries to India, Central Asia and China. First used in architectural stone ornaments, seen on plinths of temples and on religious sculpture, it was gradually introduced on silverware for secular use and was finally exploited on porcelain, as a standard decorative pattern, see Jessica Rawson, Chinese Ornament. The Lotus and the Dragon, London, 1990.
On account of the bowl's solid potting, several ideas have been put forward regarding its use. Dice playing has been suggested since some bowls show unusual wear on the interior. The bowl's thick walls, plain white inside, would have been a perfect battleground for cricket fighting, traditionally a popular pastime in China. They may also have served as brush washers or as fruit bowls or simply have been multifunctional.
Bowls of this shape were popular in their time and were manufactured with a variety of designs, including composite flower scrolls, fruiting sprigs, lingzhi, lotus with Buddhist emblems and the 'three friends of winter'. Although mostly known from the Xuande period, they were already produced earlier, in the Yongle period. For a precursor of this type of bowl, compare an unmarked example painted with a beautiful rose design, illustrated in Regina Krahl, Chinese Ceramics from the Meiyintang Collection, London, 1994-2010, vol. 4, no. 1654.
While blue-and-white porcelain production was abundant, quality control was extremely strict. Tons of shards of smashed pieces, deemed unsatisfactory, have been uncovered at the imperial kiln site at Jingdezhen, see Jingdezhen Zhushan chutu Yongle Xuande guanyao ciqi zhanlan/Imperial Porcelain of the Yongle and Xuande Periods Excavated from the Site of the Ming Imperial Factory at Jingdezhen, Hong Kong, 1989.
Not surprisingly, Xuande porcelains became desirable collector's items. Particularly during the late Ming period, they were regarded as status symbols, and were valuable commodities in the contemporary art market. Literature on connoisseurship invariably placed Xuande blue-and-white porcelain on top, before Chenghua, Jiajing and Wanli, see Clarence F. Shangraw, 'Fifteenth Century Blue-and-White Porcelain in the Asian Art Museum of San Francisco', Chinese Ceramics. Selected articles from Orientations 1982-1998, Hong Kong, 1999, pp. 102-115, p. 106.
An identical bowl is in the National Palace Museum in Taipei, included in the Museum's exhibition Mingdai Xuande guanyao jingcui tezhan tulu/ Catalogue of the Special Exhibition of Selected Hsüan-te Imperial Porcelains of the Ming Dynasty, Taipei, 1998, cat. no. 43; another bowl is in the Ashmolean Museum in Oxford, illustrated in Stuart Young, 'An Analysis of Chinese Blue and White', Oriental Art, Summer 1956, New Series volume II, number 2, pl. 47, fig. 11, no. 36; a third example from the collection of C.T. Loo was included in the exhibition Ming Blue-and-White, Philadelphia Museum Bulletin, 1949, no. 64, probably the same bowl which was included in Chinese Ceramics from the Prehistoric Period through Ch'ien Lung', Los Angeles Museum, Los Angeles, 1952, no. 281; and a fourth piece is illustrated in Sekai tōji zenshū: Ceramic Art of the World, vol. 14: Ming Dynasty, Tokyo, 1976, pl. 150. At auction, a bowl from the collection of J.M. Hu, was sold in our New York rooms, 4th of June 1985, lot 6; another was sold in these rooms, 14th November 1989, lot 19; a third example from the Tianminlou collection was recently sold in these rooms, 3rd April 2019, lot 7 (fig. 1).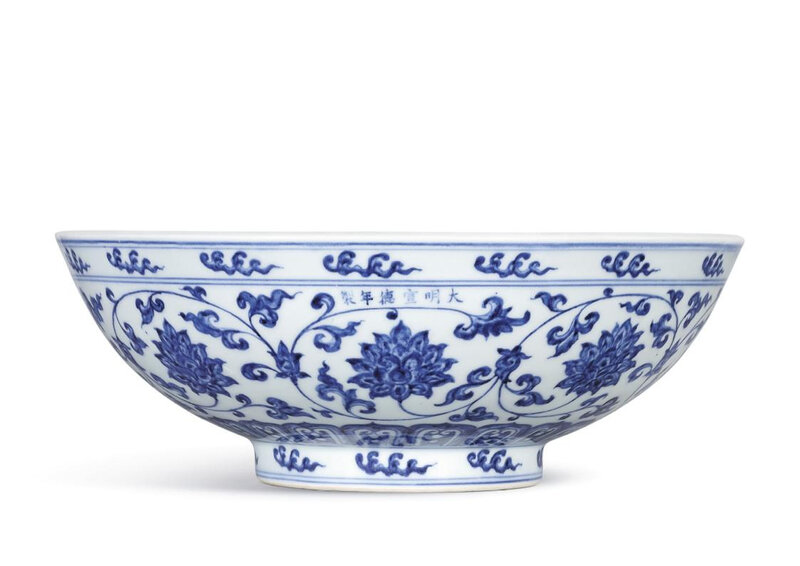 Blue and white 'Indian lotus' fruit bowl, mark and period of Xuande formerly in the Tianminlou collection Sotheby's Hong Kong, 3rd April 2019, lot 7.
Cf. my post: Selected Imperial Ming Ceramics from the Tianminlou Collection at Sotheby's Hong Kong, 03 Apr 2019
Two smaller bowls of the same pattern are in the National Palace Museum in Taipei, one included in Illustrated Catalogue of Ming Dynasty Porcelain, Taipei, 1977, no. 60; the other in Porcelain of the National Palace Museum: Blue-and-White Ware of the Ming Dynasty, book II (part 2), Hong Kong, 1983, no. 46. A closely related bowl is also found in the Palace Museum in Beijing, with a differently painted lotus scroll, and florets at the foot and rim, illustrated in Geng Baochang, Gugong Bowuyuan cang Ming chu qinghua ci [Early Ming blue-and-white porcelain in the Palace Museum], Beijing, 2002, vol. 2, pl. 141, together with a bowl decorated with lingzhi, pl. 140.