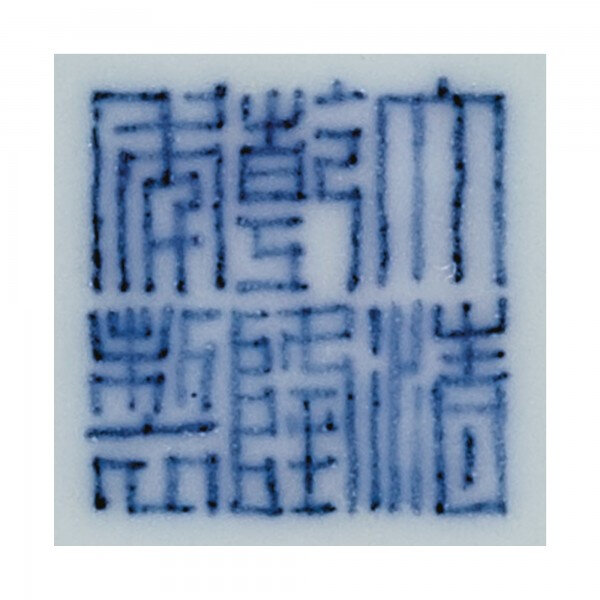 Lot 3107. A fine and superb Ru-type handled vase, seal mark and period of Qianlong (1736-1795); 19.9 cm, 7 3/4 in. Estimate 3,000,000 — 5,000,000 HKD (383,250 - 638,750 USD). Lot sold 9,175,000 HKD (1,168,253 USD). Courtesy Sotheby's.
the body divided into six undulating lobes simulating a mallow bloom and resting on a splayed foot of corresponding form, surmounted by a tall tubular neck collared with a raised sloping band, all below a flared mallow-shaped rim accentuated with subtle lines to delineate the floral petals, the neck flanked by a pair of stylised dragon-form handles, covered overall save for the footring with an even translucent pale bluish-grey glaze, the base inscribed in underglaze blue with a six-character seal mark.
Provenance: Sotheby Parke Bernet, New York, 15th June 1983, lot 319.
Note
: This exquisite vase with its lustrous glaze and refined shape ranks among the finest imperial porcelains created at the Jingdezhen kilns for the Qianlong Emperor (r.1736-1795) and archetypically reflects his fascination with antiquity as well as his desire for perfection.
It is well known that the Qianlong Emperor commissioned many copies of ancient ceramic styles and that he sent some of the actual pieces to Jingdezhen for study and research. Largely to the credit of Tang Ying (1682-1756), the gifted superintendent of the imperial kilns, who was a serious scholar and skilful artist in his own right, the artistic and technical level of the porcelain production reached new heights. Ancient forms and styles were not merely copied, but combined and reinvented to create new Qing dynasty designs.
The current vessel is exemplary of this new style of porcelains manufactured under Tang Ying's supervision. In shape it was inspired by Southern Song dynasty (1127-1279) kinuta ('mallet-shaped') vases of the Longquan kilns in Zhejiang province. See, for example, a piece in Regina Krahl, Chinese Ceramics from the Meiyintang Collection, vol. 1, London, 1994, no. 570. While the present Qing version retains the angled shoulder, cylindrical neck with cup-shaped mouth and stylised handles of the Longquan prototype, the addition of subtly lobed indentations, is strikingly novel, blending new and ancient in a harmonious way. With its well-matched association of a thick opaque glaze of pale bluish-grey that is reminiscent of Song dynasty (960-1279) Ru ware, the piece attains a new level of attractiveness.
A very similar vase of this elegant design in the Baur collection, Geneva is illustrated in John Ayers, The Baur Collection Geneva. Chinese Ceramics, vol. 3, Monochrome-Glazed Porcelains of the Ch'ing Dynasty, Geneva, 1972, no. A 370; and a similar example was sold at auction, Christie's New York, 23rd March 1995, lot 129, from the Scheinman collection.
Compare also a related vase but with a guan-type glaze, in shape closer to the kinuta prototype, in the Baur collection, Geneva, illustrated in John Ayers, ibid., no. A 341.