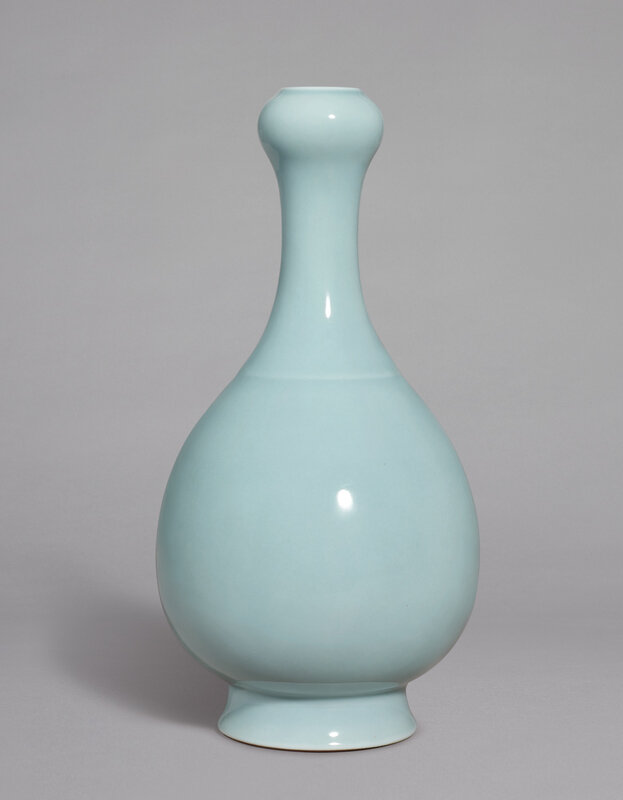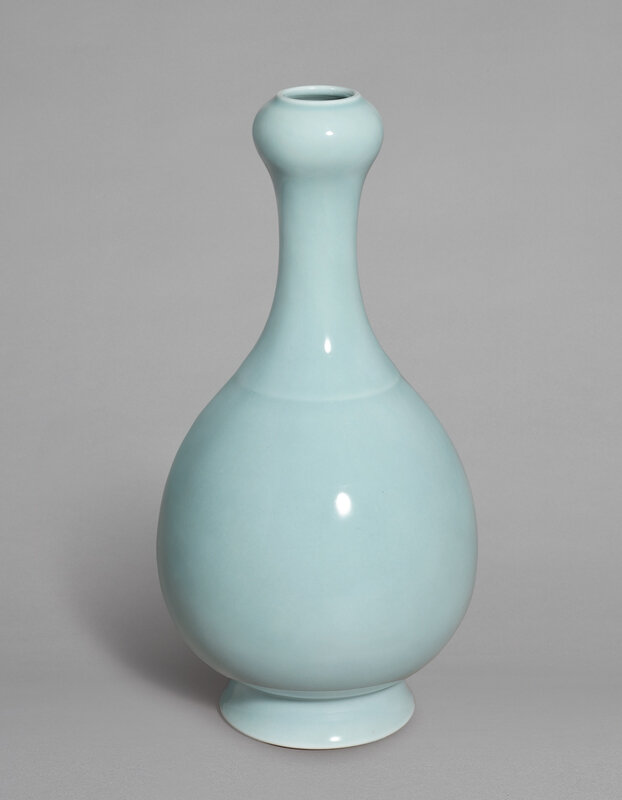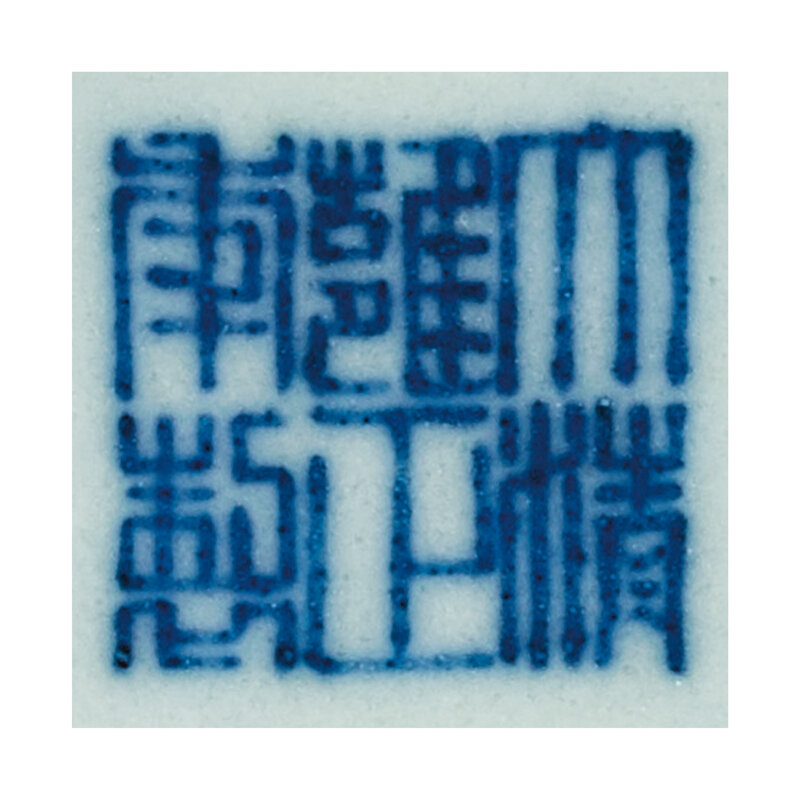 Lot 3113. A fine Ru-type garlic-mouth bottle vase, seal mark and period of Yongzheng (1723-1735); 29 cm, 11 3/8 in. Estimate 2,500,000 — 3,000,000 HKD (319,375 - 383,250 USD). Lot sold 4,375,000 HKD (557,069 USD). © Sotheby's.
with a pear-shaped body supported on a spreading foot and tapering to a tall slender neck with a garlic-head mouth and thin lip, covered evenly overall save for the footring with an even pale sky-blue glaze, the base inscribed in underglaze blue with a six-character seal mark.
Note: Sophisticated in its simplicity and understated elegance, this vase typifies Yongzheng (1723-35) imperial porcelain at its best. The luminous Ru-type glaze and the graceful, unassuming shape with its minimalist decoration are an ideal match, and yet this association appears to be extremely rare.
During the short reign of the Yongzheng Emperor, Qing imperial wares reached their apogee attaining an exquisite finesse, rarely found in those of later periods. The Emperor was fascinated with antiquity and is known to have sent numerous pieces of different ancient ceramic styles to the imperial kilns at Jingdezhen so that craftsmen could use them as examples in the creation of new pieces. Song dynasty (960-1279) wares were one of the Emperor's favourites, particularly Ru, the most celebrated of all.
The present vase is a quintessential example of one of those new pieces created under the guidance of the brilliant kiln supervisor Tang Ying (1682-1756). In shape, it copies Song dynasty vases produced at the Longquan kilns in Zhejiang province, which in their turn had been modelled after archaic bronze wine vessels of the late Eastern Zhou period (770-256 BC) known as hu. A Longquan model for the current piece would have been a vase from the Qing court collection, equally designed with a high foot and elegantly sloping shoulders, illustrated in Longquan yao/ Porcelain of the National Palace Museum. Lung Ch'uan Ware of the Sung Dynasty, Hong Kong, 1962, pl. 10.
Although the simple shape of 'garlic-head' vases, or suantouping, combines well with monochrome glazes, as the current lot so perfectly demonstrates, pieces of this type bearing a Yongzheng reign mark appear to be extremely rare. Only one other Ru-type glazed vessel appears to be published, of similar size, but with a moulded chrysanthemum petal design, included in the exhibition Ji xia qing shang/ Ethereal Elegance, Art Museum, The Chinese University of Hong Kong, Hong Kong, 2007, cat. no. 22, from the Huaihaitang collection.
Suantouping of this reign seem to be mostly decorated with contemporary invented polychrome glazes, compare, for example, a robin's egg piece from the collection of the National Palace Museum in Taipei, published in the Illustrated Catalogue of Ch'ing Dynasty Porcelain in the National Palace Museum. K'ang-hsi Ware and Yung-chêng Ware, vol. 1, Tokyo, 1980, no. 146; and a robin's-egg blue vessel from the collection of J. M. Hu, included in the exhibition Zande Lou Qingdai guanyao danseyou ciqi/Qing Imperial Monochromes. The Zande Lou Collection, The Chinese University of Hong Kong, Hong Kong, 2005, cat. no. 20.
Or, they were embellished with other glazes achieved involuntarily in an imitation process, such as two vases with a speckled glaze reminiscent of lazurite, from the collection of the Palace Museum, Beijing, included in the exhibition China. The Three Emperors 1662-1795, Royal Academy of Arts, London, 2006, cat. no. 179; and illustrated in Zhongguo taoci quanji/The Complete Works of Chinese Ceramics vol. 14: Qing, part 1, Shanghai, 1999, no. 205.
Ru-type suantouping are better known from the succeeding Qianlong reign (1736-1795), compare, for example, a closely related vase illustrated in Sekai tōji zenshū/Catalogue of World's Ceramics, vol.12 China: Ch'ing Dynasty and Annamese and Thai Ceramics, Tokyo, 1956, pl. 93; and another piece of somewhat less balanced proportions and of smaller size, from the Qing Court collection, illustrated in Gugong Bowuyuan cang wenwu zhenpin quanji. Danse you/The Complete Collection of Treasures of the Palace Museum. Monochrome Porcelain, Hong Kong, 1999, pl. 215. Other related examples have been sold in these rooms, 29th November 1979, lot 294; 10th April 2006, lot 1610; and 8th October 2008, lot 2512, from a Japanese private collection.
Sotheby's. Qing Imperial Porcelain A Private Collection, Hong Kong, 08 Oct 2019, 10:00 AM