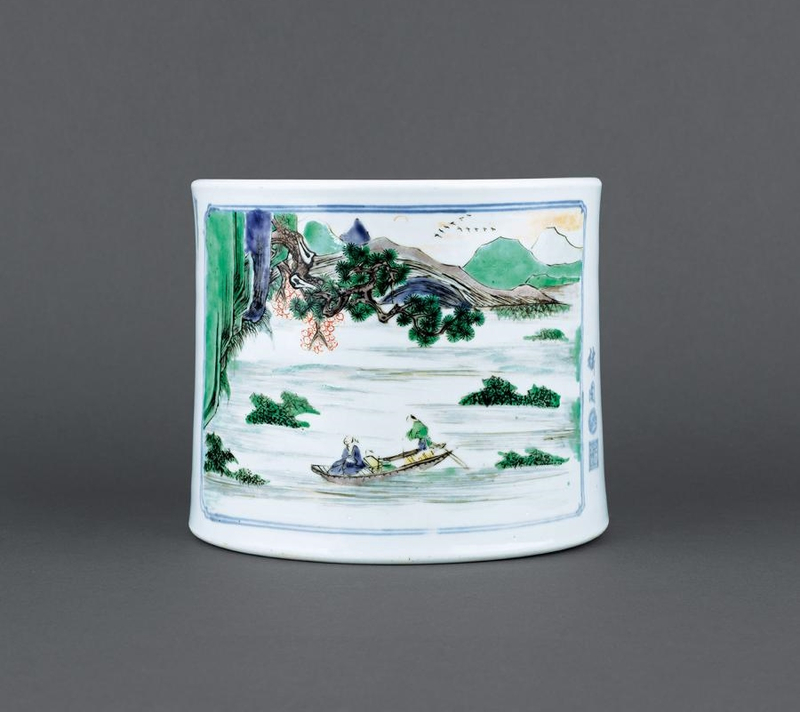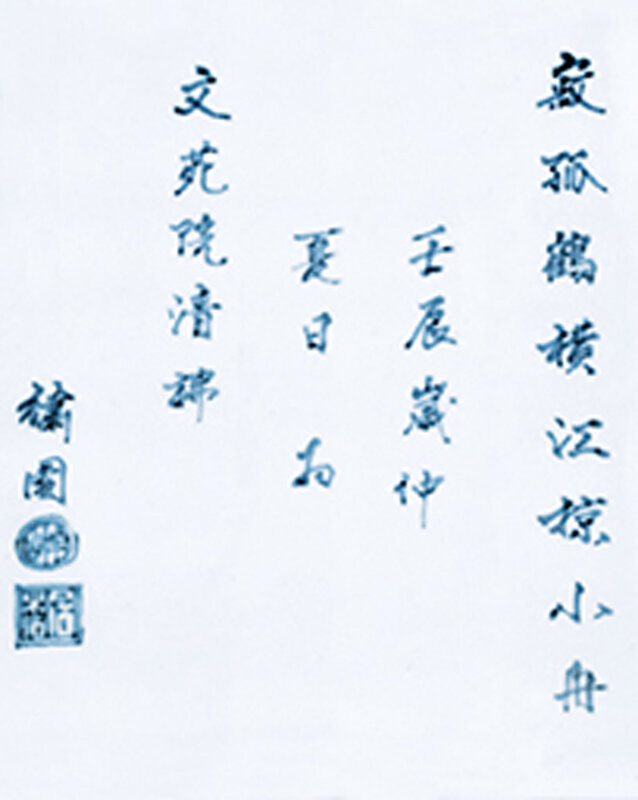 Chinese porcelain dated famille verte brushpot, Kangxi, 1712; 7 5/8 inches, 19.3 cm diameter. M4474. Price on application. © Marchant
Chinese porcelain dated famille verte brushpot, bitong, painted with a scholar seated in the front of a fishing boat looking up at overhanging rockwork, and seated beside a tiered box with an upright handle and a wine jar, being steered by a fisherman holding the rudder, beneath long branches of overhanging pine, with a mountain range, migrating birds and the moon amongst iron-red clouds, within an underglaze blue double-line rectangular frame with chamfered corners. The reverse with a fifty-six character poem in dedication to the Red Cliff, with the date, renchen year, corresponding to 1712, second month of the summer, Wenyuan Yuan qing fu, signed by Xiuyuan, round seal and square seal, mushi ju.
Provenance: Formerly in the collection of Marcel Proust and by direct descent to his nephew, Patrice Théodore Edmond Marcel Mante-Proust. Valentin Louis Georges Eugène Marcel Proust (1871-1922) was a French novelist, critic and essayist, best known for his monumental novel À la Recherche du Temps Perdu, 'In Search of Lost Time', published in seven parts between 1913 and 1927. He is considered by critics and writers to be one of the most influential authors of the 20th century.
Note: The poem on this brushpot is inspired by The Red Cliff poem written by Su Shi in 1082 and translates as: '(Su Shi) travelled here five hundred years ago, and now the shimmering river still seem to connect to the sky. Wandering alone tonight, the moon above the Dong Mountain reminds me of the autumn of the renxu year (when Su Shi visited the Red Cliff in 1082). A guest catches a fish near the Red Cliff, but nobody carries a wine jar out of Huangzhou (where Su Shi lived during his exile). Now I compose this poem against the silence of the mountains, while a single crane flies above the small boat across the river.' Written in the second month of summer of the renchen year (1712), Wenyuan Yuan qing fu, (signed) by Xiuyuan, round seal and square seal, mushi ju.
A similar brushpot, also dated 1712, the decoration without stylised waves, migrating birds and the moon, with scholars in a covered fishing boat, was included by Bonhams London in their auction of Fine Chinese Art, 16th May 2013, lot no. 65, pp. 90/91 by repute also from the Proust family collection.
A related famille verte brushpot dated to 1719 was included by Marchant in their exhibition of Qing Porcelain, 2011, no. 5, pp. 12-13 and illustrated on the back cover.
A blue and white brushpot of this subject bearing a Kangxi reign mark but without a date is illustrated by Chen Run Min in Qing Dynasty, Shunzhi Period and Kangxi Period Underglaze Blue in The Gu Gong Museum Collection, 2005, no. 206, pp.312/3.
A related famille verte brushpot from the Collection of W.J. Holt is illustrated by Hobson, Rackham and King in Chinese Ceramics in Private Collections, 1931, fig. 241, p.136.
The painting on this brushpot must have been executed by an artist of some note, the water appears similar in style to an ink painting with linear lines in two colours, the small rocks with bamboo repeated at the water's edge and issuing from the cliff face are very detailed and the touches of iron-red in the sky complete the composition.