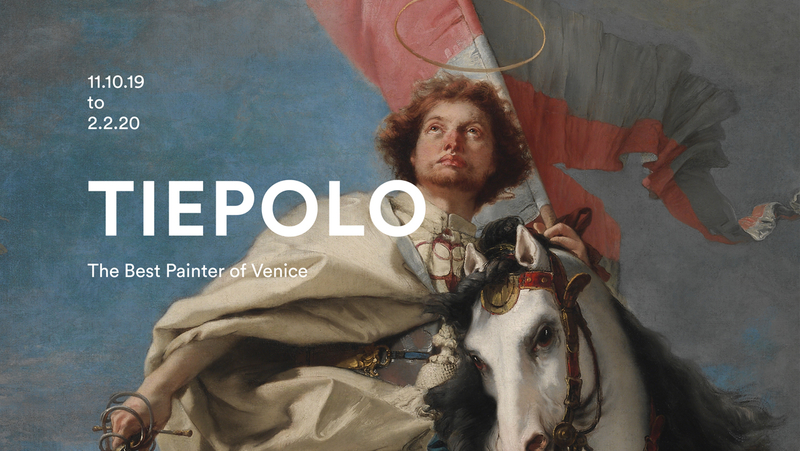 Giovanni Battista Tiepolo, Saint James the Elder, detail, 1749-50, Budapest, Szépművészeti Múzeum, © Budapest Szépművészeti Múzeum - Museum of Fine Arts Budapest 2019
Giovanni Battista Tiepolo (1696-1770) was celebrated by his contemporaries as »the best painter in Venice«. Born in Venice, he rose to become one of the most important artists of the 18th century, who was as sought after in Italy as in Würzburg and Madrid. On the occasion of the 250th anniversary of his death, the Staatsgalerie is dedicating a large exhibition of more than 100 works and presenting its own high-ranking holdings in the context of precious international loans from Europe and overseas.
For the first time in the German-speaking world, the show opens the view on Tiepolo's entire creative career and illustrates the diversity of his oeuvre - from elegant paintings to mythology and history to dramatic religious images to caricatures and etchings.
The point of departure is one of Tiepolo's most unusual creations, which is now owned by the State Gallery: the canvas painting "Calm on the Flight to Egypt", which the painter created during his last years in Madrid. Two paintings from earlier creative periods and the significant stock of drawings by Tiepolo complete the collection. The exhibition brings together other paintings from mythology and history, as well as examples of the most underrated religious imagery. Thus, the presentation focuses on the virtuoso narrative art of Tiepolo and his elegant as well as theatrical imagery, which nevertheless is characterized by subtle humor and the will to caricature.
Special attention is paid to the value that Tiepolo gave to the imagination, the illusion and also the irritation in his pictorial worlds. The exhibition aims to re-evaluate Tiepolo's work, which focuses on his painterly creativity and power of imagination and creates a new awareness of the importance of the master at the turn of the Baroque era to enlightenment.
The artist Christoph Brech presents a comment from today's perspective: With his multimedia works, he enters into a dialogue with the works of Tiepolo in the exhibition.
Accompanying the exhibition, the graphic Cabinet is presenting the show "La Serenissima. Italian Drawings from the 16th to the 18th Century ".
11 OCT 2019 - 2 FEB 2020