NEW YORK, NY.- Christie's announces Classic Week in New York, bringing together nine auctions featuring 19th-century European Art, Old Master paintings and sculpture, Antiquities, The Exceptional Sale, and Books and Manuscripts, which is joining the marquee sales week for the first time. Three distinguished private collections will be offered in dedicated sales: The Collection of Dr. Anton Pestalozzi of important Greek and Roman portraiture; The Collection of Lewis and Ali Sanders of superb French furniture and clocks; and a private collection of 17th-century Dutch and Flemish Old Master paintings. Sales run from 25–29 October with viewings from 18-28 October. To add to the multidimensional viewing experience at our Rockefeller Center galleries, the creators behind the scent branding agency 12.29 will introduce a bespoke scent evocative of the artworks, adding an olfactory adventure to Classic Week.

Fine Printed Books and Manuscripts Including Americana | October 25 at 11am
The Books and Manuscripts sale marks the first held during Christie's Classic Week: the twice-yearly auctions will now take place in October and April. The first October auction includes many books auspicious to the season: a first edition Dracula, Frankenstein with a letter by Mary Shelley, horror works by R.L. Stevenson, Oscar Wilde and others, plus a previously unknown broadside naming Edgar A. Poe as editor of Graham's Magazine. Some of the wide-ranging highlights include The Scott Greenbaum Collection of Literary First Editions, among which is an exceptionally fine copy of Ian Fleming's Casino Royale and many Dashiell Hammett first editions, including The Glass Key in its rare dust jacket; a section devoted to Game Theory, including a small selection of manuscripts from John Forbes Nash, Jr. and the 1994 Nobel Prize Medal the mathematician was awarded; the Brinley copy of America's first banned book, Thomas Morton's New English Canaan of 1637; the important works of 17th-century naturalist-artist Maria Sibylla Merian; the Louisiana Purchase Collection of Alonzo J. Tullock; and a manuscript document signed by Willem Kieft, granting land near Coney Island to the first person of Muslim origin to settle in America.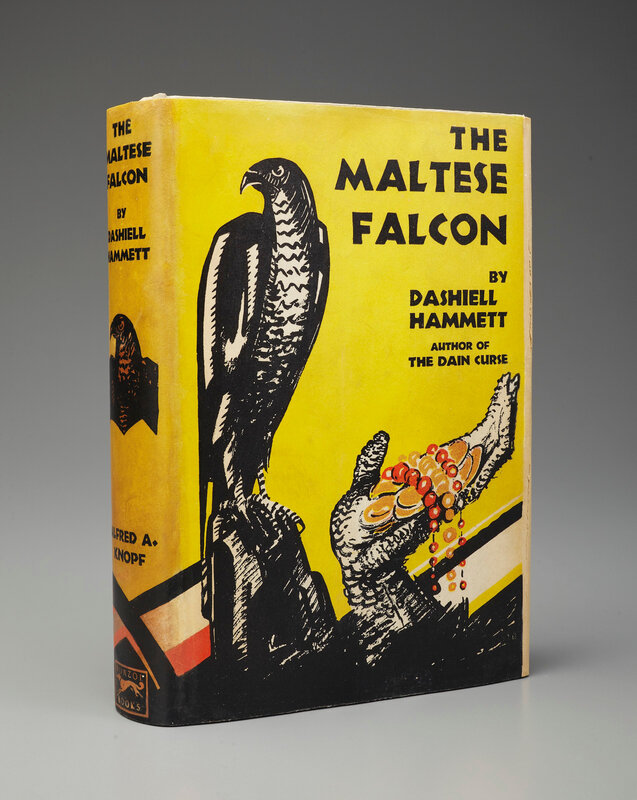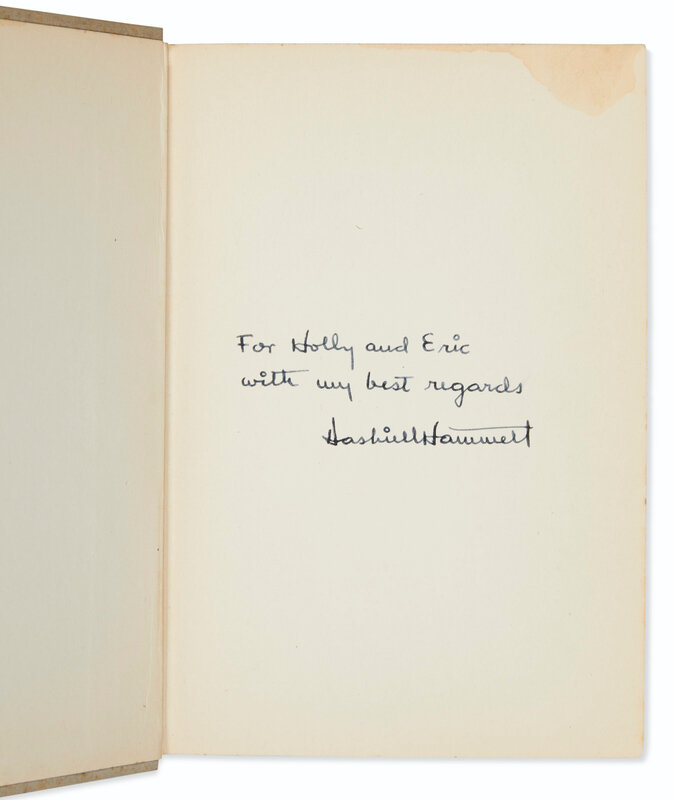 Lot 35. The Holy Grail of detective fiction. HAMMETT, Dashiell Hammett (1894-1961). The Maltese Falcon. New York: Knopf, 1930. Estimate USD 60,000 - USD 80,000. © Christie's Images Ltd 2019.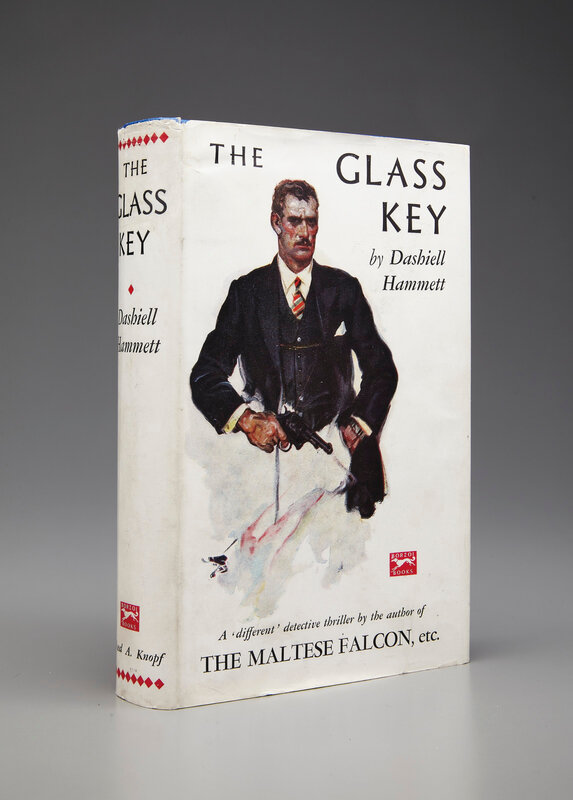 Lot 39. Hammett's favorite work, in the rare jacket. Dashiell Hammett (1894-1961). The Glass Key. London: Alfred A. Knopf, 1931. Estimate USD 60,000 - USD 80,000. © Christie's Images Ltd 2019.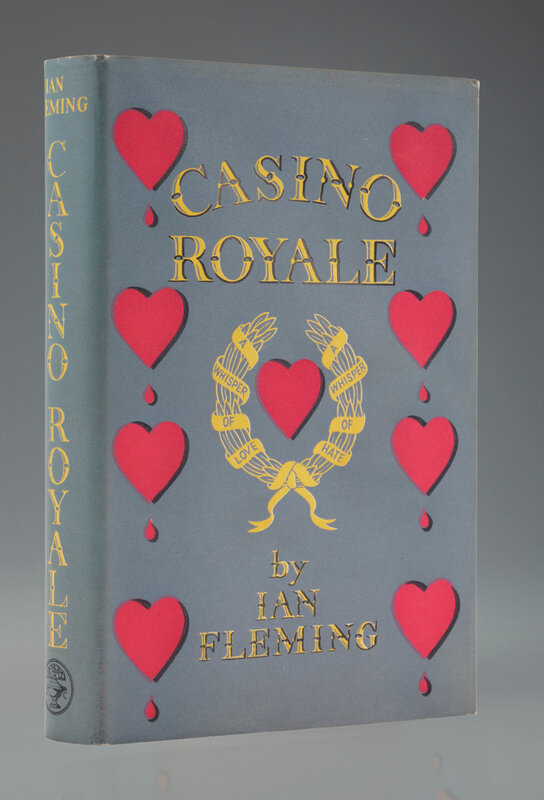 Lot 45. The first Bond. Ian Fleming (1908-1964). Casino Royale. London: Jonathan Cape, 1953. Estimate USD 40,000 - USD 60,000. © Christie's Images Ltd 2019.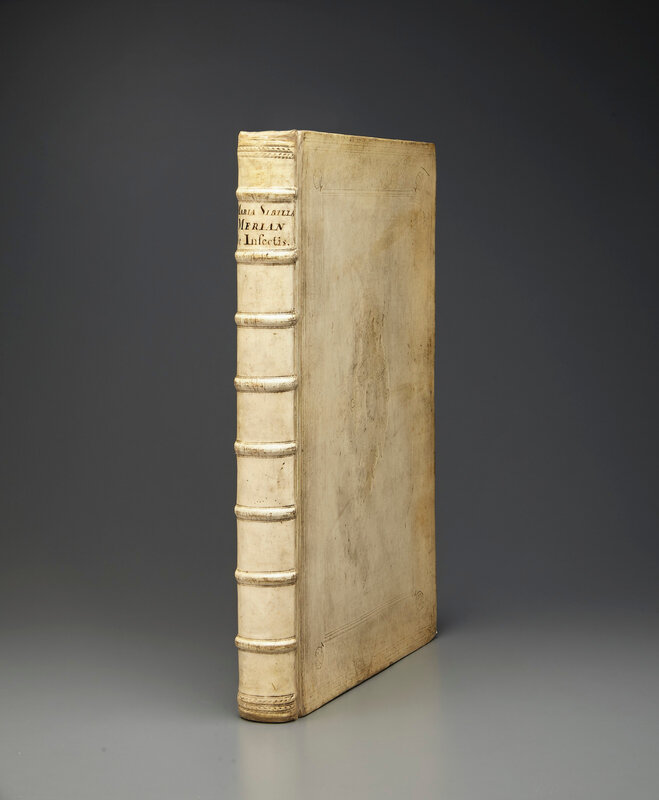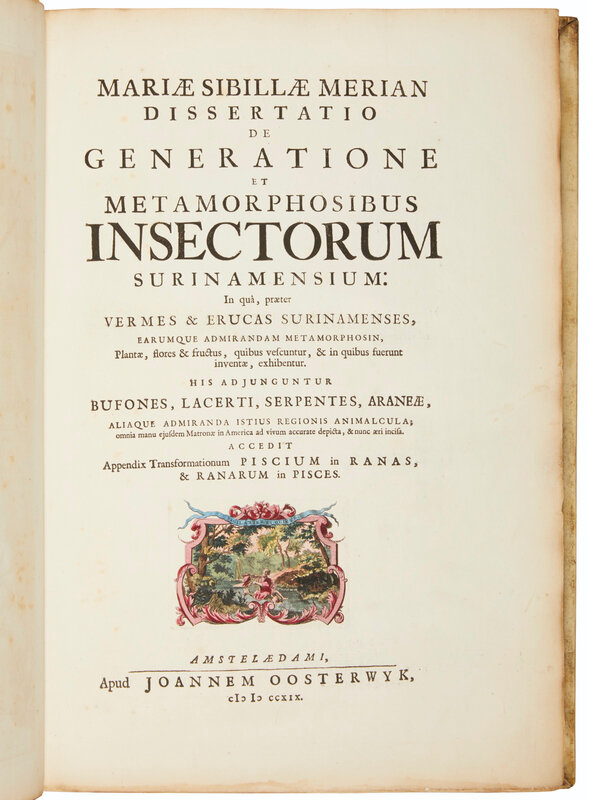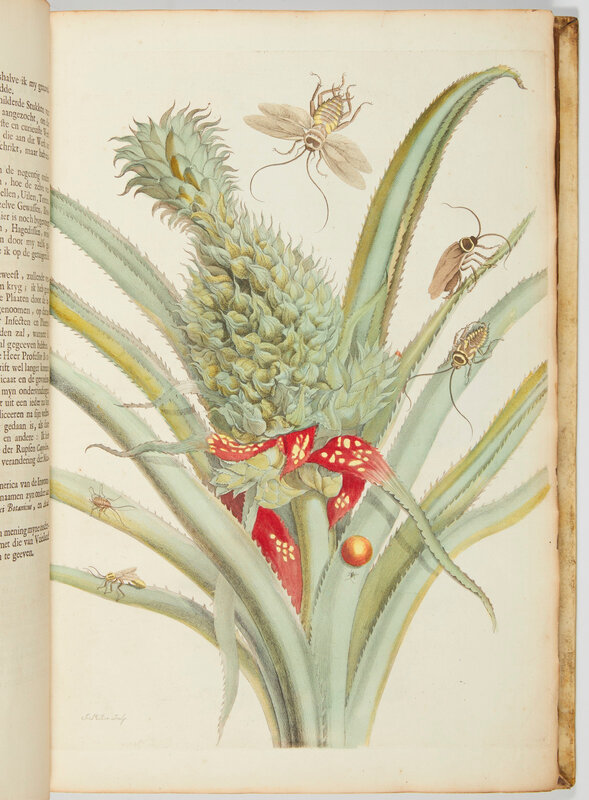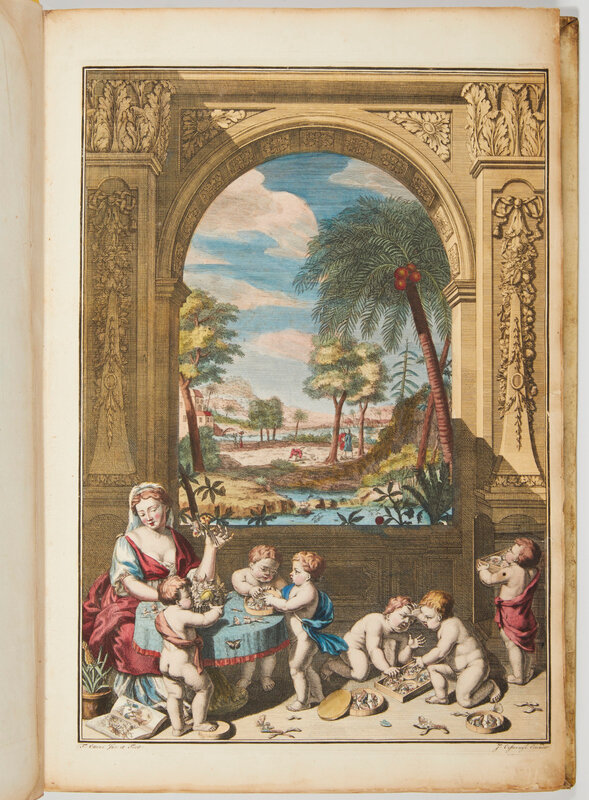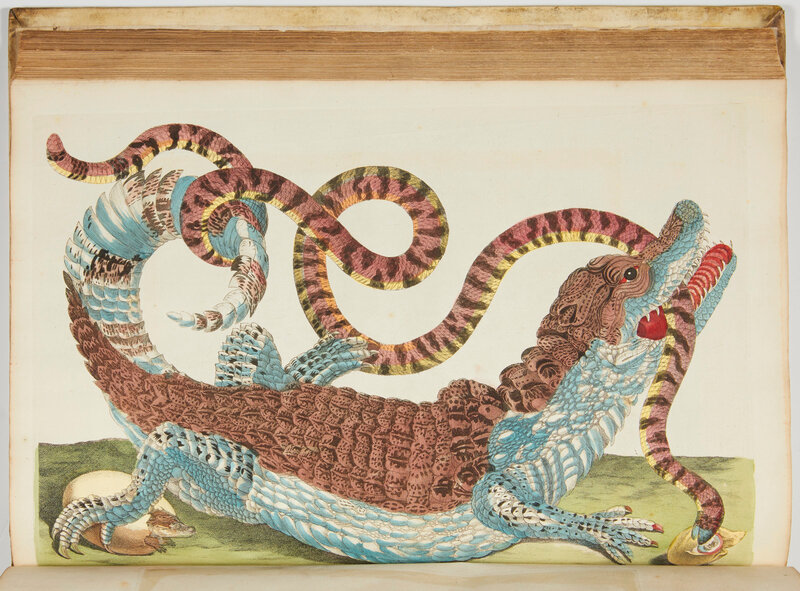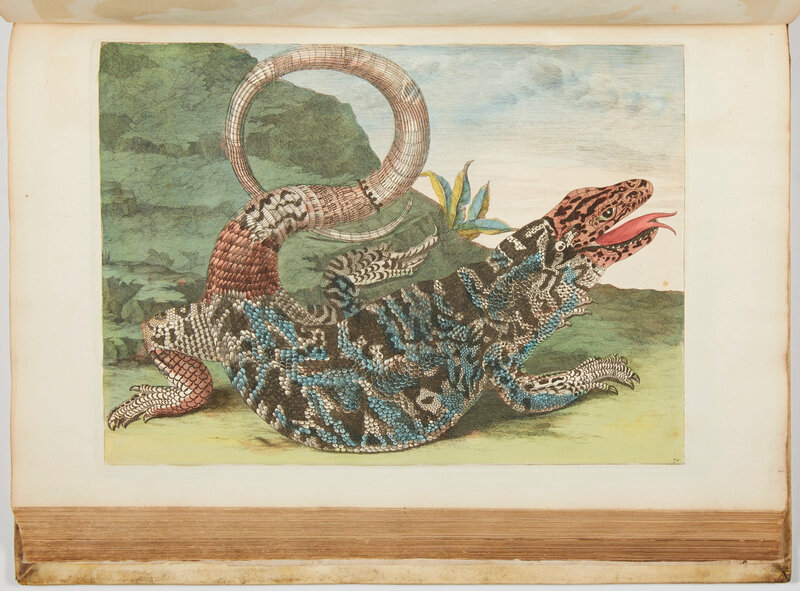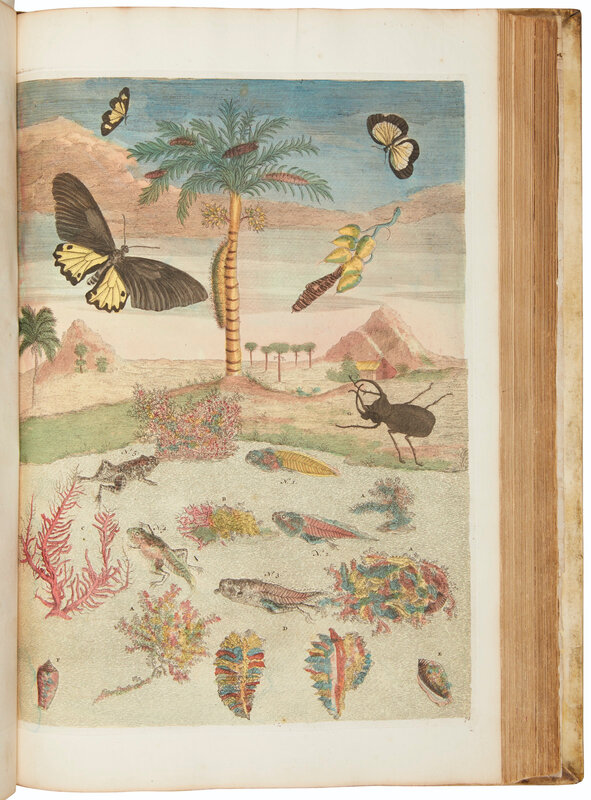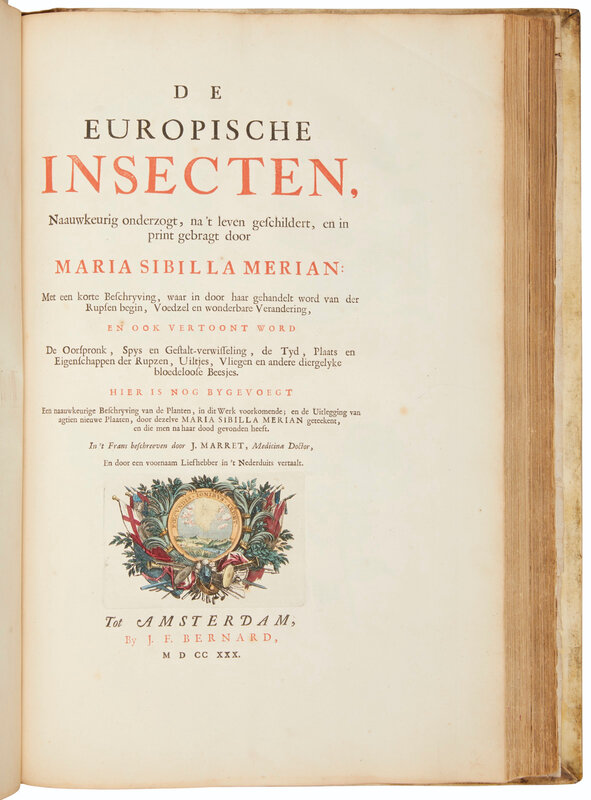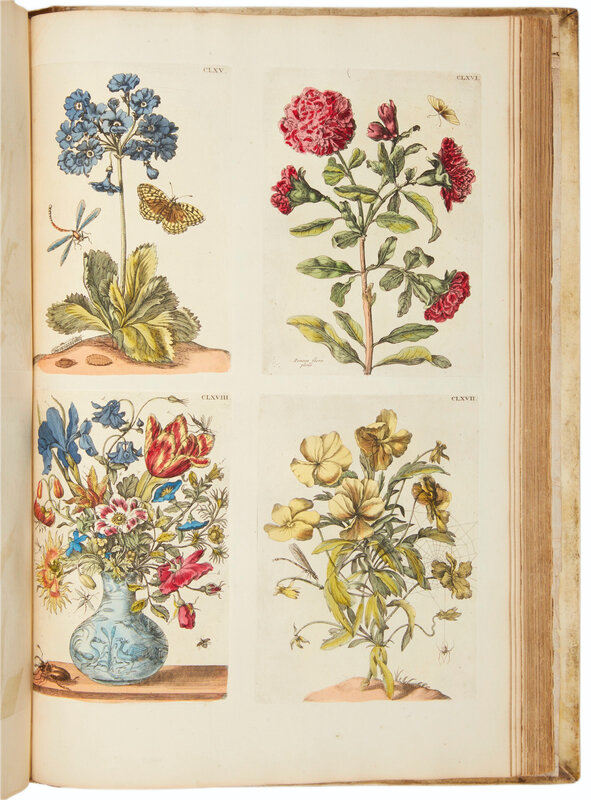 Lot 115. Maria Sibylla Merian (1647-1717). Dissertatio de generatione et metamorphosibus insectorum Surinamensium. Amsterdam: J. Oosterwyk, 1719. [With:] –. De Europische Insecten. Amsterdam: J.F. Bernard, 1730. Estimate USD 180,000 - USD 250,000. © Christie's Images Ltd 2019.
European Art Part I | October 28 at 10am
This carefully curated sale offers 24 lots of masterpiece-level quality from the most well-known artists of 19th century Europe. Highlights include The Soul of the Rose, a magnificent and rare work by John William Waterhouse, and Dante Gabriel Rossetti's depiction of his lover Jane Morris as Prosperpine, a stunning example of the pinnacle of the Pre-Raphaelite movement. Franz von Stuck's haunting Bacchanal, painted in the year the artist was knighted, is strikingly modern and illustrates the connection between this era and 20th century art. Other highlights include exceptional works by Eugène Delacroix, Vilhelm Hammershøi, John William Godward, William Adolphe Bouguereau, Gustave Courbet and Jean-Léon Gérôme among others.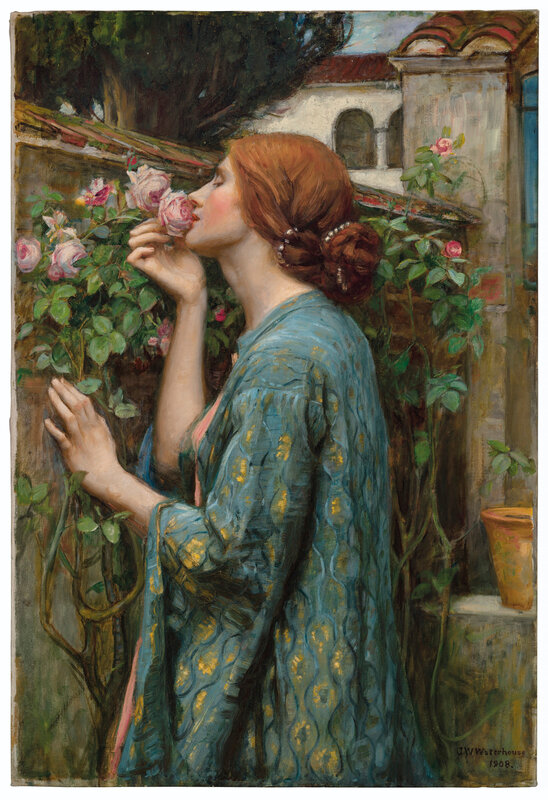 Lot 206. John William Waterhouse, R.A. (British, 1849-1917), The Soul of the Rose, signed and dated 'J.W. Waterhouse/1908.' (lower right), oil on canvas, 34 5/8 x 23 ¼ in. (88 x 59.1 cm.). Estimate USD 3,000,000 - USD 5,000,000. © Christie's Images Ltd 2019.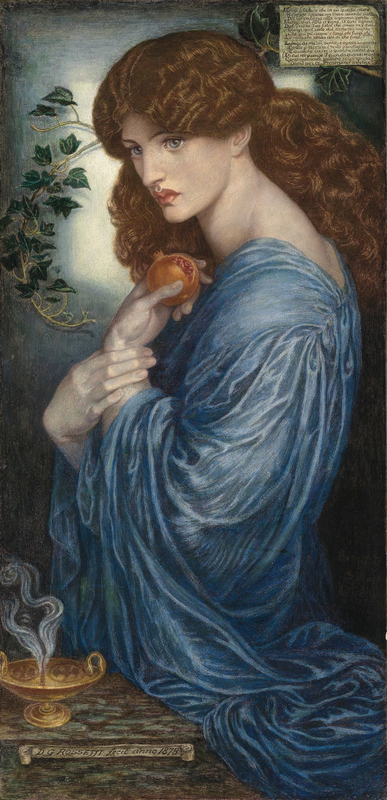 Lot 208. Dante Gabriel Rossetti (British, 1828-1882), Proserpine, signed and dated 'D. G. ROSSETTI fecit anno 1878' (on a scroll lower left) and inscribed with a sonnet in Italian (on a cartellino upper right), pencil, watercolor and bodycolor heightened with gum arabic on paper mounted on a wooden stretcher, 30 ½ x 14 ¾ in. (77.5 x 37.5 cm.) Executed in 1878. in the original frame designed by Rossetti. Estimate USD 3,000,000 - USD 5,000,000. © Christie's Images Ltd 2019.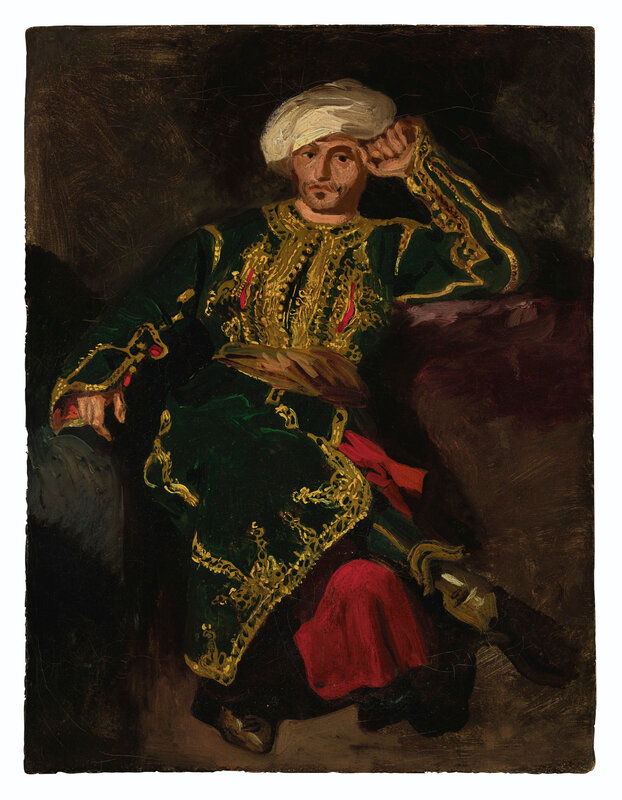 Lot 202. Eugène Delacroix (French, 1798-1863), Seated Figure in Turkish Costume (Monsieur J. B. Pierret?), oil on canvas, 12 ½ x 9 ½ in. (32.4 x 24.2 cm.)Painted circa 1824-1825. Estimate USD 800,000 - USD 1,200,000. © Christie's Images Ltd 2019.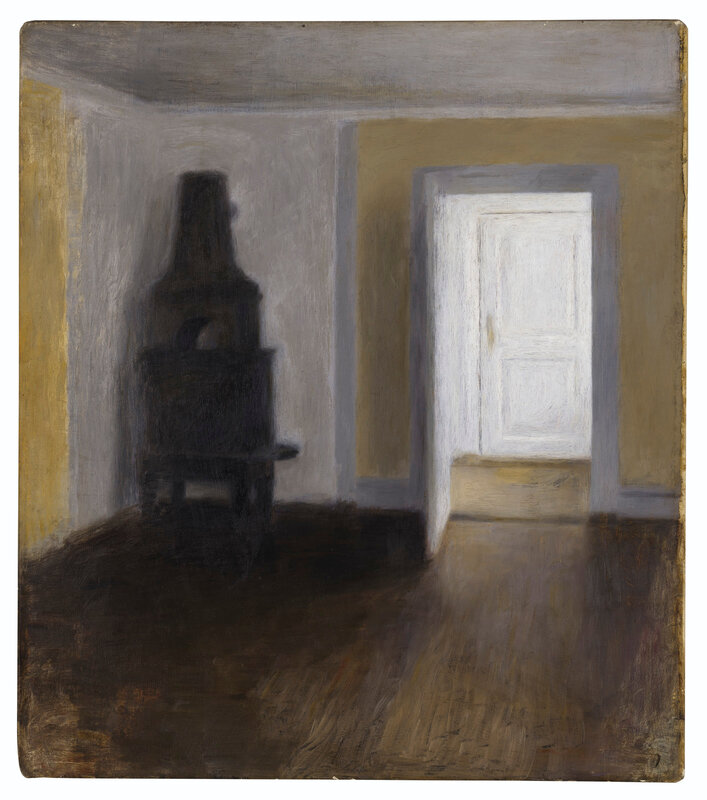 Lot 221. Vilhelm Hammershøi (Danish, 1864–1916), Den Hvide Dør (The White Door), inscribed, dated and signed 'Interior fra Karl Madsen's Bolig Lyngby/malt i 1888/v. Hammershøi' (on a label on the reverse), oil on canvas, 24 5/8 x 21 ½ in. (62 x 55 cm.) Painted in 1888. © Christie's Images Ltd 2019.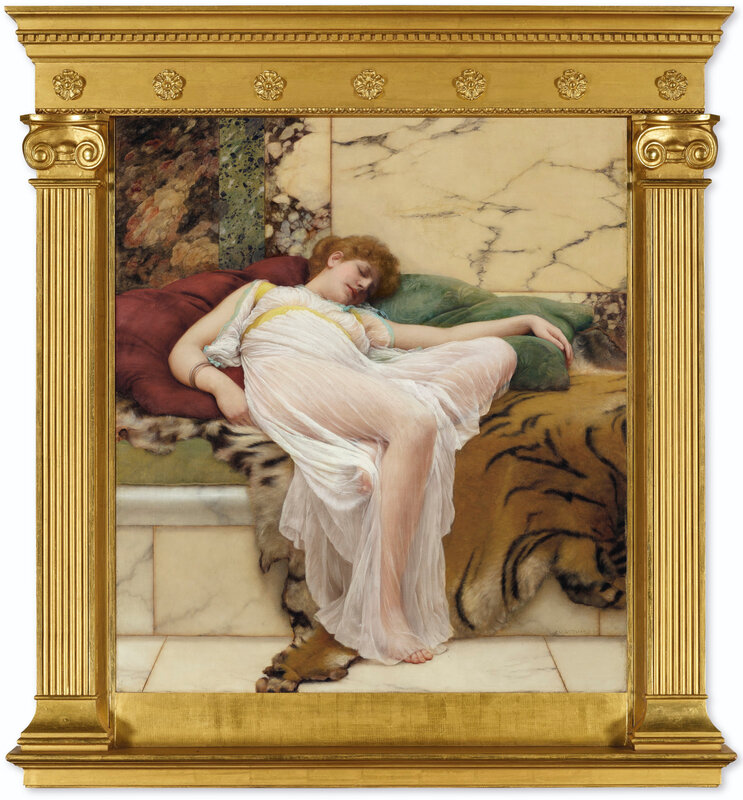 Lot 209. John William Godward, R.B.A. (British, 1861-1922), A Siesta, signed and dated 'J. W. Godward. '95.' (lower right), oil on canvas, 32 5/8 x 28 ¾ in. (82.9 x 73 cm.). Estimate USD 1,000,000 - USD 1,500,000. © Christie's Images Ltd 2019.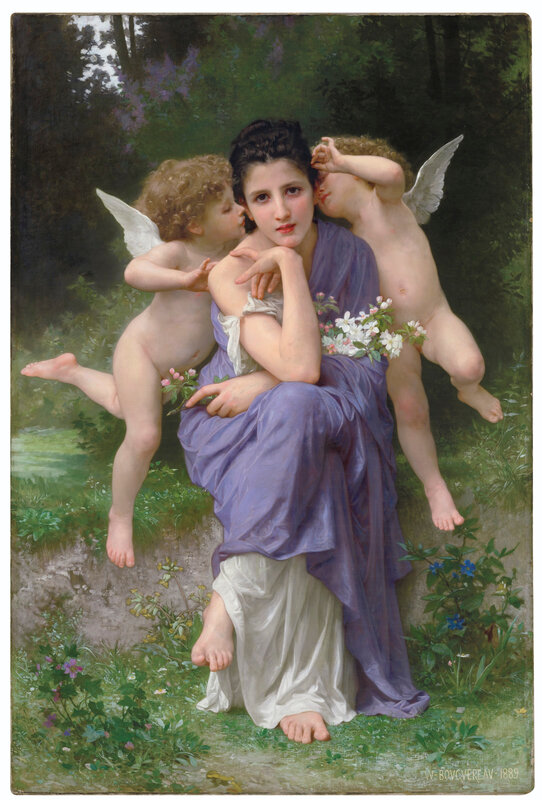 Lot 214. William Adolphe Bouguereau (French, 1825-1905), Chansons de printemps, signed and dated 'W-BOVGVEREAV-1889' (lower right), oil on canvas, 58 ¼ x 39 in. (148 x 99 cm.). Estimate USD 2,000,000 - USD 3,000,000. © Christie's Images Ltd 2019.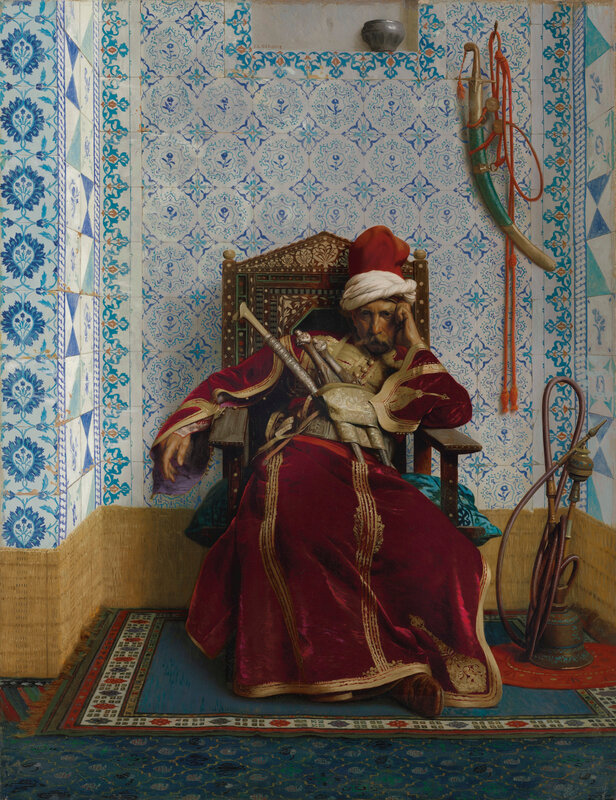 Lot 216. Jean-Léon Gérôme (French, 1824-1904), Markos Botsaris, signed 'J.L. GEROME.' (upper center), oil on canvas, 27 5/8 x 21 ½ in. (70.2 x 54.6 cm.) Painted in 1874. Estimate USD 2,800,000 - USD 3,800,000. © Christie's Images Ltd 2019.
Faces of the Past: Ancient Sculpture from the Collection of Dr. Anton Pestalozzi | October 28 at 11am
Christie's presents Faces of the Past: Ancient Sculpture from the Collection of Dr. Anton Pestalozzi, a selection of 29 lots of Greek, Roman, and Etruscan works of art formed by the late Zurich-based lawyer and collector. Highlights include a recently-rediscovered Monumental Roman Marble Portrait Head of Alexander the Great, formerly part of the famed collection of ancient sculpture at Marbury Hall, Cheshire, assembled by James Hugh Smith Barry (1746-1801); an imposing Portrait Bust of the Emperor Tiberius; and a captivating 3rd century Portrait Head of a Woman, possibly Julia Soemias, mother of Emperor Elagabalus. Much of the collection was studied and published by the celebrated Swiss archaeologist Ines Jucker. Faces of the Past represents an important moment to acquire ancient works of art that have not been seen on the international market for decades.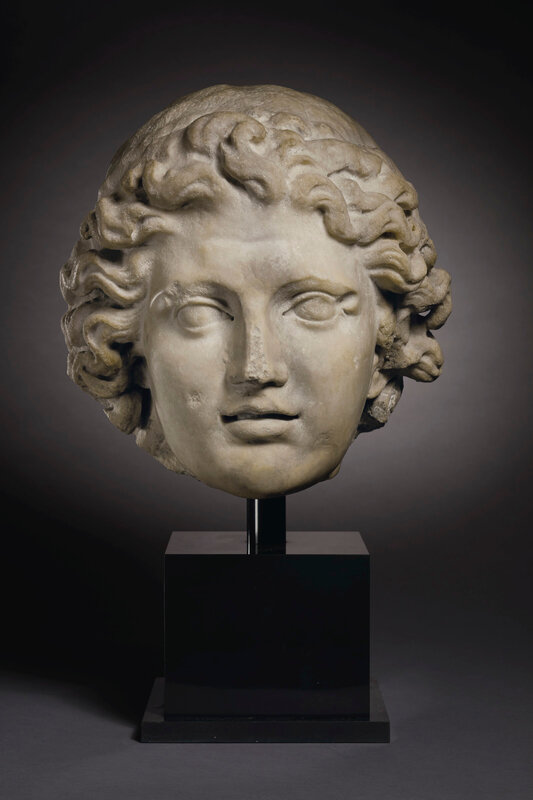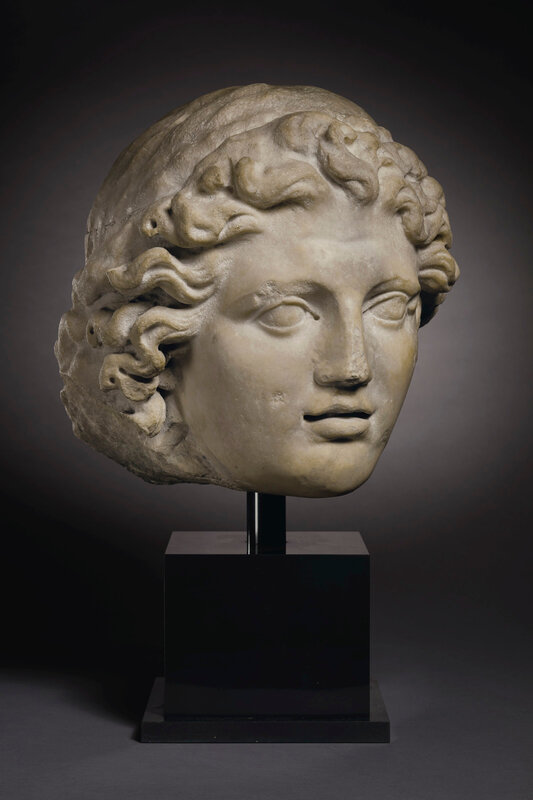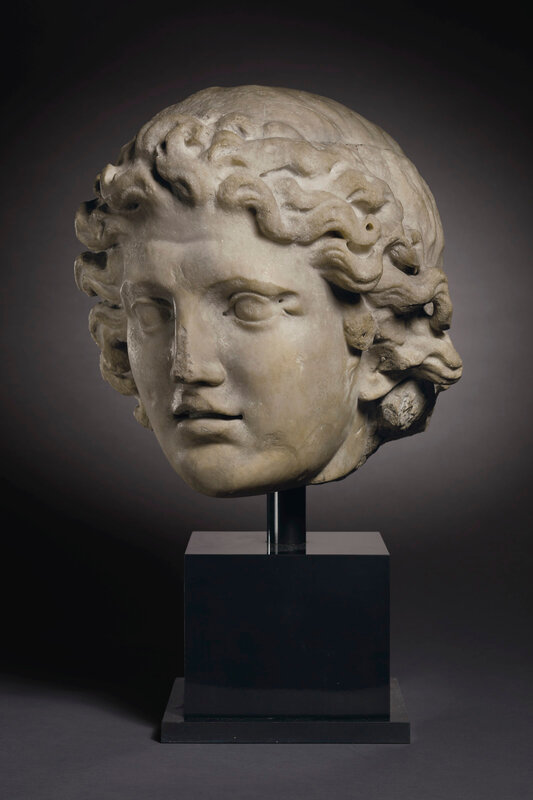 Lot 313. A monumental Roman marble portrait head of Alexander the Great, Late Antonine period to early Severan period, circa late 2nd-early 3rd century A.D.; 15 1/8 in. (38.4 cm.) high. Estimate USD 800,000 - USD 1,200,000. © Christie's Images Ltd 2019.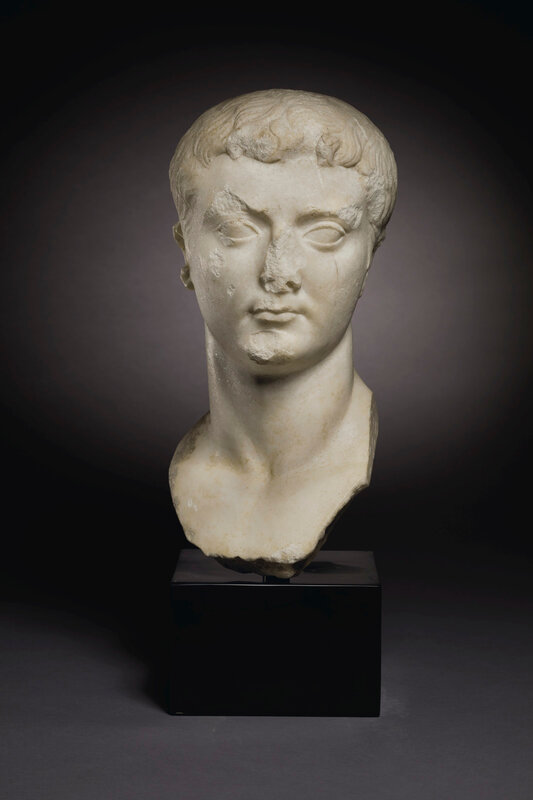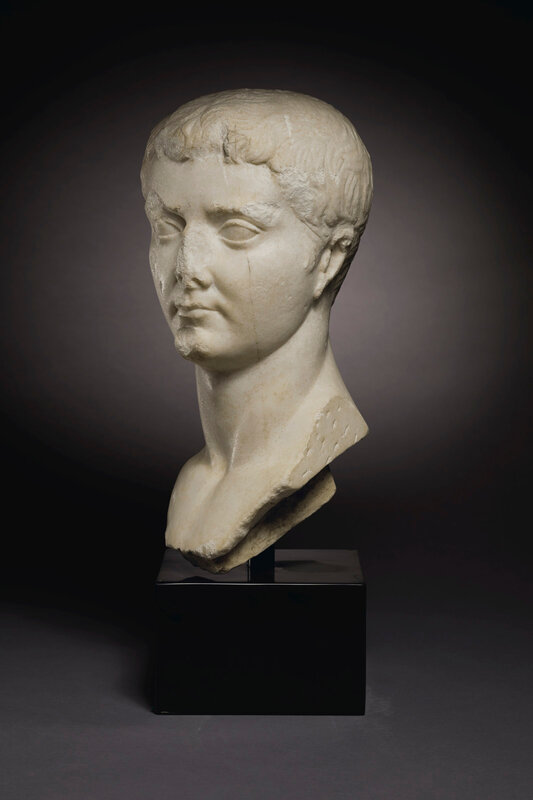 Lot 303. A Roman marble portrait bust of the Emperor Tiberius, Julio-Claudian period, reign 14-37 A.D.; 17 ¼ in. (43.8 cm.) high. Estimate USD 400,000 - USD 600,000. © Christie's Images Ltd 2019.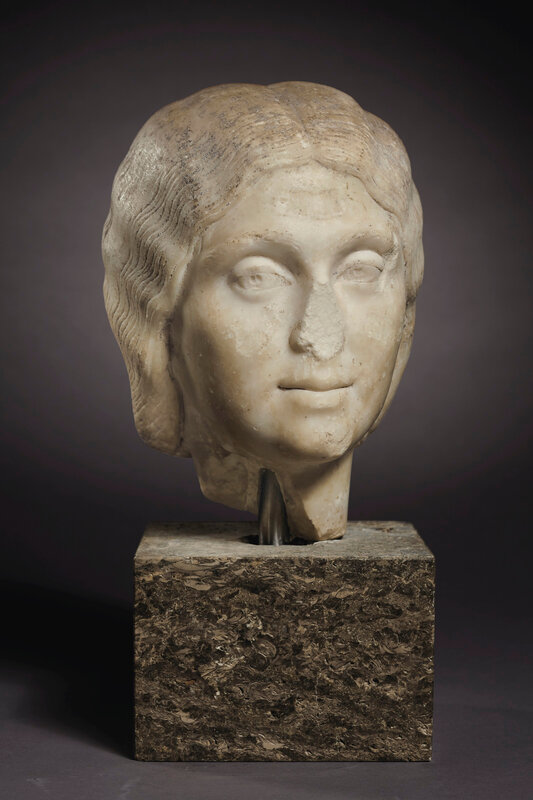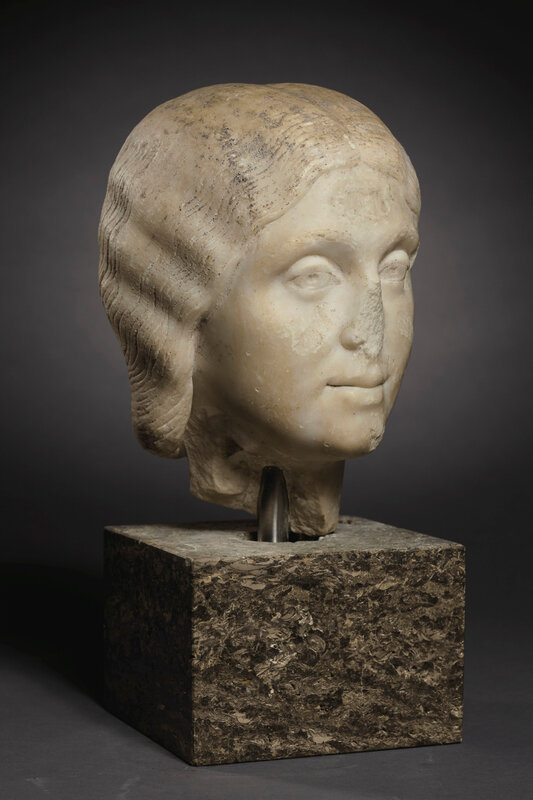 Lot 317. A Roman marble portrait head of a woman, possibly Julia Soemias, mother of Emperor Elagabalus, Severan period, circa first quarter of the 3rd century A.D.; 0 7/8 in. (27.7 cm.) high. Estimate USD 80,000 - USD 120,000. © Christie's Images Ltd 2019.
Antiquities | October 28 at 12pm
Christie's October Antiquities sale features an exciting selection of works from across the ancient world. The sale is lead by two important works sold to benefit the Mougins Museum of Classical Art: an Egyptian Painted Wood Anthropoid Coffin for Pa-Di-Tu-Amun dating to the Third Intermediate Period (945-889 B.C.), and an Egyptian "Blue" Cosmetic Vessel of Bes, dating to the Late Period (Circa 664-404 B.C.). Other highlights include the Wald Dioscuri, a Roman Marble Relief with the Dioscuri, dating to the 2nd century A.D., which depicts the divine twins Castor and Pollux. Other top lots include a powerful Roman Marble Torso of the Diadumenos of Polykleitos from the Collection of Roger Thomas, and a large Greek Gold Oak Wreath.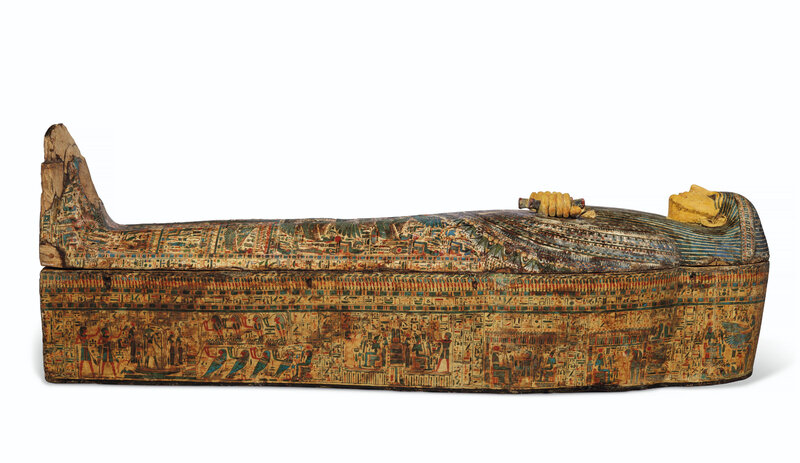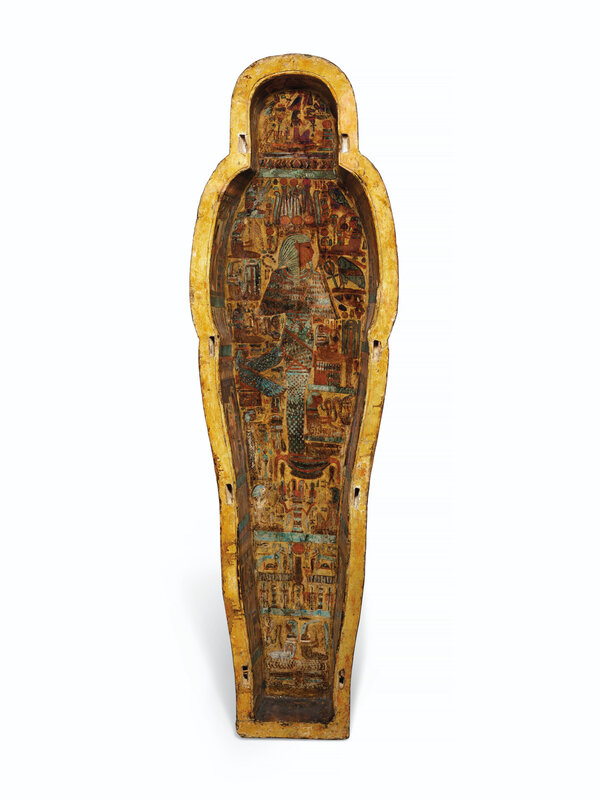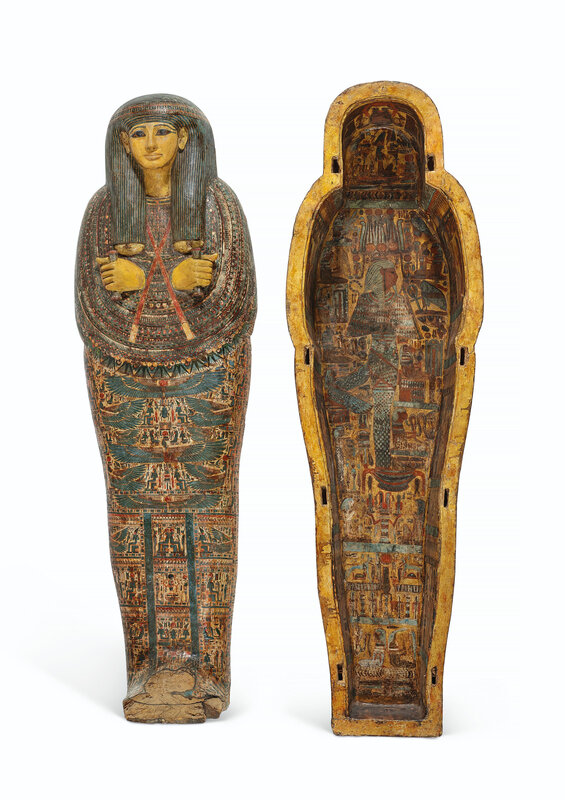 Lot 456. An Egyptian Painted Wood Anthropoid Coffin for Pa-Di-Tu-Amun, Third Intermediate Period, 21st-22nd dynasty, circa 945-889 B.C.; 71 7/8 in. (182.5 cm.) high. Estimate On Request. © Christie's Images Ltd 2019.
Lot 457. An Egyptian "Blue" Cosmetic Vessel of Bes, Late Period (Circa 664-404 B.C.);3 3/8 in. (8.5 cm.) high. Estimate USD 120,000 - USD 180,000. © Christie's Images Ltd 2019.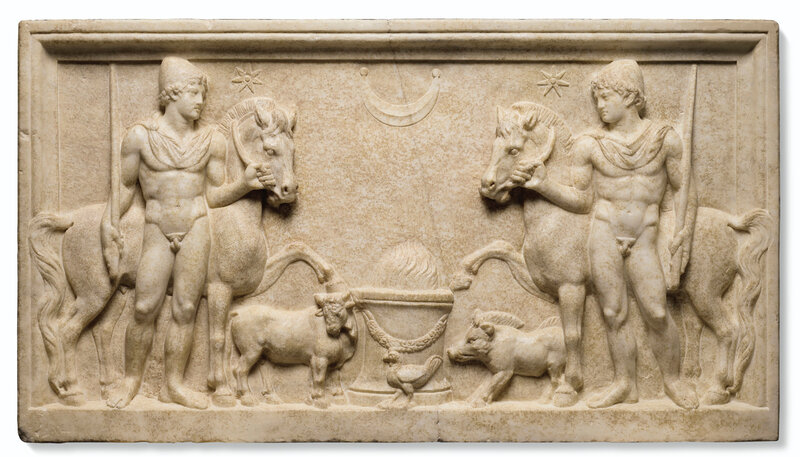 Lot 445. The Wald Dioscuri, a Roman Marble Relief with the Dioscuri, Hadrianic period, circa early 2nd century A.D.; 38 3/8 in. (97.4 cm.) long. Estimate USD 500,000 - USD 800,000. © Christie's Images Ltd 2019.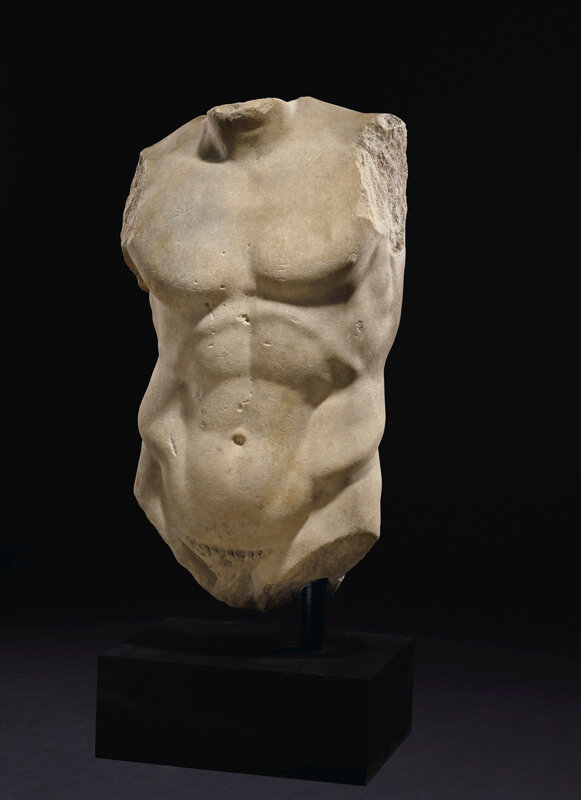 Lot 441. From the Collection of Roger Thomas. A Roman Marble Torso of the Diadumenos of Polykleitos , circa 1st century B.C.-1st century A.D.; 30 in. (76.2 cm.) high. Estimate USD 200,000 - USD 300,000. © Christie's Images Ltd 2019.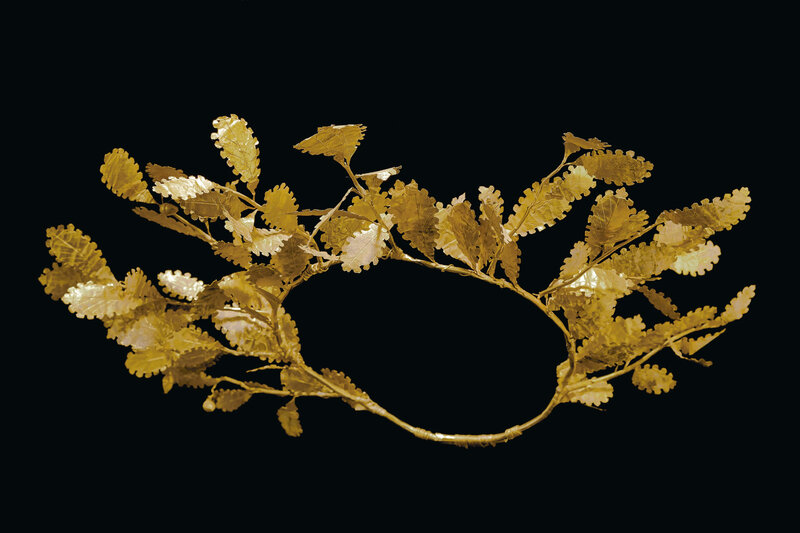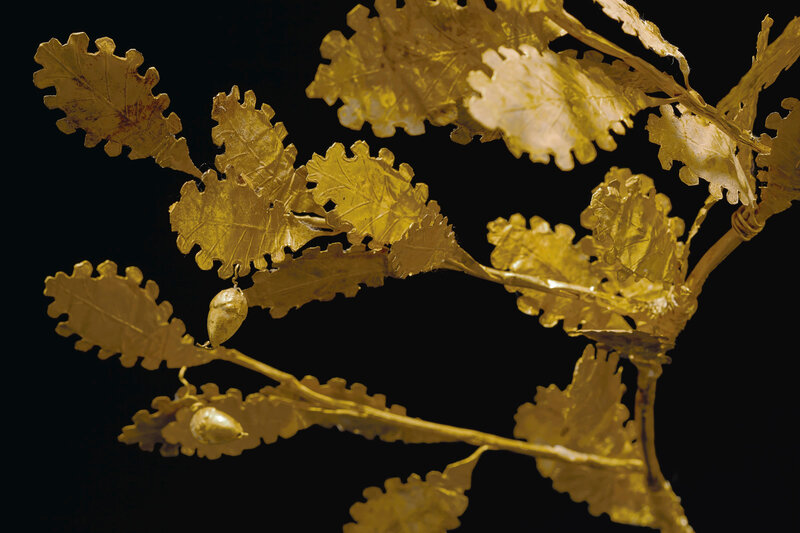 Lot 437. A large Greek Gold Oak Wreath, Late Classical to Early Hellenistic period, circa 4th-3rd century B.C.; 17 ½ in. (44.4 cm.) wide. Estimate USD 150,000 - USD 250,000. © Christie's Images Ltd 2019.
European Art Part II | October 28 at 2pm
The European Art Part II sale includes a strong selection of paintings and sculptures which reflect the extraordinary diversity of this pivotal period in art history. Leading the sale are beautiful examples of the artists' styles by Eugen von Blaas and Louis Marie de Schryver. Additional highlights include Émile Munier's Un Sauvetage, a selection of three works by Orientalist painter Frederick Arthur Bridgman (American 1847-1928), and Edmund Blair Leighton's My Lady Passeth By. The sale also features works by the Barbizon painters including Leon Lhermitte and Henri Joseph Harpignies, and a strong selection of Scandinavian paintings led by three works by Frits Thaulow. A charming, Impressionist view of Paris by Jean-François Raffaëlli and an impressive Symbolist canvas by Henri Le Sidander round out the sale.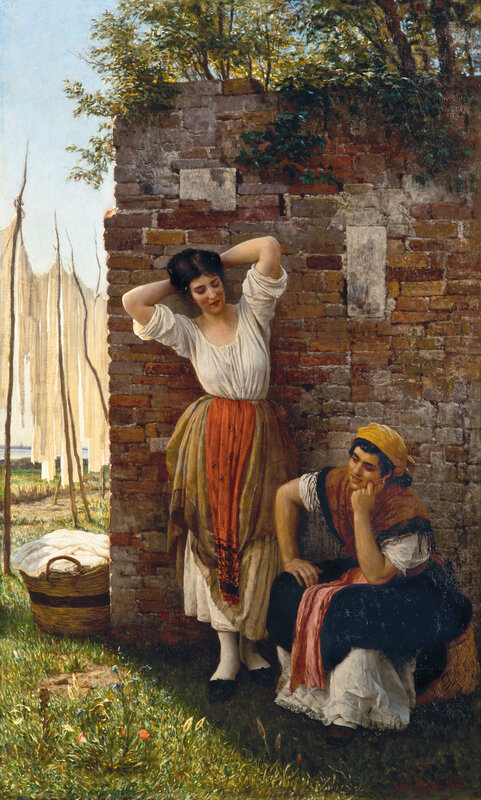 Lot 539. Eugen von Blaas (Austrian, 1843-1931), A Moment of Rest, signed and dated 'Eug Blaas. 1872' (lower right), oil on canvas, 56 x 34 in. (142.5 x 86 cm). Estimate USD 200,000 - USD 300,000. © Christie's Images Ltd 2019.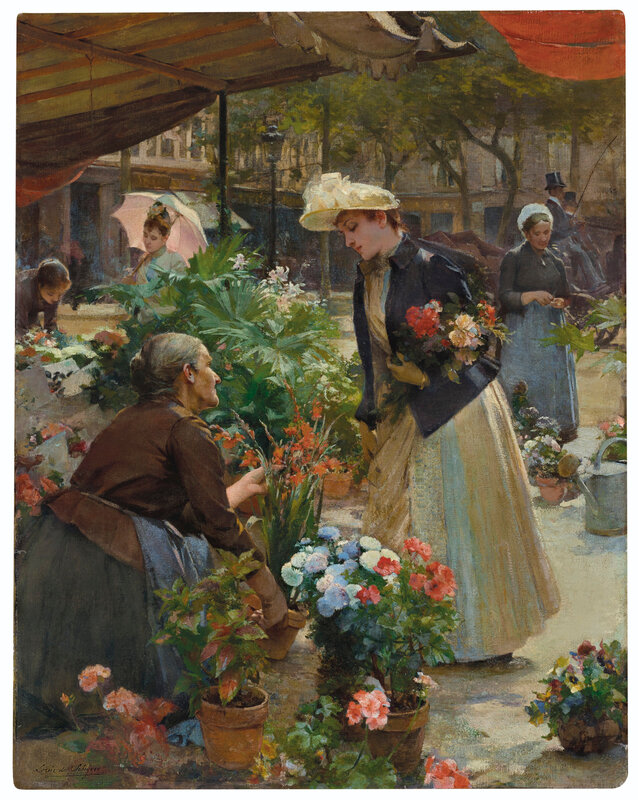 Lot 555. Louis Marie de Schryver (French, 1862-1942), Paris - The Flower Market on the Île de la Cité, signed 'Louis de Schryver' (lower left), oil on canvas,36 1/8 x 28 ½ in. (91.8 x 72.4 cm). Estimate USD 200,000 - USD 300,000. © Christie's Images Ltd 2019.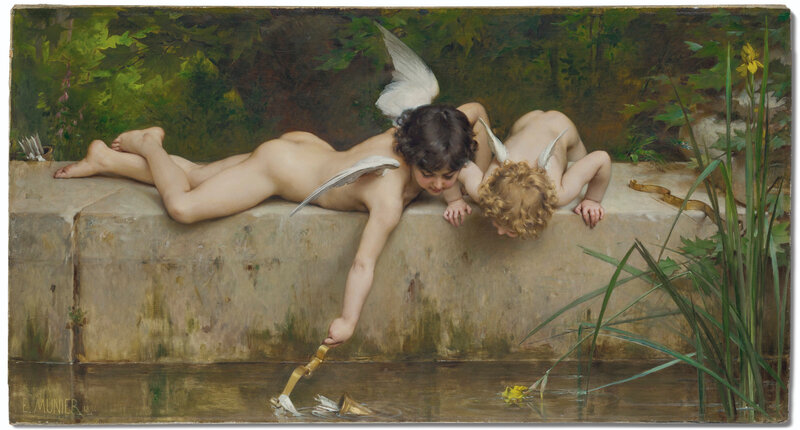 Lot 535. Émile Munier (French, 1840-1895), Un sauvetage, signed and dated 'E. MUNIER 1894' (lower left), oil on canvas, 40 ½ x 75 in. (102.9 x 190.5 cm. Estimate USD 150,000 - USD 250,000. © Christie's Images Ltd 2019.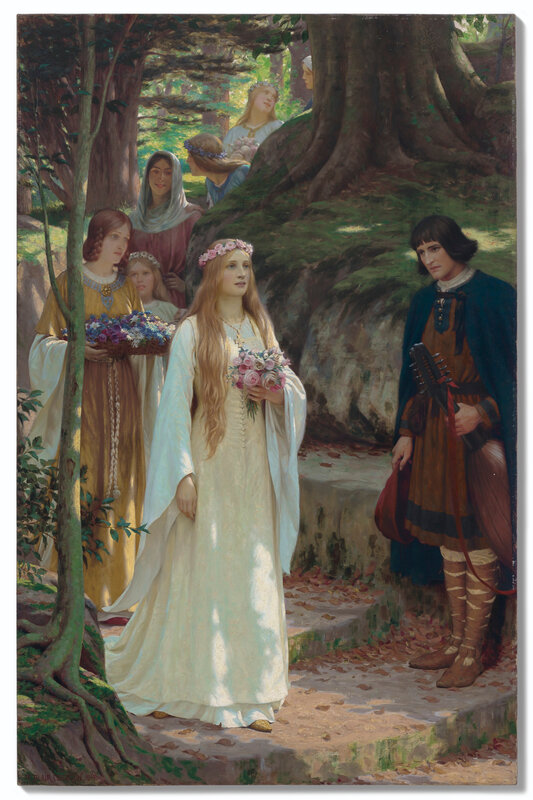 Lot 560. Edmund Blair Leighton (British, 1852-1922), My Lady Passeth By, signed and dated 'E. BLAIR LEIGHTON. 1914.' (lower left), oil on canvas, 67 x 43 ½ in. (170.2 x 110.5 cm). Estimate USD 100,000 - USD 150,000. © Christie's Images Ltd 2019.
Lot 513. Jean-François Raffaëlli (French, 1850-1924), Rue de la Faisanderie, l'automne, signed 'JF RAFFAËLLI' (lower left), oil on board,23 x 30 7/8 in. (58.4 x 78.4 cm). Estimate USD 150,000 - USD 250,000. © Christie's Images Ltd 2019.
Old Masters: Property from a Private Collection | October 29 at 10am
A single owner collection of 40 remarkable Dutch and Flemish paintings, this sale offers a broad survey of the artistic production of the 17th-century Lowlands. Marked by their exceptional quality and condition, this group presents striking examples by many of the leading artists in the period, including David Teniers II, Jan Steen, Hendrick Goltzius and Jan Lievens. Every genre is represented, with particular emphasis on landscape paintings by such luminaries as Jan van Goyen, Simon de Vlieger and Salomon van Ruysdael.
Lot 616. Osias Beert I (Antwerp c. 1570-1624), Peaches and plums on a pewter dish with hazelnuts and plums on another, wild strawberries on a Wanli plate, mulberries in a Wanli porcelain bowl, two façon-de-venise glasses, a beaker, bread roll and knife on a wooden table, oil on panel, with the original gessoed reverse,21 ½ x 29 ¾ in. (54.5 x 75.5 cm). Estimate USD 300,000 - USD 500,000. © Christie's Images Ltd 2019.
Provenance: Dr. Paul Mersch, Paris; his sale, Keller & Reiner, Berlin, 27-28 November 1905, lot 10, as 'Ambrosius Breughel'.
Private collection since at least the 1920s, and by descent in the family until
[The Property of a Lady]; Sotheby's, London, 7 July 2010, lot 15, where acquired by the present owner.
Exhibited: New York, Metropolitan Museum of Art, 14 February-4 December 2012, on loan.
Note: Regarded as a pioneer of the breakfast piece in Antwerp, Beert was probably born in that city, where in 1596 he became a pupil of Andries van Baesrode I and in 1602 joined the city's painters guild. In addition to his activities as a painter, contemporary documents described him as a cork merchant and a member of De Olijftak (The Olive Branch), an Antwerp chamber of rhetoric whose membership primarily consisted of merchants and tradesmen (its rival, the Violieren (Gillyflowers), was the favored society for artists and intellectuals). The paucity of details about his life notwithstanding, Beert's works exerted a tremendous influence on subsequent generations of Antwerp still life painters, including his nephew, Frans Ykens, Jacob van Hulsdonck and Jacob van Es.
The dense groupings of readily available fruits and vegetables intermixed with luxury goods – including the Wanli porcelain and façon-de-venise wine glasses – and more quotidian objects like the pewter plates are characteristic of Beert's work. Here, Beert creates a remarkably refined composition by ingeniously staggering receding bands of similarly colored objects – brilliant red berries and porcelain in the foreground, peaches and an uncut bread loaf in the middle ground and earthy hazelnuts, a glass of wine and a beaker in the background – to create a sense of rhythmic movement. Such an arrangement ensures that no element is subordinated to another and, combined with an elevated perspective that establishes both the fronts and tops of the objects, allowed the artist to signal the care with which he rendered their disparate surfaces.
We are grateful to Dr. Fred Meijer for endorsing the attribution on the basis of photographs.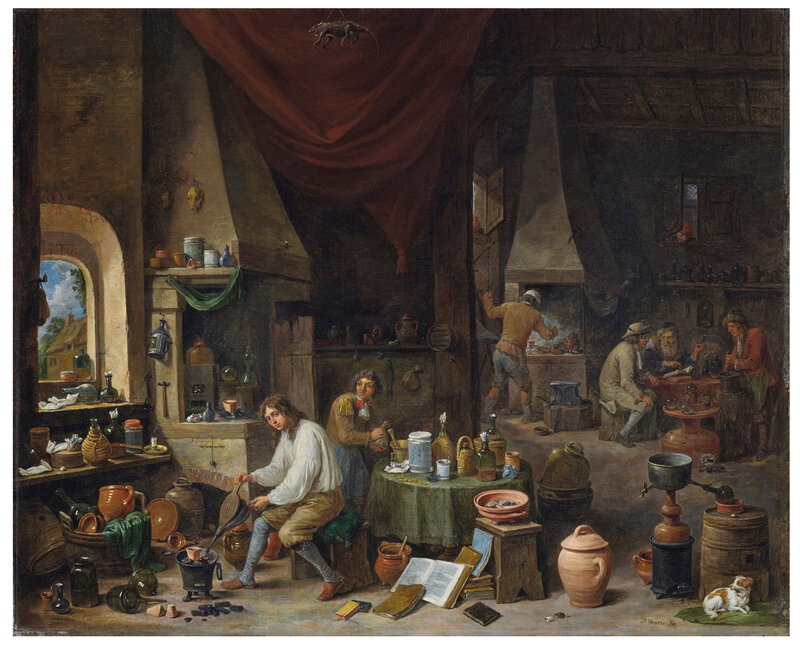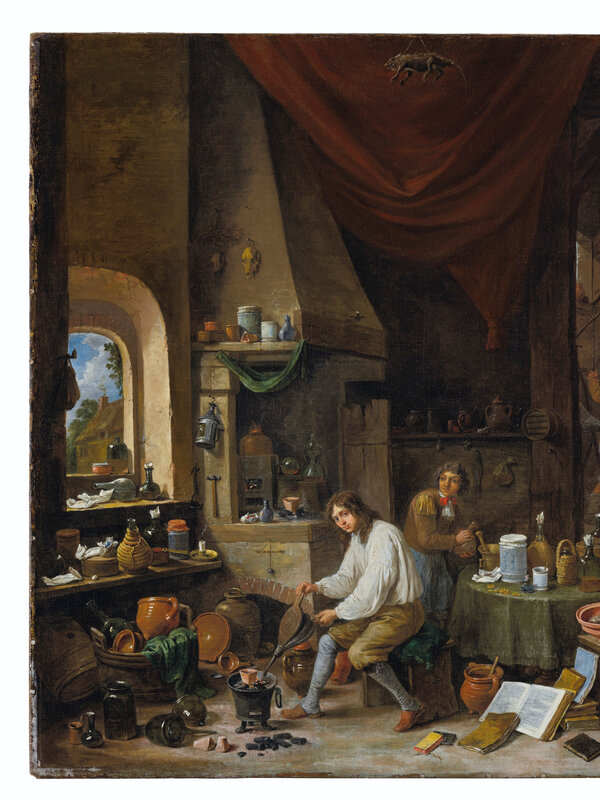 Lot 629. David Teniers II (Antwerp 1610-1690 Brussels), An alchemist in his workshop, signed 'D.TENIERS.FEC' (lower right), oil on canvas, 23 ½ x 29 in. (59.7 x 73.7 cm.). Estimate USD 300,000 - USD 500,000. © Christie's Images Ltd 2019.
Provenance: (Possibly) Anonymous sale; Jouvenau, Tournai, 19 October 1744, lot 87, as 'Original de David Teniers, représentant un Chimist qui étudie dans son laboratoire, & autres Figures qui l'assistent, avec les ustensiles qui lui sont necessaires; large de 30 pouces & haut de 23 en Cadre partie doré'.
Anonymous sale ['A.']; van der Schley, Amsterdam, 6 August 1810, lot 98, where acquired for f 610 by
Abraham Bredius (1782-1863) and Johannes Johannesz. Remmers (1741-1828), Amsterdam, and by descent to
Dr. Abraham Bredius (1855-1946), The Hague.
with Jacques Goudstikker, Amsterdam, by 1919.
Huet collection; Galerie Charpentier, Paris, 14 June 1960, lot 52.
with Salomon Lilian, Amsterdam and Geneva, where acquired by the present owner in 2013.
Literature: J.O. Kronig, 'De verzameling Bredius', Groot-Nederland, XV, 1917, pp. 45-46.
P.C. Sutton et al., The Age of Rubens, exhibition catalogue, Boston and Toledo, 1993, p. 422, note 7.
Exhibited: The Hague, Pulchri Studio, Catalogus der tentoonstelling van schilderijen van oude meesters, 1890, no. 108.
The Hague, Kunstzaal Kleykamp, Tentoonstelling van oude schilderijen bijeengebracht uit de verzamelingen van Dr. A. Bredius en J.O. Kronig, March 1915, no. 26.
Amsterdam, Maatschappij voor Beeldende Kunst, Catalogue de la collection Goudstikker d'Amsterdam, 14 December 1919-4 January 1920, no. 75.
This painting is one of the finest examples of approximately a dozen known depictions of this subject by Teniers and is of comparable quality to The Alchemist of 1649 in the Philadelphia Museum of Art. The artist probably first treated the subject in the late 1640s, when it gained great popularity with Dutch and Flemish painters. On account of the lighter palette with more complex and subtle tonal harmonies, the present picture likely dates to the early 1650s, making it one of his earliest treatments of the subject.
Stemming from ancient philosophy, alchemy in early modern Europe referred to the pseudo-science of transmutation, where base metals were transformed into gold and silver using the elusive 'philosopher's stone'. Showing tendencies towards witchcraft and charlatanry, it quickly came to symbolize the vain pursuit of profit and the alchemists' squandering of time and money, with artists depicting the figure in the guise of a scholar, philosopher or priest delving into the world's secrets, or as a fool, magician or sorcerer in league with the devil. Judging from the number of alchemical treatises published through much of Europe in the seventeenth century, interest in the subject was at an all-time high; however, it was only in the Netherlands that the idea of the alchemist in his laboratory became a popular subject for artists. The strong graphic tradition depicting the theme contributed to this fact, along with the development of genre subjects in the Low Countries.
An important source of inspiration for Teniers and his colleagues was a drawing by Pieter Bruegel the Elder of an alchemist's workshop of circa 1558 (Kupferstichkabinett, Staatliche Museen, Berlin), which was widely disseminated shortly thereafter through a print made by Philips Galle (fig. 1). While Teniers would have most likely been well acquainted with Bruegel's design, having married his granddaughter, Anna, in 1637, only a few of his alchemists are as satirized and mocked as in Bruegel's drawing, instead mostly appearing as serious scholars rather than fools. Teniers further looked to the low-life genre pictures of Adriaen Brouwer, and, while no alchemist scenes survive by the artist, Teniers can be seen borrowing whole figures and motifs from his known works, including the man peering through the overhead window in the present picture, which became one of Teniers' trademarks. In this work, the painter also likely derived the pose of the protagonist in the lower left from Florentius Schoonhovius' Emblemata (Gouda, 1618; fig. 2), in which an alchemist similarly stokes a fire with bellows. The Latin verses appended to the emblem stress the futile endeavors of the alchemist: 'While I pursue uncertainly with certain means, I convert everything into smoke and worthless ash'.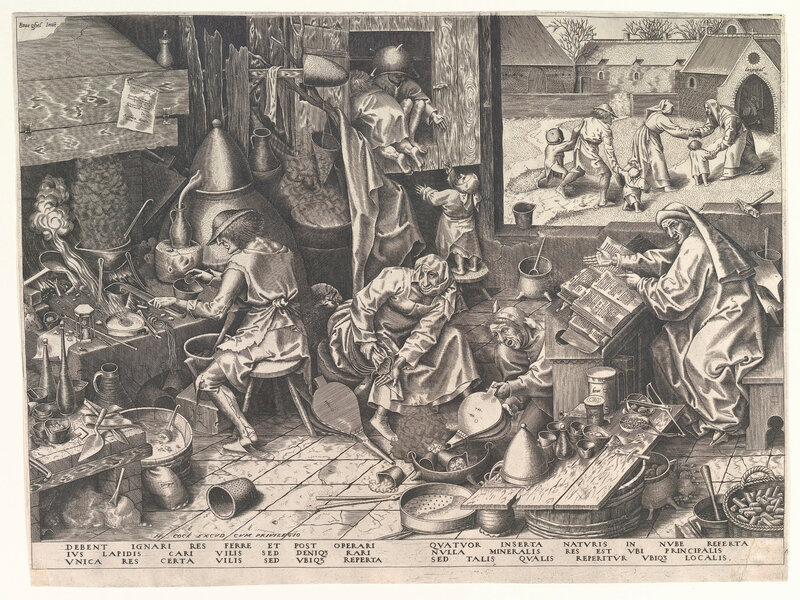 fig. 1. Pieter Bruegel the Elder, An alchemist's workshop, circa 1558, Kupferstichkabinett, Staatliche Museen, Berlin.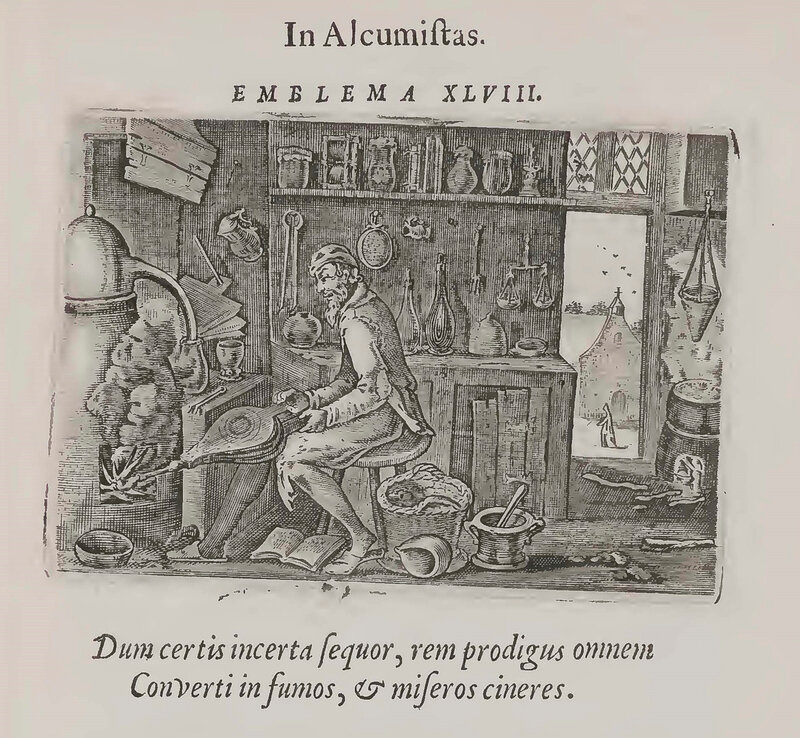 fig. 2. Florentius Schoonhovius, Emblemata, Gouda, 1618.
Composed with a series of interlocking low diagonals and triangles, this scene is set in a spacious workshop strewn with books, glassware, ceramic pots, vials, an animal skull, a brazier and a stuffed alligator hung from the ceiling, giving the artist ample opportunity to demonstrate his skills in still life painting. The viewer's eye is led from the seated young man in the foreground, pumping bellows at the coals at an arrow-like angle, to the youth behind him, and onto the group seated at the back of the workshop, with an assistant busily working at a furnace. The alchemist is seated at the table with two figures seemingly in theoretical discussion, and, as in almost all of Teniers' depictions, is seen as an older bearded man in exotic clothing. Yet, unlike the artist's other treatments of the subject, the alchemist is here displaced by the young man looking out at the viewer as the central figure in the composition, suggesting that the latter's prominence may have signified his importance in relation to the commission, perhaps either as the patron or even the artist himself. Indeed, as many artists' pigments and glazes used in the seventeenth century were prepared by alchemical methods, Teniers would have likely visited laboratories to acquire pigments and so may have felt a special affinity with the practice. This may well be attested to by a picture entitled The young Teniers in his studio, offered Hôtel Drouot, Paris, 9 June 1909, which shows a similar young man, possibly Teniers, seated in the same pose preparing his pigments in a bowl at a window.
We are grateful to Dr. Margret Klinge for endorsing the attribution of this painting.
Lot 605. Jan Steen (Leiden 1626-1679), The glass of wine, signed 'JSteen' ('JS' in ligature, lower right), oil on panel, 19 ¼ x 14 3/8 in. (49 x 36.6 cm). Estimate USD 80,000 - USD 120,000. © Christie's Images Ltd 2019.
Provenance: Henry Petty-Fitzmaurice, 3rd Marquess of Landsdowne (1780-1863), and by descent in the family until
[Property of a Private Collection]; Sotheby's, London, 6 July 2011, lot 25, where acquired by the present owner.
Note: Situated within an ornately decorated interior, this painting initially presents a scene of genteel, harmonious life, a contrast to the more boisterous and bawdier atmosphere of some of Steen's other works. Dating to the mid-1660s, the painter's most productive period, the painting, on closer scrutiny, includes details that imbue it with a more subversive and humorous meaning. These elements subtly poke fun at the ostentation of the gathered figures and provide numerous allusions to love-making and romantic pursuits. The woman seated in the foreground, for example, is affluently dressed in a dark jacket lined with fur or swan's down, her white apron pulled aside to reveal her lavishly embroidered blue silk skirt. She sits peeling a lemon, a symbol of her household's wealth, but one which also can be seen to possess amorous overtones. The sourness and bitterness of the fruit was often equated in Dutch paintings with deceptive allure or attraction to earthly beauty. Lemons were also recommended as a cure for lovesickness. A romantic reading of the peeled fruit here, however, is perhaps emphasized by the tray of oysters on the table behind the woman. Oysters frequently appear as symbols of lust and worldliness, signifying erotic love as well as luxurious excess. Just visible beneath the woman's skirt is a foot-warmer, another familiar trope used to signify sexual desire. The way in which the central man proffers the glass to this woman, too, at once emphasizes the household's status and also acts as a commentary on the man himself. Holding the glass by the edge of the foot suggests a degree of elegance, one specifically designed to convey refinement. In fact, such actions were later codified by Gérard de Lairesse, who included in his Groot schilderboeck of 1707 an etching showing the various decorous ways in which glasses should be held, one of which is mimicked by Steen's gentleman (M. Westermann, 'Steen's Comic Fictions', Jan Steen: Painter and Storyteller, exhibition catalogue, Washington D.C., 1996, p. 60). While the gesture thus references the gentility of the household, it was nevertheless an effete one, traditionally associated with women, rather than men, in Steen's work.
Beyond the central couple, further connotations and references to love can be found. A young woman sits playing a harpsichord, while a man accompanies her on a violin, a motif regularly employed by painters throughout the Golden Age and laden with associations of genteel love. On the wall beside the luxuriously curtained and canopied bed is a large framed painting depicting a scene of love-making. The exact subject is difficult to determine, though it is possible that it represents either Venus and Adonis as recounted by Ovid or the romance of Rinaldo and Armida from Torquato Tasso's epic poem Gerusalemme liberate (1581). Either would have provided an equally effective gloss on the scene below: the doomed love of Venus and the shepherd Adonis or the devious actions of Armida who enraptured the crusader knight Rinaldo and kept him a lovesick prisoner in an enchanted garden.
Lot 618. Hendrick Goltzius (Mülbracht 1558-1617 Haarlem), Unequal Lovers, signed in monogram and dated 'HG / 1615' ('HG' in ligature, upper right), oil on canvas, 27 x 23 in. (68.5 x 58.5 cm). Estimate USD 300,000 - USD 500,000. © Christie's Images Ltd 2019.
Provenance: Anonymous sale; Uto Auktions AG, Zürich, 25-29 November 1985, lot 1429, as Christiaen van Couwenbergh (unsold).
Anonymous sale; Sotheby's, London, 5 July 1995, lot 19, where acquired by the following
with Jack Kilgore, New York, where acquired in 1996 by
Private collection, New York.
with Jack Kilgore, New York, where acquired by the present owner in 2013.
Literature: O. Hirschmann, Hendrick Goltzius als Maler 1600-1617: Quellenstudien zur Holländischen Kunstgeschichte IX, The Hague, 1916, p. 82, no. 30, where known only from Adriaen Matham's engraving.
M. van der Vlist, Goltzius als Schilder, undergraduate thesis, 1974, p. 52.
L. Widerkehr, 'JACOB MATHAM GOLTZIJ PRIVIGNUS: Jacob Matham graveur et ses rapports avec Hendrick Goltzius', in Goltzius-Studies: Hendrick Goltzius (1558-1617): Nederlands Kunsthistorisch Jaarboek, XLII-XLIII, 1993, p. 249, as lost.
E. de Jongh and G. Luijten, Mirror of Everyday Life: Genreprints in the Netherlands 1550-1700, exhibition catalogue, Amsterdam, 1997, pp. 84, 172, note 21, under no. 9.
W.E. Franits, Dutch Seventeenth-Century Genre Painting: Its Stylistic and Thematic Evolution, New Haven and London, 2004, pp. 18-19, fig. 3.
L.W. Nichols, The Paintings of Hendrick Goltzius, 1558-1617: A Monograph and Catalogue Raisonné, Doornspijk, 2013, pp. 188-189, no. A-59, pl. 51.
Exhibited: New York, Metropolitan Museum of Art, 29 April 2013-20 May 2014, on loan.
Note: Having only resurfaced in 1985, this magnificent painting is an important addition to the painted oeuvre of one of the most renowned Dutch artists, Hendrick Goltzius. The composition was previously known exclusively from a print by the Haarlem publisher and art dealer, Adriaen Matham, of circa 1625-31 and two copies in oil. Lawrence W. Nichols first recognized the painting as Goltzius' original when it was offered in the 1985 Zurich sale with an attribution to Christiaen van Couwenbergh.
Goltzius was born to a family of artists in the German Rhineland and moved to Duisburg at the age of three. According to his friend and earliest biographer, Karel van Mander, Goltzius trained as a young boy with his father, a glass painter. In 1574-75 he was apprenticed to Dirck Volckertsz. Coornhert, marking the start of a career that would see him become arguably the most important draftsman and engraver of late sixteenth-century Europe.
In 1600, at the age of forty-two, Goltzius appears to have given up engraving and turned to painting instead, possibly on account of the encouragement of van Mander. Fewer than sixty paintings by Goltzius are known today, only about a dozen of which remain in private hands. Dated 1615, this work was executed toward the end of Goltzius' most prolific period as a painter. The largest number of the artist's paintings were executed between 1613 and 1616, a period when, as here, he appears to have had a preference for compositions with only one or two figures, generally shown at half-length before a neutral background.
The theme of Unequal Lovers had a long history dating back to Classical Antiquity, with Cicero, Plutarch, Ovid and Plautus all having written comedies dealing with the theme. Northern European artists continued the tradition in the late Middle Ages and Renaissance, with printmakers like the Hausbuchmeister and Israhal van Meckenem having produced engravings of the subject. The subject's popularity exploded at the end of the fifteenth and beginning of the sixteenth centuries, notably under the influence of Boccaccio's Decameron (completed 1353), Sebastian Brant's Ship of Fools (1494) and Erasmus' Praise of Folly (1509). Painters, among them Jan Massys and Lucas Cranach the Elder, were particularly fond of the subject. The pairing of a somewhat grotesque old man and a knowing, youthful beauty under the guise of a morality lesson provided cover for artists to depict such a licentious subject.
Goltzius was intimately familiar with the theme, which he and his workshop had previously treated in several prints before 1600 as well as a painting dated 1614 showing an old woman and a young man (fig. 1; Musée de la Chartreuse, Douai). The present painting differs from the earlier examples, which tended to show the figures three-quarter or full-length in an interior. By stripping the composition only to its essential elements, Goltzius has here increased the visual impact of the central narrative in which the bag of coins passes from the elderly, syphilitic man to his young companion. That the young woman is a prostitute is confirmed by her coiffure with braids wound into a cone, her gesture of sticking a finger inside her clothing (a change Goltzius made during the painting process) and the rather phallic shape of bag of money.
fig. 1. Hendrick Goltzius (1558-1617), Le jeune homme et la vieille, 1614, huile sur toile, 96 x 80 cm, Douai, musée de la Chartreuse, Inv.2857. Photo (C) RMN-Grand Palais / Agence Bulloz
Wayne Franits has described this painting as 'surely ranking among the earliest genre pictures produced in the Dutch Republic' (loc. cit.), marking it as a work that, in conjunction with Flemish art of the sixteenth-century, would come to influence subsequent generations of Dutch genre painters.
Provenance: (Possibly) Johan van der Burgh, The Hague, where described in the 1741 estate inventory of his widow as 'Petrus, geschildert door Jan Lievensz.'
Private collection, Germany.
with Jack Kilgore, New York, where acquired by the present owner in 2012.
Literature: (Possibly) A. Bredius, Künstler-Inventare, I, The Hague, 1915, p. 221.
B. Schnackenburg, Jan Lievens: Friend and Rival of the Young Rembrandt, Petersberg, 2016, pp. 44, 47, 68, 80, 173, 175, no. 13, illustrated.
Note: This recently rediscovered painting has been dated by Bernhard Schnackenburg to 1625 (loc. cit.). As is typical of Lievens' early works before 1628, here his primary souce of inspiration is the Utrecht Caravaggisti. The tormented facial expression, preference for the depiction of the figure at half-length and striking chiaroscuro with artificial light effects can likewise be found in paintings like Hendrick ter Brugghen's Penitent Saint Peter, a composition known today through two workshop examples, one in the Centraal Museum, Utrecht, and another in a French private collection (see L.J. Slatkes and W. Franits, The Paintings of Hendrick ter Brugghen: Catalogue Raisonné, Amsterdam, 2007, pp. 223-224, 406-407, nos. W9-W10, pls. 97, 97a).
As is typical of Dutch depictions of Saint Peter, Lievens does not conceive of the saint as the founder of the church but an anguished and fallible human being, who, in accordance with Christ's prediction, denied him three times before acknowledging his betrayal and repenting (Mark 14: 29-31, 66-72). The rough, thick application of paint is perfectly suited to Peter's tortured expression and finds parallels not only in paintings like Lievens' Simeon with the Christ Child (art market, Amsterdam) and Penitent Magdalene (Musée de la Chartreuse, Douai) but those of his Leiden colleague, Rembrandt van Rijn, with whom Lievens would shortly share a studio.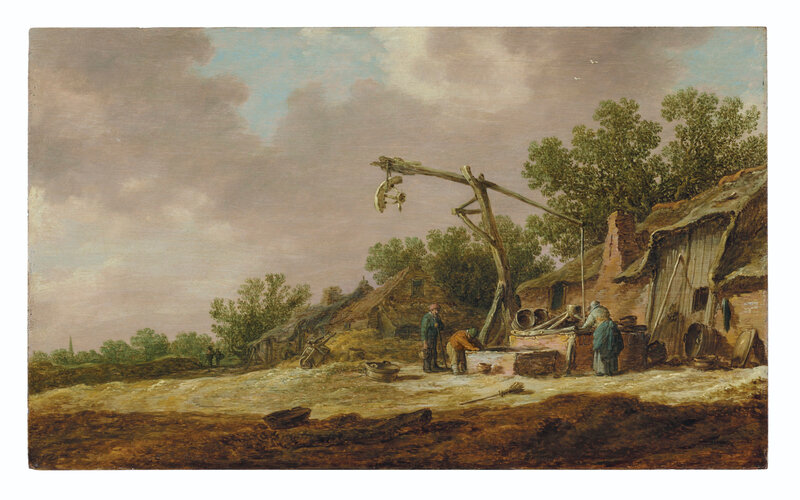 Lot 607. Jan van Goyen (Leiden 1596-1655 The Hague), A village landscape with figures at a well, signed with initials and dated 'VG 1631' (lower center), oil on panel, 12 x 20 1/8 in. (30.5 x 51.1 cm). Estimate USD 50,000 - USD 80,000. © Christie's Images Ltd 2019.
Provenance: Lord Walter Talbot Kerr (1839-1927), Brocket Hall, Hertfordshire; Foster, on the premises, 7-14 March 1923, lot 269.
with Galerie van Diemen, Berlin, 1923.
Anonymous sale; Stuker, Bern, 27 November 1992, lot 2327.
with Salomon Lilian, Amsterdam and Geneva, where acquired by the present owner in 2006.
Literature: H.-U. Beck, Jan van Goyen, 1596-1656, II, Amsterdam, 1973, p. 466, no. 1040, as undated and circa 1632/33; III, Doornspijk, 1987, p. 263, no. 1040, illustrated, as undated.
Note: Jan van Goyen was one of the most prolific and influential landscapists of the Dutch Golden Age. Having studied in Haarlem with Esaias van de Velde in 1617-18, van Goyen's early works display the influence of the elder artist. However, around 1626 van Goyen opted instead for a specifically Dutch style of landscape painting that emphasized tonality and a faithful depiction of the local terrain. The present painting is a striking example of van Goyen's activities in the early 1630s, a period in which he painted mostly dune landscapes with rivers or streams conceived largely in greens and earth tones. As is typical of these works, van Goyen here succeeded in creating a sense of movement and recession into depth through the pronounced diagonal created by the row of trees receding in the background.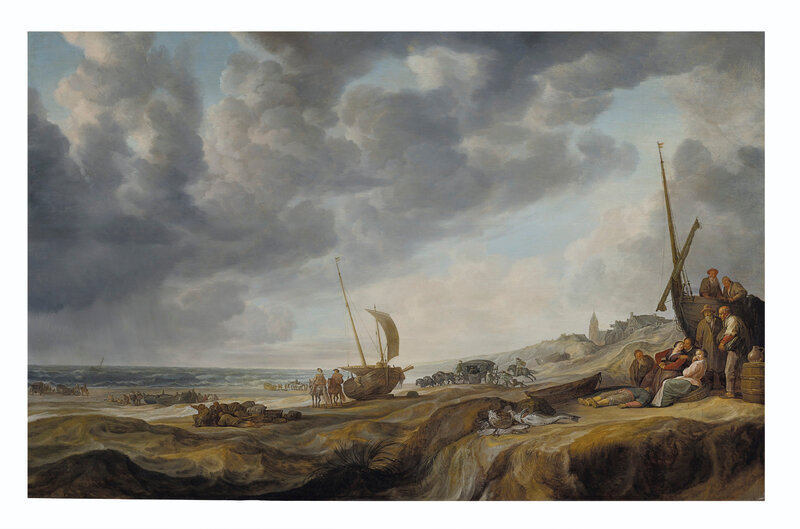 Lot 612. Simon de Vlieger (Rotterdam 1600/01-1653 Weesp), The beach at Scheveningen with fishermen, signed in monogram 'SV' (lower center, on the bundle), oil on panel, 30 x 47 ½ in. (76.2 x 120.6 cm). Estimate USD 250,000 - USD 350,000. © Christie's Images Ltd 2019.
Provenance: Graf Friedrich Moritz von Brabeck (1742-1814), Söder Castle, near Hildesheim, and by inheritance to
Graf Andreas von Stolberg (1763-1863), Söder Castle, near Hildesheim; his sale, Rumpler, Hannover, 31 October-3 November 1859, probably lot 258, as 'D. Teniers' and on canvas (381 thalers).
Anonymous sale; Hugo Ruef, Landshut, 14 December 2009, lot 21.
with Johnny van Haeften, London, where acquired by the present owner in 2010.
Literature: (Probably) M. von Brabeck, Verzeichniss der Gra¨flich von Brabeck-So¨der'schen jetzt Gra¨flich zu Stolberg'schen Gema¨lde-Gallerie Geschrieben zu So¨der im Jahre 1814, Hannover, 1859, p. 8, no. 2, as David Teniers II.
This remarkable beach scene counts among Simon de Vlieger's largest and most compositionally complex treatments of this theme. De Vlieger appears to have first treated the subject around 1633 in paintings such as one that is today in the National Maritime Museum, London, but the majority of his beach scenes date to the 1640s. As here, de Vlieger's beach scenes tend to be composed with a watch tower above dunes, figures selling fish at the high tide mark and various small watercraft beached on the undulating shore.
The beach at Scheveningen, in particular, proved a popular site for de Vlieger as well as his contemporaries Jan van Goyen and Salomon van Ruysdael, the latter of whom only began to depict such subjects late in life. In addition to the present painting, the small beachside village features in the afore-mentioned painting of 1633 as well as one dating to circa 1645 in the Nederlands Scheepvaartmuseum, Amsterdam. As with the example in Amsterdam, the site here is readily identifiable by the tower of the town's Oude Kerk, which rises above the dunes in the distance.
This painting is first documented in the collection of the connoisseur Baron (and later Count) Friedrich Moritz von Brabeck, who initially pursued a career in the Church but, following his marriage in 1788, devoted himself almost exclusively to his artistic interests, putting together a large picture gallery. He transformed the inherited Söder Castle (fig. 1), located between Hildesheim and the Harz mountains, into a prestigious palace complex with the intention of exhibiting his collection and opening it for study purposes. The collection was comprised of circa 400 pictures, and an inventory upon his death in 1814 lists works by some of the most prestigious artists in the collection – Raphael, Leonardo da Vinci, Titian, Rubens, Canaletto and Dürer. During the count's life, the castle became a gathering point for famous and distinguished people and an artistic and intellectual center in the region around Hildesheim. After he passed away, his daughter inherited her father's possessions in Hildesheim. With the death of her son, the only heir, Count Andreas zu Stolberg sold Söder Castle as well as von Brabeck's collection of paintings in 1859.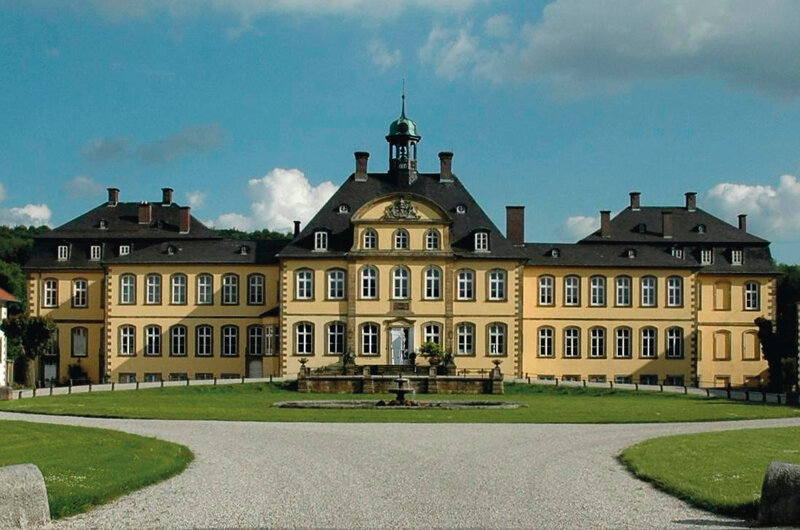 fig. 1. Söder Castle.
The present view is almost assuredly the work listed under no. 2 as 'Die Ansicht von Scheveningen in Holland by David Teniers' in the catalogue of 1814. The attribution to Teniers remained unchanged when the catalogue was reprinted by Count Stolberg in 1859, when the former Brabeck collection was on view in the museum in Hannover days before the auction (loc. cit.). This early attribution is an indication of the esteem in which the painting was held by its owner, for Teniers would have been among the most desirable Dutch and Flemish painters for German collectors in the period.
A number of Dutch and Flemish paintings from the Brabeck collection are today in the world's leading public collections. Among the highlights are Jacob van Ruisdael's Waterfall in a rocky landscape with a bridge and a half-timbered house of the late 1660s (National Gallery, London) and Aert de Gelder's acclaimed Self-portrait with model (The artist as Zeuxis) (Städel Museum, Frankfurt am Main).
Lot 635. Salomon van Ruysdael (Naarden 1600/3-1670 Haarlem), A wooded landscape with cattle, carriages on a track and an inn, a church beyond, signed and dated 'S· VRVYSDAEL / 1644' (lower center, 'VR' in ligature), oil on panel, 25 ¼ x 37 5/8 in. (64.2 x 95.7 cm). Estimate USD 120,000 - USD 180,000. © Christie's Images Ltd 2019.
Provenance: H. Houck, Deventer; Roos, Amsterdam, 7 May 1895, lot 117, as dated 1648 (f 1,125 to Preyer).
W.E. Biscoe, Holton Park, Oxfordshire; (†) Christie's, London, 20 June 1896, lot 142, where acquired for 140 gns. by the following
with Charles Sedelmeyer, Paris.
Mme Willy Sauerbach, Paris, by whom placed in storage for safekeeping in vault 27 of the Banque de France, Paris.
Confiscated from the above by the Devisenschutzkommando, 9 November 1940, and relinquished to the Einsatzstab Reichsleiter Rosenberg at the Jeu de Paume, 3 May 1941 (ERR no. Sau 1), by order of
Reichsmarschall Hermann Goring, Carinhall and Veldenstein, 16 October 1941 (Göring no. 890).
Recovered by the Monuments Fine Arts and Archives Section from Berchtesgaden (no. 364) whereby transferred to the Munich Central Collecting Point, 27 July 1945 (MCCP no. 5409).
Repatriated to France, 25 March 1947, and restituted to the Sauerbach family, 18 April 1947.
Anonymous sale; Hôtel Drouot, Paris, 8 December 1948, lot 48, where acquired for 1,600,000 francs by
Private collection, France, and by descent in the family to
René Smadja, Paris; (†) Christie's, London, 6 December 2007, lot 58, where acquired by the following
with Johnny van Haeften, London, where acquired by the present owner in 2009.
Literature: W. Stechow, Salomon van Ruysdael, Berlin, 1975, p. 90, no. 149.
N.H. Yeide, Beyond the Dreams of Avarice: The Hermann Goering Collection, Dallas, 2009, p. 348, no. A901, illustrated.
Le Catalogue Goering, Paris, 2015, pp. 406-407, illustrated.
Exhibited: Paris, Charles Sedelmeyer, Illustrated Catalogue of the Fourth Series of 100 Paintings by Old Masters..., Paris, 1897, no. 38, as on canvas and with figures by Adriaen van de Velde.
Note: The present picture is an excellent example of Ruysdael's mature activity as a landscape painter and depicts one of the artist's favorite subjects – the 'Halt before the Inn'. His earliest forays into this theme date from the beginning of the 1630s and depict wagons before buildings set in dune landscapes that recall the earlier works of Pieter Molijn. During the 1640s, Ruysdael painted some of his most successful and sophisticated variations on this theme. In these years, he moved away from the tonal landscapes and river views of the previous decade in favor of a statelier depiction of his native environs. Such works are often taken to be representations of a new, 'classicizing' period in Dutch landscape painting.
Ruysdael's paintings of the 1640s tend to be characterized by a subtle color scheme in which the nuanced play of light dances across greens, browns, yellows and other earth colors. Such works had an enormous impact on later Dutch landscape paintings. The diagonally oriented composition in which the sunlit path here recedes into the central left background and the dark band in the foreground are both common features of Ruysdael's 'Halts' and subsequently feature in works like the upright View of Beverwijk of 1646 (Museum of Fine Arts, Boston), Village inn with stagecoach of 1655 and View of a village of 1663 (both Rijksmuseum, Amsterdam).
Old Masters | October 29 at 11am and 2pm
Christie's Old Masters sale features a curated selection of paintings and sculpture from the early Renaissance to the Baroque, the Dutch Golden Age and the French Revolution. Highlights include Agony in the Garden by Titian and his studio, an Annunciation by Jan de Beer, a beautiful tondo by Lorenzo di Credi, and a striking portrait of Lucien Bonaparte and his mistress by Guillaume Guillon-Lethière. A rare and significant rediscovery is Girodet's Les Adieux de Coriolan à sa famille. Examples from the 15th-century include works by Neri di Bicci and the Workshop of Dieric Bouts. Sculpture highlights include a group of elegant busts - ranging from a powerful 16th-century Spanish gentleman in marble - to an incredibly rare survival of a pair of early 19th-century pair of classic plaster busts of Paris and Helen from Antonio Canova's studio.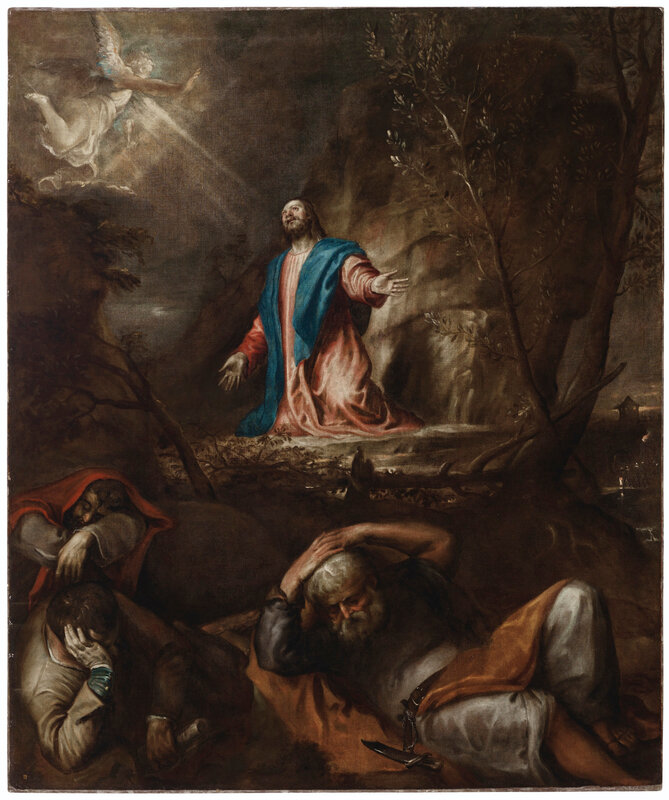 Lot 712. Tiziano Vecellio, called Titian (Pieve di Cadore c. 1485/90-1576 Venice) and Studio, The Agony in the Garden of Gethsemane, oil on canvas, 79 ¼ x 66 ½ in. (201.3 x 168.9 cm). Estimate USD 1,500,000 - USD 2,000,000. © Christie's Images Ltd 2019.
Provenance: (Possibly) The church of San Leonardo, Venice, by 1797.
(Possibly) Acquired from the above in 1810 by Giacomo Concolo.
Julius David Ichenhauser; his sale, 23 March 1911, Fifth Avenue Art Galleries, New York, lot 89, as 'V. Bombazio', where acquired by
Gari Melchers (1860-1932), by whom bequethed to his widow,
Corinne Melchers, by whom donated in 1942 to
The Commonwealth of Virginia, Belmont Estate, Falmouth; C.G. Sloan Co., Bethesda, MD, 19 November 1989, lot 1954, as 'Bombazio'.
Private collection, U.S.A.
Literature: G. Tagliaferro, 'A New Agony in the Garden by Titian and His Collaborators, and the Problem of Originality in Late Titian', in Artibus et Historiae, XXXVI, no. 72, 2015, pp. 107-126.
A masterly exploration of faith and uncertainty, spirituality and human frailty, this monumental representation of the Agony in the Garden has only recently been recognized as a work by Titian and his studio. The painting is particularly noteworthy, as it allows us to better appreciate Titian's celebrated, but poorly conserved painting of the same subject and nearly equal dimensions in the Monasterio de San Lorenzo, El Escorial, which the artist painted for Philip II of Spain (fig. 1). Titian also produced a third variation on the theme, which was formerly in the Spanish royal collection and now in the Museo Nacional del Prado, Madrid (fig. 2). In his illuminating 2015 study of the present painting, Giorgio Tagliaferro argues that the Osuna version is 'neither a later copy nor a studio replica of the Escorial picture; as its quality and size suggest, it must instead be regarded as another original, created by Titian with the aid of one or perhaps two assistants' (loc. cit., p. 1). This attribution to Titian and his studio has been endorsed by Miguel Falomir, Paul Joannides, and Peter Humfrey. The following essay draws heavily on Tagliaferro's article, and the benefit of his research is gratefully acknowledged.
fig. 2. Titian (Tiziano Vecellio), The Agony in the Garden, 1558 - 1562. Oil on canvas, 176 x 136 cm. Royal Collection (Royal Monastery of San Lorenzo de El Escorial, Madrid, "Iglesia Vieja", 1837). Inv. P000436. © 2019. Museo Nacional del Prado.
Extensive documentation survives detailing exchanges between Titian and Philip II and his officials in the late 1550s to early 1560s, regarding the commission of an Agony in the Garden. Titian first mentions a painting of this subject in a letter of 15 June 1559, in which he informs the monarch that now that the Diana and Actaeon and Diana and Callisto are finished (today jointly owned by the National Gallery, London, and the National Gallery of Scotland, Edinburgh), he will apply himself to the completion and delivery of three additional pictures. Along with a Rape of Europa (Isabella Stewart Gardner Museum, Boston) and a Death of Actaeon (National Gallery, London), Titian promises: 'mi darò il tutto a fornir il quadro del Christo nel Horto' ('I will give my all to provide the Christ in the Garden'; M. Mancini, Tiziano e le corti d'Asburgo: Nei documenti degli archive spagnoli, Venice, 1998, pp. 246-47, no. 129). Despite Philip II's letters entreating Titian to make haste in delivering them, on 17 August 1561 the artist confessed he was still working on the Agony in the Garden and the Rape of Europa (ibid., pp. 271-271, no. 152). The king was forced to write again on 22 October 1561 to prompt the painter, and the paintings were ultimately dispatched to Madrid on 9 April 1562, three years after they were first requested. Titian's failure to produce his paintings according to his promised schedule appears to have been returned in kind by Philip II, however, for an Agony in the Garden was included in a list of paintings submitted to the king by Titian and his son Orazio for which he had yet to be paid.
Perhaps for this reason, an Agony in the Garden is first recorded in the Spanish Royal collection only twelve years later, in the 1574 inventory of the Escorial, which in fact mentions two paintings of the same subject by Titian's hand. The first is documented as residing on the altar of the Priory's Chapter House in San Lorenzo, where it hangs to this day. The second was in the antesacristy of San Lorenzo, and was transferred to the Prado in 1837. Since Titian's letters indicate that he only sent one Agony in the Garden to the king, Paul Joannides has suggested that one of the paintings mentioned in the 1574 inventory might have been acquired from a source other than the artist himself (see G. Tagliaferro, op. cit., pp. 6 and 18, note 14). Though it remains unclear whether the Prado or the Escorial version is the one referred to in Titian's and Philip II's correspondence, and scholars are divided on this question, it is generally assumed that Titian sent a second version to the king sometime around 1563 (ibid., p. 6). At some point after this date, Giulio Bonasone engraved Titian's Escorial version. Luca Bertelli also made an engraving after that painting, in reverse (fig. 3), which was published by Nicolas Béatrizet and included in the 1578 Venetian edition of Jean Henten's Bible, setting a terminus ante quem for this second print.
While the pose, drapery and treatment of the figure of Christ are similar in all three versions, his scale within the compositions is different. Though slightly cropped on all four sides, the present painting is the largest of the group, measuring 201 x 168 cm., followed by the Escorial version, which is similarly trimmed and now measures 185 x 172 cm. The Prado composition is somewhat smaller, at 176 x 136 cm. Furthermore, the paintings represent different moments from the story. The Escorial Agony and present version show Christ kneeling beneath an angel, with the apostles sleeping soundly in the foreground and Roman soldiers approaching in the distance. In the Prado painting, Titian heightens the drama, bringing the soldiers directly into the foreground, where they march into the painting beneath a more diminutive Christ and angel, who appear above them. A black chalk and charcoal preparatory drawing for the figure of Christ, which is the unifying element in all three of Titian's versions, is in the Uffizi, Florence. In the present work, this passage stands out for its beauty, virtuoso brushwork and delicate application of glazes, and was clearly the part of the painting to which Titian devoted the most attention. Christ's face is conceived with deep pathos, reflecting his moment of hesitation and the inner conflict between his human and divine nature, as recounted in the Synoptic Gospels (Matthew 26: 36-46; Mark 14:32-42; Luke 22:39-46): following the Last Supper, Jesus retreated to the Mount of Olives to pray as he faced imminent suffering, 'Father, if it by thy will, take this cup away from me. Yet not my will but thine be done'. According to Luke, 'there appeared to him an angel from heaven bringing him strength, and in anguish of spirit he prayed the more urgently'. When he left the garden, he encountered Saints Peter, James and John, who had accompanied him and whom he had instructed to stand watch. Dismayed, he rebuked them, '"Couldn't you men keep watch with me for one hour?" he asked Peter. "Watch and pray so that you will not fall into temptation. The spirit is willing, but the flesh is weak"'. Returning to the Mount of Olives, he prayed once more, 'My Father, if this cannot pass away unless I drink it, Your will be done'.
As Tagliaferro has noted, Titian's Agony in the Garden is remarkable for its sophisticated treatment of light and light reflections, "One can now distinguish the quality of four distinct sources of light: the transcendental glow emanating from the angel, the natural moonlight and the gleaming dawn at the opposite ends of the sky, and the artificial sparkle of the torches carried by the looming soldiers in the distant background on the right' (op. cit., p. 11). Titian's brushwork is most impressive in the upper part of his canvas, particularly in loose but evocative strokes he uses to form the angel, from which light seems to quietly, yet powerful emanate; and in the figure Christ, with his subtly modeled face, and the rock behind him, upon which his divinity is reflected. The sleeping Apostles below them, who are practically illegible in the Escorial and Prado versions, are here clearly articulated with extravagant poses. The figure of Saint Peter, who reclines with hands behind his head, takes inspiration from a red chalk drawing of a Sleeping Man by Parmigianino (Chatsworth, Devonshire collection). It is in these three figures that the hands of Titian's studio assistants may be seen, particularly in the less assured outlining of their silhouettes. Yet even here, the master's brush is evident in places.
In the early-20th century, the present version of Titian's Agony in the Garden was in the collection of the banker, art critic, collector and dealer, Julius David Ichenhauser, who lived in London and New York. He sold the painting at the Fifth Avenue Art Galleries, New York, on 23 March 1911 with an attribution to 'V. Bombazio'. As Tagliaferro has suggested, this is most likely a misspelling of the 16th-century Venetian painter, Bonifacio de' Pitati, known as Bonifacio Veronese. The painting was next acquired by the American painter, Gari Melchers (1860-1932), who upon his death bequeathed it to his widow, Corinne. In 1942, she donated the painting along with the rest of her art collection to the Belmont estate, which was until then the Melcher's home and thereafter owned by the Commonwealth of Virginia. Following Corinne's death, the painting was sold by the Mary Washington College, Fredericksburg, VA, which was managing the art collection. Decades later, the painting resurfaced at an auction in Bethesda, MD, as a 17th-century work, retaining its attribution to 'Bombazio'. It remains a mystery why for nearly a century this painting, which so clearly relates to two other well-known and extensively published altarpieces by Titian, was mistakenly ascribed to this imaginary artist. Fortunately, by 1990, it was finally recognized by the art historians Terisio Pignatti and Francesco Valcanover, who viewing the canvas prior to its restoration, unreservedly gave the painting to Titian (ibid., p. 11).
The painting's history prior to the 20th century remains cloudier. In 1995, the art historian Gerald Burdon suggested that this Agony in the Garden might be the canvas that once hung in the church of San Leonardo, Venice (ibid., p. 6; private communication). A painting of this subject was first recorded there without an attribution by Antonio Maria Zanetti in the third edition of his Della pittura veneziana (Venice, 1797, II, pp. 107-08), alongside a Christ Carrying the Cross by Bonifazio de' Pitati. Notably, neither painting appears in the two earlier versions of the book (1771 and 1792), suggesting that they were acquired by the church after it was rebuilt at the end of the century. The two paintings were listed by Pietro Edwards, delegate of the Napoleonic Kingdom of Italy in charge of assessing artworks in the recently suppressed churches and ecclesiastical institutions in the Veneto, and in 1810, Edwards' collaborator Giuseppe Baldassini recorded that the works were to be sold due to their poor condition. They were acquired the following year by Giacomo Concolo. Burdon suggested that it was Baldassini who first mistakenly attributed the Agony in the Garden to Bonifazio due to its association with that artist's Christ Carrying the Cross. While this theory is intriguing, it must remain conjectural since there is no concrete way to prove a link between the San Leonardo painting and the present work, particularly since its earliest history remains unknown. Moreover, neither Zanetti, nor Edwards and Baldassini record the paintings' dimension and no painting of Christ Carrying the Cross by Bonifazio is known today. Nevertheless, Burdon's suggesting is appealing as it would explain the otherwise perplexing attribution to 'V. Bombazio' that had affixed itself to the present painting by the 20th century.
Tagliaferro suggests that this painting was produced around the time that Titian was painting his version for Philip II in the 1560s. By the 1550s, Titian's fame was such that his was in constant demand throughout Europe, with royalty and the most powerful elite vying for his attention. In this period, Titian and his workshop began to paint numerous variations of certain of his most successful compositions, such as the Danaë, continually reworking them so that 'the majority of these variants were executed with originality rather than being treated as merely pedantic derivations, so much so it might be argued that at some stage of the production process nearly each painting reached the status of a new prototype, and that the distinction between originals and replicas became blurred' (ibid., p. 15). Accordingly, it is possible that Titian painted the Escorial and present versions concurrently. X-rays of the Prado painting reveal that Christ's head was originally turned rightward, as it appears in the Uffizi drawing. This alteration, made in the upper layer of the Prado painting, suggests that this passage was worked out prior to the completion of the Escorial and Osuna versions (M. Falomir, Tiziano, Madrid, 2003, p. 270), although this does not rule out the possibility that all three paintings were created simultaneously.
Lot 708. Jan de Beer (Antwerp c. 1475-1528 or earlier), The Annunciation, oil on panel, 26 ¾ x 20 5/8 in. (67.9 x 52.4 cm.). Estimate USD 200,000 - USD 300,000. © Christie's Images Ltd 2019.
Provenance: Private collection, Heidelberg, before 1823, when acquired by
Count Caspar Heinrich von Siestorpff, Bad Driburg (1750-1842), and by descent to his son
Count Ernst von Sierstorpff, Bad Driburg (1813-1855), and by descent to his son
Count Bruno von Sierstorpff, Bad Driburg (1855-1870), and by inheritance to his brother
Count Ernst von Sierstorpff, Bad Driburg (d. 1879), and by inheritance to his sister
Baroness Hedwig von Sierstorpff, Bad Driburg (d. 1887); her sale; Rudolph Lepke, Berlin, 19 April 1887, lot 107, as Herri Bles, sold (2,700 Reichsmark).
Private collection, Frankfurt.
Anonymous sale; Rudolf Bangel, Frankfurt am Main, 12-13 February 1901, lot 6, as Herri met de Bles.
Hermann Emden (1840-1930), Hamburg; his sale, Rudolph Lepke, Berlin, 3 May 1910, lot 88, as Herri met de Bles (4,100 Reichsmark).
(Possibly) with Frieda Hinze, Berlin, by 1932.
Dr. Dolly Marx, Bielefeld.
Anonymous sale; Lempertz, Cologne, 28-30 April 1954, lot 846 (13,399 DM), where acquired by
Dr. Paul Ludowigs (1884-1968, Wülfrath, and by descent in the family until
Anonymous sale; Sotheby's, Amsterdam, 15 November 2005, lot 42.
with Alexander Gallery, New York, from whom acquired by the present owner.
Literature: C.H. von Sierstorpff, Für die Kunstfreunde, welche meine kleine Gemälde-Sammlung besuchen wollen, Braunschweig, 1817, pp. 300-304, no. 115, as Hugo van der Goes.
G. Parthey, Deutscher Bildersaal, Berlin, 1863-1864, I, p. 362.
'Vom Kunstmarkt', Kunstchronik, XXII, 28 April 1887, p. 478, as Herri met de Bles.
M.J. Friedländer, 'Die Antwerpener Manieristen von 1520', Jahrbuch der Königlich Preussischen Kunstsammlungen, XXXVI, 1915, p. 72, no. 22.
Sir M. Conway, The Van Eycks and their followers, London,1921, pp. 387, 388, pl. XX, fig. 1.
M.J. Friedländer, Die altniederländische Malerei. Die Antwerpener Manieristen - Adriaen Ysenbrant, XI, Berlin, 1933, p. 118, no. 24.
H. Gerson, J.W. Goodison, D. Sutton, Fitzwilliam Museum Cambridge. Catalogue of paintings. Volume I: Dutch and Flemish, French, German and Spanish, Cambridge, 1960, p. 39 note 3.
M.J. Friedländer, Early Netherlandish painting. The Antwerp Mannerists - Adriaen Ysenbrant, XI, Leiden and Brussels, 1974, p. 69, no. 24, pl. 19, no. 24.
D. Ewing, The Paintings and Drawings of Jan de Beer, Ph. D. dissertation, 1978, I, pp. 139-140, 151, II, pp. 269-275, 340, no. 16, fig. 54.
Peter Eikemeier et al., Bayerische Staatsgemäldesammlungen. Alte Pinakothek München. Erläuterungen zu den ausgestellten Gemälden, Munich, 1983, p. 66.
M.D. Orth, 'Antwerp Mannerist Model Drawings in French Renaissance Books of Hours: A Case Study of the 1520s Hours Workshop', J. Walters A.G., XLVII, 1989, p. 74, 84-85, fig. 20.
A. Arnould and J.M. Massing, Splendours of Flanders, exhibition catalogue, Cambridge 1993, p. 50.
P. van den Brink, 'Friedländer list. Updated overview of all Antwerp Mannerist paintings published by Max J. Friedländer in part XI of his Early Netherlandish Painting', in K. Belkin, M. Martens, P. van den Brink, eds., Jaarboek Koninklijk Museum voor Schone Kunsten Antwerpen 2004-2005/Antwerp Royal Museum Annual 2004-2005, 2006, p. 359, no. 24.
D. Ewing, Jan de Beer: Gothic Renewal in Renaissance Antwerp, Turnhout, 2016, pp. 34-37, 152-161, 293-294, no. 5, fig. 104.
P. van den Brink and D. Ewing, 'Two "new" paintings by Jan de Beer: technical studies, connoisseurship and provenance research', in Technical Studies of Paintings: Problems of Attribution (15th-17th Centuries): Papers Presented at the Nineteenth Symposium for the Study of Underdrawing and Technology in Painting, A. Dubois, J. Couvert and T.-H. Borchert, eds., Paris, Leuven and Bristol, CT, 2018, pp. 254-256, fig. 18.5.
Exhibited: Boston, Museum of Fine Arts, 9 December 2014-10 May 2018, on loan.
Note: Jan de Beer was one of the greatest and most talented painters associated with a group of largely anonymous artists active in the early 16th century who today are collectively known as the Antwerp Mannerists. He is one of a select few early Antwerp painters whose fame extended beyond his death, receiving praise from writers such as Lodovico Guicciardini (1567) and Karel van Mander (1604). Works by de Beer are exceptionally rare, with only around two dozen paintings ascribed to him (just two are signed). Like the present lot, all of De Beer's paintings depict religious subjects. His oeuvre is celebrated for his sophisticated and refined use of saturated colors as well as the psychological depth of his figures. Like his fellow Antwerp Mannerists, De Beer's paintings combine traditional Flemish naturalism with exuberant decorative details - especially in the form of fantastic costumes and capricious, often Italianate, architectural inventions - all of which feature prominently in this astonishing representation of The Annunciation.
Dan Ewing and Peter van den Brink convincingly argue that Jan de Beer painted the present Annunciation circa 1515, when the artist was at the height of his career (2018, loc. cit.). This dating is supported by Dr. Peter Klein's dendrochronological examination of the panel, which indicates an earliest felling date of 1503 for the panel, and a likely execution date of 1511 upward. To create this composition, De Beer appears to have drawn inspiration from Jan van Eyck's seminal circa 1434-36 Annunciation (National Gallery of Art, Washington DC; fig. 1), in which an extremely elegant Archangel Gabriel greets a regal Virgin Mary in a soaring, Gothic church. Particularly influential were Van Eyck's elongated figures and focus on verticality. Yet here, De Beer modifies Van Eyck's ecclesiastical setting by blending it with the more traditional iconography of Annunciation scenes in Early Netherlandish art, in which the Virgin kneels at a prie-dieu in a domestic setting. Such images frequently include a marriage bed, such as Rogier van der Weyden's Annunciation from the left wing of his circa 1455 Columba Altarpiece (Alte Pinakothek, Munich). In the present composition, with its multiple rooms and staggeringly high ceilings, De Beer radicalized his the scene to the point that, when compared to Rogier's work - which was revolutionary for the mid-1450's - the latter appears subdued. As Ewing notes, '…De Beer's emphatic rejection of restraint and balance exemplifies the new century's commitment to jettisoning decorous boundaries and pushing hyperbole to the point of fantasy. […]. The flamboyant descent of the archangel Gabriel, his flight suspended in mid-air, is the picture's defining motif. The stress upon his heaven-sent mission is reinforced by the extreme verticality of the interior spaces, and especially by the seemingly endless columns framing the rear of the front room, whose upward elongation is represented without capitals or any other form of upper termination' (op. cit., 2016, pp. 34-36).
The present Annunciation, as Ewing has pointed out, was incredibly successful – it is the third most imitated of all of De Beer's compositions (ibid., p. 152). At least 14 copies and variants exist, of which the most well-known is the Annunciation in the Alte Pinakothek, Munich. It is a reflection of De Beer's genius that in the case of nearly all of these imitations, his followers were either unable or unwilling to commit fully to the original's extravagance (for a detailed discussion of these responses, see D. Ewing and P. van den Brink, op. cit., p. 254-259). The numerous copyists who took up this composition often found De Beer's invention too daring, so that they frequently reduced the spacious rooms in the background, capped the soaring columns, and even grounded the floating archangel.
The primacy of this panel is further confirmed by study of its underdrawing, visible with infrared-reflectography (fig. 2). De Beer's underdrawing is loose and sketchy, executed in a dry medium, probably black chalk, with, as Ewing observes, 'nervous but powerful, often broken contour lines. These lines are typically short and discontinuous, with characteristic hooks as their terminations, or sometimes T-endings. The draftsmanship is virtuosic –bold, quickly drawn, filled with energy and verve' (op. cit., 2016, p. 154). De Beer worked out his architectural setting using perspectival lines that recede to a vanishing point at right in the framed text on the column. The IRR also reveals that De Beer made changes to his composition as he painted. Certain details that do not appear in the underdrawing were added at the painting stage, including the white cat who sits on the threshold (likely a reference to the medieval saying that the devil was trapped by Christ's incarnation in the way that a mouse is trapped by a cat) and the basket behind the Virgin, as well as the two red porphyry columns. Furthermore, the pair of lancet windows visible at left in the rear room were originally conceived as four smaller, Gothic-arched windows (ibid., p. 154).
The early history of this important painting has recently been worked out by Peter van den Brink, to whom we are grateful for generously sharing his research. In the 19th century, this painting was in the collection of the Counts of Sierstorpff at Driburg Castle, near Paderborn, who had assembled a significant and well-known Old Masters collection. When it sold in 1887 under an attribution to Herri met de Bles, it entered another significant collection, probably in Frankfurt, that included Bernard van Orley's Virgin and Child with singing angels (Metropolitan Museum of Art, New York) and an Adoration triptych from Joos van Cleve's workshop (Detroit Institute of Art, Detroit). It next entered the collection of the Hamburg collector Hermann Emden, a successful textile merchant. In 1910, it sold again to an unknown collector, at which point it disappeared for nearly a half a century, resurfacing at a 1954 auction in Cologne and finally correctly attributed to Jan de Beer in accordance with Max J. Friedländer's 1915 and 1933 publications (loc. cit.). The vendor at that sale was Dr. Dolly Marx, from Bielefeld, and the Annunciation was acquired by Paul Ludowigs, a German industrialist from Cologne who lived in Wülfrath. It remained in his family until the 2005 sale at Sotheby's Amsterdam, where it was acquired by Alexander Gallery, New York, from whom it was ultimately acquired by the present owner.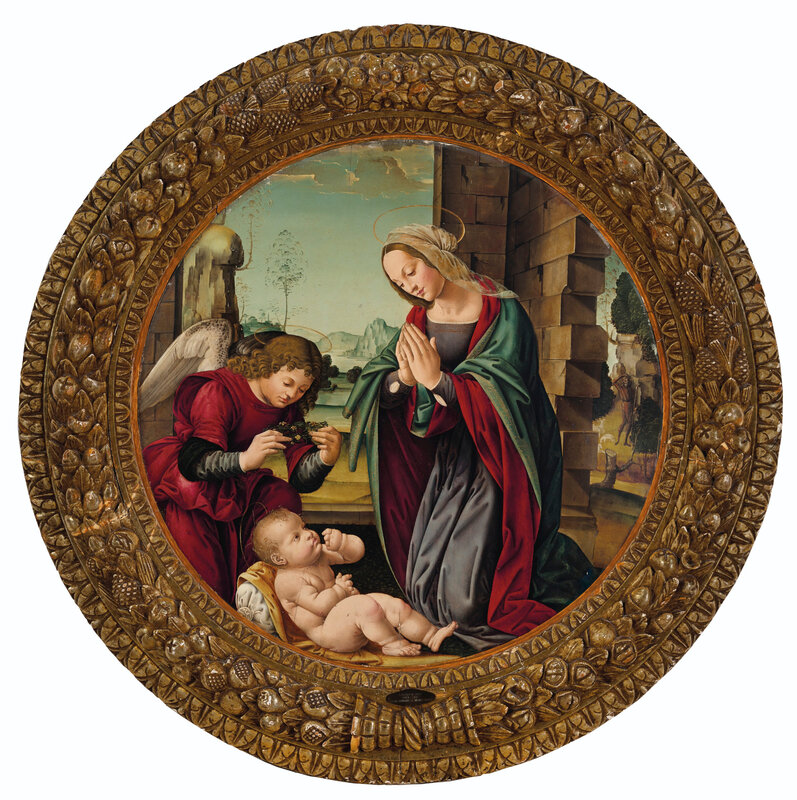 Lot 707. Lorenzo di Credi (Florence 1459-1537), The Madonna and an angel adoring the Christ Child, tempera on panel, tondo, 35 in. (88.9 cm.) diameter. Estimate USD 400,000 - USD 600,000. © Christie's Images Ltd 2019.
Provenance: Prince Brancaccio, Rome.
with Charles Sedelmeyer, Paris, 1905.
Anonymous sale; Sotheby's, London, 14 December 1977, lot 55, as 'L. di Credi', where acquired by the parents of the present owners.
Literature: Illustrated catalogue of the series of 100 paintings by old masters [...] of the Sedelmeyer Gallery, Paris, 1905, no. 48, illustrated, as Lorenzo di Credi.
Note: Like Botticelli, Perugino and Leonardo da Vinci, Lorenzo di Credi worked as an assistant in the Florentine workshop of Andrea del Verrocchio. He was entrusted with control of the shop during his master's absence, eventually becoming Verrocchio's heir. Though a talented and sought-after portraitist, it is as a religious painter that Lorenzo is best known and his many surviving depictions of the Madonna and Child and the Holy Family are testament to their popularity among his patrons.
This Madonna and an angel adoring the Christ Child was painted late in the artist's career. The Madonna and Christ figures, with their crisp, linear features and enamel-like flesh are characteristic of Lorenzo's own hand, while the angel was most likely completed by a collaborator in his workshop. Lorenzo treated this subject, again with the accompanying angel, in a tondo in the Gallerie degli Uffizi, Florence (fig. 1) and it in turn relates to a composition in the Alte Pinakothek, Munich in which the angel presents the Infant Saint John the Baptist to the Christ Child and Saint Joseph rests in the background at left (G. Dalli Regoli, Lorenzo di Credi, Pisa, 1966, p. 161, no. 131, fig. 166). The Pinakothek painting, which shows the figures in reverse, has since been attributed to the young Fra Bartolomeo who was an active member of Lorenzo's workshop. Though there is debate over the primacy of the various versions, Everett Fahy argued that the tondo now in the Metropolitan Museum of Art, New York (fig. 2), dating to the early 1490s, is in fact the prototype from which these derive (E. Fahy, 'The Earliest Works of Fra Bartolommeo,' Art Bulletin, LI, June 1969, p. 144, no. 9). Indeed, the figures of the Virgin and Child in the present painting are closest in pose to their counterparts in the Metropolitan Museum tondo and are presumably based on the same design. They appear again in an altarpiece by Lorenzo depicting The Adoration of the Shepherds, removed from the church of Santa Chiara, Florence and now also in the Uffizi (op. cit., p. 147, no. 95, fig. 139).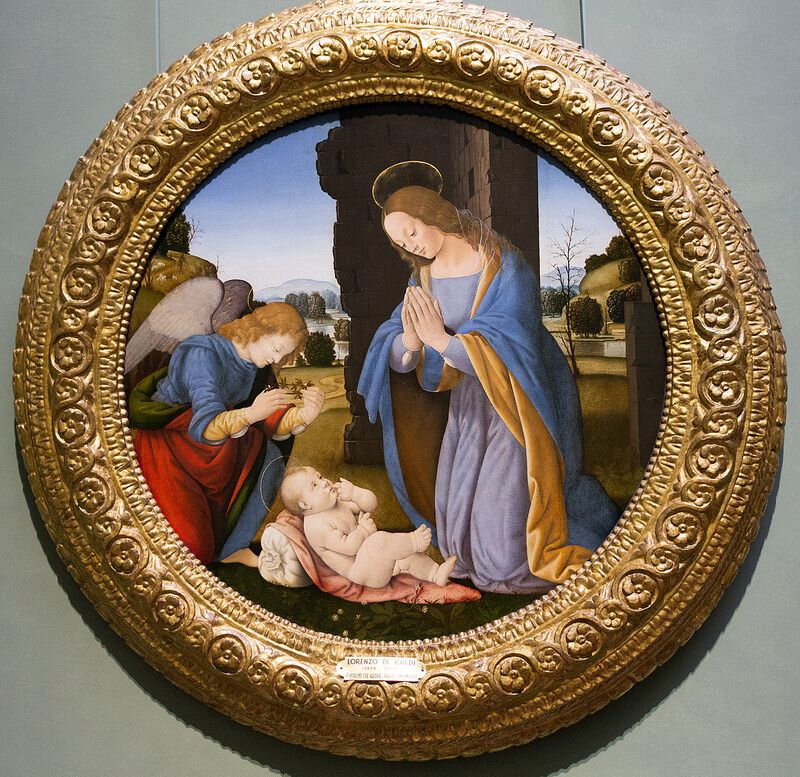 fig. 1. Lorenzo Di Credi, Adoration of the Christ Child, Gallerie degli Uffizi, Florence. © Svetla (ribonka 78) via Flick.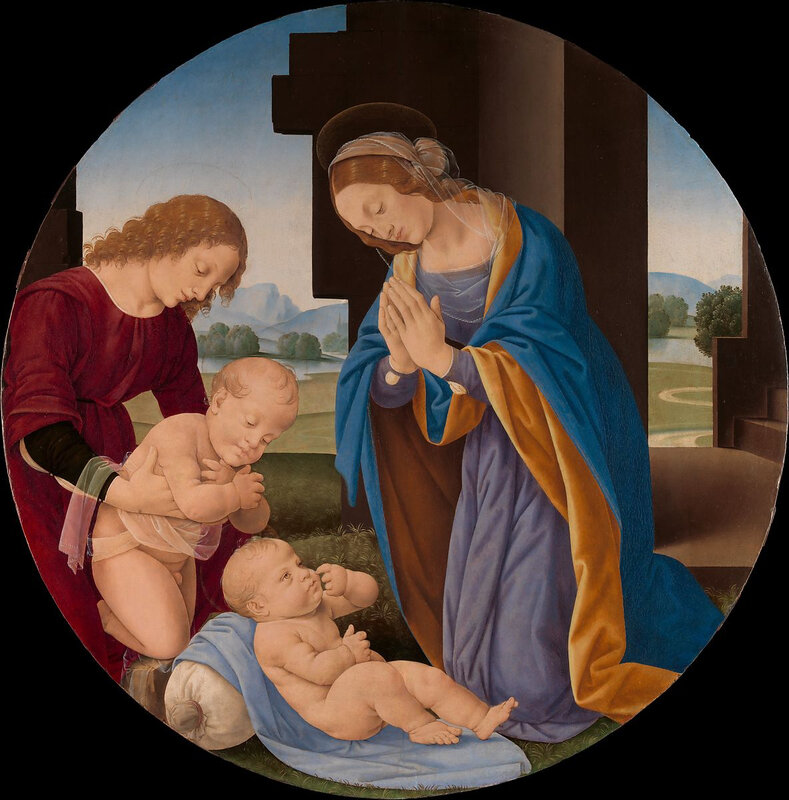 fig. 2. Lorenzo di Credi (Lorenzo d'Andrea d'Oderigo) (Italian, Florence 1456/59–1536 Florence), Madonna Adoring the Child with the Infant Saint John the Baptist and an Angel, Early 1490s, Tempera on wood, Diameter 36 in. (91.4 cm), Rogers Fund, 1909, 09.197. © 2000–2019 The Metropolitan Museum of Art.
Infrared reflectography of the Metropolitan Museum tondo revealed the design to have been transferred from a pounced cartoon which would have been retained in the workshop for use in Lorenzo di Credi's autograph variants and in copies by his assistants, as in the case of the Pinakothek version by Fra Bartolomeo. These designs could then be adapted freehand with extra figures and background elements included in accordance with the desired composition. In the case of the present painting, Lorenzo appears to have reused the design for the Madonna and Child figures, which he executed himself, leaving angel to be completed by an assistant in the workshop. The design for the Christ Child's specific pose employed here and in the Metropolitan Museum tondo was known to Albrecht Dürer who made a drawing after it, now conserved in the Cabinet des Dessins, Musée du Louvre, Paris (inv. no. R.F.4662).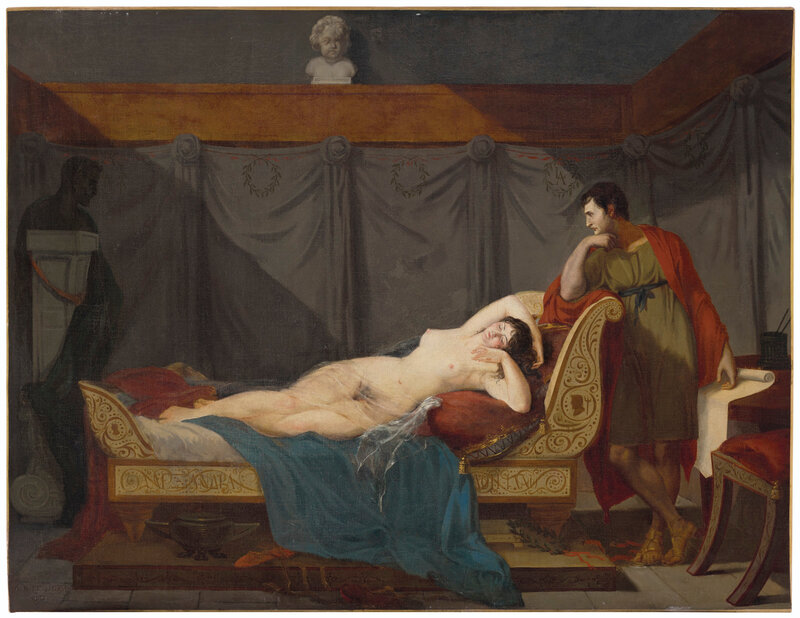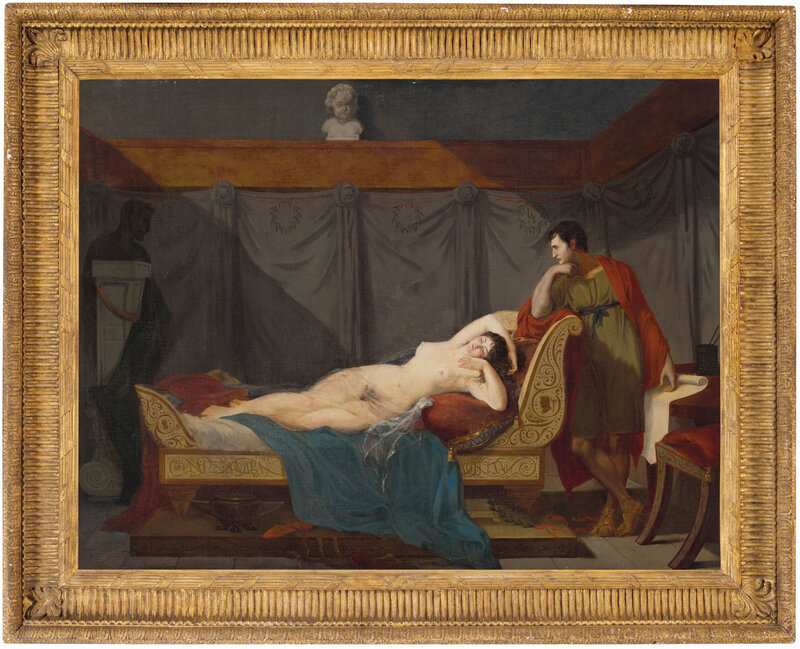 Lot 752. Guillaume Guillon Lethière (Sainte-Anne de la Guadeloupe 1760-1832 Paris), Lucien Bonaparte, in antique dress, contemplating his mistress, Alexandrine de Bleschamp Jouberton, signed and dated 'G.G. LETHIERE / 1802' (lower left); inscribed '?????????—????????' ('ALEXANDRA – LOUKIANO'; on the bed frame),oil on canvas, 41 ½ x 53 ½ in. (105.7 x 135.9 cm). Estimate USD 350,000 - USD 500,000. © Christie's Images Ltd 2019.
Provenance: Lucien Bonaparte (1775-1840), 1st Prince of Canino and Musignano.
with Heim Gallery, London, where acquired by
Peter S. Walch (1940-2014), Portland, ME; Barridoff Galleries, Portland, ME, 5 August 2005, lot 18, where acquired by the present owner.
Literature: M. Simonetta & N. Arikha, Napoleon and the Rebel, New York, 2011, pp. vii, x-xii, 119-120, fig. 3, p. 107, illustrated on book jacket.
Exhibited: Ajaccio, Palais Fesch-Musée des Beaux-Arts, 1775-1840 Lucien Bonaparte un homme libre, 26 June-27 September 2010, no. 71.
Note: Recently rediscovered after two centuries of obscurity, but now widely studied, the present painting is startling for its candor and eroticism. In a darkened bedchamber, fitted out in a fantasy of ancient Roman décor, a handsome, dark-haired man in antique dress gravely contemplates the body of a voluptuous woman who languidly reclines asleep on a daybed. Enticingly curvaceous and fleshy, and entirely nude, except for a transparent shawl of gauze that barely conceals a dark thatch of pubic hair, she appears lost in a dream. A single, dramatic shaft of light illuminates the scene.
Permeated as it is by the high Greco-Roman style that was modish in Napoleonic France at the turn of the nineteenth century, the painting could easily be mistaken for a fashionable neoclassical illustration of a licentious tale by Ovid or Anacreon, albeit one executed to the most rigorous standards demanded by the Académie Royale. Its true subject, however, is more subversive of accepted decorum than it would even appear, as it was conceived as a loosely disguised, private portrait of Lucian Bonaparte, younger brother of Napoleon, future Emperor of France, and his mistress, Alexandrine de Bleschamp, who had been widowed only months earlier. Its author was Lucien Bonaparte's close friend and confidante, Guillaume Guillon Lethière, a mixed-race artist who was one of the most brilliant and successful history painters working in France in the years immediately following the Revolution.
Lucien Bonaparte (1775-1840; fig. 1), third surviving son of Carlo Bonaparte and Letizia Ramolino – later known as Madame Mère -- and Napoleon's junior by six years, was born in Corsica in 1775 and educated at a seminary in Aix-en-Provence. 14-years-old when the Revolution erupted in 1789, Lucien returned to Corsica and became an outspoken Corsican separatist, much to the dismay of Napoleon, who was then rising rapidly through the military ranks in mainland France. An ardent ally of Robespierre, Lucien removed himself hastily to France when the Terror ended in 1794 in a coup that brought down his idol and threatened his security. With his older brother's extraordinary military triumphs on behalf of the new French Republic, Lucien's political stature rose. In June 1798, he was elected deputy to the ruling Council of the 500; on 23 October 1799, he became its president. Less than three weeks later, in his new role as Council president, Lucien deflected a potentially disastrous attack on Napoleon into a vote of confidence, opening the way for the coup d'état that overthrew the Directory and installed his brother as First Consul on 10 November 1799. Whether Napoleon would have survived the day and continued his rise to absolute power without Lucien's crucial intervention is uncertain. However, Lucien – a true Republican – had long harbored concerns about his brother's ruthless quest for power, noting as early as 1792 that Napoleon seemed 'inclined to become a despot, and I think he would become one, were he a king'.
Napoleon rewarded his 25-year-old brother by appointing him Minister of the Interior, a role of immense power which came with a country house in Neuilly and an opulent hôtel particulièr in Paris. Notwithstanding this honor, Lucien's faithfulness to maintaining the purity of the Revolution and his natural independence undermined Napoleon's trust in him. Napoleon soon after removed him from office, appointing him instead ambassador to Spain, effectively neutralizing any potential threat from his brother by getting him out of Paris and out of his way. In fact, the demotion would prove liberating for Lucien, whose wife, Christine, had just died, leaving him grieving and bereft, with two young daughters to care for. In Madrid, he established himself as a skilled diplomat, negotiating a much-desired treaty between Spain and Portugal, and persuading Charles IV to hand over the Louisiana territories to Napoleon (who promptly sold them to the United States).
Lucien had travelled to Spain with an entourage that included the painters Jacques Sablet and Guillaume Guillon Lethière. He had met Lethière in Paris early in his tenure as Minister of the Interior, and the two had formed a fast and enduring friendship. Lucien described Lethière as an 'enthusiastic pupil of David – like him, all Greek, or all Roman'. Inviting Lethière to come with him to Spain, Lucien charged the artist to find important works of art for his growing collection. While in Madrid, Lucien developed a close relationship with Manuel Godoy, the Spanish Prime Minister, whose fabulous art collection he visited – perhaps in the company of Lethière – early in 1801. There he had the rare privilege of seeing Godoy's greatest, and most private, treasure: Goya's magnificent, life-sized portrait of Godoy's mistress, Pepita Tudo, reclining, entirely nude, on a chaise, known today as the Nude Maja (c.1797; Prado; fig. 2). Goya's masterpiece would become the inspiration for the present painting.
Guillaume Lethière (1760-1832) led a life every bit as remarkable as that of Lucien Bonaparte. He was born on the island of Guadeloupe, the illegitimate son of a white government official and a freed black slave. Although his real name was Guillon, as the third child of the family he called himself 'Le Tiers', 'Lethiers', and finally, from 1799, when officially recognized by his father, Lethière. While accompanying his father to France in 1774, he entered the studio of Jean Baptiste Descamps at the Academy in Rouen, where he won a prize for drawing in 1776. The following year he moved to Paris and enrolled at the Académie Royale, studying under Gabriel François Doyen and winning a first-class medal in July 1782. He competed for the Prix de Rome in 1784 and again the following year, by which time the influence of Jacques Louis David had superseded that of his teachers, and he embraced a full-throated neoclassicism. He lost the Grand Prix again in 1786 (competing against Girodet; see lot 749), but gained the attention of the Comte de Montmorin, a diplomat and friend of Louis XVI, who persuaded the Académie that Lethière was worthy of a Roman pension; he arrived in Rome shortly thereafter.
Having completed his training at the Palazzo Mancini, Lethière returned Paris in 1791 and started a successful teaching studio in competition to that of David. Interrupted by his year-long Spanish sojourn with Lucien, he reopened the workshop following his return to France in November 1801. Responding to a racist insult directed at him by an officer at the Café Militaire in Paris, the artist became embroiled in a fight with a group of soldiers, one of whom he killed, prompting the government to close his studio. Driven out of Paris, Lethière and his family roamed Europe until 1807, when, through the influence of Lucien Bonaparte, the artist was appointed Director of the French Academy in Rome. Ingres would be one of his pensionnaires, and the young artist produced a series of splendidly sympathetic portrait drawings of Lethière and all the members of his family. Removed from his post with the Restoration, Lethière reopened his studio in Paris. He was elected to the Institut in 1818 and was awarded the Légion d'Honneur. Like Lucien, Lethière remained a life-long, committed Republican and in 1822 he made his last important painting, an allegory to celebrate the independence of Haiti, The Oath of the Ancestors (Cathedral, Port-au-Prince, Haiti), in which the generals Alexandre Pétion and Jean Jacques Dessalines are depicted swearing the oath of the union that led to the nation's freedom.
In the spring of 1802, Lucien made his final appearances as a public figure, delivering two important speeches in Paris on religious freedom and on the creation of the Legion of Honor. The speeches were well-received, but already, aged 27 and distressed at the authoritarian regime that Napoleon was creating, Lucien sought to withdraw from public life and end his political and diplomatic career. He retreated to the estate of his friend, Alexandre de Laborde, in Méréville; on the night of his arrival, at a lively supper given by his host, he was introduced to Alexandrine Jouberthon, née de Bleschamp (1778-1855; fig. 3), a young woman whose wealthy, older husband, Hippolyte Jouberthon, was at the time working in Santo Domingo. Previously unknown notebooks written by Lucien and intended as chapters in his 1820 Mémoires (published in an expurgated and highly condensed form in 1833) -- only recently discovered by the authors Marcello Simonetta and Noga Arikha in the family archives of Alexandrine's descendants near Perugia -- reveal with great candor this love-at-first-sight encounter.
Although Alexandrine was married, Lucien fell deeply and lastingly in love with her, and launched a clandestine courtship, made suddenly easier when the only obstacle in his path – her husband – died suddenly in Santo Domingo of yellow fever. Lucien and Alexandrine were thereafter inseparable. Napoleon, alerted by his spies to his brother's affair, was outraged that Lucien had not sought his permission for the liaison and had thwarted the more politically advantageous matches he had intended for him. To keep the affair as discreet as possible, Lucien installed Alexandrine in a house next to his, and had a secret interconnecting passageway built between them, to which only he, Alexandrine, and his supportive mother had keys. It would have been in the autumn of 1802 that Lethière painted the present painting, certainly at Lucien's request.
The painting is signed and dated on the lower left: "G.G. Le Thieres/ 1802". On the frame of the daybed, the names of the lovers are inscribed in Greek letters: "?????????" ("Alexandra") and "????????" ("Loukiano"), their entwined initials emblazoned together inside the far-right laurel embroidered on the wall. Within a cameo, painted on the bedframe between Alexandrine and Lucien, is a profile portrait of Napoleon beside a trident, a private joke referring to an episode several months earlier, when Napoleon railed violently against his brother from his bathtub, inadvertently splashing water and prompting Lucien to mockingly quote Virgil's lines from the Aeneid about Neptune unleashing the fury of the ocean's waters against the wind. The mischievous marble bust smiling down upon the scene from a high shelf upon which it sits is believed by Simonetta and Arikha to depict Lethière himself, recognizable by his frizzy hair. The pose of Alexandrine derives directly from one of the most famous surviving sculptures from Antiquity, the Sleeping Ariadne in the Vatican (fig. 4), a work that Lethière would have known from his years in Rome. However, her languorous carnality and unashamed nudity pay clear tribute to Goya's Nude Maja which had made such a deep impression on both patron and painter a year earlier in Godoy's private chambers.
Lucien is recorded as having owned another painting by Lethière depicting The Sleep of Venus, which was displayed in his picture gallery. It is today lost, but known from an engraving by Normand. In it, a sleeping Venus, in a pose close to that of Alexandrine in the present painting, reclines on a chaise longue, surrounded by flying cupids, nymphs and doves; the figure of Lucien is nowhere to be seen. Given that the present painting is a work of the greatest intimacy, immortalizing an illicit romance with potentially grave repercussions, it is perhaps not surprising that nothing documents its creation or presence in Lucien's collection. Godoy, we know, kept the portrait of his nude mistress sequestered in a separate cabinet for his private pleasure, commissioning Goya to make an identical, clothed version of the painting – the Clothed Maja (c.1797; Prado) -- for his gallery. We might speculate that Lucien followed suit, commissioning the more decorous Sleep of Venus for public admiration that the present canvas could never be permitted.
As Simonetta and Arikha note, the autumn of 1802 provides a terminus post quem for the painting, as Alexandrine gave birth to the couple's first child, Charles, only months later, in May 1803. Lucien and Alexandrine married in secret in Le Plessis the following day, 25 May 1803, to the fury of Napoleon, who never relinquished attempts to annul the union. The birth of Charles (in adulthood, a celebrated ornithologist), followed by nine other children, no doubt forced the permanent sequestration of the painting, which appears to have been rolled up and hidden, not to reappear for two centuries, when it was acquired in 2005 by the present owner at a small auction in Maine, its true identity long forgotten.
Permanently retired from public life and relentlessly hounded by his brother to divorce, Lucien, with Alexandrine and their children, eventually fled to Rome in 1804, placing themselves under the protection of Pope Pius VII. From that time onward, they led a peripatetic existence – although one cushioned by great wealth – first in a 17th-century palazzo near the Spanish Steps, where Lucien installed his art collection, which included paintings by Velazquez, Titian and Rubens; then to the 16th-century Villa Rufinella in Frascati; and, finally, to a villa at Canino. Lucien took up the study of archaeology and history, Alexandrine wrote poetry and raised their many children (fig. 5). Lucien died in 1840, at the age of 65, and was buried at Canino; Alexandrine survived him another fifteen years.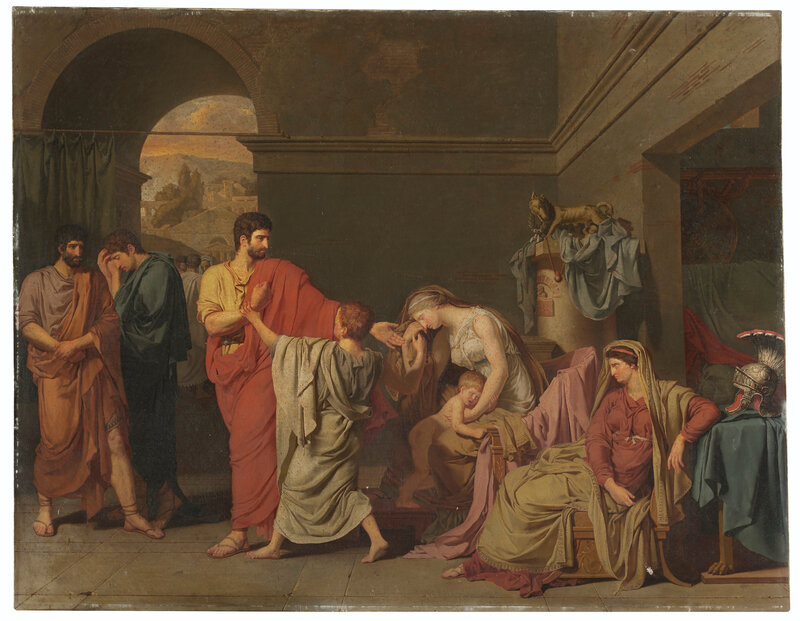 Lot 749. Anne-Louis Girodet de Roucy-Trioson (Montargis, Loiret 1767-1824 Paris), Les Adieux de Coriolan à sa famille ('Coriolanus Taking Leave of his Family'), oil on canvas, unlined, 44 7/8 x 57 ½ in. (114 x 146.1 cm). Estimate USD 120,000 - USD 150,000. © Christie's Images Ltd 2019.
Provenance: Private collection, France, since at least the early 20th century, until recently.
Literature: S. Bellenger, et al., Girodet 1767-1824, exhibition catalogue (English edition), Paris, 2006 , pp. 191, 200, notes 40-43, as lost.
Exhibited: Paris, Académie Royale de Peinture et de Sculpture, 1786.
Note: Consigned to virtual oblivion soon after his death in 1824, for most of the last two centuries Girodet was overshadowed by his teacher, Jacques-Louis David. It was only with the advent of a comprehensive exhibition of his varied and visionary works in his hometown of Montargis in 1967 that Girodet was introduced to a modern public and the restoration of his reputation began in earnest. Among a brilliant 'team of rivals" working in David's studio in the 1780s, Girodet is today recognized as 'one of the greatest painters of his generation' (Jean Lacambre, 1974). His position as the most important and original French neoclassical history painter after David was definitively established with a vast and revelatory international retrospective held in Paris, New York, Chicago and Montreal in 2005-07.
The present painting is the most significant rediscovery in Girodet's oeuvre since that exhibition, and among the most important history paintings from the years immediately preceding the French Revolution to reappear in decades. Its rarity is greatly increased by its nearly perfect, unlined, and untouched state of preservation. Published and reproduced here for the first time, Coriolanus Taking Leave of his Family was Girodet's first submission to the competition for the prestigious Prix de Rome, executed in the spring and summer of 1786. The genesis of the painting is well-known and thoroughly documented.
Anne-Louis Girodet de Roussy was born on 5 January 1767 in the provincial town of Montargis, one hundred miles south of Paris. His father was a well-to-do directeur des domaines of the Duc d'Orléans and his mother the daughter of a member of the Papal Court. Orphaned at an early age, Girodet was taken into the Paris home of a close family friend, Benois-François Trioson, physician to Louis XVI's aunts and a person of standing in the capital, who ensured the boy's education and artistic training. Dr. Trioson became a second father to Girodet, adopting him in 1809 and leaving him his fortune upon his death, thus establishing the artist's lifelong financial security.
In March 1783, the sixteen-year-old Girodet enrolled at the Académie Royale de Peinture as a pupil of Nicolas René Jollain, a history painter and friend of Trioson. The following year he entered the studio of David, the most celebrated young painter in Paris, who was already revitalizing and redirecting the French school toward a new and morally rigorous classicism. An early biographer recorded that Girodet, awestruck with David's genius, 'was so full of respect for the master that, every day, before going to his own room, he would prepare his palette in front of the Horatii.' At the time that Girodet arrived at the studio, David's favorite pupil, Jean Germain Drouais, had just won the Prix de Rome, and the remarkable equipe of young painters in the workshop who vied for the master's favor -- François Xavier Fabre, François Gerard, Antoine Jean Gros, Jean Baptiste Wicar, Jean Baptiste Isabey among them – were all poised to be the next prize-winner. Despite being the newest – and one of the youngest – members of David's workshop, Girodet advanced quickly and threw himself headlong into the competition.
Established by Colbert with the founding of the Académie Royale in 1663, the Prix de Rome was the crowning achievement of academic training, a coveted prize won through a cut-throat elimination contest open only to the handful of surviving finalists. The winner received a stipend and a three to five- year stay at the Palazzo Mancini in Rome. Although not officially entered into the 1785 Prix de Rome, Girodet executed his first history painting, The Death of Camilla (Musée Girodet, Montargis; fig. 1) on the sidelines of the contest as something of a practice test, incorporating the lessons of his teachers, evident in both an expressive (if somewhat clumsy) sense of dramatic confrontation that he acquired from the study of David's paintings, and a roseate, rococo palette adopted from Jollain.
The present, newly rediscovered painting dates from the next year, when Girodet first secured a place as an official finalist for the 1786 Prix de Rome. The competition involved a series of tests in which the apprentice artists competed anonymously, which included a 'sketching contest', held in one day, drawing the nude male figure, and finally the execution of a history painting to a specified size and format. On 24 March 1786, the Academy announced the finalists admitted to the contest: Fabre, Wicar, Duvivier, Vanderberghe, Messier, Guillon-Lethière and Girodet. On 1 April, the assembled Academicians announced the subject of the Grand Prix that each contestant would be required to render as a finished, large-scale history picture: 'le moment ou Coriolan, banni, quitte, avec fermeté, sa mère, sa femme, ses enfants et ses amis en pleurs' ('the moment that the banished Coriolanus, in tears, takes final leave of his mother, his wife, his children and his friends in tears').
To complete the final paintings, students were isolated in separate rooms at the Academy for 72 days and worked every day except Sundays and holidays. As soon as the subject was assigned, each executed a sketch for his composition. The same day, they transferred the sketches to counterproofs which were examined by the professors. While permitted to retain these counterproofs, the original sketches were relinquished, and kept under seal until judging occurred. A fundamental criterion was the fidelity of the final painting to the original sketch, and a contestant could be eliminated if he changed the composition significantly.
The subject of Girodet's painting is the dramatic exile of the 5th-century B.C. Roman general Gaius Marcius Coriolanus, first recounted by Plutarch and Livy, but perhaps best known today from Shakespeare's late tragedy. The hero of the Roman siege of the Volscian city of Corioli, Coriolanus is later turned against by the Romans because of his unmovable resistance to popular rule. He is brought to trial by the Senate, convicted and banished from the city. Neither the ancient accounts of Coriolanus nor Shakespeare's dramatization spend much time on the episode of the hero's painful separation from his family. While the artist closely follows the program for the subject as laid out by the Academy in the Procès-verbaux, he was left to embellish its otherwise spare directives. In an austere and decaying interior with an arched opening through which can be glimpsed the Roman campagna, Girodet arranges seven principal actors in the drama. At center is a tightly choreographed quartet, consisting of a stoic Coriolanus, cloaked in a red mantle, who is beseeched by his eldest son; his grief-stricken wife, Volumnia, and their youngest son who clings to her lap, overwhelmed by sorrow. To the right sits the general's formidable mother, Veturia, who fights back tears. On the left stand two of Coriolanus's discreetly woeful friends. The general's helmet and armor can be seen abandoned on the far right of the composition, and a statue of Romulus and Remus being suckled by the she-wolf -- ancient symbol of the city of Rome – presides over the scene.
The painting represents a significant advance over the artist's Death of Camilla from just the previous year, and is a testament to the 19-year-old Girodet's prodigious artistic development under David's tutelage. His composition is sophisticated in its elegant, rhythmic ribbon of figures, each linked, one to the next, by a series of powerful glances and meaningful gestures. Solemn and graceful, his figures are exquisitely drawn, their flesh luminously realized, their draperies meticulously rendered. His composition has an amplitude and dignity previously absent from his works, clearly inspired by his close study and profound understanding of David's masterpiece of 1784, The Oath of the Horatii (Louvre).
None of the submissions to the 1786 Prix de Rome by Girodet's competitors is known today, but contemporary observers assessed Girodet's painting as the outstanding entry to the competition. At this point, an unexpected turn of events derailed his likely victory. In late August 1786, Jean-Baptiste-Marie Pierre, First Painter to the King and Director of the Academy in Perpetuity, announced that the competition was annulled and no Prix de Rome laureate would be designated that year. No clear reason for Pierre's decision was offered, but it was rumored that he had cancelled the competition because there was too great a similarity in style among the entries – most of which came from students of David. Bachaumont, in the Mèmoires secrets, suggested that the conservative Pierre, whose own work retained a decidedly retardetaire, late rococo manner, resented the ascendancy of David and his school. The critic claimed that the august academicians were 'humiliated and irritated at seeing all the prizes won by David's students'. In a letter to Jean-Baptiste Descamps on 3 September 1786, Charles-Nicolas Cochin noted this injustice with outrage. Referring to Girodet, he remarked that the School of David had 'risen, by I don't know what miracle, to such a height that students of the age of 19 are already men.' He went on to praise the entry by Guillon-Lethière, but opined that there was at least one other painting in the competition, 'by a young man named Giraudet [sic], which would have assuredly been the winning piece.' Girodet was deeply disheartened by the annulment, but was rewarded by David, who now felt sufficiently assured of his pupil's skills to confer upon him the prestigious task of making a reduced replica of The Oath of the Horatii (1786; Toledo Museum of Art; fig. 2), commissioned by the Comte de Vaudreuil. (The replica is signed by David and finished by him, certainly, but substantially executed by Girodet.) It is likely that Girodet is also responsible for the beautiful, unfinished replica of David's Death of Socrates in the Princeton Museum of Art, Princeton University.
Girodet's road to the Prix de Rome continued to be not without challenges, although eventually he would triumph. The following year he was again a finalist in the concours: the chosen subject in 1787 the bloody Old Testament tale of Nebuchadnezzar having the children of Zedekiah killed before their father's eyes. Girodet was almost immediately embroiled in a scandal when it was discovered that he had received advice from David and smuggled drawings made elsewhere into his cell. Students complained, David's reputation was compromised, and Girodet withdrew from the competition, accusing Fabre, another entrant, of betraying him. Humiliated, Girodet challenged Fabre to a duel – his ailing mother made him withdraw the threat – and Fabre went on to win the grand prize. Girodet took back his painting (now in the Musée Tessé, Le Mans; fig. 3), finishing it in David's studio, likely guided by the master's advice. In 1788, he competed for a third time with the violent Roman history subject, The Death of Tatius (Musée des Beaux-Arts, Angers; fig. 4), receiving second prize to Etienne Barthélemy Garnier's first. Finally, in 1789, he took the Grand Prix with the Biblical subject, Joseph Recognized by His Brothers (Ecole des Beaux-Arts, Paris; fig. 5), a masterly exercise in fluidly choreographed design and uninhibited emotional expression.
Although the origins of Coriolanus Taking Leave of His Family are incontestably established, its subsequent history has yet to be documented, with nothing known of its whereabouts until the canvas reappeared in a private collection in France last year. No drawings or sketches for it have yet been identified, but an old label (fig. 6) affixed to the reverse of the original stretcher, written in an 18th-century hand, clearly identifies its author and subject: 'Les adieux de Coriolan à sa famille. Peint par Girodet en 1786. – Concours pour le grand prix qui ne fut donné à aucun des concurrents.' ('The farewell of Coriolanus to his family. Painted by Girodet in 1786. Competition for the grand prix which was not given to any of the competitors.').
Our thanks to Sylvain Bellenger for endorsing the attribution on the basis of photographs.

Lot 704. Neri di Bicci (Florence 1418-1492), The Miracle of Saint Bernardino of Siena; and The Baptism of Christ, tempera and gold on panel, in an engaged frame, 13 ¾ x 55 7/8 in. (34.9 x 142 cm.) (2). Estimate USD 300,000 - USD 400,000. © Christie's Images Ltd 2019.
Provenance: Eugen Miller von Aichholz (1835-1919), Vienna, his sale; 18-22 May 1900, Galerie Georges Petit, Paris, lot 368, as Fra Angelico, sold together with a reliquary of the same attribution.
Henri Heugel (1844-1916), Paris, by 1909; by descent to his wife; by descent to their son, Jacques Heugel (1890-1979), Paris, until 1964.
Literature: B. Berenson, Italian Pictures of the Renaissance, Oxford, 1932, p. 388.
B. Berenson, Italian Pictures of the Renaissance: Central and North Italian Schools, London, 1968, p. 156.
A. Brejon de Laverngée, 'La Collection de tableaux d'Henri Huegel (1844-1916),' Bulletin de la Société de l'Histoire de l'Art Francais, 1994, p. 156.
A. Brejon de Laverngée, 'Les tableaux italiens de la collection Huegel (1844-1916),' Hommage à Michel Laclotte: Études sur la peinture du Moyen Age et de la Renaissance, P. Rosenberg and C. Scailliérez eds., Paris and Milan, 1994, p. 469.
C. Frosinini in C.B. Strehlke and M.B. Israëls, The Bernard and Mary Berenson Collection of European Paintings at I Tatti, Milan, 2015, p. 487, under no. 76 as A. and B., fig. 76.1, illustrated together with the reliquary.
Exhibited: Paris, Galerie Charpentier, Paysages d'Italie, 1947, no. 3.
Note: These beautiful little panels by Neri di Bicci would originally have formed part of a predella to a larger altarpiece, accompanied by the Adoration of the Christ Child with the Annunciation to the Shepherds and the Stories of the Magi now in the Berenson collection at Villa I Tatti, Settignano, Florence (fig. 1). The Berenson scene is similarly painted within a lozenge shape, outlined with a double border of black and cream, with the same green and black faux marble effect embellishing the spandrels between. The three vignettes are also unified by the treatment of the sky, pale beneath with clouds hovering above the distant mountains and a strip of dark, midnight blue above. Each of the scenes is played out within a similar desert landscape, peppered with tiny shrubs and pebbles and with craggy cliffs framing the compositions at either side. The Berenson panel is cropped on all edges, accounting for the difference in height, measuring only 10 ½ in. (26.5 cm.), but the composition is elongated, with the panel overall measuring 39 in. (99.9 cm.) in length, compared to the 55 7/8 in. (142 cm.) of the present two scenes combined.
While the present panels undoubtedly formed a predella with the Berenson panel, it is not known to which altarpiece they might have all belonged. The saints depicted might perhaps hold the key, as they might have been represented as larger saints in the principal panel. Saint John the Baptist is easily recognized, as is Saint Bernardino, yet the female figure is less easily identifiable. Having apparently fallen from a bridge into the waters below, she appears to be the recipient of a posthumous miracle by Saint Bernardino who emerges floating on a cloud. The altarpiece would presumably have depicted both Saints Bernardino and John the Baptist since they appear in the predella, but there is no mention of an altarpiece with those subjects in Neri di Bicci's Ricordanze (C. Frosinini, op. cit., p. 486).
In 1900, the panels were included in the sale of Eugen Miller von Aichholz (1835-1919), with an attribution to Fra Angelico (loc. cit.). Curiously, at that time they were affixed to a double-sided reliquary, flanking it at either side. The reliquary in question is today in the Museum of Fine Art, Boston, having entered the collection in 1960, and is attributed to the Master of Osservanza (inv. no. 65.536). The three panels acquired together by Henri Heugel in their state as a peculiar triptych and passed down in turn to his wife and his son, Jacques Heugel (loc. cit.). At some point, however, the reliquary was disengaged and was sold separately by Otto Wertheimer to M. Knoedler and Co. in January of 1952, while, according to Zeri, the Neri di Bicci panels instead remained in the Heugel collection until at least 1964 (Fondazione Federico Zeri archive, no. 12176, note on the reverse of a photograph of the Berenson panel). Though Berenson knew of the present panels, publishing them in 1932, he did not connect them to the Adoration, which had been in his own collection since 1924, suggesting he had not seen photographs of them (loc. cit.).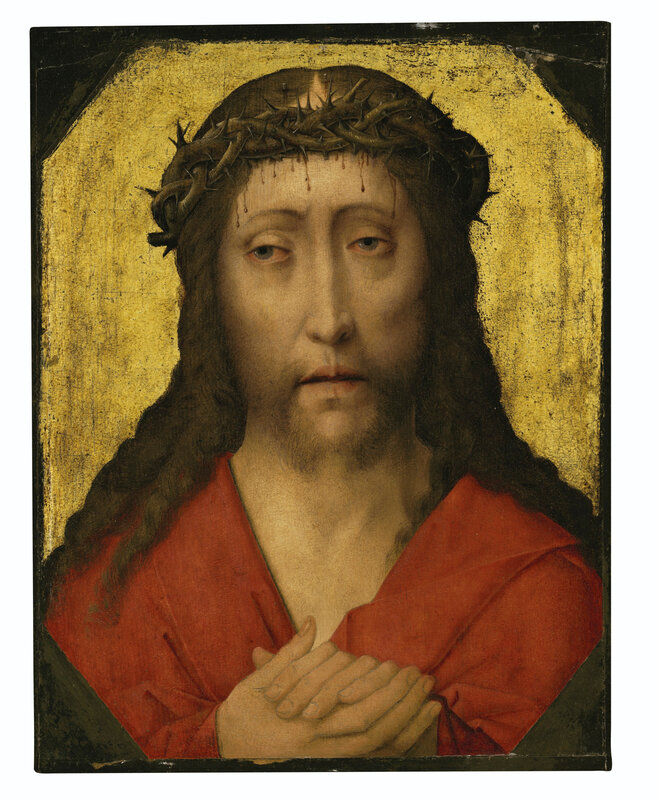 Lot 731. Workshop of Dieric Bouts (Haarlem c. 1415-1475 Leuven), Christ crowned with thorns, oil on gold ground panel, octagonal, 14 3/8 x 10 ½ in. (36.5 x 26.7 cm). Estimate USD 120,000 - USD 180,000. © Christie's Images Ltd 2019.
Provenance: with Larry Steigrad, New York, from whom acquired by the present owner.
Note: This poignant depiction of Christ crowned with thorns is one of the finest and earliest versions of what was certainly one of Dieric Bouts' most successful compositions. Bouts' moving, frontal depiction of the Savior is a spiritually provocative image that was intended for personal contemplation. In the 14th and 15th centuries, the Netherlands experienced a rise in devotional piety associated with the mystical movement known as the Devotio Moderna. Accordingly, images of Christ such as this became increasingly popular, designed to create an intensely empathetic bond between the devout and the divine. Writing on Christ's torment from the Crown of Thorns, the early-15th century theologian Thomas à Kemis instructs the reader to contemplate the 'most grievous suffering which, in the thorny coronation of Your sacred head, You endured for us…' (see L. Campbell, National Gallery Catalogues. The Fifteenth Century Netherlandish Paintings, London, 1998, p. 63).
Erwin Panofsky was the first to attribute the present composition to Dieric Bouts (E. Panofsky, 'Jean Hey's "Ecce Homo": Speculations about its Author, its Donor, and its Iconography', Musées Royaux des Beaux-arts Bulletin, Brussels, V, 1956, pp. 95-138). Over the course of their careers, Dieric and later his son, Albrecht, produced numerous versions, most of which originally would have been paired with a representation of the Mater dolorosa as in the best-known example in the National Gallery, London, which is generally dated to around 1457 and considered to be a refined workshop copy after a lost original by Dieric. To create his composition, Dieric drew upon the well-established imagery the Vera Icon or Holy Face, often small-scale depictions of Christ - head and shoulders - staring out with unflinching directness at the viewer, often against a dark background embellished with gilt foliate designs. Bouts combined this devotional iconography with a type commonly found in representations of Christ as Man of Sorrows, in which he appears with his hands crossed in prayer and with a tearful, tormented expression.
Valentine Henderiks, Peter van den Brink and Till-Holger Borchert, all of whom have seen the painting firsthand, consider this to be one of the finest surviving versions from Dieric Bouts' workshop. They note that the distinctive, sfumato-like treatment of the present work is most comparable to the two finest surviving examples of this composition, namely those in the National Gallery, London (fig. 1) and in a private collection, Luxembourg. Moreover, the high-quality of its execution, combined with its early dendrochronological dating - Peter Klein examined the Baltic oak panel in 2012, and based on dendrochronological evidence, established a plausible creation date for the painting from 1470 upward - suggest that it was created during Dieric's lifetime, likely under his supervision (private communication).
Henderiks draws attention, in particular, to the treatment of the flesh tones, which are rendered with thin layers of translucent glazes according to Bouts' practice, allowing the white preparation ground to shine through. Details such as the sensitive treatment of highlights on the crown of thorns and Christ's irises, enhanced with two touches of lead white, leap out against his reddened eyes. The painting's elegant underdrawing, visible in places where the paint surface is particularly thin, was executed in a liquid medium and defines the figure's contours according the Bouts's workshop practice, and it is likely that the artist used a pounced preparatory drawing to assist with blocking in the face.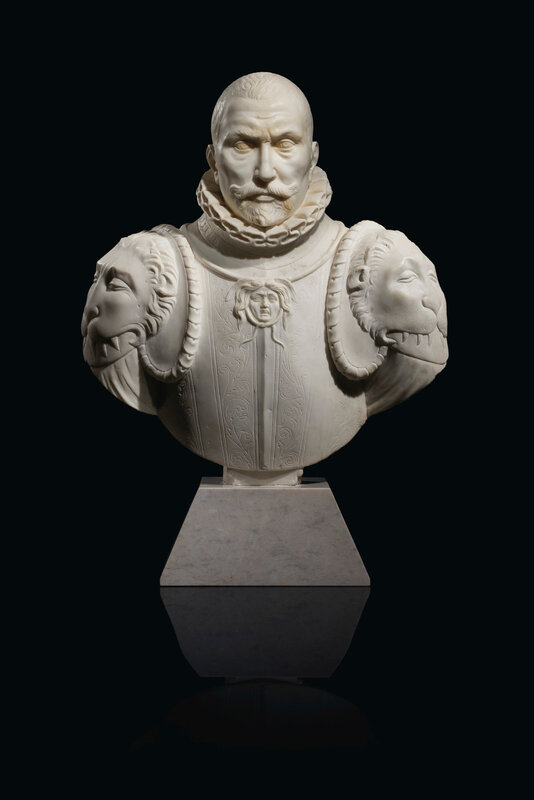 Lot 785. A white marble bust of a gentleman in armor, Spanish, late 16th century. On a modern white marble pedestal, 30 ¼ in. (76.8 cm.) high, 19 ½ in. (50 cm.) wide. Estimate USD 40,000 - USD 60,000. © Christie's Images Ltd 2019.
Note: This is a man who clearly has everything: an aristocrat, depicted in robust health, with all the signs of power, wealth and sophisticated taste. Or at least that is how he wanted to be commemorated and remembered. His stern expression and direct, almost challenging, gaze, combined with the large shoulders, accentuated by the lion-mask epaulettes, create an imposing impression. How could he still be anonymous?
The strength, confidence and sobriety of this gentleman all recall the severe atmosphere of the Spanish court under the rule of King Philip II. The aesthetics of this period were equally restrained as is demonstrated by his short, rather flat hair, small pointed beard and the relatively plain decoration of his armor, especially when compared with contemporary Italian metalwork with was typically more highly-worked and flamboyant. The artist was clearly heavily influenced by Leone Leoni (1509-1590) and his son, Pompeo Leoni (1533-1608), among the most celebrated and high-profile sculptors working in the second half of the 16th century, and for the Holy Roman Emperor Charles V and his son King Philip II, in particular.
The connection to the Leoni's is particularly pronounced when comparing the armor of the present bust to the armor of the full-length figure of Charles V and another bust of Charles V, both in Prado (Los Leoni (1509-1608): Escultores del Renacimento italiano al servicio de la corte de España, exh. cat., Madrid, 1994, no. 4 and figs. 7-9). Both the full-length figure and the bust have armor with pronounced lion-mask epaulettes, like the present bust, and, additionally, the full-length figure even has the protruding teeth that are so prominent in the present bust. The bust's epaulettes have smaller, but still distinctive, teeth as well. Another comparison is a marble bust of Charles V in the Prado, by Montorsoli and dated 1541, whose armor is incised in a manner similar to the present bust (E-288). Both Montorsoli's bust and the present bust have incisions that are thin, shallow and appear slightly uncertain, when compared to the most accomplished chiseling of the period. A final comparison is the bust of Philip II, again in the Prado's collection, this one in bronze and attributed to the sculptor Jacques de Jonghelinck, which depicts Philip II in armor also with pronounced lion-mask epaulettes, this time of an even more exaggerated size than the present bust, but slightly more naturalistic in manner than in the present bust (Ibid., no. 20). So it would appear that both the artist and his patron were well-aware of the busts being created for the Spanish court and both would have wanted any viewers to note the aesthetic connection as well.
Due to the political chaos of the Italian peninsula in the second half of the 16th century, and Spain's near-constant state of war in Italy and France, there were no shortages of Spanish military heroes. So there are no shortage of plausible candidates for this bust. But, while both this gentleman and the artist remain unknown, this is still a powerful and psychologically penetrating moment in late-Renaissance sculpture – just before the high-Baroque innovations of Bernini and Algardi changed sculptural portraiture forever.
Lot 726. A pair of plaster busts of Paris and Helen, the models by Antonio Canova (1757-1822) and cast by Vincenzo Malpieri, Paris inscribed ANT . CANOVA . F . A . 1812, 28 ¼ in. (72 cm.) high (Paris), 26 ¼ in. (67 cm.) high (Helen). Estimate USD 100,000 - USD 150,000. © Christie's Images Ltd 2019.
Provenance: Francesco Barisan, Castelfranco Veneto, Treviso, purchased from Canova, 1814 (probably).
Private Collection, Veneto.
In this beloved marble view
Above the works and thoughts of Man
What Nature could but would not, do,
And Beauty and Canova can!
Beyond Imagination's power
Beyond the Bard's defeated art,
With Immortality her dower,
Behold the Helen of the heart.
(Lord Byron, 1816, after seeing Canova's marble Helen.)
Note: Canova's cool, cerebral compositions, combined with his dazzling technical skills as a carver, made him the most celebrated sculptor of the 19th century. The effect of his sculptures, which were almost always pure white, immediately evokes ideal images of Ancient Greece and Rome. The late 18th and early 19th century was a time of extreme turbulence and political and social chaos. Ruling dynasty's and empires vanished and new ones appeared, as if overnight, and yet these calm and controlled gods and goddesses, warriors and heroines of the Ancient world, remain above the fray and must have been aesthetically calming to collectors and looking to the past for reassurance.
Canova was searching for ideal beauty – something we see again and again in his sculpture, especially his busts – and in Paris and Helen he achieved it. They remain as perfectly beautiful today as they were when they were created in 1812.
Canova's first version of Paris – a full-length plaster -- was created in 1808 and it was an instant success. Canova, who was then at the height of his fame, decided to do an abbreviated bust of Paris, of which there were probably five versions. The first marble (location unknown) was also probably created in 1808 and was in the collection of the French Ambassador to Rome, Charles-Jean-Marie Alquier (1752-1826). A second, from 1809-10, was done for Quatremère de Quincy (Art Institute of Chicago). The third was commissioned for the Crown Prince of Bavaria in 1812 (Neue Pinakothek). And the fourth, formerly in the collection of Count Pac is now in the Hermitage, St. Petersburg. There must have been a fifth version owned by the Marquise de Grollier, a painter living in Venice, as Canova describes it in a letter of 1816 that he was sending her a version 'because it…craves accompanying the Paris' (H. Honor and P. Mariuz, eds., The Letters by Antonio Canova (1816-1817), vol. 1, Rome, 2002, pp. 359-60).
Canova's Helen was even more popular as there are at least eight plaster and marble versions. The original idea to pair Paris with Helen seems to be confirmed by Canova's sketch of circa 1806 preserved at Possagno (A. Mariuz and G. Pavanello, Antonio Canova: The Notebook Drawings of Possagno, Cittadella, 1999, p. 49). And the earliest known marble version of Helen dates from 1811, executed for Canova's friend and patron Isabella Albrizzi (1763-1836), is signed ANT. CANOVA F. 1811 and remains in the Palazzo Albrizzi, Venice. The next marble Helen was only documented in 1816-17, and was the version destined for the Marquise de Grollier which was intended to be paired with her Paris.
The present casts display no pointing marks which indicate they were not used for reproducing other versions and were taken after finished marbles. The bust of Paris, as the inscription clearly states, was almost certainly cast from the marble version of 1812 which was commissioned by the Crown Prince Ludwig of Bavaria, which has the same inscription. The bust of Helen was almost certainly after the Albrizzi version given by Canova to Albrizzi in 1812. It is unlikely to have been after any other version, as the next marble version of Helen appears only in 1816-17 and close comparison of these two versions further bolsters this connection. And, lastly, both marbles were in Canova's studio in 1812. They were most likely cast by Vincenzo Malpieri, Canova's trusted assistant, as studio records link him to plaster casting. In 1813, Malpieri was paid for a series of plasters, including a Paris and Helen, which were acquired by Francesco Barisan. of Castelfranco Veneto. By the end of the 19th century Barisan's collection was recorded in Venice, but by then it no longer included Paris and Helen. While the provenance of the present Paris and Helen is not documented, it has been suggested that, because of the present lot's Veneto provenance, they might be the missing pair from Barisan's collection.
The Exceptional Sale | October 29 at 11am
Christie's New York Exceptional Sale is a tightly curated selection of 25 masterworks led this year by Cobham Hall Hadrian, a 7 foot tall Roman marble Statue of the Emperor Hadrian, sold to benefit the Mougins Museum of Classical Art. Top European decorative arts include a Royal Victorian silver centerpiece and a refined neo-classical ebony bureau plat 'à la grecque' by Etienne Levasseur of circa 1770. Pieces of esteemed provenance include a remarkable pair of trompe l'oeil-decorated commodes supplied by the celebrated decorating firm Maison Jansen to the Duke and Duchess of Windsor for their South of France retreat the Château de la Cröe; a pair of 17th-century bronze andirons from the Rothschilds' famed Château de Ferrières; a rare Russian carpet with the crowned monogram of Empress Maria Feodorovna almost certainly supplied for her use at Pavlovsk Palace and probably ordered by Count Grigorii Grigorievich Kushelev, whose wife was lady-in-waiting to the Empress; and an extraordinary and exotic royal Spanish commode supplied to King Carlos III for the 'Gabinetes de Maderas Finas de Indias' in the Royal Palace, Madrid. The sale also features Miles Davis's 'Moon and Stars' trumpet and the Hasselblad camera used by famed Hollywood photojournalist Douglas Kirkland to shoot his iconic photos of Marilyn Monroe.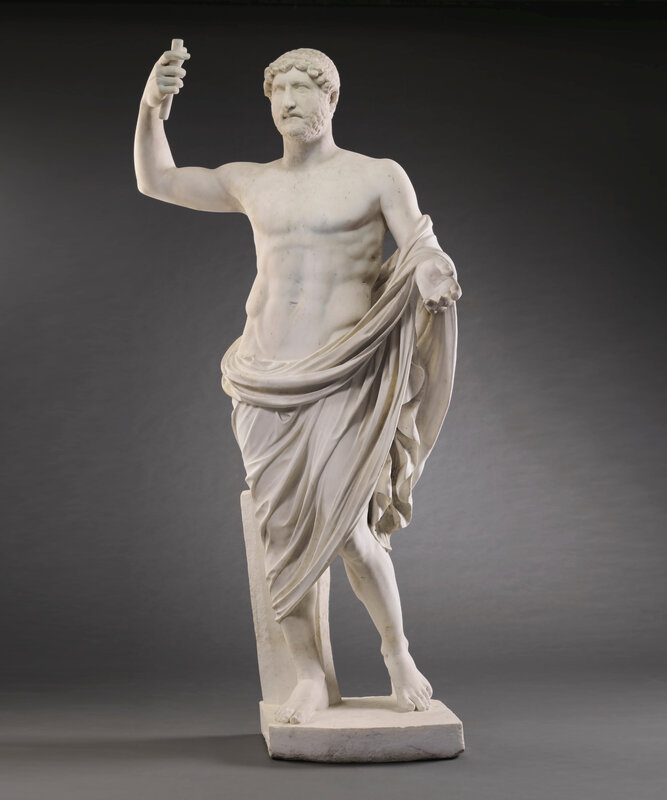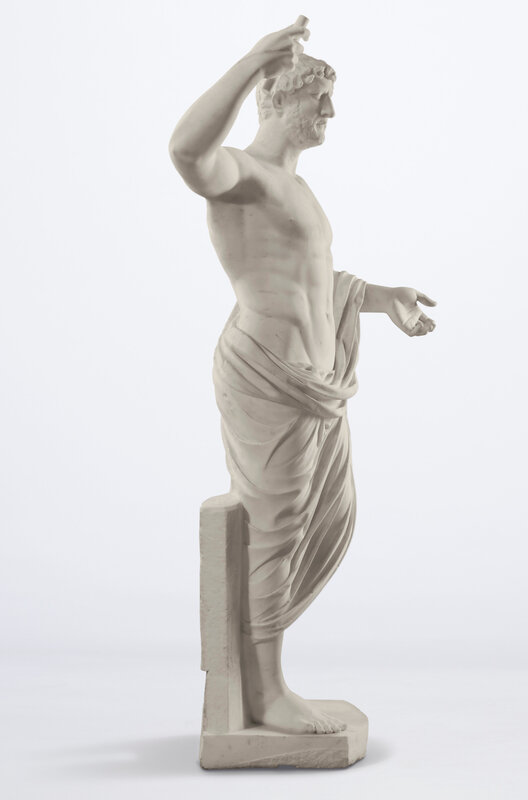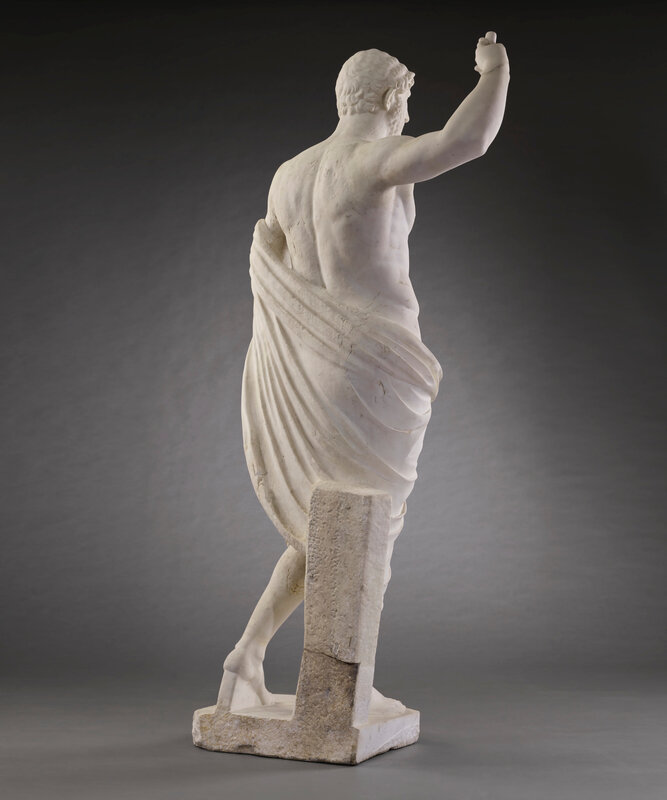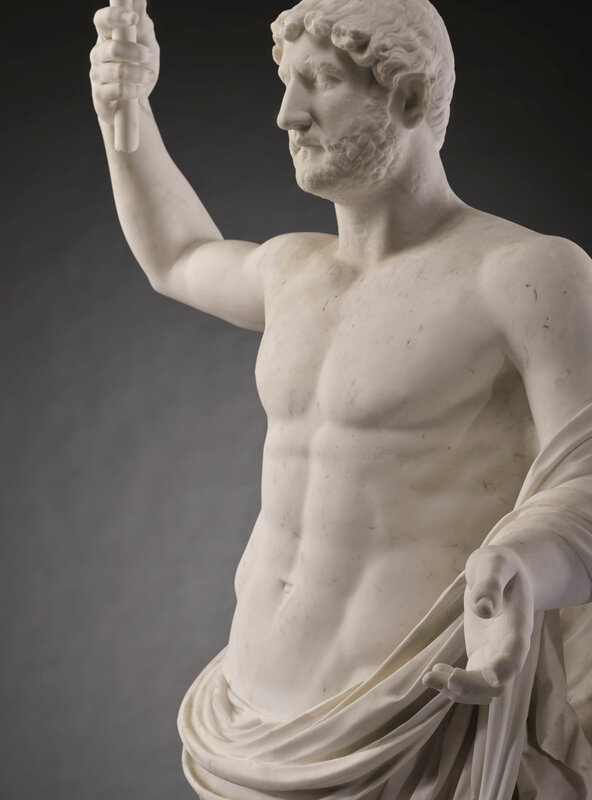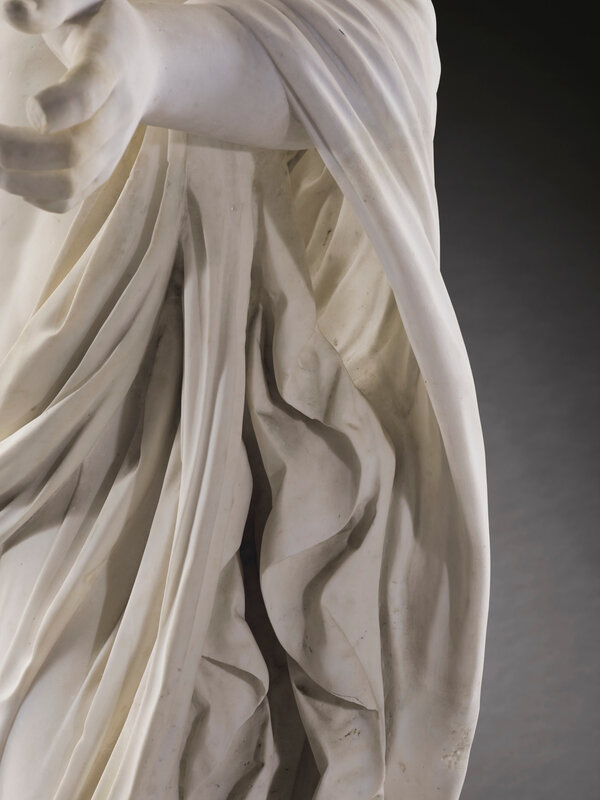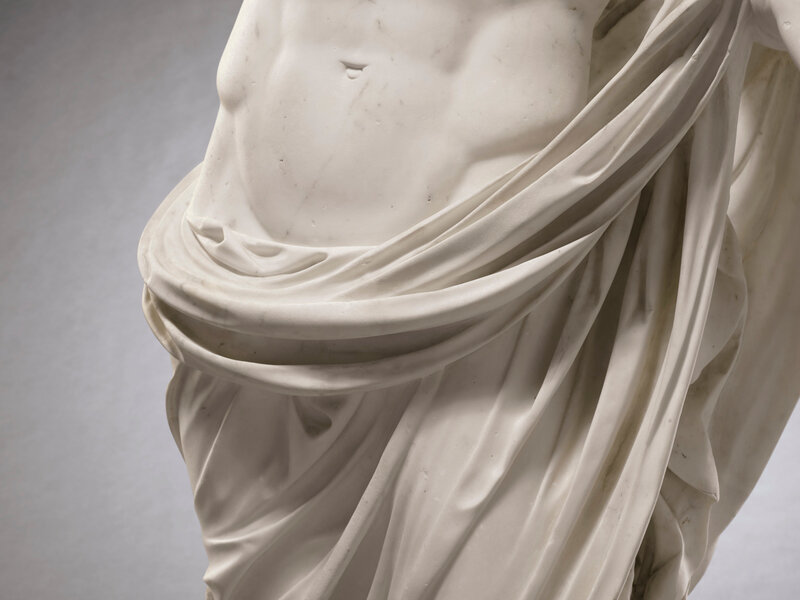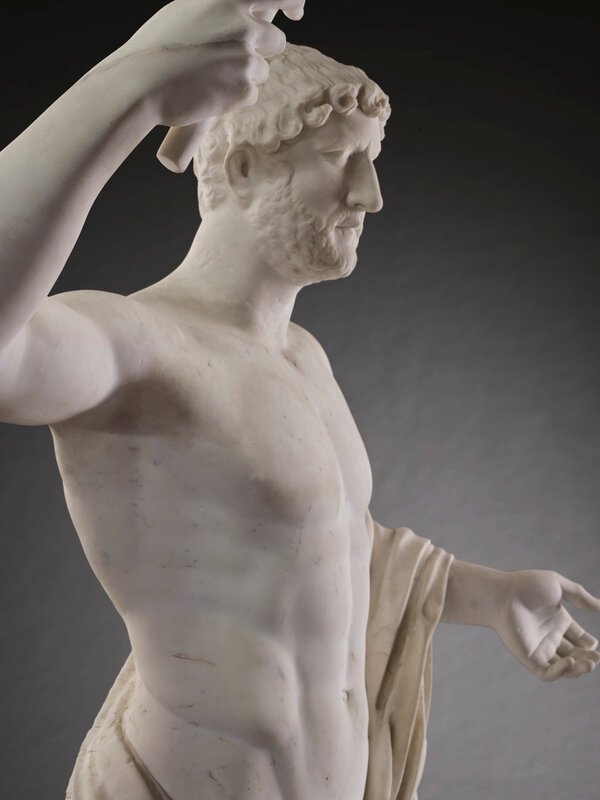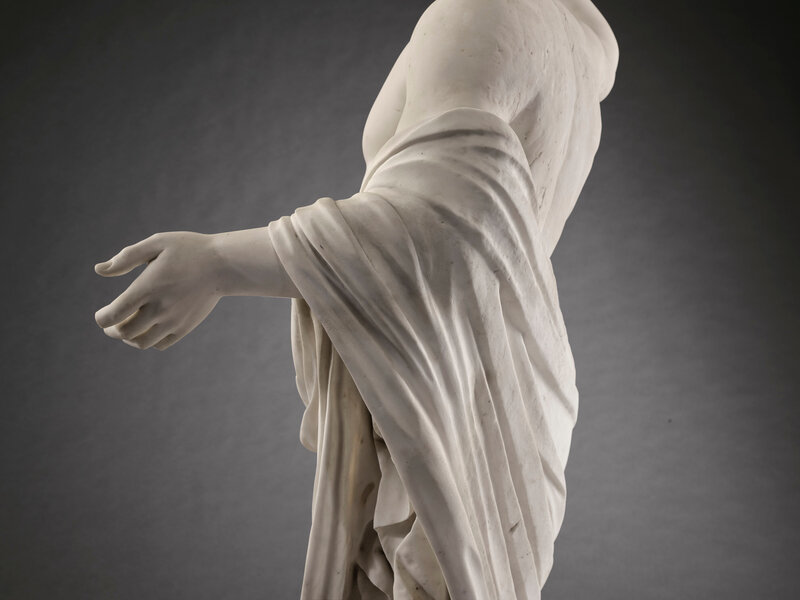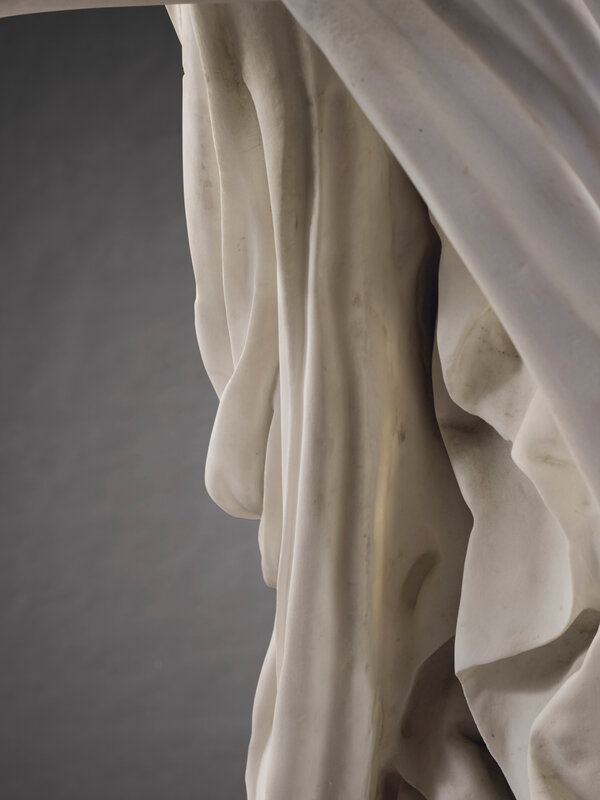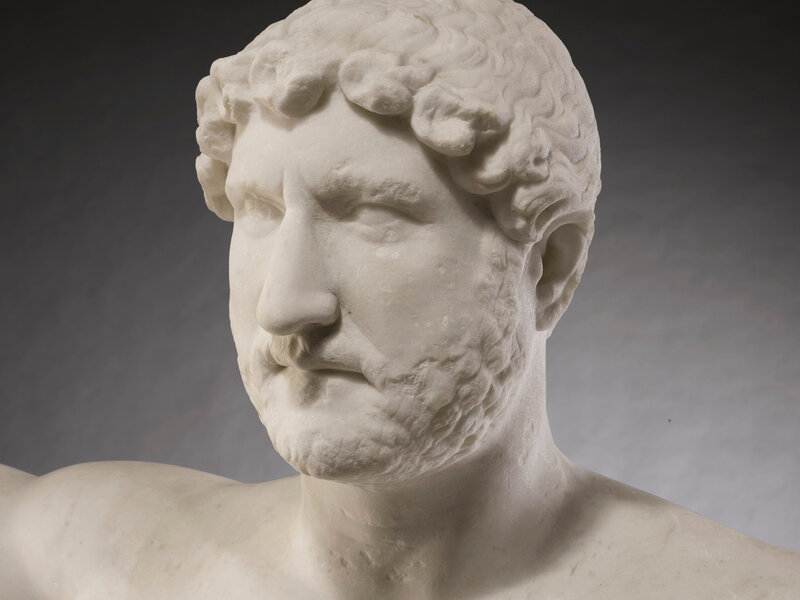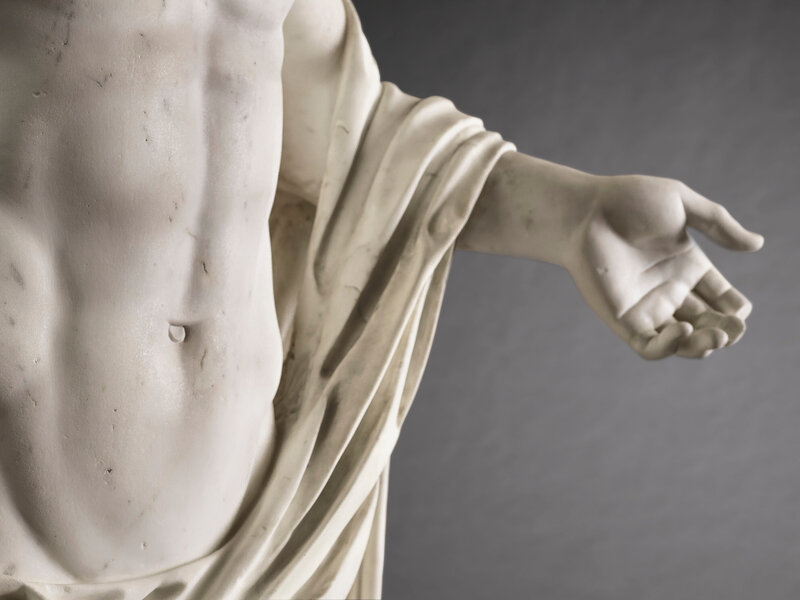 Lot 1023. A Roman marble Statue of the Emperor Hadrian, Reign 117-138 A.D.; 82 in. (208.2 cm.) high; sold to benefit the Mougins Museum of Classical Art. Estimate on request. © Christie's Images Ltd 2019.
Provenance: Villa Montalto-Negroni-Massimi, Rome.
with Giuseppe Staderini, Rome, 1784.
with Thomas Jenkins, Rome, 1789.
John Bligh, 4th Earl of Darnley (1767-1833), Cobham Hall, Kent, acquired from the above, 1790; thence by descent to his son, Edward Bligh, 5th Earl of Darnley (1795-1835), Cobham Hall, Kent; thence by descent to his son, John Bligh, 6th Earl of Darnley (1827-1896), Cobham Hall, Kent; thence by descent to his son, Edward Bligh, 7th Earl of Darnley (1851-1900), Cobham Hall, Kent; thence by descent to his brother, Ivo Francis Walter Bligh, 8th Earl of Darnley (1859-1927), Cobham Hall, Kent; thence by descent to the Trustees of the 8th Earl of Darnley.
Catalogue of the Valuable Contents: Pictures, Statuary, Furniture & Household Furnishings, Etc. of Cobham Hall Near Rochester, Kent, Which Will be Sold by Auction on the Premises by Order of the Trustees of the 8th Earl of Darnley; Sotheby's, London, 22-23 July 1957, lot 383.
with J. Wilson Raker, New Orleans.
Iberia Bank, New Iberia, Louisiana, acquired from the above, 1961.
Antiquities, Christie's, New York, 9 December 2008, lot 164.
Literature: Undated guidebook to Cobham Hall and the Earls of Darnley, dated circa 1940s-1950s.
C.C. Vermeule, "Notes on a New Edition of Michaelis: Ancient Marbles in Great Britain," AJA 59, no. 2, 1955, p. 133, pl. 42, fig. 9.
M. Wegner, Hadrian, Plotina, Marciana, Matidia, Sabina, Berlin, 1956, pp. 13, 95.
C.C. Vermeule, Greek and Roman Sculpture in America, Malibu, 1981, p. 310, no. 266.
M. Wegner, "Verzeichnis der Bildnisse von Hadrian und Sabina," Boreas 7, 1984, p. 126.
K. Fittschen and P. Zanker, Katalog der römischen Porträts in den Capitolinischen Museen und den anderen kommunalen Sammlungen der Stadt Rom, Band 1, Mainz am Rhein, 1985, pp. 49-51, kat. 49, no. 7.
"Ripley's Believe it or Not," San Antonio Express-News, 27 July 2001, p. 79.
M. Tutwiler, "Hadrian's waltz out of New Iberia," The Independent Weekly, 6 May 2008.
H. Leleux-Thubron, "Hadrian on the way out," The Daily Iberian, 4 May 2008, pp. A1, A10.
H. Leleux-Thubron, "Hadrian could fetch $1 million," The Daily Iberian, 11 May 2008, pp. A1, A10.
J. Zeringue, "Editorial: Statue special to city," The Daily Iberian, 6 July 2008.
Minerva 19, no. 6, November/December 2008, n.p. (advertisement).
"The Autumn 2008 Antiquities Sales," Minerva 20, no. 2, March/April 2009, pp. 39-41, fig. 11.
I. Bignamini and C. Hornsby, Digging and Dealing in Eighteenth-Century Rome, vol. 2, New Haven, 2010, pp. 171-172.
M. Merrony, ed., Mougins Museum of Classical Art, Mougins, 2011, pp. 91, 94, fig. 33.
"Birth of a Museum," Minerva 22, no. 2, March/April 2011, p. 38, fig. 4.
"Pieces of the Classical Past," Minerva 22, no. 3, May/June 2011, p. 51, fig. 2.
"Mougins, un Musee d'Art Classique Pas Comme les Autres," Egypte Ancienne, no. 8, July 2011, p. 67.
M. Merrony, ed., Muse´e d'Art Classique de Mougins: La Collection Famille Levett, Mougins, 2012, p. 57.
Ancient Warfare 6, no. 5, 2013, p. 8 (advertisement).
La Marche de l'Histoire, no. 4, February 2013, p. 18.
S.S. Jervis and D. Dodd, Roman Splendour, English Arcadia: The Pope's Cabinet at Stourhead, London, 2015, p. viii.
C. Wrathall, "Collectors & Collections," Christie's Magazine, January/February 2016, pp. 53, 56.
M.C. Bishop, "Along the wall with Hadrian's cavalry," Minerva 28, no. 3, May/June 2017, pp. 8-9, fig. 1.
C. Vout, Classical Art: A Life History from Antiquity to the Present, Princeton, 2018, pp. 236-237, fig. 9.10.
Arachne Online Database no. 37276.
Exhibited: Kent, Cobham Hall, open to public visits circa 1890s-1950s.
New Iberia, Louisiana, Iberia Bank, 1961-2008.
Mougins Museum of Classical Art, 2011-2019 (no. MMoCA.214).
Note: The splendid over life-sized statue presented here depicts the Emperor standing in a chiastic pose with his weight on the right leg, the left bent at the knee and drawn back, the left arm lowered, and the right arm raised. He wears a voluminous mantle around the lower part of his body and over the left arm, exposing his well-modelled muscular torso. The head turns slightly to his right and his characteristic wavy hair is combed forward and ending in corkscrew curls along his forehead. He has a closely-cropped beard and mustache, and his forehead has vertical creases at the bridge of the nose. He has unarticulated eyes beneath gently-arching brows. The preserved left ear has a diagonal crease across the earlobe, as seen on numerous likenesses of this Emperor, likely indicating that Hadrian suffered from coronary artery disease. The chiastic stance and the body modeling recall the work of the 5th century B.C. Greek sculptor Polykleitos. The partial nudity was intended to give the statue a heroizing aura. The type was employed by the Romans for images of various gods and to honor members of the Imperial family, beginning in the Julio-Claudian period. For related examples from the Julio-Claudian period see the draped figure formerly restored with the head of a bearded god, no. 21 in E. Angelicoussis, The Holkham Collection of Classical Sculptures, and two statues in New York, nos. 416 and 417 in C. Picon, et al., Art of the Classical World in the Metropolitan Museum of Art.
The statue was previously in the collection housed in the Villa Peretti Montalto, the largest Renaissance villa ever to have stood within Rome's walls. The villa was first owned by Pope Sixtus V (1521-1590) and then inherited by his nephew Alessandro Peretti, later known as Cardinal Montalto. When the main branch of the Montalto Peretti family expired, the villa passed to Paolo Peretti Savelli (1622-1685). In 1696 it was sold to Cardinal Giovanni Franceso Negroni. It remained with the Negroni family until it was acquired by Giuseppe Staderini in 1785. Staderini began selling some of the ancient sculptures to Popes Pius VI Braschi and Pius VII Chiaramonti to enrich the Vatican collections. The rest of the collection was acquired by the famous English art dealer and collector Thomas Jenkins in 1789. Staderini later sold the villa to Camilo Massimo. Each subsequent owner of the villa changed its name, hence the modern complex appellation, Villa Peretti Monalto-Negroni-Massimo. The villa was finally destroyed in the 19th century for the construction of Stazione Termini.
It is not recorded when or where the statue of Hadrian was discovered, nor is it known which owner of the villa acquired it. The earliest that the statue can be documented as being in the villa is from the correspondence preserved in the British Museum between Jenkins and the collector Charles Townley from 20 January 1787 where Jenkins presented of list of "Antiquities from the Villa Negroni" which included "A statue of Adrian." Townley would acquire a number of the villa's sculptures, which are now in the collection of the British Museum, but not the Hadrian. That prize went to John Bligh, 4th Earl of Darnley, for his home Cobham Hall in Kent, England. Further correspondence from Jenkins to Townley from 29 May 1790 records that "Lord Darnley will beg your advice for facilitating the getting his marbles thro' the Custom House as his Lordship means to send them by water to Gravesend, suppose they may be examined by taking off one cover of the cases only. The safety of things depend much on a proper person attending to them, your people have such experience they must understand it…" (For both letters, see Bignamini and Hornsby, op. cit., pp. 171-172). According to Lord Darnley's bank book, Jenkins was paid on 26 July 1790. The statue would be placed on a high pedestal to the right of the staircase in the Great Hall at Cobham Hall, facing a bust of Hadrian on a column, also from the villa.
The majority of the collections of ancient art in Great Britain were well-documented by modern art historians, most notably by the German scholar Adolf Michaelis, who travelled extensively throughout the country, and published Ancient Marbles in Great Britain in 1882. Somehow Cobham Hall escaped his notice. It was not until 1955 that the statue of Hadrian became known to scholars, thanks to an article by Cornelius Vermeule, Curator of Classical Art at the Museum of Fine Arts, Boston, entitled "Notes on a New Edition of Michaelis: Ancient Marbles in Great Britain." Just two years later the collection was dispersed at auction, where it was acquired by the New Orleans dealer J. Wilson Raker, who subsequently sold the statue to Iberia Bank of New Iberia, Louisiana. Hadrian's Iberian ancestry was no doubt the inspiration for the bank's acquisition of the statue. It was displayed on a pedestal outside the St. Peter branch of the bank in New Iberia until 1980, when it was covered by a domed glass enclosure. When the bank moved its headquarters, the statue was sold at auction at Christie's New York in 2008.
The future Emperor Hadrian, Publius Aelius Hadrianus, was born in Rome on the 24th of January in 76 A.D. His father Aelius Hadrianus Afer was a Roman Senator and a native of the Roman settlement of Italica in Spain, while his mother, Domitia Paulina, was from Gades (modern Cadiz). At the age of nine, Hadrian lost his father and guardians were appointed. One was another native of Italica, the general Marcus Ulpius Traianus, who was soon to become the Emperor Trajan. At the age of eighteen the young Hadrian began his distinguished career of public, and later, military service. In 117, on his deathbed, Trajan officially adopted Hadrian as his son and heir.
Much of the modern view of Hadrian's reign (117-138) has been corrupted by the immensely popular and well-researched historical novel, Memoirs of Hadrian, by Marguerite Yourcenar (1951). The recent volume by Thorsten Opper, Hadrian, Empire and Conflict, (2008) which accompanied the exhibition at the British Museum, has rectified many of the distortions. Contrary to Yourcenar, Hadrian was not a philhellenic pacifist, but rather a political pragmatist. At the moment of his succession, the Empire was in turmoil. Trajan's last Parthian campaign ended poorly, so Hadrian had no choice but to reverse course on Rome's expansion, renouncing recently acquired territories to solidify the Empire's borders.
He traveled extensively to achieve this goal. His legions built impressive walls across the entire length of Northern Britain (today known as Hadrian's wall), another in Algeria, and he vanquished the Jewish revolt led by Simon Bar Kokhba. For political and dynastic considerations, Hadrian initiated an unparalleled building program throughout the Empire. In Rome, he commissioned the celebrated Pantheon in the Campus Martius, the Temple of Venus and Rome in the Forum, another temple to the deified Trajan, and his own Mausoleum (now Castel Sant'Angelo). In Greece, he created a Panhellenic League and completed the Temple of Zeus in Athens to secure the loyalty of the local aristocracy. In 130, his companion Antinous drowned in the Nile, which inspired the grieving Emperor to encourage the locals to venerate the deceased as Osiris. Hadrian founded the city of Antinoopolis in his memory and the Antinous cult spread throughout the Empire. A large Antineion flanked the entrance of Hadrian's enormous villa at Tivoli, and was likely the source for many of the Egyptian and Egyptianizing statues recovered there.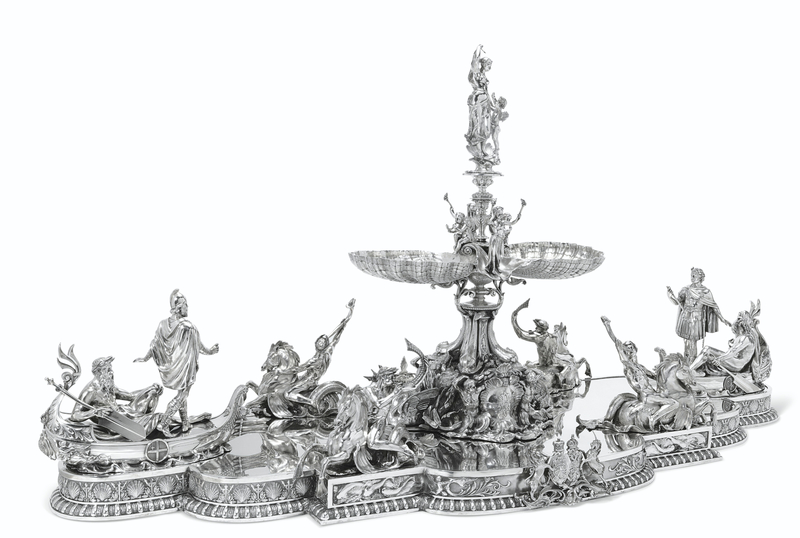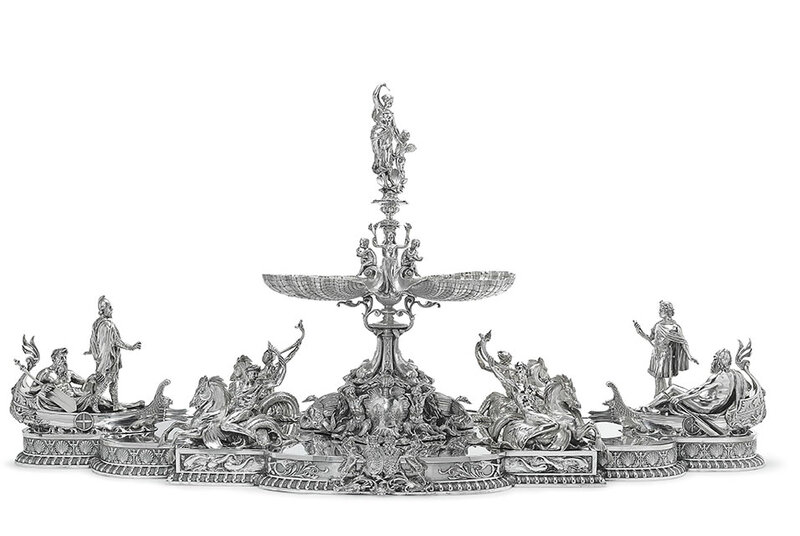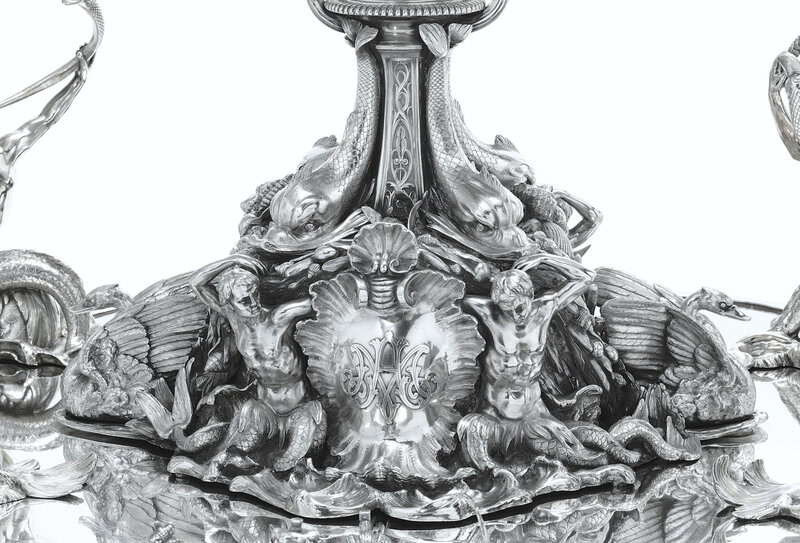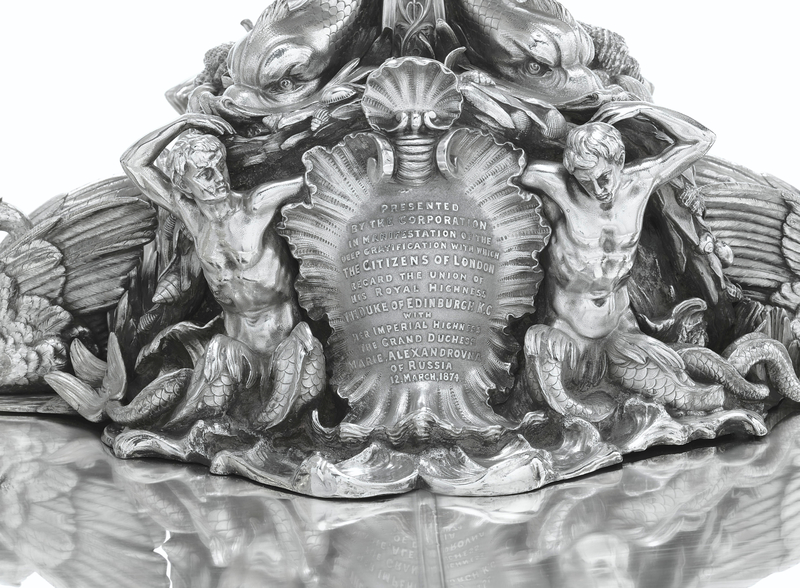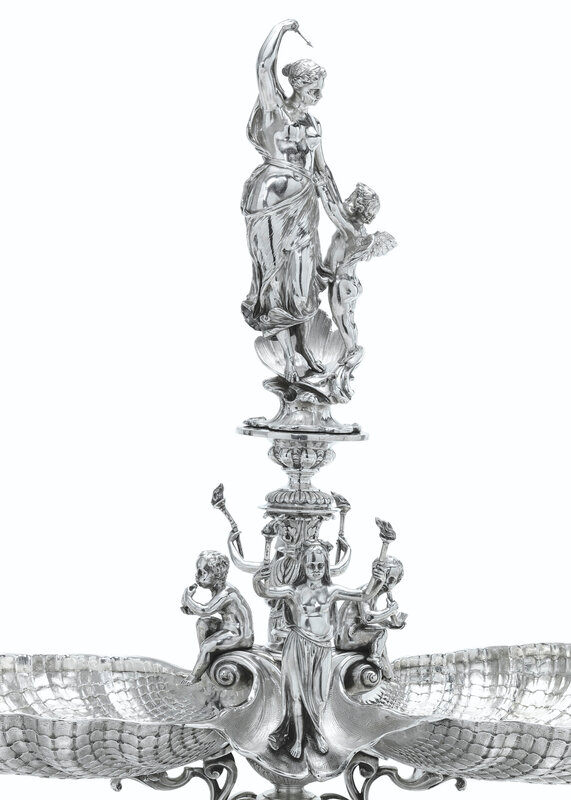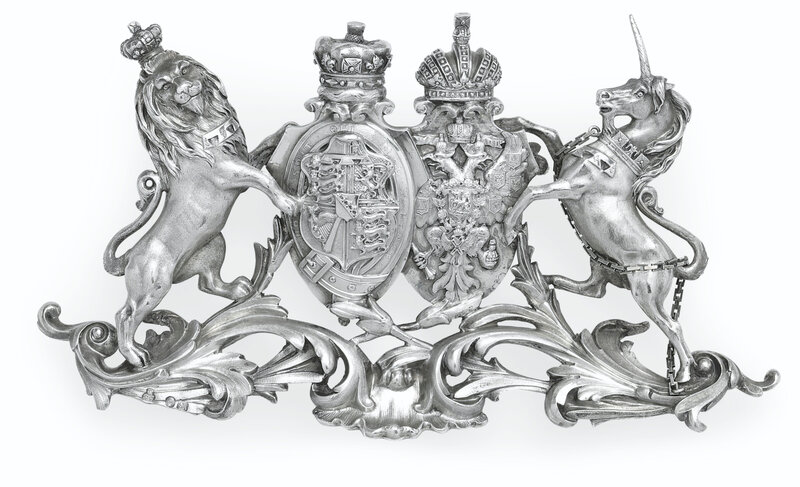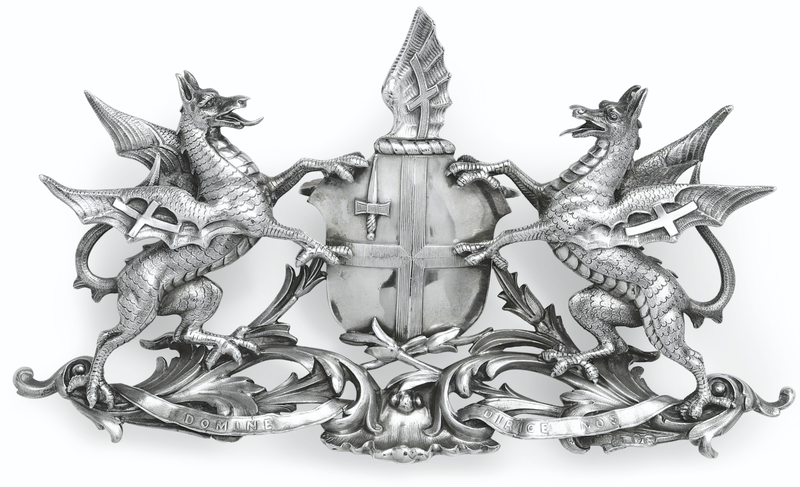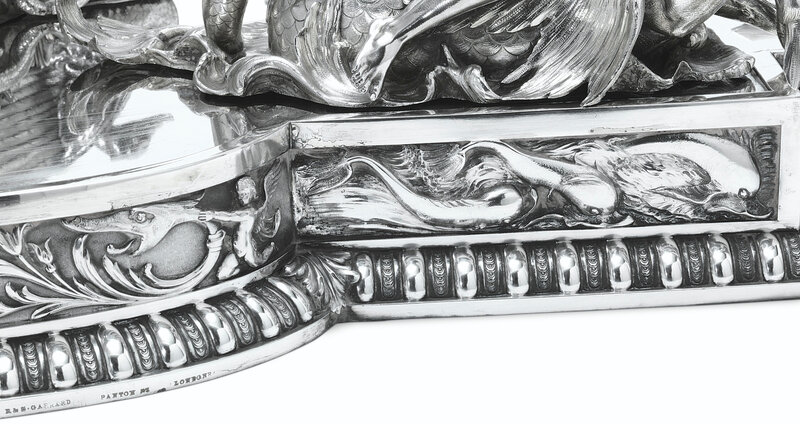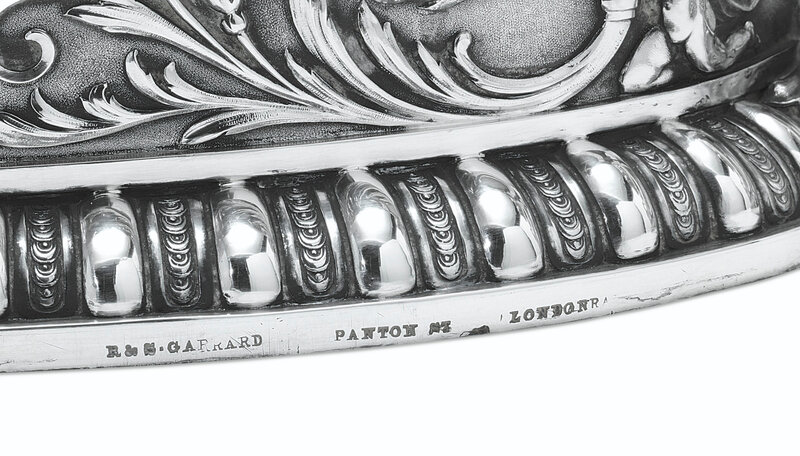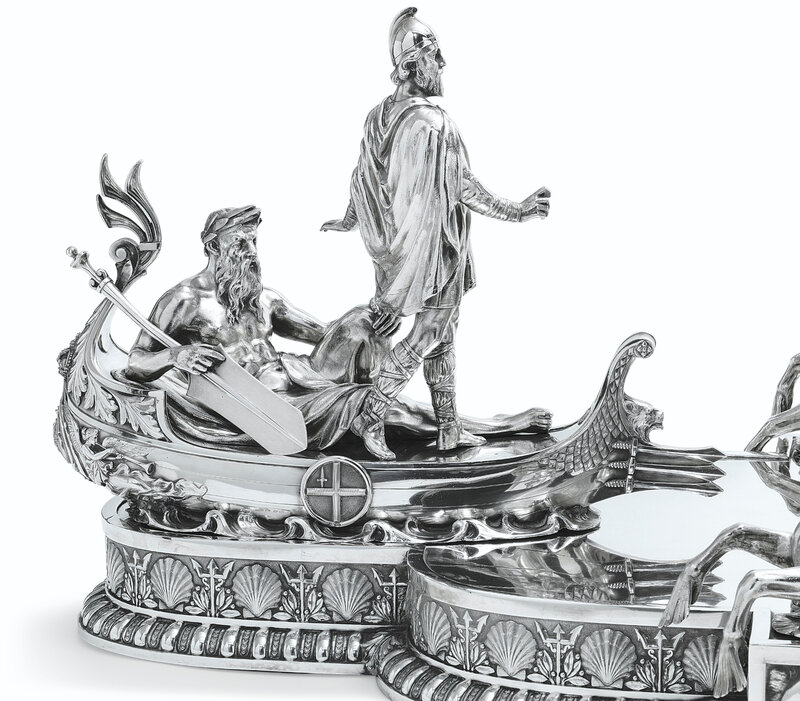 Lot 1020. A Royal Victorian silver centerpiece on plateau mark of Robert Garrard, London, 1874, designed by Henry Hugh Armstead, 70 7/8 in. long, 1,191 oz. weighable silver. Estimate: $350,000 – 550,000. © Christie's Images Ltd 2019.
The oblong shaped plateau with sides cast and chased with a band of alternating tridents and scallop shells and in the front with panels of sea monsters, all above a fluted border, the silver center fitted at each end with a barge guided by a river god, one emblematic of the River Thames, the other of the River Neva, accompanied by the corresponding figures of King Alfred, with replaced staff, and Emperor Peter the Great, the first applied with the Royal Arms of the United Kingdom, the other with the Royal Arms of Russia, the corners of the center applied with four hippocamps, each mounted by mer-man sounding a horn, the center with a cast centerpiece formed of swans emerging from bulrushes and mermen each holding a rococo cartouche applied with the initials AM on one side and an inscription on the other, above with four naiant dolphins and two conjoined shell-shaped bowls with the figure of the goddess Venus and Cupid with female demi-figures holding flaming torches emblematic of love, the long sides of the plateau each applied with a coat-of-arms with royal crown above, the plateau with wooden base, fully marked, stamped on side of the base R. & S. GARRARD PANTON ST LONDON.
The inscription reads 'PRESENTED BY THE CORPORATION IN MANIFESTATION OF THE DEEP GRATIFICATION WITH WHICH THE CITIZENS OF LONDON REGARD THE UNION OF HIS ROYAL HIGHNESS THE DUKE OF EDINBURGH K.G. WITH THE IMPERIAL HIGHNESS THE GRAND DUCHESS MARIE ALEXANDROVNA OF RUSSIA 12 MARCH 1874'.
The arms are the Royal arms of the United Kingdom with a label of different and the Royal arms of Russia, for Prince Alfred, Duke of Edinburgh K.G. (1844-1900), later Duke of Saxe-Coburg Gotha, second son of Queen Victoria, and his wife Grand Duchess Marie Alexandrovna (1853–1920), daughter of Alexander II, Tsar of Russia.
Provenance: Presented to Prince Alfred, Duke of Edinburgh K.G. (1844-1900), later Duke of Saxe-Coburg Gotha, second son of Queen Victoria, and his wife Grand Duchess Marie Alexandrovna, Duchess of Edinburgh (1853–1920), daughter of Alexander II, Tsar of Russia, by the Corporation of the City of London, in commemoration of their marriage, at a banquet held at the Mansion House in the City of London on 11 May 1875, then by descent to their daughter,
Princess Marie of Edinburgh (1875-1938), wife of Prince Ferdinand of Romania, later King Ferdinand I (1865-1927), later Queen of Romania, then by descent to their third daughter,
Princess Ileana of Romania (1909-1991), wife of Archduke Anton of Austria (1901-1987),
Princess Ileana of Romania; Parke-Bernet Galleries, New York, 29 January 1955, lot 34, $2,700.
Therese K. Lownes Noble (1877-1970) of Providence, Rhode Island, widow of Edgar John Lownes (1871-1924) and Dr Eugene Allan Noble (1865-1948),
The Estate of the Late Mrs Eugene A. Noble; Sotheby Parke Bernet, New York, 13 December 1973, lot 70 ($36,000).
Literature: The Illustrated London News

, 'Duke and Duchess of Edinburgh', 22 May 1875, p. 493, illustrated.


The Times,

'The Corporation and the Duke of Edinburgh', 9 March 1875, p. 5.


The Times

, 'The Duke of Edinburgh in the City', 12 May 1875, p. 12.


The Connoisseur

, 'Sotheby Park Bernet, Russian Works of Art auction advertisement', vol. 184, December 1973, p. 129.
Note: THE DUKE OF EDINBURGH
Prince Alfred Ernest Albert, Duke of Edinburgh, Earl of Ulster and Kent, and Duke of Saxe-Coburg and Gotha (1844–1900) was the second son and third child of Queen Victoria and Prince Albert. He was born at Windsor Castle on 6th August 1844 and was awarded the duchy of Edinburgh on the occasion of his mother's birthday on 24th May 1866. In 1893 he succeeded his uncle Ernest as Duke of Saxe-Coburg and Gotha after his brother, the Prince of Wales, renounced his claim. In 1862, following the deposition of the unpopular King Otho of Greece, Prince Alfred received an overwhelming majority of the votes cast to succeed him. However, acceptance of the Greek crown by a British prince contravened the terms of the London Protocol of 1830 and so the throne passed instead to Prince William of Denmark (1845–1914), who became King George I of the Hellenes. In 1874 the duke married Grand Duchess Marie Alexandrovna (1853–1920), daughter of Tsar Alexander II of Russia. Together they had four daughters and one son.
A bright young boy, Prince Alfred's intelligence both delighted and concerned his parents, who worried that the academic waywardness of his elder brother, the future King Edward VII, might prove a bad influence. Consequently he was enlisted into the navy at fourteen – the earliest possible age – and was appointed to the Euralys in August 1858. The prince proved an adept sailor and rose quickly through the ranks, attaining the position of lieutenant in 1863 and passing over the rank of commander to become a captain in 1866. In January 1867 he embarked upon an extensive world tour, visiting South America, the Cape and Australia. The voyage was cut short in Sydney when Fenian sympathiser James O'Farrell made an attempt on the duke's life on 12th March 1868. Fortunately, the duke survived his wounds and was apparently undeterred, making a brief return to England that summer before pressing on to China, India and Japan later that same year. Rather less skillful at diplomacy than navigation, the duke courted controversy in 1878, when he invited Alexander of Battenberg, an officer in the Russian fleet, aboard the ironclad Sultan, despite escalating military tensions between Russia and the powers of western Europe. However, the storm soon blew over and by June 1893 Alfred had been promoted to admiral of the fleet, a position he retained despite reservations in Westminster over his new German titles.
THE WEDDING
Alfred's bride, the Grand Duchess Marie of Russia, captivated the prince's attentions from a young age. The couple first met at the home of the Battenberg Princes near Jugenheim in 1868, when Marie was only 15 years old. Alfred's naval career kept them from pursuing a relationship however, and they did not meet again until 1871, again at Schloss Heiligenberg. Here they bonded over a common love of music - Alfred played the violin and Marie the piano - but no engagement was announced. Tsar Alexander, Marie's father, couldn't bear to lose his only daughter, while Queen Victoria had reservations over the compatibility of the Romanovs' Orthodox faith within the British Royal Family. Yet in spite of this the couple were betrothed in July 1871, in all likelihood aided by the remarkable influence Marie was known to hold over her father.
The wedding itself was an extravagant affair, conducted in the Winter Palace in St Petersburg on the 23rd January 1874. To appease Queen Victoria's wishes two separate ceremonies were conducted: the first in Greek Orthodox tradition, and the second following the liturgy of the Church of England. The ceremony was attended by several hundred members of the Russian nobility, as well as the Prince and Princess of Wales and Prince Arthur, the Duke of Edinburgh's younger brother. The guests were greeted outside the imperial chapel by a platoon of imperial lancers, forming a guard of honour, and the initial ceremony was overseen by four Orthodox clerics, including the Archbishops of St Petersburg and Kiev. The subsequent Anglican ceremony was conducted by the Dean of Westminster, after which the couple signed a page from the register of the Royal Chapel at St. James', which had been carefully removed from the volume - the book itself deemed too important to travel. Following the double ceremony, Tsar Alexander invited 800 guests to a banquet in Nicholas Hall. The dinner was proceeded by dancing in St George's Hall, during which time several buildings, including the British embassy in Moscow, where illuminated in honour of the duke and duchess.
DESIGN AND PRESENTATION OF THE PLATEAU
The centerpiece and accompanying candelabra, presented to the Duke and Duchess of Edinburgh by the Corporation of the City of London, were designed to celebrate the coming together of the empires of Britain and Russia, as well as to honour the duke and duchess themselves. The centrepiece juxtaposes the figures of Peter the Great and Alfred the Great at either end of the plateau: both icons of national mythology and founders of their respective nations' navies. Likewise, in the galleys on either side are depicted personifications of the rivers Thames and Neva. In the middle the arms of the two countries meet, with the British and Russian royal standards supported by Tritons, who hold up the figure of Venus, born from the sea. An appropriate figure for a wedding gift. The piece is of course suffuse with maritime imagery, indicative not only of the duke's naval career but also the duchesses' lineage, being descended from the founder of the Russian navy.
The plateau was designed by Henry Hugh Armstead (1828–1905) and carried out by Mssrs. Garrard, goldsmiths. Armstead trained initially in his father's workshop and later at the Government School of Design at Somerset House. He practiced as a silversmith at Hunt and Roskell during the 1850s, chasing sculptural exhibition pieces in the style of Antoine Vechte, the great French silver-chaser who was living in England at the time. During his tenure at Hunt and Roskell Armstead achieved modest acclaim for his works on the Tennyson Cup for Ascot; the Shakespeare Cup, presented to the actor Charles Kean; and the Outram Shield, presented to Lieutenant General Sir James Outram. Dissatisfied, however, with the lack of recognition, Armstead began to focus more intently on sculpture. His work on the Outram Shield brought him to the attentions of George Gilbert Scott, who employed Armstead to design the sculptural parts of the model for the Albert Memorial. When work began on the actual memorial in 1862, Scott engaged Armstead again, this time sculpting the bronze figures of Astronomy, Chemistry, Medicine and Rhetoric, as well as working on the Frieze of Parnassus, which was carved in situ. Thereafter Armstead's sculptural career continued to soar and he was commissioned for the sculptural decoration of the Colonial Office at Whitehall, as well as the prominent funeral monuments of the Bishop Wilberforce in Winchester Cathedral and Bishop Ollivant in Llandaff Cathedral. In 1879 Armstead was elected as a Royal Academician, and taught enthusiastically at the Academy Schools until near his death.
Armstead's centerpiece was commissioned shortly after the royal wedding in January 1874, and presented to the duke and duchess on the 11th May 1785. The presentation at Mansion House was hosted by the Lord Mayor and Lady Mayoress, and attended by several aldermen and sheriffs of the Corporation, as well as the Russian Ambassador. Thereafter the duke gave a brief speech of thanks, and was entertained by a stately lunch.
THE LATER HISTORY OF THE CENTERPIECE
Following the duchess of Edinburgh's death in 1920, the centrepiece passed to her third daughter, also named Marie (1875-1938). The younger Marie married Ferdinand, later King of Romania (1865-1927), in 1893, and the pair enjoyed a happy marriage. The Queen Consort, alongside her husband, proved immensely popular with the Romanian people, largely through her charitable temperament and immense practicality. During the Balkan Wars she ran a cholera camp, and later tended to the Allies' wounded following Romania's entry into the First World War. The queen remained steadfast during occupation by the Central Powers, and worked hard to keep the spirit of resistance alive. When peace came, she went to Paris to argue on Romania's behalf to the allied leaders. After Marie the centrepiece passed to her and Ferdinand's youngest daughter, Princess Ileana (1909–1991). She and her family were forced to flee Romania following her nephew, Michael I's, forced abdication in 1947, and in 1950 moved to the United States. Here the piece was sold at auction for $2,700 at the Parke-Bernet Galleries, New York in 1955. The centerpiece appeared again at auction in New York at Sotheby's in 1973, where it was sold from the estate of the late Mrs Eugene A. Noble, fetching $36,000.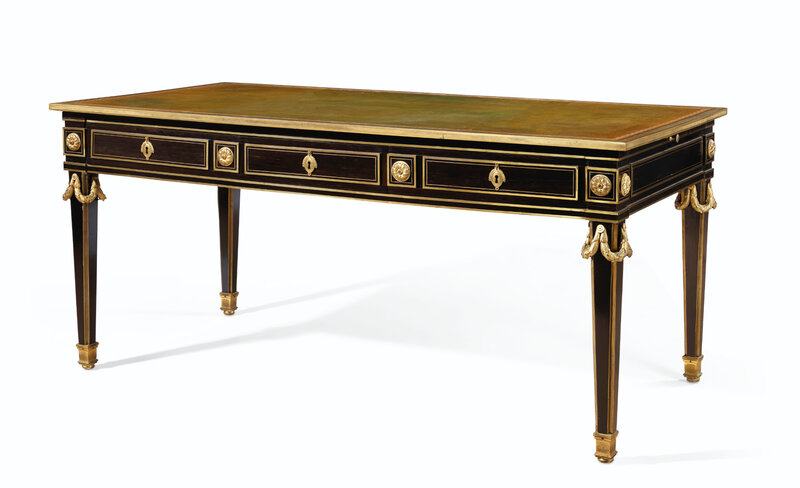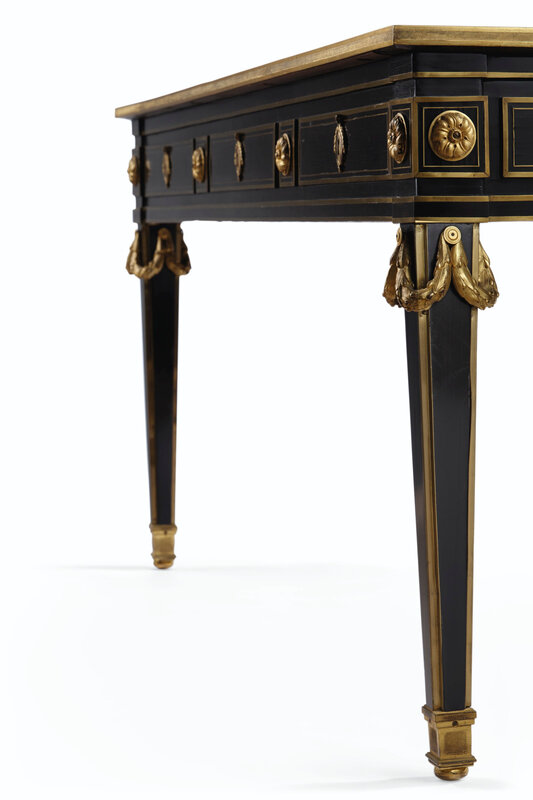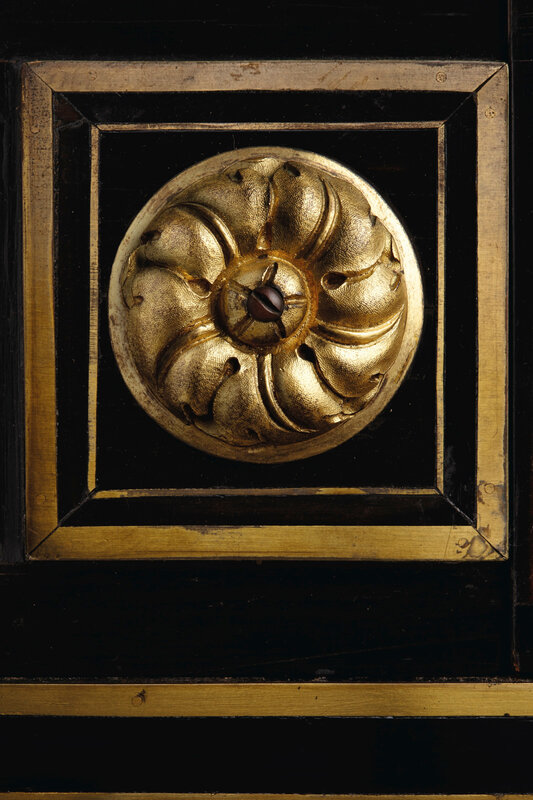 Lot 1016. A Louis XVI ormolu-mounted and brass-inlaid ebony bureau plat, by Etienne Levasseur, circa 1770; 28 ¾ in. (73 cm.) high, 64 in. (163 cm.) wide, 31 ¾ in. (81 cm.) deep. Estimate USD 300,000 - USD 500,000. © Christie's Images Ltd 2019.
The rectangular gilt-tooled green leather inset top with a chanelled ormolu edge above three frieze drawers between rosette blocks, with conformingly decorated sides and reverse, the patera-headed angles hung with laurel baguettes, the slides to each end retaining their original gilt-embossed green leather raised on square tapering legs with gilt sabots, the frame surrounding the drawers with cut tenons indicating the re-use of existing 18th Century timber on the carcass, stamped twice E. LEVASSEUR.
Provenance: With Fabre, Paris.
Anonymous sale; Christie's, New York, 26 October 2001, lot 350.
Literature: Charles Massin, Mobilier Louis XVI, Paris, n.d., p. 55 (illustrated)
Note: Etienne Levasseur, maître in 1766.
With its 'Etruscan' ebony veneer and laurel baguette fluted tapering 'term' legs, this bureau plat reflects the goût Grec style introduced in the mid-1750's by the architect Louis-Joseph Le Lorrain. Probably working in collaboration with a marchand-mercier such as Simon-Philippe Poirier, Le Lorrain's goût grec style was first realized in the designs for the celebrated suite of furniture supplied for the Parisian hôtel of the amateur Ange-Laurent Lalive de Jully circa 1755, which included the bureau plat and cartonnier now in the musée Condé at Chantilly, as well as the set of four meubles d'appui including that sold by the Marquess of Cholmondeley, Works of Art from Houghton, Christie's London, 8 December 1994, lot 80.
This magnificent bureau plat is almost identical to two others; the first was sold by Rory Cameron, Esq., from the Villa Fiorentina, Cap Ferat, Sotheby's Monaco, 17 June 1988, lot 741 ($425,000) and was subsequently with Galerie Yves Mikaeloff, Paris. Interestingly, this latter bureau plat (differing only in the end-mounts and the design of the sabots) was stamped not only by Montigny but also by Dubois, under the leather (not mentioned in the catalogue). The second, but with pieds en torse, was in the celebrated collection of Jacques Doucet, sold in Paris, 8 June 1927, lot 312. A further bureau plat, reputably of this same model and also stamped Montigny, is in the Musée Cognacq-Jay, Paris, and another example stamped Montigny from a European collection sold Christie's, Paris, 15 September 2016, lot 51 (€517,500).
A further extremely closely related group of bureaux plats, but with a flowered entrelac frieze, all stamped by Montigny, are recorded: one is in the collection of the Dukes of Bedford at Woburn Abbey, Bedforshire (illustrated in A. Pradère, Les Ebénistes Français de Louis XIV à la Revolution, Paris, 1989, p.304); another, formerly in the collection of the duchesse de Mouchy, was sold at Sotheby's Monaco, 18 June 1999, lot 120 (FFr. 3,532,500; $532,800); and a third was sold from the collection of M. Norton in these Rooms, 30 April 1986, lot 204 ($352,000).
These bureaux belong to a well-documented group of bureaux à la grecque usuallly stamped by either IDubois (for René Dubois, (1734-1809), who employed his father's stamp) or Montigny. Executed in either ebony or amaranth and tulipwood, often displaying the same distinctive ormolu mounts and of very similar proportions and design, although usually of a much smaller scale than that offered here, this group reflects the close collaboration that existed between these two ébénistes - a link further underlined by the fact that Montigny and Dubois were not only cousins, but that the former even acted as a witness at the wedding of the latter in 1772.
In view of the fact that une table de bois d'amaranthe à la grecque, 60l. was recorded in the 1764 inventory taken following the death of Jacques Dubois, while Montigny himself was not elected maître until 1766, it seems fair to conclude that it was Dubois who initially devised this model, but in the face of excessive demand, he in turn - acting in the capacity of a marchand-ébéniste - subcontracted to Montigny (and perhaps also Levasseur) to supply him with bureaux of this form. This hypothesis is further supported by the number of pieces stamped by both ébénistes, both at Waddesdon Manor and in the Wallace Collection, London.
The importance of René Dubois' atelier in the rue de Charenton is revealed not only by the 1772 inventory, but also in the announcements in Les Tablettes de Renommée - which stated 'Dubois rue de Charenton tient fabrique et fameux magasin d'ébénisterie, fait des envois en province et chez l'Etranger'. This latter inventory also revealed the extent to which Dubois had almost exclusively become a marchand, as he subcontracted work to ébénistes including Ancellet, Sar, Bury, Fromageau, Séverin, Bon Durand and Petit.
That Poirier supplied George, 6th Earl of Coventry (1722-1809) with un Bureau à la grecque by Dubois on 12 March 1765 suggests that it was not until the late 1760s that Dubois' activities as a marchand were fully developed, but the mention of 'bureaux plats à l'antique' in the 1772 inventory certainly confirms the long-standing popularity of this model.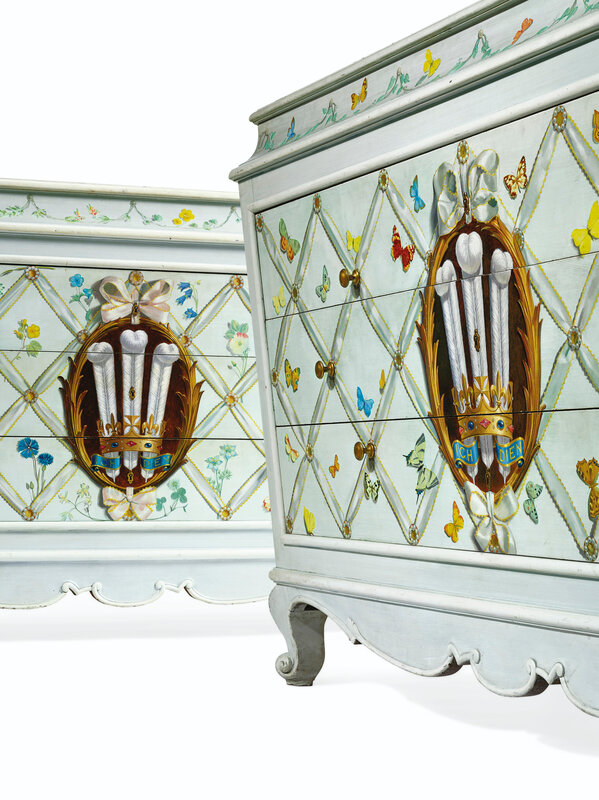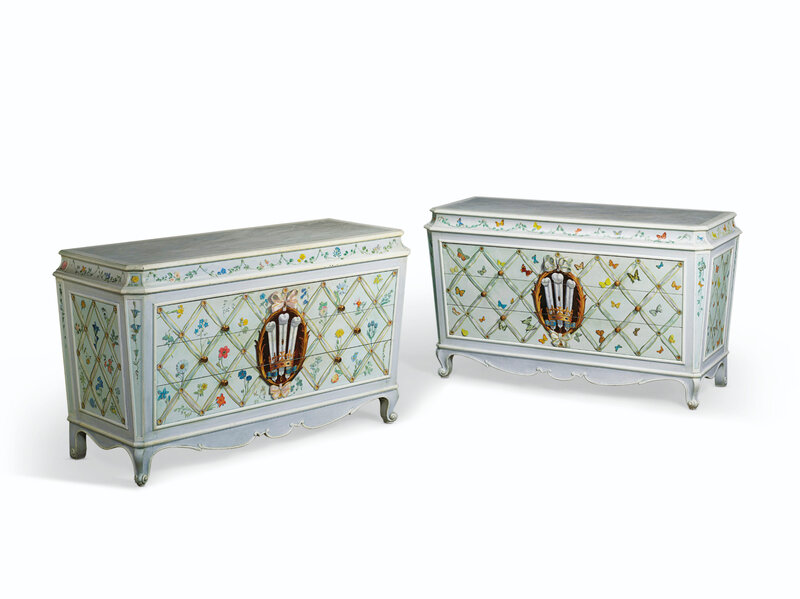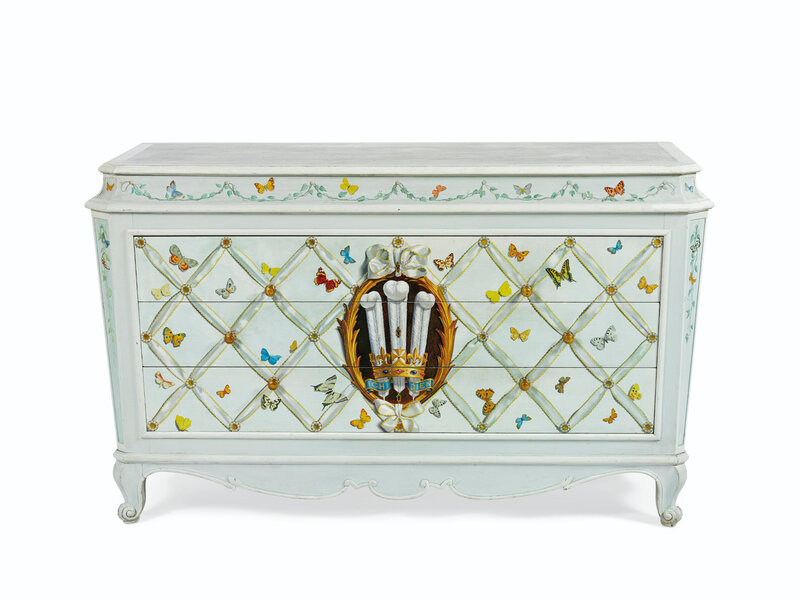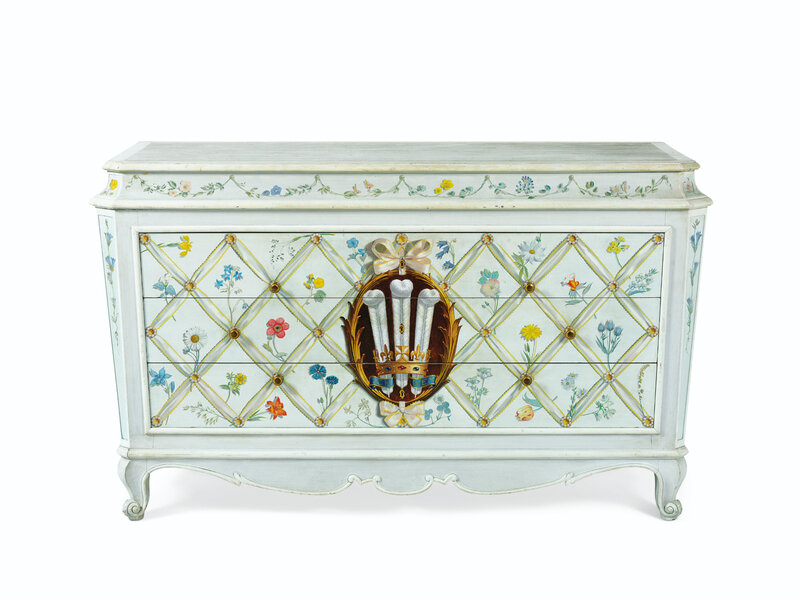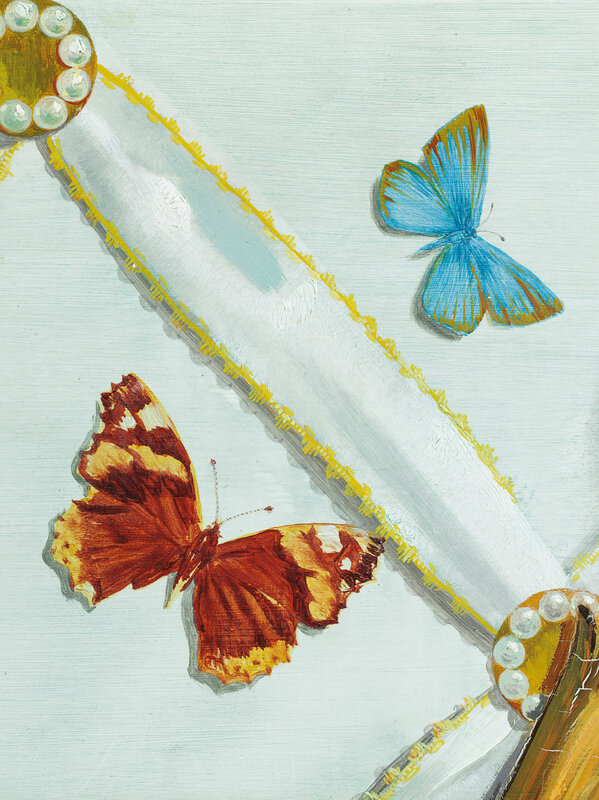 Lot 1006. A pair of French polychrome-painted commodes, supplied by Maison Jansen to the Duke and Duchess of Windsor, circa 1938; 35 in. (89 cm.) high, 63 in. (160 cm.) wide, 24½ in. (62 cm.) deep. Estimate USD 200,000 - USD 300,000. © Christie's Images Ltd 2019.
Each with a faux marble top, each decorated with a ribbon trellis held with clasps of pearls, centering the badge of the Prince of Wales, one painted throughout with butterflies, including the Silver Studded Blue, the Machaon (called the Old Word Swallowtail), the Boloria Selene (called the Small Pearl Bordered Fritillary), the Parnassius Apollo (called the Apollo), one with flowers including buttercups, forget-me-nots, holly, poppies, white clover, sweet peas, chicory, campanula, dianthus, cornflower, vetch, dog roses, Jerusalem artichokes and hedge bed-straw, each with mahogany and silk-lined drawers, and some of the carcases in mahogany, one inscribed in blue ink to the top corner of the back panel, '866', the other inscribed in blue in the same area '864' and also with small paper label with black and red type, 'EP / 1613 / ...7'.
Provenance: Supplied by Maison Jansen circa 1938 to the Duke and Duchess and Windsor for the Château de la Cröe, le Cap d'Antibes.
Moved circa 1952 to the Moulin de la Tuilerie, Gif Sur Yvette.
Sold at auction in Paris circa 1980.
With Pierre Passebon, Paris, from whom acquired by the present owner.
Literature: S. Menkes, The Windsor Style, Topsfield, 1988, p. 64 (photographed in situ in the bedroom of the Duchess of Windsor in the Moulin de la Tuilerie, circa 1952).
THE WINDSOR COMMODES
By James Archer Abbott
More than any other decorating firm of the late-19th and 20th centuries, Maison Jansen was the creator of history's greatest public and private stage sets. And more than any other "players" included in this firm's celebrated clientele, the Duke and Duchess of Windsor utilized the unrivaled talents of Jansen's designers and artisans to define a very personal esthetic - one that became known as the Windsor Style. "The Duchess," as fellow Jansen patron Jayne Wrightsman remembered, "had the best taste of all" (Mrs. Charles B. Wrightsman to James Abbott, interview held in London, 28 August 2000). This pair of trompe-l'oeil painted commodes is supremely representative of that taste. With naturalistic butterflies, pearl-fastened ribbons, and highly symbolic - in part because they are inaccessible - bejeweled gilt crowns resting atop pristine Prince of Wales plumes ("Badge of the Heir-Apparent"), these most important representations of Jansen design have no true rival - not in quality of design, level of execution, nor historical importance.
From its founding by Jean-Henri Jansen (1854-1928) in 1880, Maison Jansen became recognized through word of mouth among a burgeoning upper class in France's still-young Third Republic. By the turn of the century however, Jansen had excelled beyond being just a successful Parisian enterprise, counting European monarchs among its elite patrons. King Willem III of the Netherlands and Spain's exiled Queen Isabella II were presumably the firm's first royals in the 1880s. Isabella's son Alfonso XII and his own posthumous son and heir, Alfonso XIII, grandfather of the current king, would eventually be counted among Jansen's most important clients; their Royal crest was included in the firm's letterhead long after Alfonso XIII was exiled from Spain in 1931. Following a devastating 1890 fire that destroyed much of Belgium's Château de Laeken, King Leopold II initiated a near eighty year relationship with Jansen. Among the last royal houses to fall fully into the fold was that of England. After the 1901 death of Queen Victoria, Jansen was called upon by Edward VII to freshen the interiors of Buckingham Palace. His grandson, Edward VIII, repeated the call for his own short tenure in 1936.
And following Edward's December 1936 abdication and subsequent marriage the following spring to American Wallis Warfield Simpson - whose prior divorces had made her ineligible to share the throne - the newly classified Duke and Duchess of Windsor employed Jansen to create memorable sets to satisfy all expectations for the "love story for the ages." Jansen would eventually decorate four houses for the Windsors, transmitting to each 18th-century Bourbon grandeur intermingled with not always subtle degrees of Hollywood-like glamour for the benefit of an ever scrutinized shared life. But the first remained the model for the three subsequent residences - 24 boulevard Suchet in Paris (1938); the Moulin de la Tuilerie (1952); and 4 Route du Champ d'Entrainement in Paris's Bois de Boulogne (1953). Indeed, all future Windsor homes adhered to the "very elegant stage for a very elegant play,"
'Château de la Cröe,' in Antibes, France (Claude Mandron to James Abbott, interview held in Paris, 5 February 1999).
The Duke was well aware of the importance to be given to this first shared residence. He personally approached Jansen's new head,
Stéphane Boudin (1888-1967) regarding the decoration of the classical white house overlooking the Mediterranean Sea, originally designed by the architect Armand Albert Rateau for the newspaper magnate Sir Pomeroy Burton in 1927 and then leased from 1938-1949 by the Windsors. Boudin had joined Jansen in the early 1920s, and by 1936, had assumed leadership. Known simply by his surname, he was already a heralded tastemaker, designing rooms immediately deemed iconic. Indeed, his 1935 Bavarian Rococo dining room in the London townhouse of American expatriate Henry 'Chips' Channon earned him society's title of "the greatest decorator in the world," as well as the admiration of frequent Channon dinner guests, the then Prince of Wales and Mrs. Simpson (see R. Rhodes James ed., Chips: The Diaries of Sir Henry Channon, London, 2003, p. 38).
In May 1938, the celebrated Boudin was summoned to Antibes. The meeting was a great success, and on 2 June, 1938 the Duke forwarded to Jansen the following note: "I enclose a cheque for: One hundred and fifty thousand Francs, (F. 150,000.00) on account, against the work that is being done by your firm at LA CROE. The Duchess and I take this opportunity of thanking you for the help you have given us personally, and would, at the same time, ask you to tell your workmen, how much we appreciate their co-operation." (A deposit seems out of the ordinary. Perhaps it was the Duke who insisted upon this; even at this early time there were unfounded rumors of bills being left unpaid.)
By mid-summer, Jansen was overseeing the mansion's redecoration. The twenty-five-foot-high entrance hall and adjoining salon were minimally furnished, with large panels of mirrored glass and gilded console tables reflected in highly polished floors of marble and oak. The most dramatic aspect of the formal salon was the three-window bay, elegantly draped in white striped silk and framed by monumental, pilaster-braced wainscot highlighted by Boudin in gold. The restrained elegance of the décor was surely intended to honor the "best dressed" Duchess as the center of any and all gatherings.
The Directoire-inspired dining room served a similar purpose. White plaster walls were accented with canary yellow moldings; Jansen incorporated depth-deceiving moldings to the central alcove to dramatically frame Sir Alfred Munnings's portrait of the then Prince on his horse, Forest Witch. Elegant painted chairs with pale yellow silk upholstery were trimmed with concentric squares of white braid and yards of militaristic fringe. Against this near monochromatic canvas of a room the Duke and his bride reigned over some of society's most celebrated dinners during the last year before world war.
The Duchess came to greatly depend on Boudin. Through an on-going tutorial, the once overwhelmed Duchess gradually attained a confidence in formulating the atmosphere in which she wished herself and her husband to be seen. Occasionally, she demonstrated trepidation, if not political acumen, regarding such proposals as the inclusion of carved swans-a motif associated with the ill-fated Empress Josephine. By early 1939, she found herself at ease with her new role as international trendsetter. "Dear Mr. Boudin, Thank you so much for your visit here yesterday. I believe we thought up some ideas, which will be very attractive when executed. His Royal Highness liked the meuble chinois... and the chairs... I am inclined to think that the design for the two tables in the Salon will work out better from the tree idea than from having swans as their bases, but I am looking forward to seeing the designs when I arrive in Paris. I have already begun to feel the call of the antiquares [sic]!"
Homage to the special relationship between designer and patron was the elegant bedroom created for the Duchess. Boudin devised a fantasy of mostly white-on-white - a characteristic example of Jansen's enveloping female clients in romantic luxury. Delicate peach-and-ivory satin draperies were set within arched windows that overlooked fragrant gardens below, while a sable-like carpet with raised and intertwined 'W's' seemingly sanctified an otherwise ordinary floor. The focus of this very personal domain was the pair of exquisite commodes, finely decorated with the Duke's badge when Prince of Wales, together with butterflies and faultless blossoms-among them is a gathering of clover, honoring her husband, the one-time Edward VIII.
At first glance it might seem surprising that these commodes feature so prominently the badge of the Heir Apparent, the Prince of Wales' feathers, while being used in the first house the Duke and Duchess lived in following the abdication and their subsequent marriage in 1937. The reverse of one also features a label with the cypher 'EP' used by the Duke when Prince of Wales. It is tempting therefore to think that the commodes might have been commissioned from Jansen for the renovations at St. James's Palace by the Duke when Prince of Wales or for Buckingham Palace when King. However, the intensely feminine ornament of the commodes, particularly their prominent use of pearls, makes it much more likely that they were made specifically for the Duchess- especially as they had pride of place not only in her bedroom at La Cröe, but also in the 1950s, in her bedroom in the Moulin de la Tuilerie ("The Mill"). It is also worth noting that the Prince of Wales' feathers continued to be part of the ornamental vocabulary used by Jansen in the Windsors' homes, for instance on the carpet designed for the drawing room of the Bois de Boulogne and as supports on a pair of console tables at La Cröe, while the Duke's bedroom at the Bois de Boulogne featured a tapestry, formerly used in his bedroom at Fort Belvedere, with the coat-of-arms of a Tudor Prince of Wales, while the bedspread was also embroidered with the 'EP' cypher. Moreover, a number of pieces at Bois de Boulogne, clearly acquired after the Duke ceased to be Prince of Wales, featured the same label with 'EP' cypher, leading to the conclusion that following his abdication, the Duke retained a stockpile of these labels.
Specially decorated pieces of furniture such as these were the epitome of Jansen extravagance - included in commissions for the equally legendary Lady Olive Baillie, American first lady Jacqueline Kennedy, and many others. Of the Windsor commodes, there are no finer examples of Maison Jansen's masterful artistry, let alone more revealing models of their investment in the definition of clients' personae.
James Archer Abbott is Executive Director, Lewes Historical Society, Delaware and author of many publications including JANSEN Furniture Acanthus Press, 2007; JANSEN, Acanthus Press, 2006; Designing Camelot: The Kennedy White House Restoration' (co-authored with Elaine Rice), Van Nostrand Reinhold, 1997; 'A Frenchman in Camelot: The Decoration of the Kennedy White House by Stéphane Boudin', Boscobel, 1995.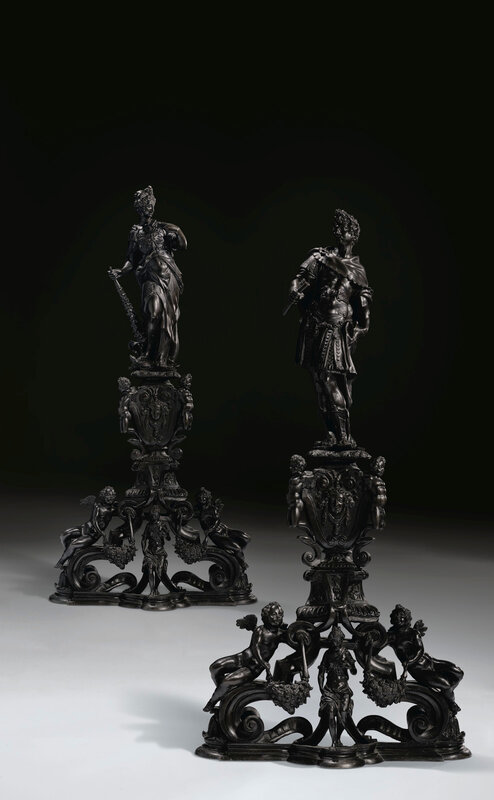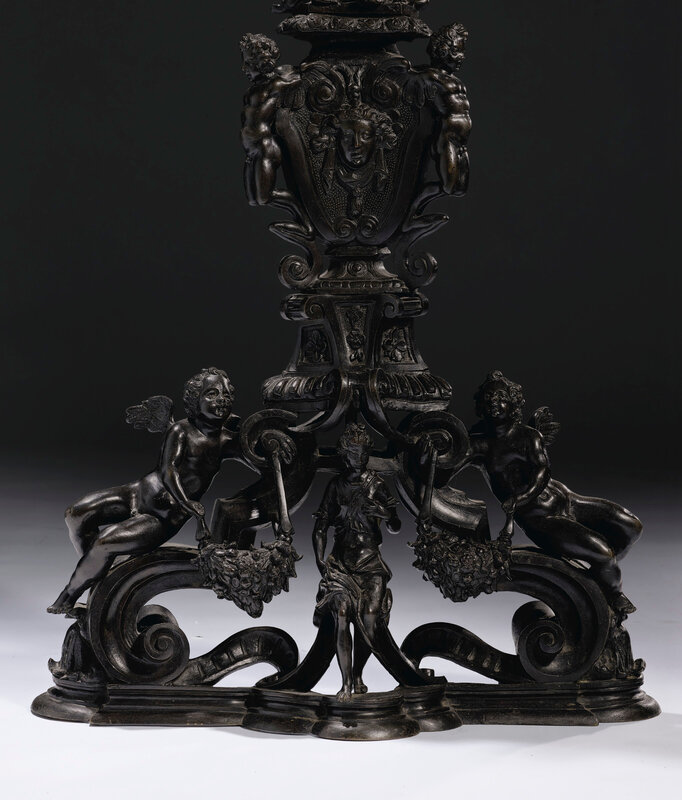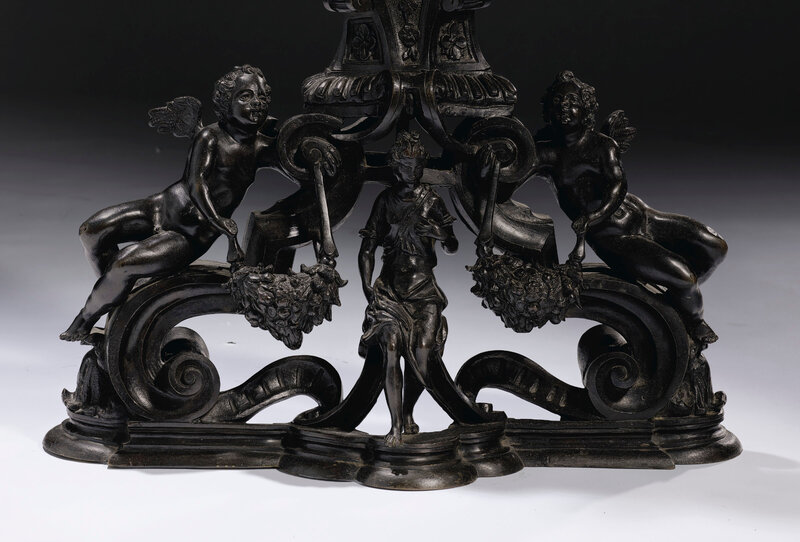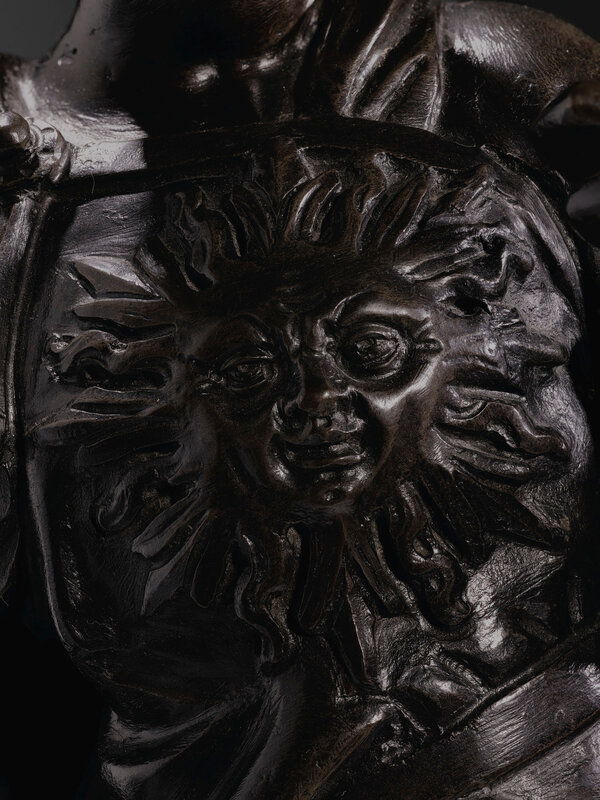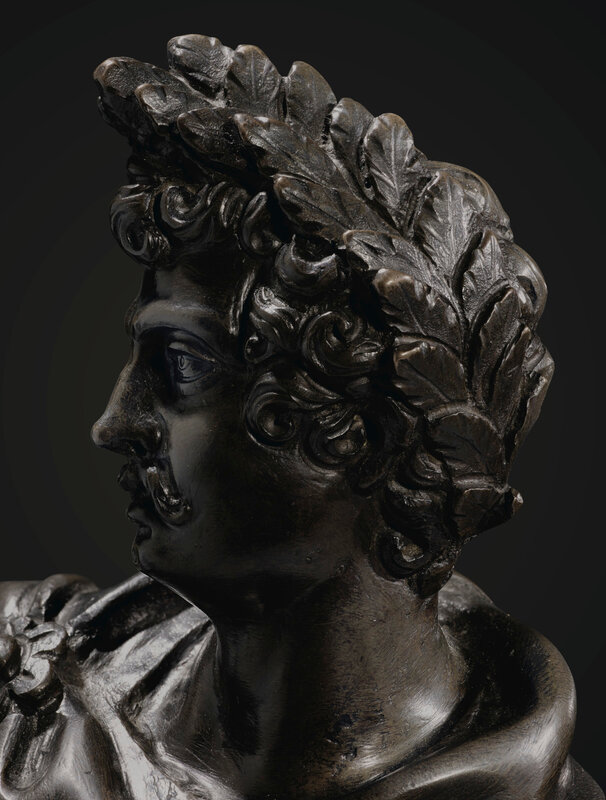 Lot 1012. The Rothschild Château de Ferrières andirons. A pair of bronze andirons with figures of Omphale and Mars, or a Roman emperor, Venice, attributed to Tiziano Aspetti (circa 1559-1606) or his workshop, Venice, first half of the 17th century; 45 in. (105.5 cm.) high. Estimate USD 120,000 - USD 180,000. © Christie's Images Ltd 2019.
Formed as a fully-modelled figure of Mars, or a Roman emperor, and Omphale, on a three-sided base cast with winged caryatids at the corners flanking female masks within strapwork, on a gadrooned base on scroll supports applied with reclining winged putti holding a flower swag and flanking a classical figure seated on scrolling strapwork, on a stepped molded base.
Provenance: Acquired by James de Rothschild (1792-1868) for the Château de Ferrières, Seine-et-Marne, France.
Thence by descent to Baron Guy de Rothschild, sold Sotheby's Monaco, 8 December 1994, lot 14.
Anonymous sale, Christie's, London, 10 December, 1996, lot 97.
Anonymous Sale, Christie's, New York, 27 May, 1999, lot 280.
An Important Private Collection, Long Island, New York.
Literature: L. Planiscig, Venezianische Bildhauer der Renaissance, Vienna, 1921, figs. 620-1, 625.
J. Balogh, Katalog der Ausländischen Bildwerke des Museums der bildenden Künste in Budapest, Budapest, 1975, p. 175, no. 231, fig. 275.
Note: It would be hard to imagine objects more redolent of Rothschild taste than these magnificent andirons. Late-Renaissance objets de luxe on a monumental scale they successfully bridge the gap between fine and decorative arts. While they are functional – and would have looked dazzling with the flickering flames visible though the open framework of their bases -- their primary effect is sculptural. The figures, probably Omphale and Mars or a Roman Emperor, are glorious examples of Venetian metalwork, significant works of sculpture by themselves.
In the Rothschild collections for at least 140 years, these andirons featured prominently in the two rooms of one of the grandest of all the Rothschild palaces, the château de Ferrières. Eugène Lami, the interior architect of Ferrières, who also helped supply much of the collection, illustrated them in a watercolor as early as 1860 in the Dining Room and then, by the 1880s, they were moved to the Great Hall, one of the most spectacular rooms created in the 19th century.
THE ROTHSCHILDS AND THE CHATEAU DE FERRIERES
The château de Ferrières, in the départment of Seine-et-Marne, was purchased in 1829 from Joseph Fouch, duc d'Otrante, by James de Rothschild (1792-1868), the founder of the French branch of the family. Finding the house somewhat small for his social ambitions, he demolished it and in 1854 commissioned the great English architect Joseph Paxton to construct a far grander house along the lines of Mentmore, the staggeringly large and complex palace in Buckinghamshire which he had built in 1850 for his cousin Mayer (1818-1874). James de Rothschild was said to have demanded of Paxton: 'Build me Mentmore, only bigger.' Paxton's initial plans for a house like Mentmore in the Jacobean style, were modified to include English, French and Italian Renaissance elements. Work began in late 1856 and the interior decoration was entrusted to the painter Eugne Lami (1800-1890) who also advised James de Rothschild on his purchases. The resulting eclectic mix, ranging from the 16th to the 19th centuries, sets Ferrières very much apart from the prevailing decorative style in the larger French country houses. Donated by the Rothschilds to the University of Paris in 1975, its interiors remain intact and it is considered the most spectacular house built in the 19th century in France. For a further discussion of the building and decoration of Ferrires see P. Prévost-Marcilhacy, Les Rothschild bâtisseurs et mécènes, Paris, 1995, pp. 94-98 and pp. 106, 107, 109, 123, 124-5, 129, 131, 134, 135 for watercolors by Lami of the main rooms.
VENETIAN SMALL BRONZES AND TIZIANO ASPETTI
The attribution of the present pair of andirons to Tiziano Aspetti (c. 1559 Padua - Pisa 1606) is based upon the comparison of the two finial figures with a body of bronze statuettes generally accepted as by Aspetti (Planiscig, op. cit, figs. 620-1, 625). Another example of the male figure, though of inferior quality, has been attributed to the circle of Aspetti and can be found in the Museum of Fine Arts in Budapest (Bologh, loc. cit.).
By the late 16th century, andirons had become a speciality of Venetian sculptors. While changing fashions meant that the lower elements of such andirons would be discarded, the bronze finial figures often survived as art objects in their own right, making the present andirons remarkably noteworthy for their complete state. The lower portion of these andirons relates to another pair in the Bargello attributed to Niccol Roccatagliata (Planiscig, op. cit., figs. 663 and 664), and a further pair from the Pierpont Morgan Collection, by Alessandro Vittoria (W. Bode, The Italian Bronze Statuettes of the Renaissance, 1980, figs. 65 and 66). The Morgan andirons were originally in London and are now on-view at the Morgan Library in New York. Such ideas and motifs appear to have travelled freely between workshops and foundries, though it is interesting to note that Aspetti's oeuvre shows the influence of Vittoria above any other.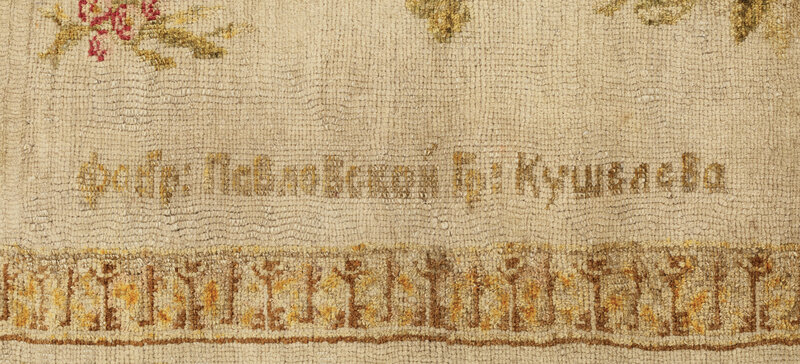 Lot 1009. A Russian pile carpet, probably The Imperial Tapestry Factory, St. Petersburg, circa 1800. Approximately 10 ft. 11 in. x 8 ft. 8 in. (333 cm. x 264 cm). Estimate USD 80,000 - USD 120,000. © Christie's Images Ltd 2019.
The Greek key outer border with a rosette at each corner, enclosing an inner border of rose vine heavy with blooms and buds and edged with a pair of narrow formal borders, the center with a basket of roses and other spring flowers, in each corner a ribbon-tied wreath enclosing a script M monogram surmounted by an Imperial crown, at the bottom of the field inscribed in Cyrillic 'Fabr. Pavlovskii Gr: Kushelevo (or Kusheleva?)'.
Provenance: Almost certainly supplied to Empress Maria Feodorovna (1759-1828) for her use at Pavlovsk Palace, possibly under the direction of Count Grigorii Grigorievich Kushelev (1754-1833) or his wife Countess Liubov Il'inichna Kusheleva, (1783-1809).
Note: THE RUSSIAN IMPERIAL TAPESTRY FACTORY
The Imperial Tapestry Factory was established in 1716 in the vicinity of St. Petersburg by Peter the Great (reigned 1682-1725). Weavers from the Gobelins manufactory in Paris came to Russia to train Russian workers in both tapestry-woven and knotted pile carpets. Woven for the use of the court, the carpets reflect the French taste in decorative arts preferred during the reign of Peter the Great and his successors during the 18th and through the 19th centuries.
In this example, the central flowering basket, the lush and abundant floral scrolls and festoons, the leafy garland encircling a crowned 'M', and the outer Greek key border all exhibit the influence of the French neo-classical taste. A tapestry-woven carpet from the same period as our carpet in the State History Museum in Moscow shares the overall neo classical feel and exhibits the same minor star medallions in the border, although ours are displayed in the corners not at the interstices (see Sherrill, Sarah B., Carpets and Rugs of Europe and America, New York, 1996, p. 281, plate 297).
The Italian architect Giacomo Quarenghi (1744-1817) was invited to St. Petersburg in 1779 and designed palaces, interiors and furniture for Catherine II, the Great (reigned 1762-1796) and her successors. Another tapestry-woven carpet probably woven at the Imperial Tapestry Factory suggests his work and is similar to painted ceilings he designed for Catherine II (see Sherrill, ibid., p. 282, plate 298). Like our carpet, it has a prominent Greek key border and other neo-classical elements, but our carpet with its cream ground and emphasis on multi-flower sprays and garlands illustrates the more feminine taste of Maria Feodorovna and would have complimented the architecture and decorative style that she favored.
MARIA FEODOROVNA (1759-1828)
Maria Feodorovna was the second wife of Paul I, born Paul Petrovich to Empress Catherine II the Great. Née Sophia Dorothea of Württemburg, she married Paul in 1776. The couple had eight children, the eldest of whom, Alexander, succeeded his father in 1801.
Maria Feodorovna was a well-liked, gentle, educated and refined woman with some considerable artistic talents of her own. She was a good draughtswoman, stone-cutter and gem engraver. A number of portraits in stone intaglios and cameos executed by her are now exhibited at Pavlovsk, along with a selection of furniture pieces that Maria Feodorovna contributed in making. Like her husband, she also participated in the decoration of her residences. She and her husband famously traveled to Europe in 1781 under the pseudonyms the Comte et Comtesse du Nord, arriving in Paris in 1782 where they acquired furniture, porcelain and bronzes d'ameublement from all the fashionable shops of the day, most particularly Dominique Daguerre.
PAVLOVSK PALACE
The construction of Pavlovsk Palace was begun by the great Scottish architect Charles Cameron (1745-1812) in 1781 on land given to the Prince and Princess in 1777 by Catherine the Great to celebrate the birth of their son, the future Alexander I. In 1779 Catherine the Great wrote to Baron Grimm of Cameron: "I am quite taken up at present with Mister Cameron… a great designer weaned on Antiquity and famous for his book on ancient baths." Cameron began the work on the Palladian style palace while the Prince and Princess were away on their European tour. They were kept abreast of the work through correspondence and continued to be actively involved to the end of construction. The palace was considered to be one of the finest examples of classical architecture of the late 18th century and is unrivaled amongst other Russian monuments. Cameron's relations with the Russian heir deteriorated and he did not complete the building of the palace but was replaced in 1786 by the Italian architect Vincenzo Brenna who largely followed the original plans as desired by the Grand Duke and Duchess. Completed by the Italian architect Vincenzo Brenna, the Palace became an Imperial residence in 1796 following the death of Catherine and the accession of Paul I. After a fire of 1803 nearly destroyed the palace, Maria Feodorovna had it reconstructed to the original plans so that her beloved residence would remain intact during her lifetime and beyond. She spent all her time at the palace after the death of Paul I, whose private rooms she conserved in the exact order that he had left them.
THE COMMISSION
Although it has not been possible to pinpoint the room for which this elegant neo-classical carpet was supplied, the prominent display of Maria Feodorovna's initial with the Imperial crown, and its relatively small scale, would suggest that it was used in one of her private apartments. Its restrained palette and abundant use of flowers recalls designs for seat covers at Pavlovsk with similar floral festoons on a cream ground, woven in France circa 1780 and remarkably still surviving (see E. Ducamp ed., Pavlovsk The Collections, Paris, 1993, pp. 124-6). Indeed in the beautiful portrait of Maria Feodorovna by Elisabeth Vigée le Brun (illustrated here), she is shown standing on a carpet of similar floral design, accompanied by a chair proudly displaying her initial 'M' and a crown, as on the present carpet. The woven Cyrillic inscription on the carpet gives a tantalizing clue to the original commission of this carpet. It transcribes as 'Fabr. Pavlovskii Gr: Kushelevo (or Kusheleva?)'; the first part translates as 'made for [or in] Pavlovsk'. 'Gr.' could stand for either 'Grod' (city) or Graf (Count). 'Kushelevo' (or 'Kusheleva') could refer to Count Grigorii Grigorievich Kushelev (1754-1833), Admiral of the Fleet and an important statesman under Paul I. His wife Countess Liubov Il'inichna Kusheleva, (1783-1809) became a lady-in-waiting to the Empress following Paul's coronation in 1797, and in 1799 inherited the vast estates of her uncle Prince Alexander Andreyevich Bezborodko (1747-1799), making her one of the wealthiest heiresses in Russia. Could this carpet therefore have been commissioned by either Count Kushelev or Countess Kusheleva as a present for the Empress?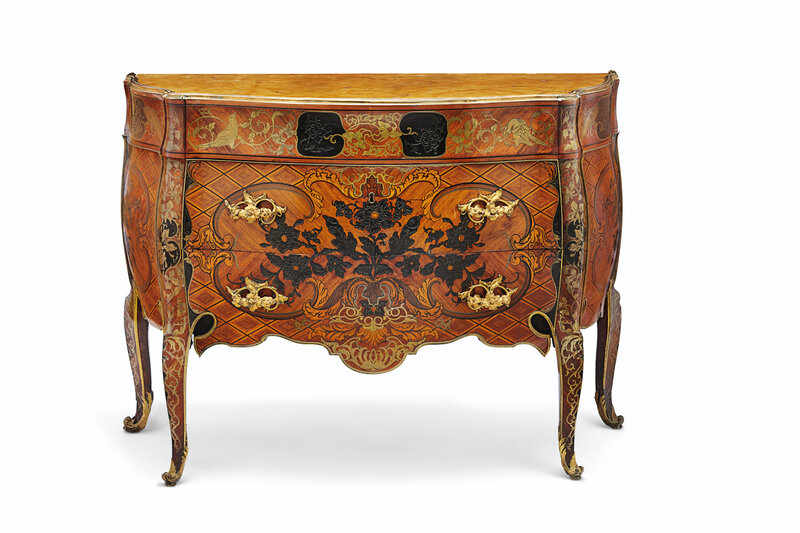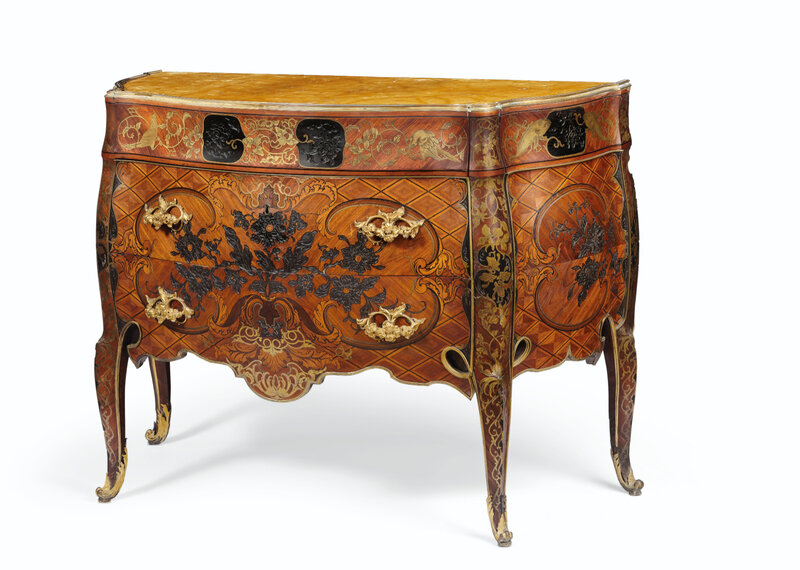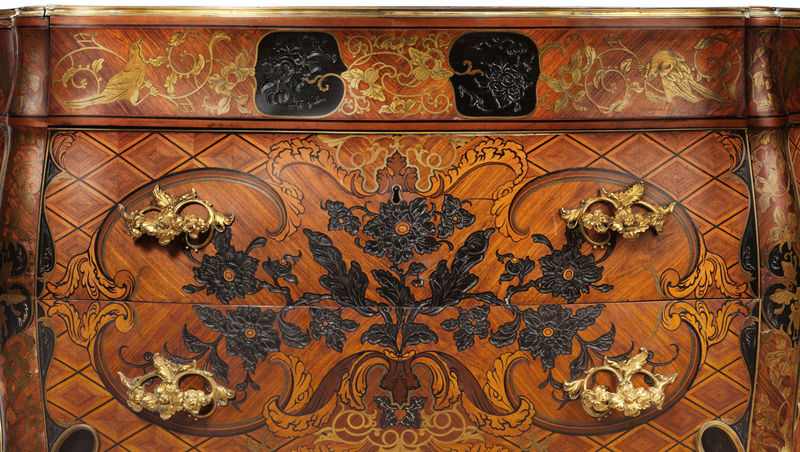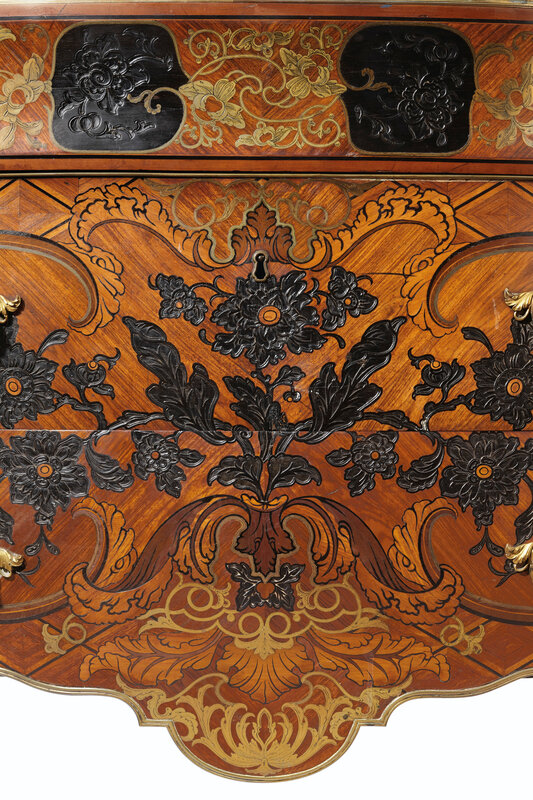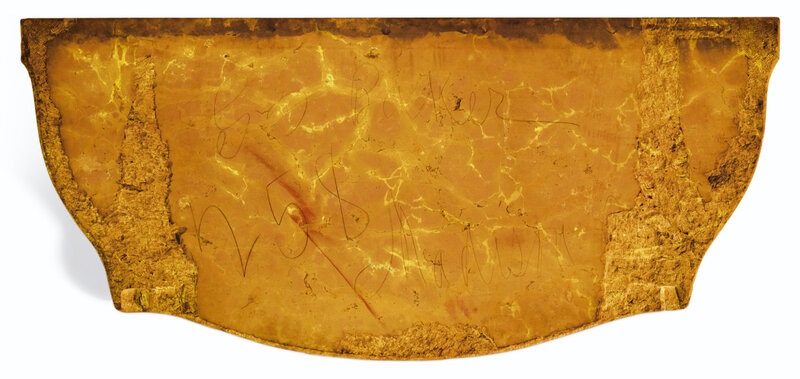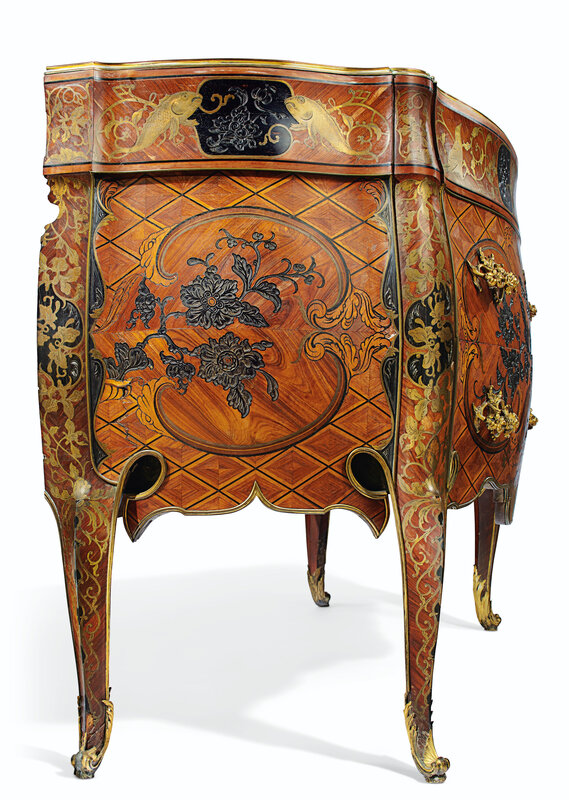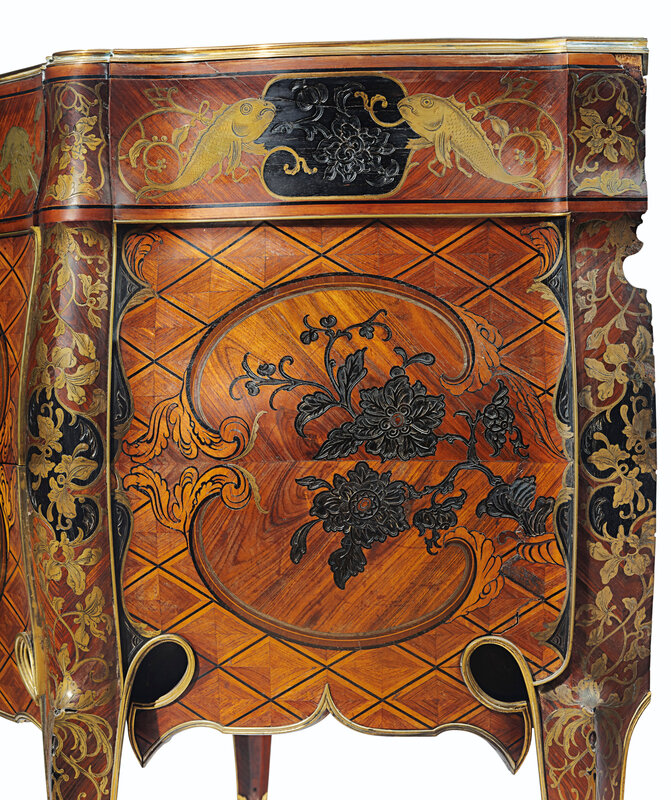 Lot 1021. A Royal Spanish brass-inlaid and ormolu-mounted tulipwood, ebony, padouk and marquetry commode, attributed to Jose Canops, after designs by Matteo Gasparini, the bronzes possibly by Juan Bautista Ferroni, circa 1765-75; 37 in. (94 cm.) high, 52 in. (132 cm.) wide, 22 ¼ in. (56.5 cm.) deep. Estimate USD 100,000 - USD 150,000. © Christie's Images Ltd 2019.
The shaped giallo Siena marble top above a latched frieze, raising to reveal smaller compartments, above two long drawers, carved throughout with black floral sprays within marquetry and parquetry cartouches, inlaid with scrolling brass designs featuring birds on the front of the frieze and fish to the sides, raised on cabriole legs with scrolling feet, the underside of the marble marked Go Baker / 258 Madison, variously incised 4 throughout, the underside incised P with a series of dots, possibly indicating a numbering system.
Provenance: One of four commodes supplied by Matteo Gasparini for the office of King Carlos III in the Gabinetes de Maderas Finas de Indias, listed on the Inventario de Carlos III for the Palacio Real de Madrid in 1776.
Possibly removed from the Gabinetes de Maderas Finas de Indias, either in 1789 by Queen Maria Luisa de Parma, wife of Carlos IV, or when the Gabinetes were dismantled in the early 19th century under Fernando VII.
With Henry Duveen, New York.
George F. Baker, New York, by descent to
William Goadby Loew, 56 East 93rd Street, New York; Parke-Bernet Galleries, New York, 26-28 April 1956, lot 563 (sold as 'possibly Dresden').
Literature: This commode is illustrated in situ in Architectural Digest, December 1977, p. 42.
Note: This extraordinary commode, with its exotic combination of carved ebony panels imitating Chinese lacquer and opulent use of naturalistic brass inlay on a ground of tulipwood and padouk, can be firmly attributed to the cabinet-maker José Canops, active at the Royal Spanish workshops in Madrid from 1759, under the influence of the Neapolitan designer Matteo Gasparini (d.1774). Its graceful proportions and sophisticated designs demonstrate the Spanish court style developed by King Carlos III (1716-1788) for the New Royal Palace of Madrid. It is almost certainly one of four commodes supplied to the celebrated and exotic Gabinetes de Maderas Finas de Indias for the personal office of the king.
CARLOS III AND THE NEW ROYAL PALACE
When Carlos III, son of King Philip V of Spain and Elizabeth Farnese, acceded to the Spanish throne in 1759 he was determined to create a royal palace in Madrid appropriate one of the world's great powers. The Madrid royal Alcázar had been devastated by fire in 1734, and Carlos set out to not just continue the renovation needed for a functioning royal court, but also to create sumptuous improvements and decoration like that of the other important world powers.
GASPARINI, CANOPS AND THE TALLERES REALES
King Carlos III embarked on several ambitious building projects for the palace and brought numerous renowned artists to Spain, such as Giovanni Battista Tiepolo (1696-1770), Anton Raphael Mengs (1728-1779), and Matteo Gasparini. Gasparini, who possibly traveled to Spain from Italy in the King's entourage, quickly assumed the rank of pintor de camera, and was entrusted with the artistic direction of some of the most prestigious rooms in the Spanish Royal palace.
Gasparini coordinated and supervised the creation of the rooms, having been appointed the director of the Royal workshops, or Talleres Reales. The Royal workshops included three factions, Embroidery (Bordadores), Bronzes (Bronces) and Cabinetmaking (Ebanistería).
Among the artists in the Royal workshops of the Spanish court was the talented Liègeois ébéniste José Canops, who is first mentioned in the Royal ledgers in 1759. Canops collaborated with Gasparini on the opulent decoration of the Cuarto del Rey, for which he executed a rare suite of ormolu-mounted marquetry seat-furniture. Together, they were responsible for the lacquer-inlaid marquetry furniture and paneling in the Gabinetes de Maderas Finas de Indias or Cabinet of Fine Exotic Woods, which was completed in the late 1760s and largely dismantled in the early 19th Century. Canops' marquetry furniture emulated French prototypes, which were admired throughout Europe during the 18th Century, however, with Gasparini, he developed a uniquely individual Court style for Carlos III at the Palacio Real de Madrid (F. Nino Mas, P. Junquera de Vega, Palacio Real de Madrid, Madrid, 1985, p. 235).
OTHER COMMODES OF THIS MODEL
A nearly identical commode formerly in the bedchamber of Queen Maria Luisa de Parma, wife of Carlos IV and now in the Royal residence at Zarzuela, is illustrated L. Feduchi, Colecciones Reales de Espana: El Mueble, Madrid, 1965, fig. 330, although the brass-inlaid birds on the frieze are mirroring those on the present commode. Another nearly identical example, with the bird inlay in the same position as the Heinz example, is illustrated Mueble Español Estrado Y Dormitorio, pp. 310-311, fig. 76 as part of the collection of the Patrimonio Nacional.
Another related example (Patrimonio Nacional, inv. 10069951), with circular handles in the more neo-classical taste is now in the Palacio del Pardo and is illustrated J. Ferrero, The Royal Palaces of Spain, New York, 1997, p. 186; further, it is illustrated alongside a similar but smaller commode from the Palacio Real in Madrid (Patrimonio Nacional, inv. 10090042), in P. Benito García et. al., Carlos III Majestad y Ornato En Los Escenarios Del Rey Ilustrado, Madrid, 2016, pp. 331-333, figs. 121-122.
The differences in handles could be attributed to the different broncistas who were active in the Royal workshops at the times the commodes were made. The bronzes of the commode with identical handles to the present example are attributed to Juan Bautista Ferroni, while the bronzes of the example in the Palacio del Pardo are attributed to Antonio Vendetti.
THE INVENTORY
The Inventario de Carlos III for the Palacio Real de Madrid, October 1776, lists seven commodes in the Cuarto de Rey, separated by three smaller gabinetes which form the Gabinetes de Maderas Finas de Indias: Despacho de S.M. (A10), Despacho secreto de S.M.(A11) and Gabinete verde (A12). In this inventory, no comodas are listed in the Despacho de S.M., however, two commodes are listed in the Gabinete verde (no. 48), and a larger commode (no. 52) and four additional commodes (no. 53) are listed in the Despacho secreto de S.M (José Luis Sancho, "Función y decoro. El mobiliario del Palacio Real de Madrid bajo Carlos III" Librosdelacorte.es, 2018, pp.270, 288). According to Professor Ángel López Castán from the Universidad Autónoma in Madrid, the Heinz commode is one of the set of four large commodes created for the office of King Carlos III in the Gabinetes de Maderas Finas de Indias in the Royal Palace of Madrid.
THE LATER HISTORY
Although little is known about this commode's whereabouts in the 19th century, it was part of the early 20th century stock of Henry Duveen, New York, who with his brother Joseph were the world's leading art dealers during the first quarter of the 20th century. However, the records of The Duveen Brothers preserved at the Getty Museum fail to mention the commode, which may indicate an early purchase of the commode by George Fisher Baker (1840-1912), the co-founder, president, chairman and largest shareholder of First National Bank, now Citibank. The underside of the marble top on this commode is inscribed, 'Go Baker / 258 Madison', indicating that this commode was in Baker's private collection at his Manhattan residence, 258 Madison Avenue.
COMPARATIVE LITERATURE
Ángel López Castán, "La ebanistería madrileña y el mueble cortesano del S.XVIII (I)", Anuario del Departamento de Historia y Teoría del Arte, Universidad Autónoma de Madrid, 2004.
Ángel López Castán, "Mattia Gasparini. Trayectoria vital y profesional de un artista veneciano al servicio de Carlos III", Anuario del Departamento de Historia y Teoría del Arte, Universidad Autónoma de Madrid, 2017.
J. Hernandez Ferrero, The Royal Palaces of Spain, New York, 1997.
We would like to thank Professor Ángel López Castán for his assistance in researching this commode.
Fifth Avenue Grandeur: Important French Furniture from the Collection of Lewis and Ali Sanders | October 29 at 12pm
Christie's offers Fifth Avenue Grandeur - an exquisitely curated group of 18th-century French furniture and decorative arts from The Collection of Lewis and Ali Sanders. This private collection displays a superb variety of case and seating furniture, carpets, clocks, and mirrors epitomizing the best of 18th-century craftsmanship. Highlights from the sale encompass all the key periods: a Savonnerie carpet and a régulateur by André-Charles Boulle from the rein of Louis XIV; beautiful lacquer and marquetry pieces by Bernard II Van Risenburgh ('BVRB'), Jacques Dubois, Joseph Baumhauer and Jean-François Oeben from the rococo era of Louis XV; and refined neo-classical works from the Louis XVI period including a remarkable group of clocks, and cabinet pieces by makers such as Adam Weisweiler and Martin Carlin.