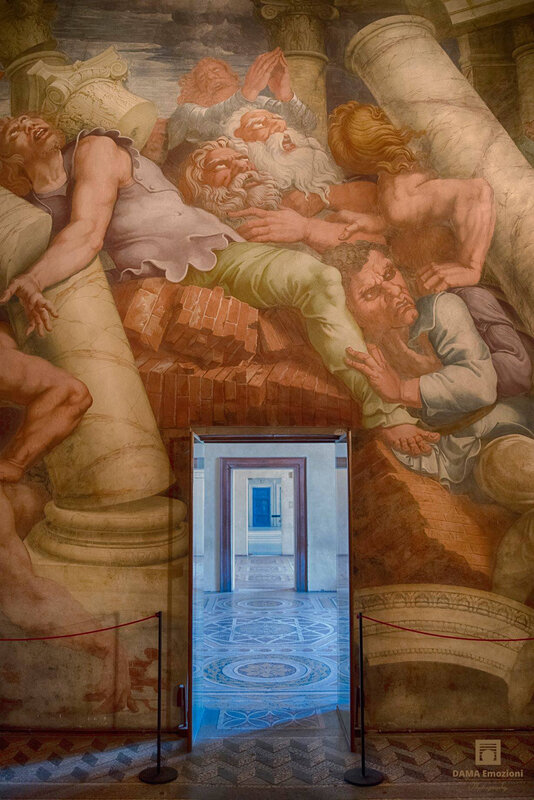 Giulio Romano and workshop, Sala dei Giganti at the Palazzo Te, 1524–34.
"Con nuova e stravagante maniera". Giulio Romano a Mantova is the new great event of the Complesso Museale Palazzo Ducale in Mantua, from October 6th 2019 to January 6th 2020. It is an exhibition dedicated to Giulio Romano (Roma, 1492 o 1499 - Mantova, 1546) and his "new way" to create art.
This project is the result of the exceptional support of the Musée du Louvre, which, for the first time, will lend seventy-two drawings in order to illustrate, in the most organic and complete way, the professional career of the great artist, from his beginnings in Rome to the long-lasting and intense activity in Mantua. The exhibition will be focused on the variety of Giulio Romano's interests, from architecture to painting, from tapestries to jewelry, from stuccos to printings, through the practice of drawing that he learned during his training at Raffaello's workshop. The most recent digital technologies will be used in order to recreate art objects and spaces designed by the artist through 3D reconstructions. There will be artworks coming from some of the most important museums in Italy and Europe, such as the Gallerie degli Uffizi in Florence, the Albertina in Wien, the Victoria & Albert Museum in London and the Royal Collection at Windsor Castle. The experience will be unique because visitors appreciate the works inside the Giulio's architectural places, from the Appartamento di Troia to the Palazzina della Rustica, favoring virtuous resonances between the exhibited objects and Palazzo Ducale.
The exhibition will be divided into three sections that will explain into different aspects of the artist's activity:
Nel segno di Giulio

will be located on the ground floor of the

Castle of San Giorgio

and illustrates the graphic production of Giulio as a designer, designer, painter, architect and urban planner, presenting his fundamental contribution to the renewal of Mannerist language.

Al modo di Giulio

will be in the rooms of

Corte Nuova

and the

Appartamento di Troia

, suggesting a direct dialogue between the artist's drawings and the decorations of Palazzo Ducale.

Alla maniera di Giulio

, located in the spaces of the

Appartamento della Rustica

, will deepen the theme of Giulio Romano architect and his legacy, presenting the work of his pupils and disciples.
6 OCT 2019 - 6 JAN 2020