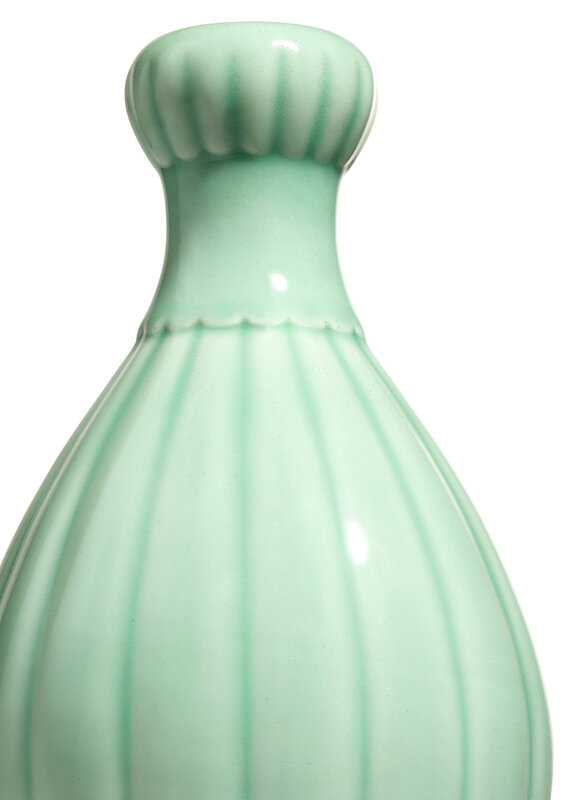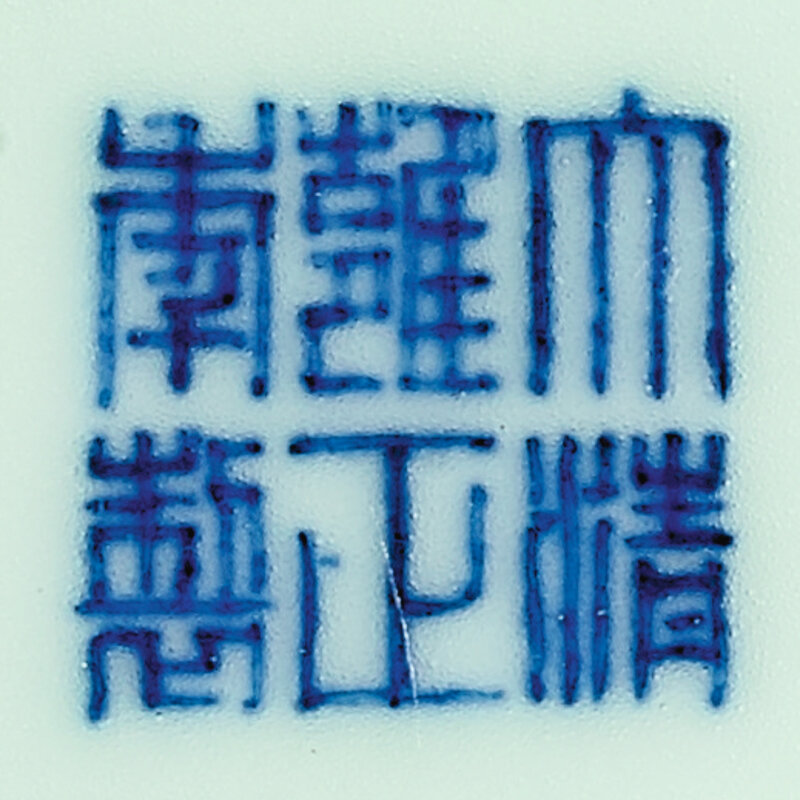 Lot 137. A fine and rare celadon-glazed lobed garlic-mouth vase, seal mark and period of Yongzheng (1723-1735); 25.4 cm, 10 in. Estimate 2,000,000 — 3,000,000 HKD (254,660 - 381,990 USD). Lot sold 5,575,000 HKD (709,865 USD). Courtesy Sotheby's.
with a baluster body divided into sixteen lobes and rising from a countersunk base to a waisted neck and bulbous mouth, the neck moulded with a lobed band simulating the knotted cloth design, applied overall save for the unglazed footring with a pale bluish-green glaze pooling in the well-defined recesses, the base inscribed with a six-character seal mark, wood stand.
Note: This intricately potted vase, applied with a brilliant bluish-green glaze, derives its form from a Han dynasty bronze flask, but with the innovative feature of sixteen vertical ribs simulating textile pleats. In its arresting luminous bluish-green glaze, this vase reflects the Yongzheng Emperor's penchant for celebrated Song dynasty wares and the remarkable technical developments achieved at the imperial kiln to meet his specific taste.
While a delicate, almost watery, celadon glaze had already been created in the Kangxi reign, achieved by reducing the amount of iron typically found on Song dynasty Longquan celadons, it was during the Yongzheng period that production of celadon wares greatly expanded. According to the Taocheng shiyi jishi beiji [Commemorative stele on ceramic production], compiled in 1735 by the brilliant supervisor of the imperial factory, Tang Ying (1682-1756), several varieties of celadon glazes were experimented with at the time (see S.W. Bushell, Oriental Ceramic Art, London, 1981, p. 197). One of his successful recipes was to study in detail the finest antique ceramics of the Song and Ming periods to understand their workmanship and physical quality, but also to comprehend what makes their shapes and designs so harmonious and satisfying, and then to apply this knowledge to redesigned, modern versions inspired by the antiques. The proficiency required in understanding the chemical compositions and the firing of such monochrome vessels is reflected in the saying, "Nine failures for ten charged kilns". This vase is remarkable for its attractive luminous bluish glaze, a difficult tone to achieve, the purity of which is accentuated by the graceful curves of its profile.
The form of the current vase is rare. Another closely related vase, in the Shanghai Museum, is illustrated in Lu Minghua, Qingdai Yongzheng – Xuantong guanyao ciqi [Qing dynasty official wares from the Yongzheng to the Xuantong reigns], Shanghai, 2014, pl. 4-18 left. The more commonly found Yongzheng reign-marked garlic-mouth vases are of slightly different form, supported on splayed feet and with lipped rims, closer to the Han dynasty metalwork prototypes. Examples of these include a lazurite vase from the Qing court collection, preserved in the Palace Museum, Beijing, illustrated in The Complete Collection of Treasures of the Palace Museum. Monochrome Porcelain, Hong Kong, 1999, pl. 130. See also a peacock feather vase from the J.M. Hu collection, illustrated in Helen D. Ling and Edward T. Chow, Collection of Chinese Ceramics from the Pavilion of Ephemeral Attainment, vol. III, Hong Kong, 1950, pl. 139, and sold at Christie's Hong Kong, 29th November 2017, lot 2856.
For a Yongzheng reign-marked celadon-glazed vase of baluster form, similarly conceived with vertical lobes skilfully simulating textile pleats, see the example in the Baur collection, Geneva, illustrated in John Ayers, Chinese Ceramics the The Baur Collection, vol. 2, Geneva, 1999, pl. 279, and its pair, sold in these rooms, 29th October 2000, lot 13.
Sotheby's. Important Chinese Art from the Collection of Sir Quo-Wei Lee II, Hong Kong, 08 October 2019