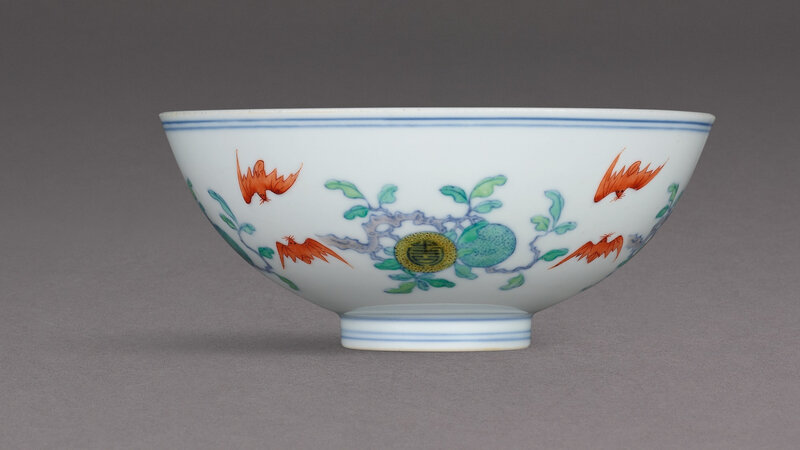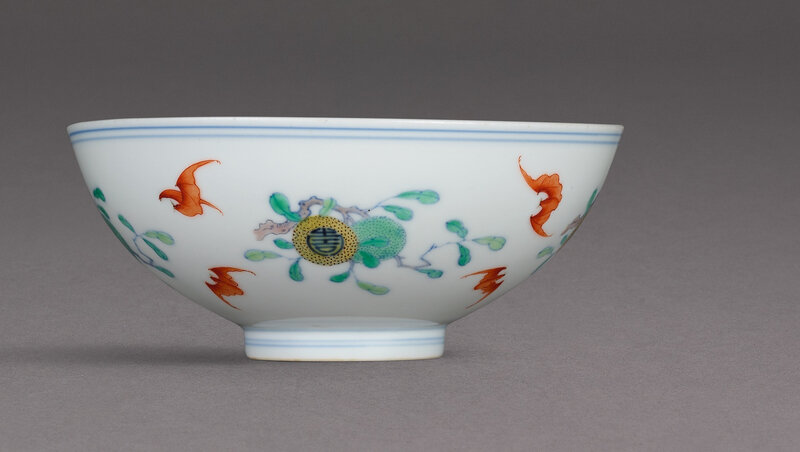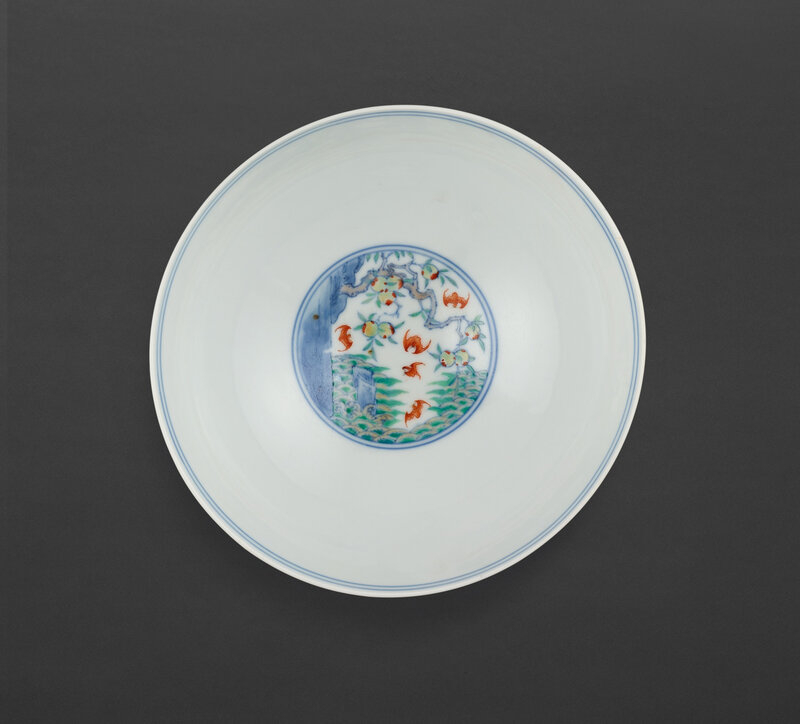 Lot 3019. A rare pair of doucai 'longevity' bowls, marks and period of Yongzheng (1723-1735); 14.6 cm, 5 3/4 in. Estimate 1,500,000 — 2,500,000 HKD (190,995 - 318,325 USD). Lot Sold 1,875,000 HKD (238,744 USD). Courtesy Sotheby's.
each with rounded sides rising from a straight foot, the exterior finely painted with bright enamels in a delicate pencilled underglaze-blue outline, depicting four leafy branches each suspending a pair of peaches, one in green and the other in yellow inscribed with a shou character, all divided by pairs of iron-red bats in flight, the interior painted with a central medallion enclosing further bats flying amidst a fruiting peach tree growing from cragged rocks above a cresting sea, the base inscribed with a six-character reign mark within a double circle.
Provenance: Sotheby's Hong Kong, 10th April 2006, lot 1790.
Note: These delicately painted bowls brim with auspicious messages and evidence the Yongzheng Emperor's (r. 1723-1735) penchant for portents of good fortune. Ripe peaches evoke the peach orchard of Xiwangmu, Queen Mother of the West, and the shou character inscribed on their interior creates the wish tuanshou (may you have longevity and completeness). Confronting red bats divide the fruit sprays and further convey the wish for blessings and longevity, making these bowls ideal birthday gifts.
Bowls painted with this design in the subtle doucai palette are unusual, although a closely related bowl was sold in these rooms, 27th April 1999, lot 426; another was sold at Christie's Hong Kong, 13th November 1987, lot 485; and a third was sold at Christie's London, 15th July 1981, lot 17.
A similar design of fruiting peach sprays inscribed with shou characters is also found painted in blue and white, such as a Yongzheng mark and period bowl, in the National Museum of China, Beijing, included in the exhibition La Splendeur du Feu, Centre Culturel de Chine, Paris, 2004, cat. no. 25.
The interior of this bowl is painted with the popular motif of the Seventh Trial of Zhao Sheng, a disciple of the Han dynasty (206 BC-AD 220) Daoist master Zhang Daoling, founder of the influential Way of the Celestial Masters school. Zhao was the only disciple of Master Zhang to have successfully obtained peaches from a tree growing sideways on a steep cliff. Whilst the rendition of this story on the present bowl excludes the figure, it retains the depiction of a lofty cliff overlooking a deep ravine with the peach tree emerging sideways.
Sotheby's. An Important Collection of Chinese Ceramics, Hong Kong, 08 Oct 2019