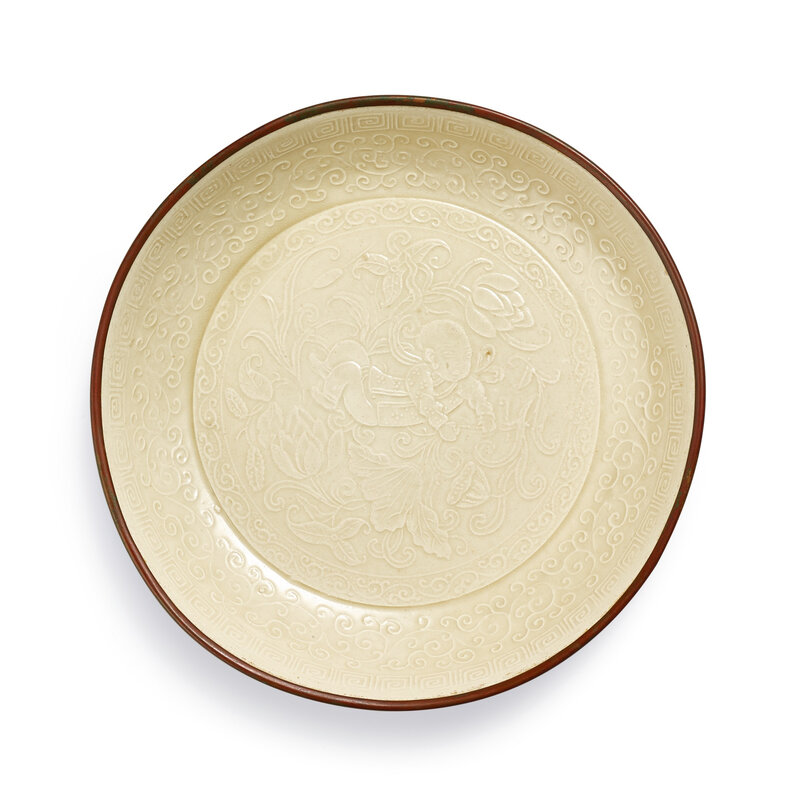 Lot 3612. A Dingyao moulded 'boy' dish, Song – Jin dynasty (960-1234); 17.2 cm, 6 3/4 in. Estimate 2,400,000 — 3,200,000 HKD (305,592 - 407,456 USD). Lot Sold 3,000,000 HKD (381,990 USD). Courtesy Sotheby's.
well potted with rounded sides rising from a flat, countersunken base, finely moulded to the centre on the interior with a boy clad in loose robes, his bald head turned to one side and his arms outstretched clasping onto a leafy spray of lotus pod, his body curled amidst lush lotus blooms, leaves, arrowheads and millet sprays, all enclosed within a classic scroll band, the curved well decorated with a further foliate scroll below a key-fret border, covered overall in a creamy ivory glaze, the rim bound in copper.
Provenance: Collection of Dr Carl Kempe (1884-1967).
Sotheby's London, 14th May 2008, lot 265.
Exhibited: Kinas kunst i svensk og dansk eje [Chinese art in Swedish and Danish collections], Danske kunstindustrimuseum, Copenhagen, 1950, cat. no. 307.
Literature: Bo Gyllensvärd, Chinese Ceramics in the Carl Kempe Collection, Stockholm, 1964, pl. 461.
Jan Wirgin, Sung Ceramic Designs, Stockholm, 1970, pl. 88a, fig. 21d.
Note: This dish is outstanding for its intricately rendered scene of a boy seamlessly flying through lotus flowers and leaves. The depth and clarity of the design, from the naturalistic modelling of the flowers and leaves to the detailed rendering of the boy's features and his clothing, makes this dish particularly special and rare. Dishes with such sophisticated designs were made using a mould, a technique that began to be used at the Ding kilns in the late 11th or early 12th century and one that allowed for greater precision. These moulds were similar to those used for casting metal vessels, and indeed many designs on moulded Dingyao are also found on contemporary metalware. While no metal counterpart of this exact design appears to be known, a bronze mirror with boys flying through scrolling vines, unearthed in Changchun, Jilin province, now in the Jilin Provincial Museum, Changchun, is illustrated in Zhongguo qingtongqi quanji [Complete collection of Chinese archaic bronzes], vol. 16, Beijing, 1998, pl. 195.
Depictions of boys with lotus leaves and flowers represent a classic motif of the Song dynasty, known on a variety of objects and media including silver, bronze textile and various types of ceramics. Ann Barrott Wicks in Children in Chinese Art, Honolulu, 2002, pp. 6-15, traces the origins of this motif back to the decorative arts of the Roman Empire, and in particular to depictions of putti, plump boys that later came to be associated with paradise in Christian art. These designs were adopted in Sasanian and Central Asian art and were brought to China through the Silk Road. See for example a gilt-bronze cup, supposedly imported from Central Asia and attributed to the 5th century AD, unearthed in Datong, Shanxi province, and illustrated in Jessica Rawson, Chinese Ornament. The Lotus and The Dragon, London, 1984, fig. 15.
The motif was quickly adapted to suit Chinese religious and philosophical beliefs, and by the Tang dynasty (618-907) it had developed into a fertility symbol. In Chinese Buddhism the souls of those residing in Maitreya's Pure Land, were believed to have been reborn through the calyx of a lotus flower. This theory may well have been influenced by the Shangqing school of Daoism and the belief that the visualisation of one's embryonic state could lead to rebirth. In the eight century, depictions of boys and lotus began to appear outside religious contexts, and by the Song period they were believed to encourage the birth of sons and the continuation of a family line.
Dingyao dishes of this form and moulded with such lively and detailed motifs are rare. Two Dingyao bowls moulded with boys among scrolling vines, in the National Palace Museum, Taipei, were included in the Museum's Special Exhibition of Ting Ware White Porcelain, Taipei, 1987, cat. nos 65 and 66; another from the collection of H.J. Oppenheim, in the British Museum, London, is illustrated in Oriental Ceramics. The World's Great Collections, vol. 5, Tokyo, 1981, pl. 61; and a fourth bowl also from the Carl Kempe collection, illustrated in Bo Gyllensvärd, op.cit., pl. 457, was sold in our London rooms, 14th May 2008, lot 264.