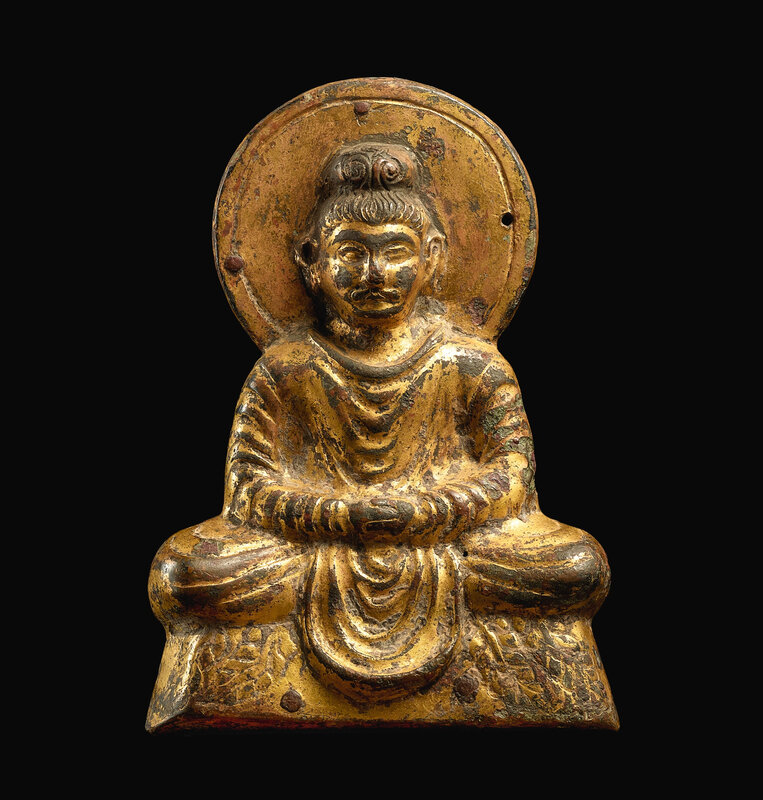 Lot 3625. A rare early Gandharan-style gilt-bronze votive figure of Shakyamuni Buddha, Sixteen Kingdoms, 4th – early 5th century; the figure 12.3 cm, 4 7/8 in. Estimate 900,000 — 1,200,000 HKD (114,597 - 152,796 USD). Lot Sold 1,125,000 HKD (143,246 USD). Courtesy Sotheby's.
cast seated in dhyanasana on a slightly trapezoidal plinth with the hands held in dhyanamudra, clad in a monastic robe falling in geometricised banded layers of drapery inspired by Guptan figures, the serene face surmounted by a high domed usnisha before a halo, the recessed reverse with a loop for attachment to the fitted wood stand.
Note: This rare gilt-bronze figure of Shakyamuni Buddha represents one of the classic images of early Chinese Buddhist sculpture, where the 'Awakened One' is depicted seated on a throne, the hands held in the dhyanamudra, the gesture of meditation, wearing a monastic robe that falls gently over the lap and with a facial expression of complete calmness and confidence. The strong influence of the art of Gandhara is evident, although the iconography of the throne is Chinese. The formal position and simple, almost abstract rendering of the folds make these early highly stylised sculptures particularly powerful. Compare an Indian green schist figure of similar proportions, but much larger in size, carved in the Gandharan tradition and attributed to the 3rd-4th century, and believed to have come from Barikot, now in the collection of the Matsuoka Museum of Art, illustrated in Ancient Asian Sculptures from the Matsuoka Collection, Tokyo, 1994, cat. no. 8.
The present figure is therefore among the finest examples of a small series of early Chinese Buddhist bronzes that incorporate the new iconography borrowed from votive images in India executed in the Gandharan and Guptan style. Among the largest and most impressive of these figures is the famous Buddha from the Avery Brundage collection, illustrated in The Asian Art Museum of San Francisco. Selected Works, San Francisco, 1994, p. 91. This large figure, which measures 39.5 cm high, bears a fragmentary inscription dated 338. This was during the Jianwu reign of Emperor Shi Hu of the later Zhao dynasty, which only briefly controlled a large portion of north China from 329-350, and which was of a non-Chinese tribe, the Jie from the northern Steppes. Unlike the more languid and staple political structure of south China, which bred a version of Buddhism more favoured towards political discourse, the numerous political upheavals and rapidly changing social structure in northern China nurtured fervent religiosity and an adherence to source Indian texts, a desire to return to fundamental principles both in doctrine and in iconography; hence the rapid absorption of Indian sculptural models, as expressed on the present sculpture in the geometricised drapery inspired by Guptan figures, and in the squared features with large eyes and wavy hair, which hint at Central Asian facial proportions.
The current sculpture, however, is much more closely related to the famous image originally acquired from Yamanaka by Grenville Winthrop, and now in the Arthur M. Sackler Museum, Harvard University, Cambridge, object no. 1943.53.80. Both figures are deeply influenced by Gandharan sculpture, with similar treatment of the facial features, moustache, hair and robes. The iconography of both seated figures is almost identical, only differing in that the base of the Harvard example is flanked by lions and donors, whereas the current example is decorated with leaves. The Harvard example is illustrated and discussed by the scholar collector Leopold Swergold in Thoughts on Chinese Buddhist Gilt Bronzes (n.p., 2014), p. 16, ill. p. 17, where he notes that experts from Harvard University Museum believe it to predate the Brundage Buddha.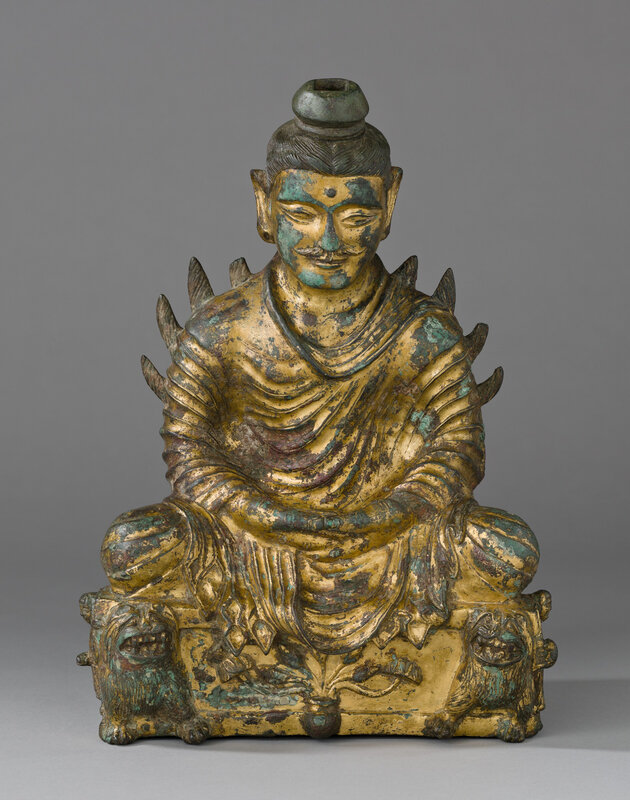 Gandharan-style Seated Buddha Shakyamuni in Meditation with Hands in Dhyana-Mudra and with Flaming Shoulders, 3rd-4th century, Six Dynasties period, 220-589. Gilt bronze; H. 32 x W. 24 x D. 13 cm (12 5/8 x 9 7/16 x 5 1/8 in.), Harvard Art Museums/Arthur M. Sackler Museum, Bequest of Grenville L. Winthrop.
For other 4th/early 5th century gilt-bronze figures of Shakyamuni sold at auction, see one from the collection of Muneichi Nitta, sold in our New York rooms, 21st September, 2006, lot 111; and another from the Sakamoto Goro collection, sold in these rooms, 5th October 2016, lot 3201.
From the Sakamoto Goro collection.A rare early gilt-bronze votive figure of Sakyamuni Buddha, Sixteen Kingdoms, 4th – early 5th century; 7.9 cm, 3 1/8 in. Sold for 225,000 HKD (29,009 USD) at Sotheby's HongKong, 5th October 2016, lot 3201.