LONDON.- "Spanning several continents and centuries – with the earliest pieces stretching back to the seventh century – the selection showcases masterpieces of calligraphy, painting, ceramics, metalwork, jewellery and furniture. Viewed together, it is an undeniable testament to the sophisticated, inventive and diverse output of the Islamic world. Alongside our biannual sale, we are also thrilled to be presenting a stand-alone single-owner auction of just under a hundred manuscripts put together by a distinguished collector with an expert eye and eclectic taste." --Benedict Carter, Sotheby's Islamic Art specialist and Head of Sale

A LEAF FROM THE LEGENDARY 'BLUE QUR'AN'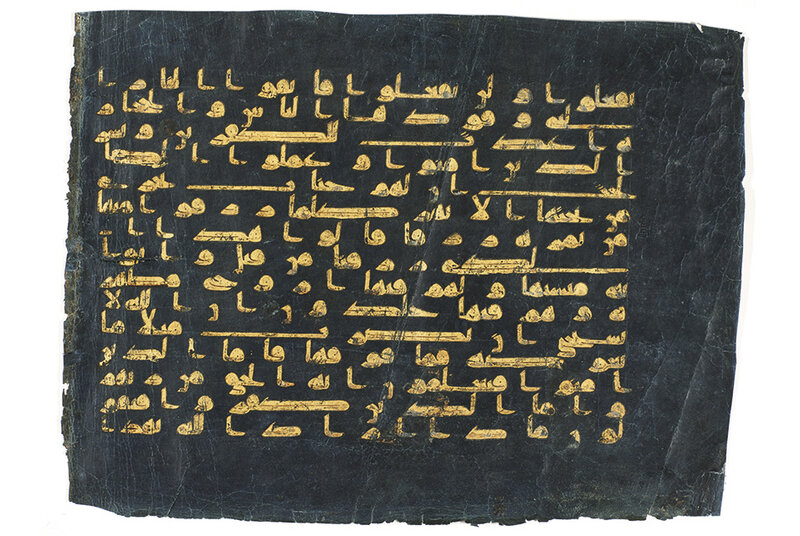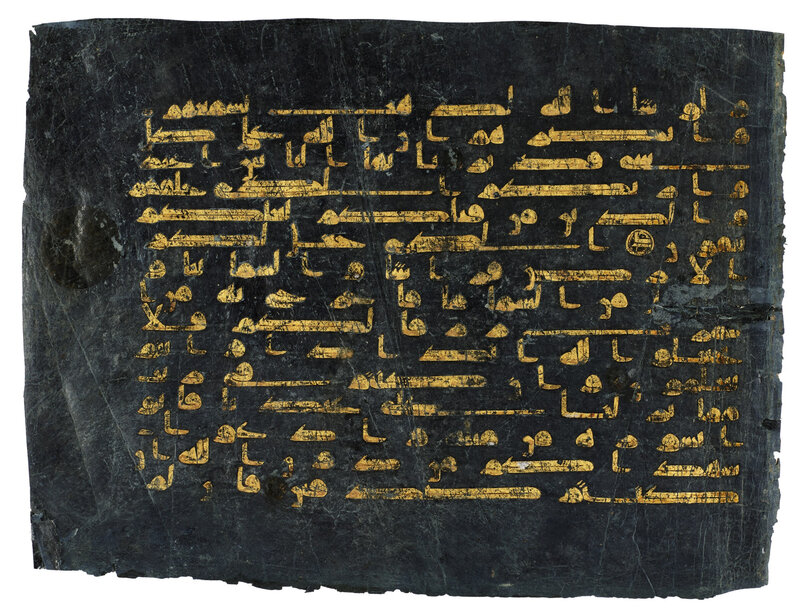 Lot 107. A large Qur'an leaf in gold Kufic script on blue vellum, Near East, North Africa or Southern Spain, 9th-10th century AD, Arabic manuscript on vellum, 15 lines to the page; 28 by 37cm. Estimate £400,000-600,000. Unsold. Courtesy Sotheby's.
This rare leaf is from an extraordinary manuscript referred to as the 'Blue Qur'an', which when complete must have been one of the most startlingly luxurious manuscripts produced in the medieval Arab world. While the exact geographical origins and story of the commission behind the manuscript remain elusive, it is universally agreed that the now enigmatic patron must have been a ruler of enormous wealth and ambition – the strikingly opulent dyed blue vellum and gold script sent a bold socio-political message to neighbouring empires.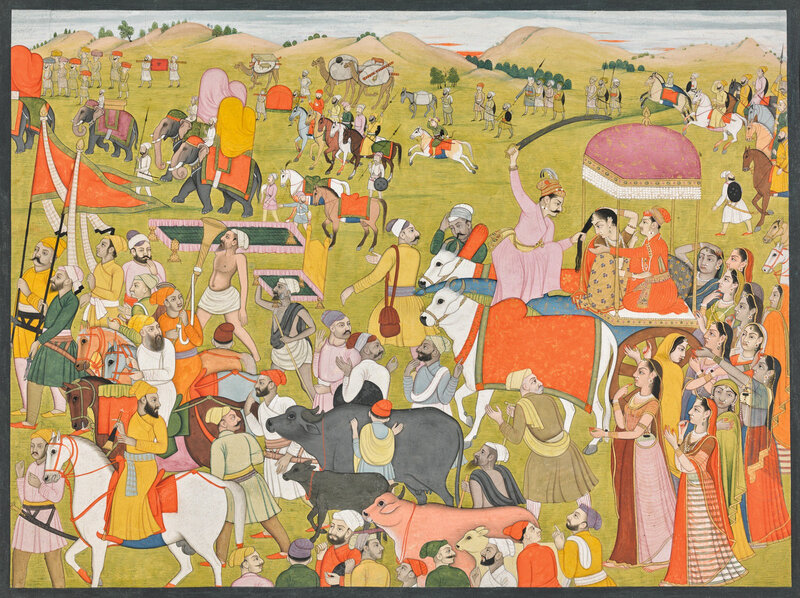 Lot 186. An illustration to the Bhagavata Purana: Kamsa attacks Devakni during her wedding procession, attributed to a Master of the First Generation after Nainsukh, India, circa 1780, gouache heightened with gold on paper, inner blue border, outer pink-speckled border, reverse with five lines of Sanskrit text; painting: 22.2 by 30cm, leaf: 27.4 by 36cm. Estimate £200,000-300,000. Lot sold 225,000 GBP. Courtesy Sotheby's.
This dynamic painting is from the celebrated Bhagavata Purana, remarkable for its effortless naturalism and deft and vivid rendering of figures in action. Works from this series are extremely rare in Western collections, and the last painting at auction was offered in 1992 at Sotheby's.

This work depicts the dramatic scene when the evil King Kamsa hears a voice prophesying that he will be killed by his sister Devaki's eighth son, and enraged, leaps towards Devaki with his sword drawn – only stopped by the promise that the newlyweds would hand over all their future sons. The violence is set against the stately progress of the royal wedding procession as it moves across the green hills. This sudden murderous act attracts the attention of many of the entourage – with plenty of alarm and shock visible in their facial expressions – yet the cows, elephants and horses continue to march sedately across the landscape. The contrast achieves a composition that is both lyrical and dramatic.
THREE UNRECORDED PAGES FROM THE VICTORIA & ALBERT MUSEUM AKBARNAMA
The auction offers three previously unknown illustrations from the first illustrated royal copy of the Akbarnama – the official chronicle of Akbar's reign, begun on the Mughal Emperor's own orders in 1589. An important addition to the manuscript – 116 illustrations from which are held in the Victoria and Albert Museum – these pages record events in 1548, 1557 and 1574.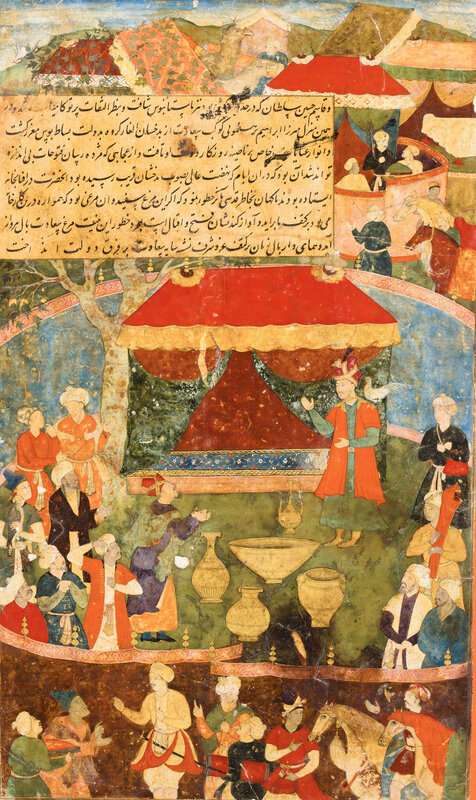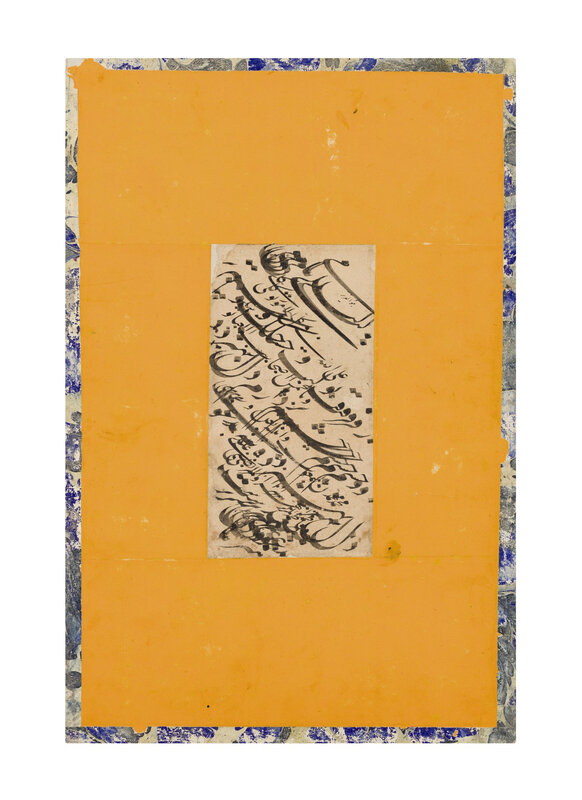 Lot 175. The white cockerel gives Humayun a sign of victory in june 1548, illustrated page from the 'First' (Victoria and Albert Museum) Akbarnama, India, Mughal, circa 1590-95, ink, gouache and gold on paper, 7 lines of text in black nasta'liq script, panel of calligraphic exercises in nasta'liq script on reverse; painting: 32.7 by 19cm. Estimate £20,000-30,000. Lot sold 93,750 GBP. Courtesy Sotheby's.
Lot 176. Bairam Khan petitions the young Akbar following the siege of Mankot in 1557, illustrated page from the 'First' (Victoria and Albert Museum) Akbarnama, India, Mughal, circa 1590-95, gouache with gold on paper, reverse with a Qajar calligraphic panel signed by Mir Abd al-Rahim and dated 1259 AH/1843 AD; 34 by 20.5cm. Estimate £20,000-30,000. Lot sold 81,250 GBP. Courtesy Sotheby's.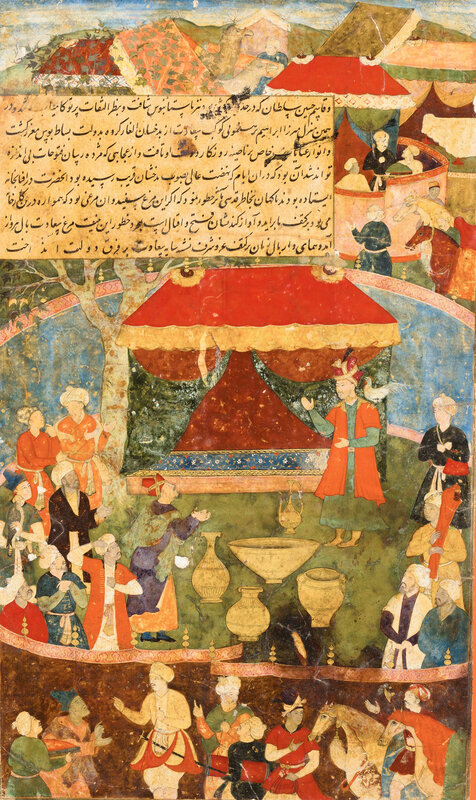 Lot 177. Akbar and his entourage journey by boat, an illustrated page from the 'First' (Victoria and Albert Museum) Akbarnama, India, Mughal, circa 1590-95, gouache with gold on paper, 34 by 20.5cm. Estimate £20,000-30,000. Lot sold 112,500 GBP. Courtesy Sotheby's.
This episode relates to Akbar's journey to the Eastern Provinces by boat in 1574, an expedition undertaken in order to quell a rebellion. Amidst the choppy water, Akbar himself is seated under a canopy in the central boat, which is elaborately designed with a dragon-head prow.
EXCEPTIONAL INDIAN JEWELLERY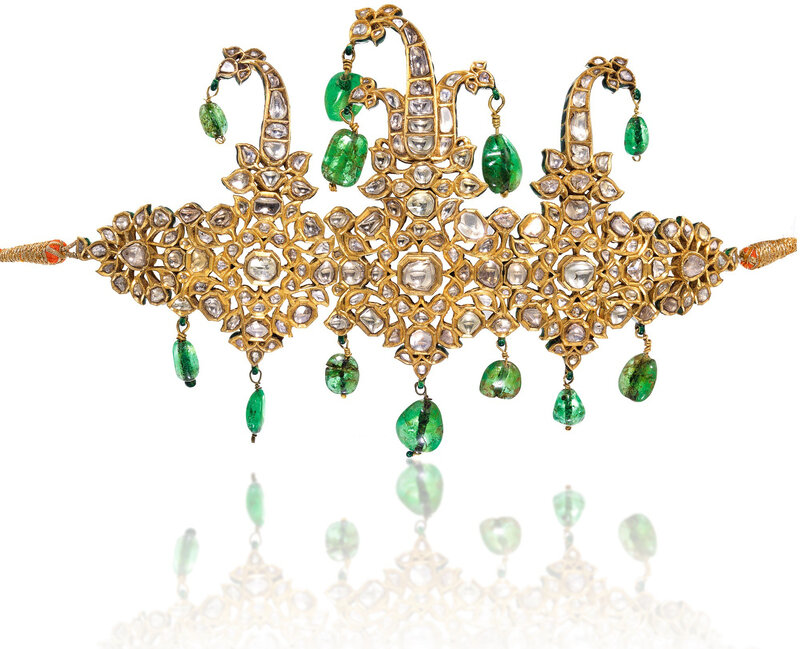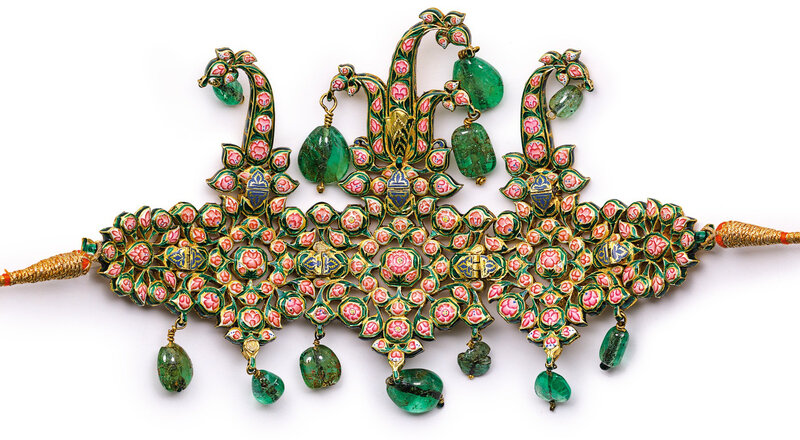 Lot 241. A gem-set gold and enamelled sarpech, India, Benares, circa 1850, 10.5 by 18.5cm. Estimate £60,000-80,000. Unsold. Courtesy Sotheby's.
Only the Mughal Emperor, his intimate relations and select members of his entourage were permitted to wear a royal turban ornament, and this triple sarpech is a particularly elaborate example. During the reign of Shah Jahan, an ornate jewelled brooch took the place of the heron feather in the turban, yet this example retains a stem for the insertion of the original feathered plume.
Lot 242. A diamond, ruby and emerald-set gold Manga Malai necklace, India, 19th century, 31cm. Estimate £40,000-60,000. Lot sold 50,000 GBP. Courtesy Sotheby's.
The southern part of India is renowned for its fine golden jewellery, and pieces like this were traditionally worn for special occasions such as rituals or weddings. The Manga Malai – which directly translates to 'necklace of mangoes' – is unique to the ancient Tamil people, dating back to the thirteenth century. According to Hindu mythology, the mango fruit is a symbol of love and fertility, and the principal elements of the design represent nature, with various forms of flowers, leaves, fruits and buds.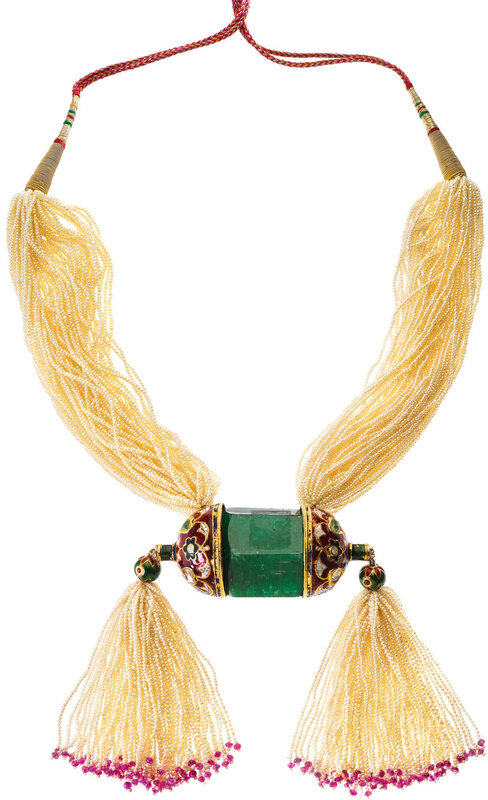 Lot 237. A 363.9 carat Mughal emerald crystal set in enamelled mount with seedpearl string necklace, North India, 18th century; mount: 9cm by 3.5cm, seed-pearl string necklace: 16cm. Estimate £10,000-15,000. Lot sold 20,000 GBP. Courtesy Sotheby's.
In Mughal India, emeralds were associated with fertility and were believed to aid good vision. During this period, such gemstones were mined in Columbia and reached India via Spanish merchants as trade goods and a strong relationship was forged, with the Mughals purchasing the largest and finest quality emeralds. This necklace is a rare example of an emerald being mounted in its crystalline form, in order to flaunt its size.
A MONUMENTAL SAFAVID CELESTIAL GLOBE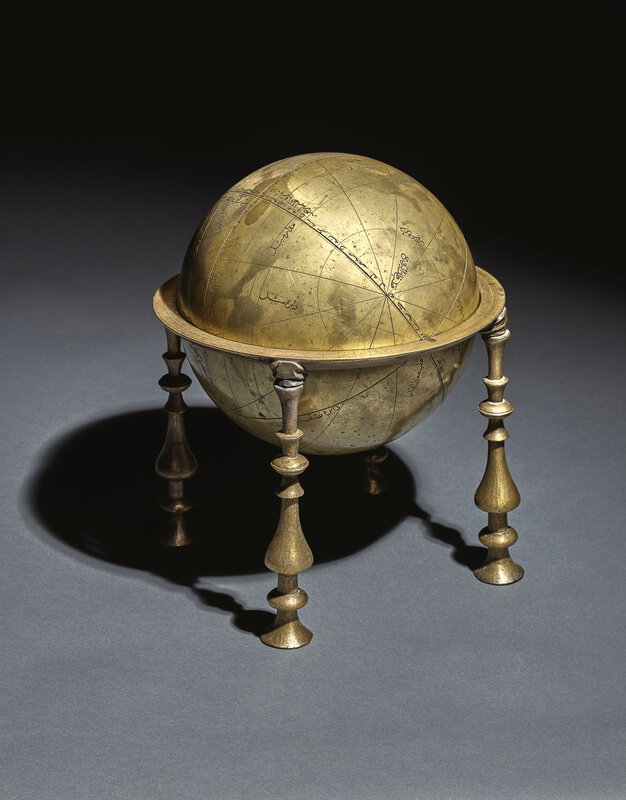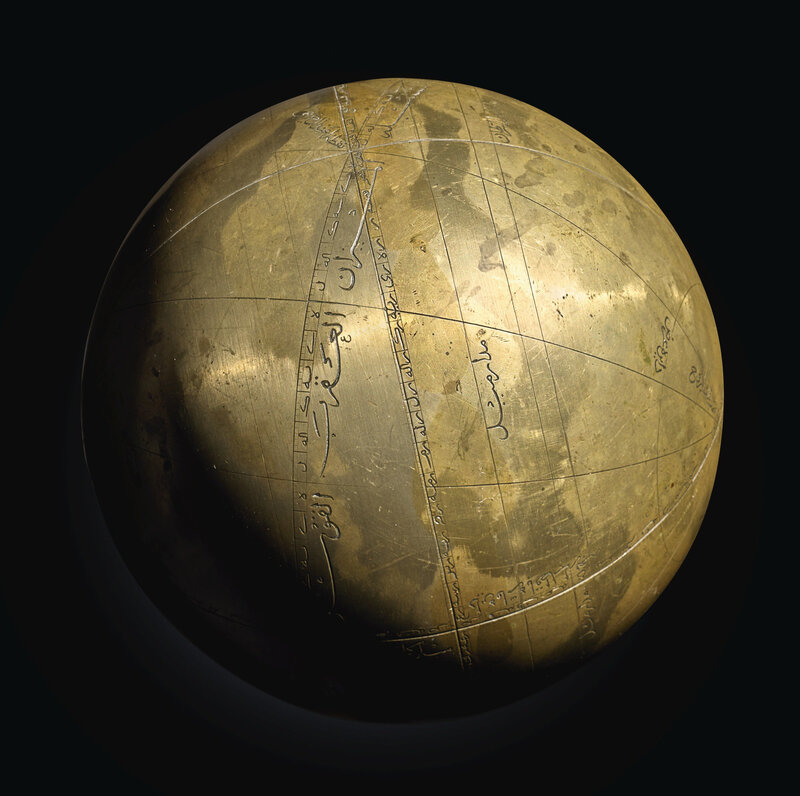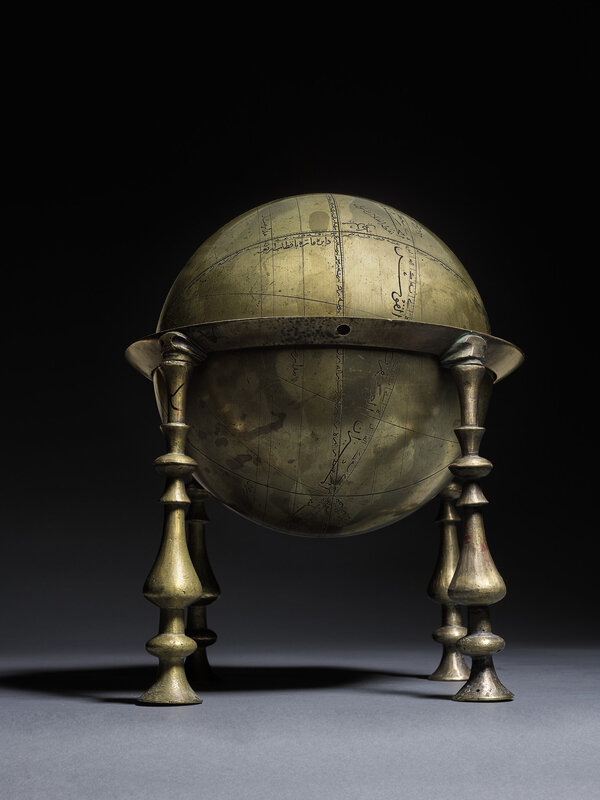 Lot 125. An elegant Safavid brass celestial globe and frame, 17th-century Persia; brass, with frame and scale, the legs and rod later replacements; diameter of globe: 23.3cm, height of frame: 22.9cm., total height: 33.5cm. approx. Estimate £80,000-120,000. Unsold. Courtesy Sotheby's.
This well-constructed celestial globe bears the hallmarks of instrument construction in late seventeenth-century Isfahan, which was renowned for the variety and technical sophistication of its output. The number of surviving Safavid globes is remarkably small, and of globes from Safavid Isfahan this is the only known example. Made with extreme accuracy yet elegantly engraved, the piece outlines the greater and lesser circles – the ecliptic, equator, tropic and polar circles.
FURTHER HIGHLIGHTS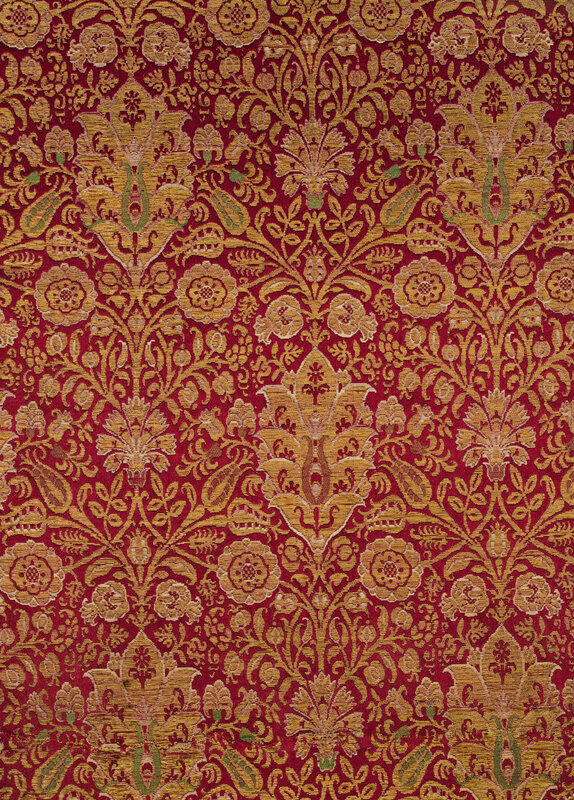 Lot 274. A rare and important Ottoman silk and metal-thread brocade panel (Kemha), Turkey, early 17th century, woven with a crimson ground, with repeating design of stylised palmettes surrounded by carnations, tulips, pomegranates and overlapping foliate branches in gilt metal thread wrapped silk, white and green silk details, 224.5 by 58.3cm. Estimate £60,000-80,000. Unsold. Courtesy Sotheby's.
This superb Ottoman brocaded silk, in almost pristine condition and with a distinguished provenance, having once been in the collection of Edmund de Rothschild, showcases the very best of the magnificent workmanship and historic ceremonial significance of these sophisticated Ottoman courtly textiles. The design consists of a floral decoration in a pattern of roses, carnations and palmettes, which also formed the basis of inspiration for Iznik ceramics.

Valuable textiles made of luxury materials formed an essential part of Ottoman ceremonies, such as the accession of sultans, parades and receptions. They appeared in the forms of banners, costumes, curtains, wall-hangings and ground-coverings – which lent visual magnificence – and as 'robes of honour' bestowed on foreign diplomats and court servants, serving to represent the Sultan's generosity and power.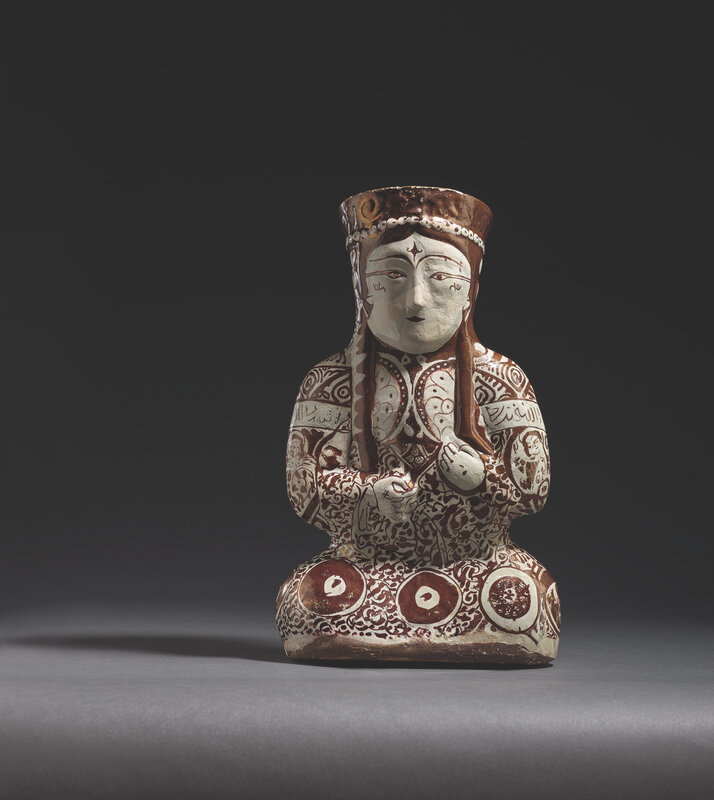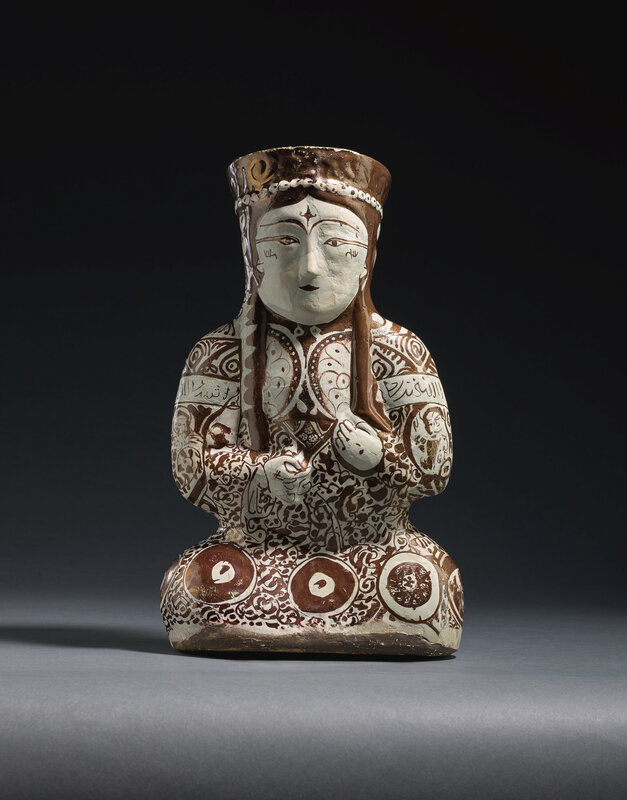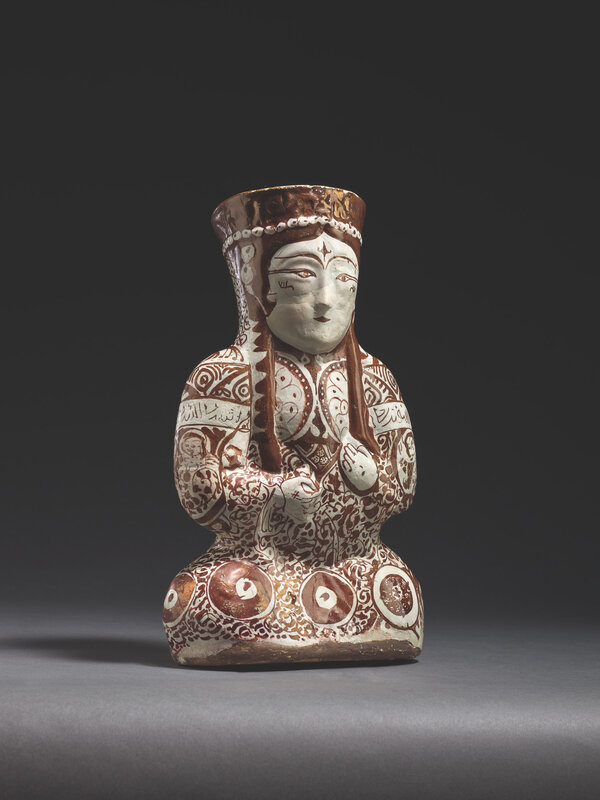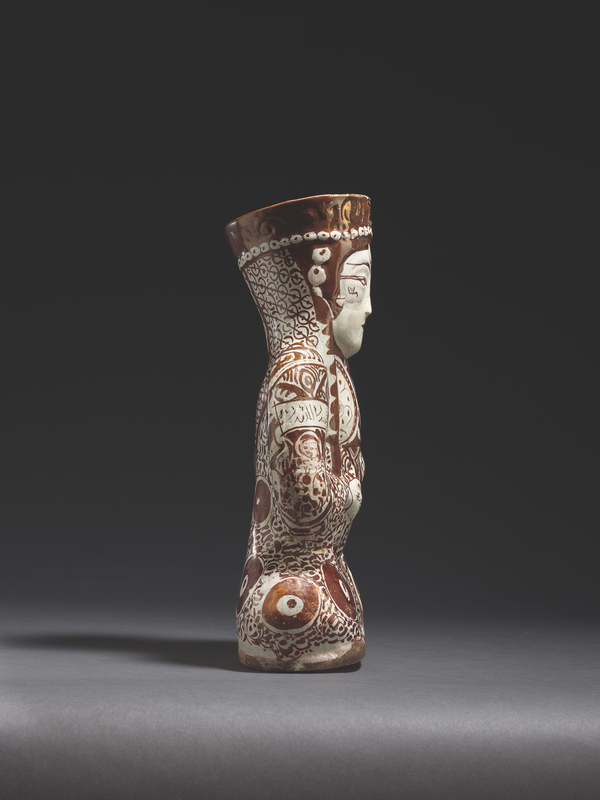 Lot 212. A Kashan lustre pottery vessel in the form of a seated female ruler, Persia, 12th-13th century; 37 by 24 by 13cm. Estimate £10,000-15,000. Lot sold 17,500 GBP. Courtesy Sotheby's.
sculpted as seated, enthroned female figure wearing an elaborately designed coat with an inscriptive band, foliate details, roundels with figurines, decorated with a brown lustre over an opacified glaze, the face and hat designed with an open interior and spout with blue glaze, some repair and subsequent repainting.
Provenance: Sold in these rooms, 21 April 1980, lot 155, and again 20 April 1983, lot 103.
Note: Figurines represent a significant part of production at Kashan in the late Seljuq period. The subject matter of these figurines is very wide ranging including birds, monkeys, harpies and sphinxes. Human figures were also made, amongst them, musicians playing instruments, horsemen dressed in Turkish military costume, and mothers with child. A lustre figure of a seated turbanned man formerly of the Ades Family Collection (see Watson 1985, p.120, no.100) is in the Victoria and Albert Museum, London (inv.no. LOAN:ADES.5). Two vessels in the form of a seated figure are in the al-Sabah collection (Watson 2004, pp.344-5, Cat.nos. N.14, N.15). A figurine of a mother and child was sold in these rooms 9 April 2008, lot 147.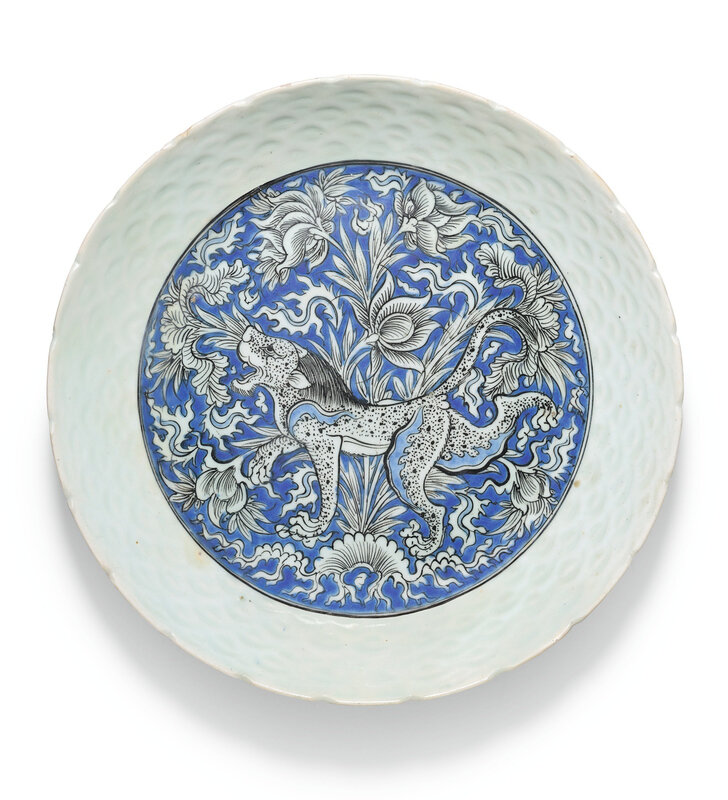 Lot 228. A Safavid blue and white pottery dish depicting a lion, Persia, 17th century, 29cm. diam. Estimate £8,000-12,000. Lot sold 11,250 GBP. Courtesy Sotheby's.
the stonepaste body of circular form with bracketed rim and cavetto moulded in relief with petalled design, painted in underglaze cobalt blue with black outlines and details featuring a large roundel with a stylised lion walking within a lush vegetal landscape, the reverse with a band of overlapping scale lappets rising from the footring enclosing a pseudo-Chinese mark.
Note: This striking dish is a fine example from a group incorporating a lionine form within differing decorative fields. Ultimately inspired by imported Chinese Ming period porcelain wares, they introduce a more patterned approach to the design, taking the Chinese naturalistic elements and transforming them into decorative patterns (see Crowe 2002, pp.117-121). A closely related example is in the Metropolitan Museum of Art, New York, inv.no. 24.47.4. Attributed to probably Mashhad, circa 1635, the dish in the Metropolitan Museum features two fighting lions within an almost surrealist landscape as in the present example. Another model in the Ashmolean Museum, Oxford, is catalogued as a 'Dish with Chinese lion dog' alluding to the combination of forms inspired to create these lionine models (inv.no. EA1978.1784).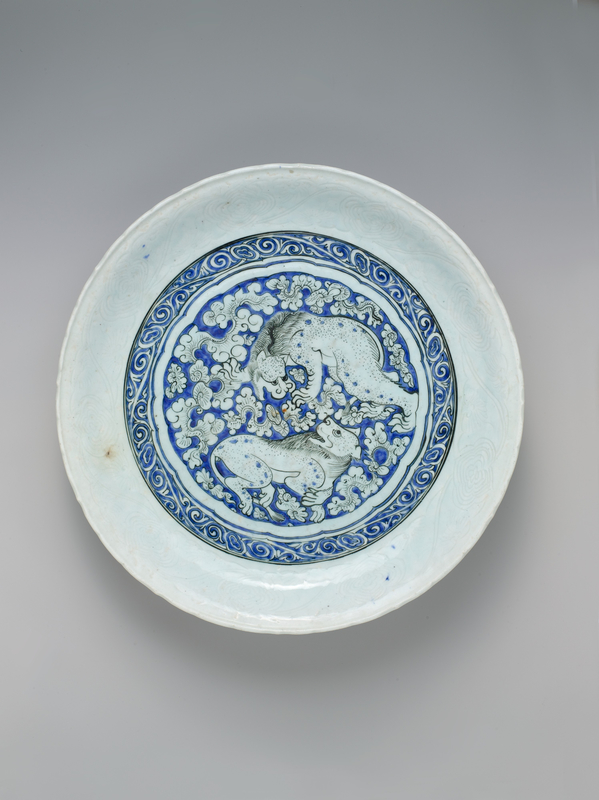 Dish with Two Fighting Lions, ca. 1635, Iran, possibly Mashhad. Stonepaste; incised and painted under transparent glaze. H. 3 1/4 in. (8.3 cm), Diam. 17 1/16 in. (43.4 cm), Rogers Fund, 1924, 24.47.4. © 2000–2019 The Metropolitan Museum of Art.
Dish with Chinese lion dog, Iran, 17th century, Safavid period, fritware, with underglaze painting in blue and black, 8.2 cm (height), 47 cm (diameter), Gift of Gerald Reitlinger, 1978, EA1978.1784. © Ashmolean Museum, University of Oxford.
THE SHAKERINE COLLECTION
Calligraphy in Qur'ans and Other Manuscripts
Formed over fifty years of dedication and passion, this exceptional collection of ninety-four manuscripts has at its heart the very best of calligraphy and illumination. With a remarkable range of religious and secular works, comprising examples from Turkey, India, Persia and the Arab World, it charts over a millennium of fine manuscript production. The refined eye and cosmopolitan taste of the collector – whose collection also encompasses works by Renoir, Van Gogh, Gauguin, Rodin and Man Ray among others – shines through.

The title for the collection was inspired by the architecturally striking Şakirin Mosque in Istanbul – the first mosque designed by a woman. The interior of the modern mosque is lined with verses from the Qur'an commissioned by contemporary calligraphers, which eloquently bears witness to the primacy of the written word in Islamic civilisation.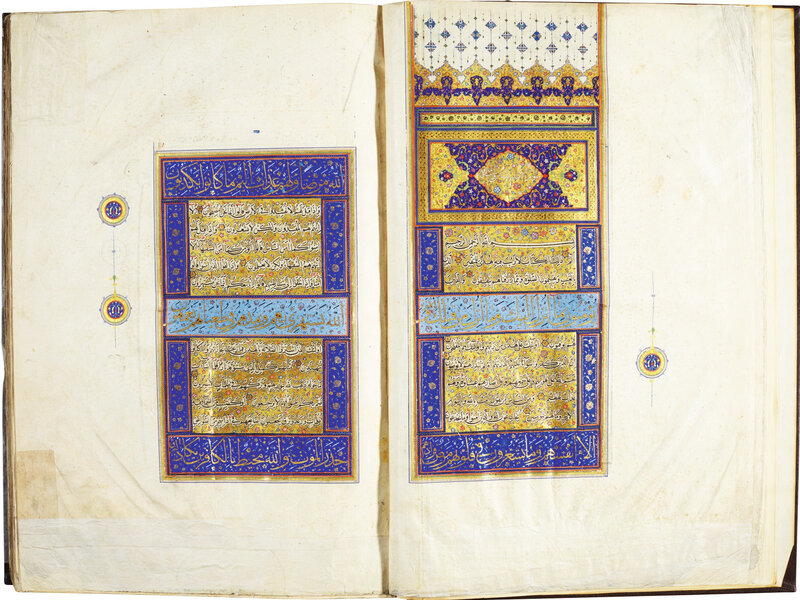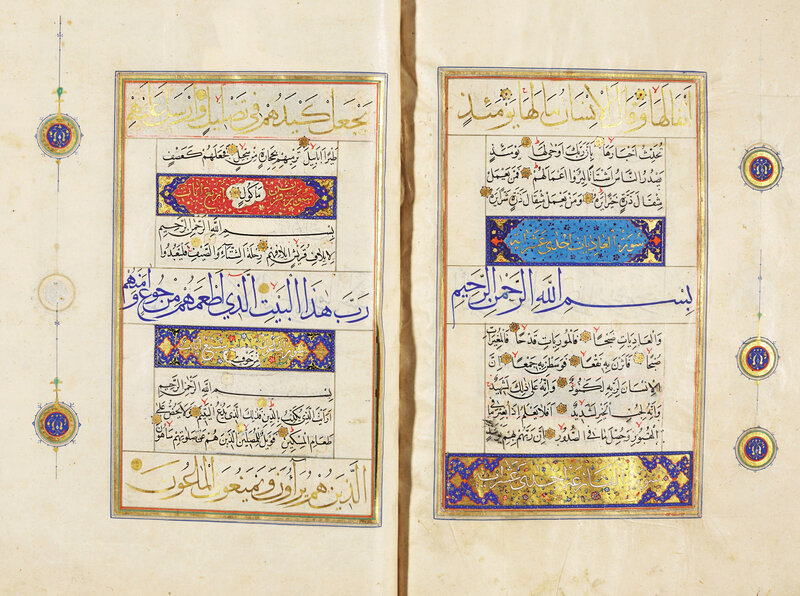 Lot 17. A monumental illuminated Safavid Qur'an, mid-16th century, Persia; Arabic manuscript on paper, 343 leaves plus 5 fly-leaves, 13 lines to the page Estimate £200,000-300,000. Courtesy Sotheby's.
One of the finest Qur'ans to have been offered at auction in decades, this magnificent lavishly illuminated and colourful manuscript bears all the hallmarks of the most refined pieces of the Safavid period – and is indeed one of the largest Safavid Qur'ans to have survived today. Thought to have been a royal patronage or noble commission, it was exhibited as part of the Exhibition of Persian Art at The Iranian Institute in New York in 1940, and then went on loan to Harvard University's Fogg Museum of Art in Boston.