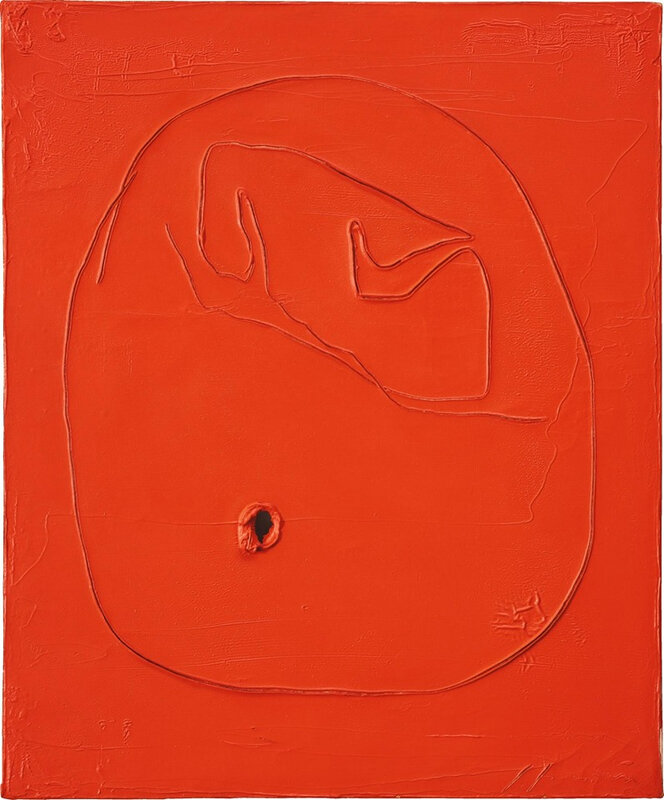 Lot 242. Lucio Fontana (1899 - 1968), Concetto Spaziale, signed; signed and titled on the reverse, oil on canvas, 45.5 by 38 cm. 17 7/8 by 15 in. Executed in 1961. Estimate GBP 150,000 — 200,000. Lot sold 300,000 GBP. Photo Sotheby's.
This work is registered in the Fondazione Lucio Fontana, Milan, under no. 4222/1 and is accompanied by a photo-certificate issued by the Fondazione Lucio Fontana, Milan.
Provenance: McRoberts & Tunnard Limited, London
Private Collection, United Kingdom (acquired from the above in 1962)
Thence by descent to the present owner.
Note: Pierced, incised, and swathed in a radiant scarlet red, Concetto Spaziale is an important example of Lucio Fontana's pioneering approach to painting: a consistent investigation of an evolving conceptual project the artist referred to as Spazialismo. The present work, whose the title translates as 'Spatial concept', employs both a gaping sculptural puncture and fine surgical incisions, opening up the material of the canvas and infusing it with the space endlessly expanding behind and through it.
In the present work Fontana has complicated the work's topography by adding mounds of sculptural impasto within the perforation. In comparison to his watercolour-based paintings with cuts, Concetto Spaziale brings back an aspect of figuration and the thick paint and the puncture wound invokes sensual, carnal, and painful emotions of man's existential condition. Fontana has explained the difference between these two series: "The cuts that I have made so far represent above all a philosophical space. But that which I am seeking, now, is no longer philosophical space but rather physical space… It is a human dimension that can generate physiological pain, a terror in the mind, and I, in my most recent canvases, am trying to give form to this sensation" (Lucio Fontana cited in: Grazia Livi, 'Incontro con Lucio Fontana', Vanità, No. 13, Autumn 1962, p. 55).
Fontana's revolutionary concept of Spazialismo was the culmination of the fundamental precepts illustrated in his art. The artist's dynamic ability to mutate solid matter into energy is unparalleled, and it comprises the essence of his theory. He formulated the comprehensive title Concetto Spaziale in 1947 and used it for nearly all his later art. The pinnacle of this project was expressed most purely in works with incisions rupturing a surface that preserves the elegantly erratic character of malleable mediums like wax, oil or acrylic paint, such as in the present work. The puncture and incisions occupying the canvas in Concetto Spaziale are not so much lacerations, rather powerful sculptural constructions; a way of desacralising the two-dimensionality of the surface and engage the viewer in the struggle between the material and the spatial.
Sotheby's. Contemporary Art Day Auction, London, 4 October 2019