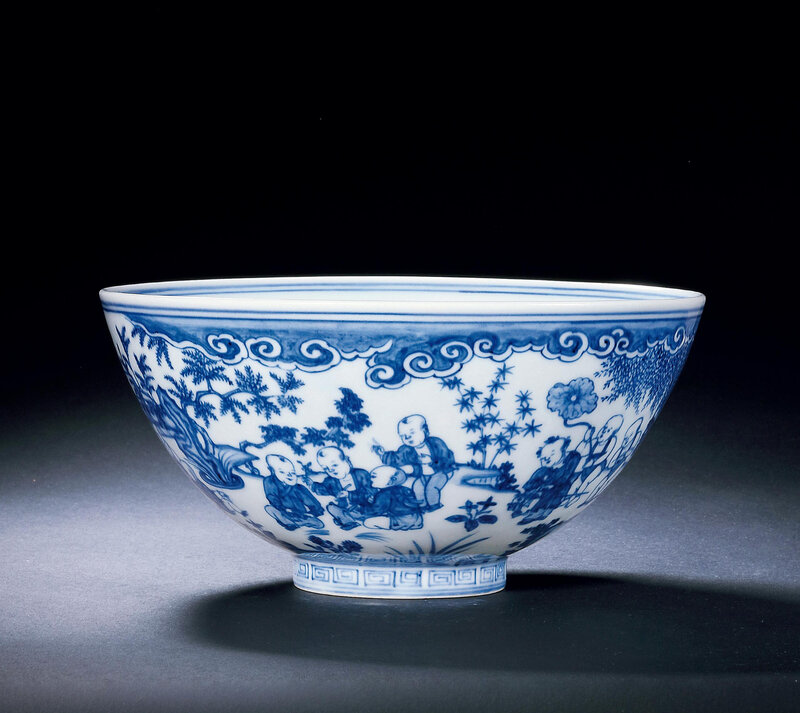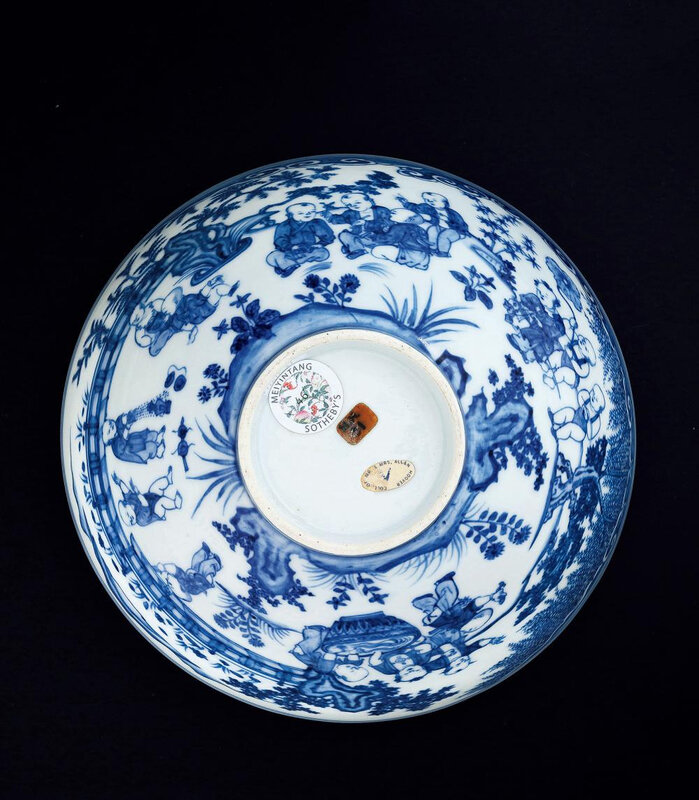 Lot 3406. An Outstanding Blue and White 'Boys' Bowl, Chenghua Period, 1465-1487. Diameter 21.5cm; height 10.3cm. Estimate: 10,000,000-15,000,000 HKD (USD 1,274,530 - 1,911,795). Sold price: 15,340,000 HKD (USD 1,955,129). © Poly Auction Hong Kong
The bowl is of deep, rounded form, skilfully painted in soft tones of underglaze cobalt blue with a continuous garden scene depicting sixteen boys divided in several groups.
Four of the boys dressed in short-sleeved jackets and split-pants grouped around a fish bowl trying to catch fish with their hands, while three others pretend to be an official and attendants under a willow tree, one dressed in a long gown, wearing leaves as a cap and riding a hobby horse, followed by two others holding a lotus-leaf umbrella, while another small group in jackets and trousers plays a game on the ground, meanwhile on the other side by a fenced terrace overlooking a lotus-covered lake and distant hills, a group of five depicted in various poses, gesticulating, pouring water over a small toy stupa, or sitting on the ground next to cymbals and a swirling clapper drum. A double line encircles the mouth, while a keyfret band encircles the foot. The base and inner foot are covered with a smooth transparent glaze.
Provenance: 1. President Herbert Hoover (1874-1964) Collection (according to label inscribed H.H. 31)
2. Mr. and Mrs. Allan Hoover (son of the above, 1907-1993) Collection
3. Ralph M. Chait Galleries, New York
4. The Meiyintang Collection, Switzerland
5. Sotheby's Hong Kong, 9 October 2012, lot. 46.
Literature: Regina Krahl, Chinese Ceramics from the Meiyintang Collection, London, 1994-2010, vol. 4, no. 1671.
Note: Compared a similar example, from the collection of Raymond F.A. Riesco, illustrated in Oriental Ceramic Society, Loan Exhibition of Chinese Blue and White Porcelain 14th to 19th Centuries, London, 16 December 1953-23 January 1954, Catalogue, no. 118, sold in Christie's Hong Kong, 27 November 2013, lot. 3113. See, also, gift from E. V. Lee, now in Victoria and Albert Museum, illustrated in Far Wastern Ceramics in the Victoria and Albert Museum, London, 1994, pl. 49.
Poly Auction Hong Kong. IImperial Affection - Ming Ceramics from the Meiyintang and Distinguished Collection, Hong Kong, 7 October 2019