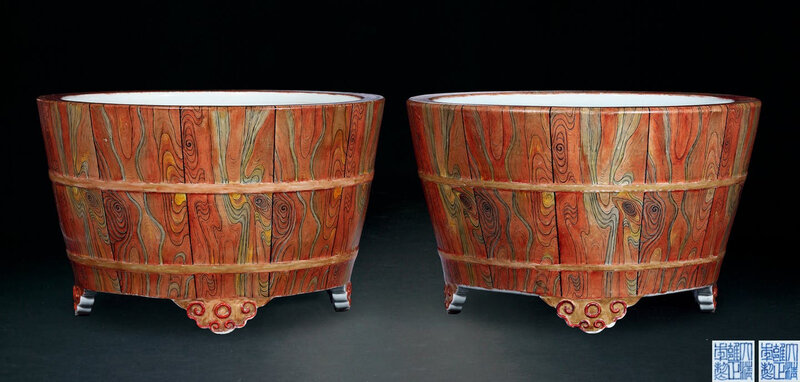 Lot 3329. A Pair of Faux Bois Jardinieres, Mid Qing Dynasty, 18th Century. H 25cm D 41.2cm H 25.5cm D 41.5cm. Estimate HKD 600,000 - 800,000 (USD 76,472 - 101,962). Sold Price: HKD 1,003,000 (USD 127,835). © Poly Auction Hong Kong.
Each bucket is modelled with two horizontal gilt bands and decorated to the exterior in shades of brown and ochre to simulate wood grain on three cloud feet. The upper half of the interiors glazed white, the remainder unglazed. Each base is potted with two drainage holes and a Yongzheng six-character mark in under-glaze blue.
Provenance: 1. Christie's New York, 25 April 1987, lot. 347
2. Christie's New York, 16 October 2001, lot. 395
3. The Ten-views Lingbi Rock Retreat Collection, no. EK89.
Note: The vessels are shaped and painted like a wide wooden tub formed of vertical planks, tied with metal bands. Another Faux-bois tub from the Meiyintang collection is included in the exhibition China. The Three Emperors 1662-1795, Royal Academy of Arts, London, 2005-6, cat. no. 235

Compare similar items from the Qing Court Collection and still in Beijing, illustrated in The Complete Collection of Treasures of the Palace Museum, Miscellaneous Enamelled Porcelains Plain Tricoloured Porcelains, Hong Kong, 2009, pl.260 (fig.1) and 261. See another example sold in Sotheby's Hong Kong, 21 May 1979, lot. 241. See, also, similar item in the Meiyingtang Collection, later sold in Poly Beijing, 8 December 2018, lot. 5489 (fig.2), at Renminbi 7,130,000; one with wooden stand in National Museum of China (fig.3).
Poly Auction Hong Kong. Immaculately Exquisite - Selected Chinese Ceramics from The Ten-Views Lingbi Rock Retreat Collection, Hong Kong, 7 October 2019